Practice Management Window Inside PCC EHR
Use the Practice Management window in PCC EHR to access various billing features and services from PCC's Partner system.
How to Open a Practice Management Window
After permission is granted to a user role in the User Administration tool (see below), your PCC EHR users can select "Practice Management" in the File menu.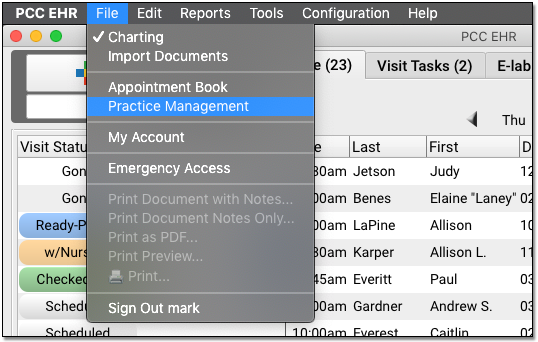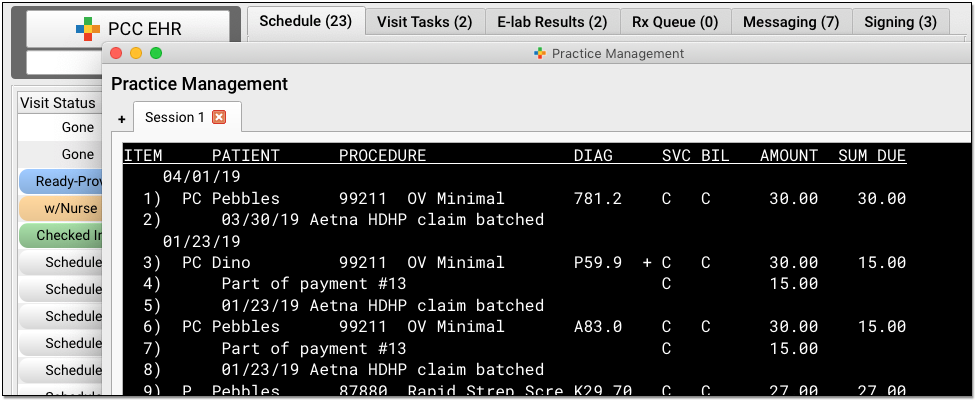 You can use Partner in the PCC EHR window just as you would in an "AniTa" or other Partner window.

You can navigate quickly between the main PCC EHR window and your Practice Management window with your workstation's keyboard shortcuts (command + ~ on MacOS, Alt + Tab on Windows) or window management tools. You can even place the window on a second monitor.
Open Practice Management Window Automatically When You Log In
If you want your Practice Management window to open immediately when you log into PCC EHR, you can select the "Launch Practice Management each time I sign in" option in the My Account tool.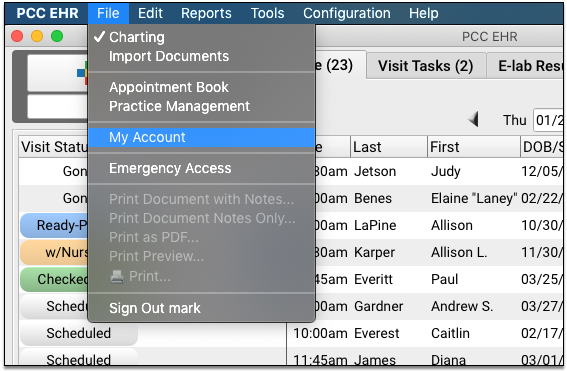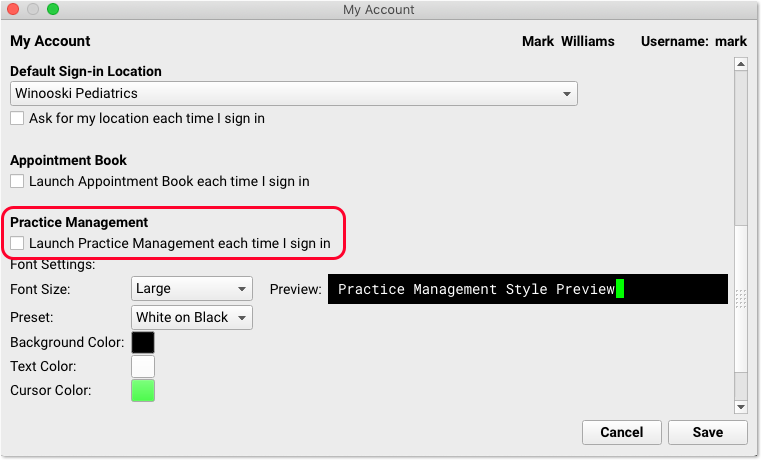 Use Multiple, Persistent Practice Management Sessions
You can use the plus (+) button to create multiple sessions.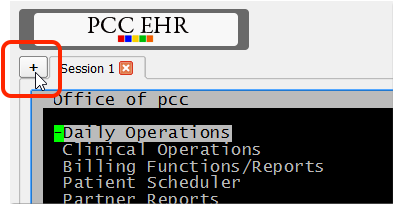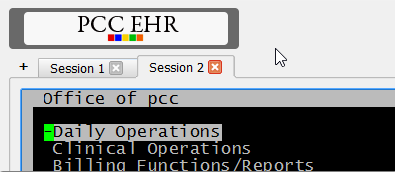 Use the File menu "Charting" option to return to PCC EHR. Your Partner sessions will remember your work and remain open for you until you log out.
Your practice can use the Practice Management sessions to schedule patients, run reports, or perform important billing functions.
Account, Usernames and Passwords
In order to access the Practice Management feature, you must first add "Practice Management" permissions to a user role using the User Administration tool in the Tools menu.
Next, in order for a user to access Practice Management features, they must have a Partner login username and password.
Finally, if the user's PCC EHR login username and password do not match their Partner login, PCC EHR will ask them to enter their Partner username and password.

After a user enters it once, PCC EHR will remember it and use it for future sessions.
Customize the Font Size and Color of Your Practice Management Window
When you are tracking down a billing issue for an account, you want your screen to be as clear and easy to read as possible. You can select your own preferred font size, font color, background color, and cursor color.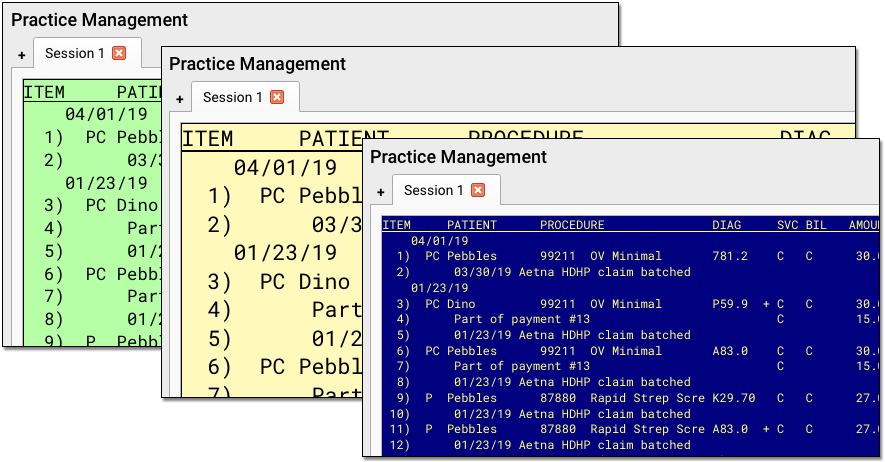 When you want to adjust your Practice Management window's appearance, open the My Account tool.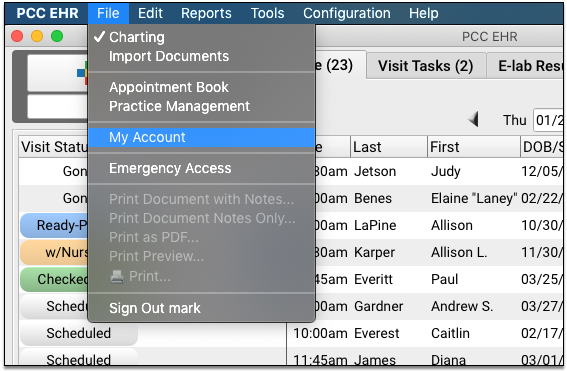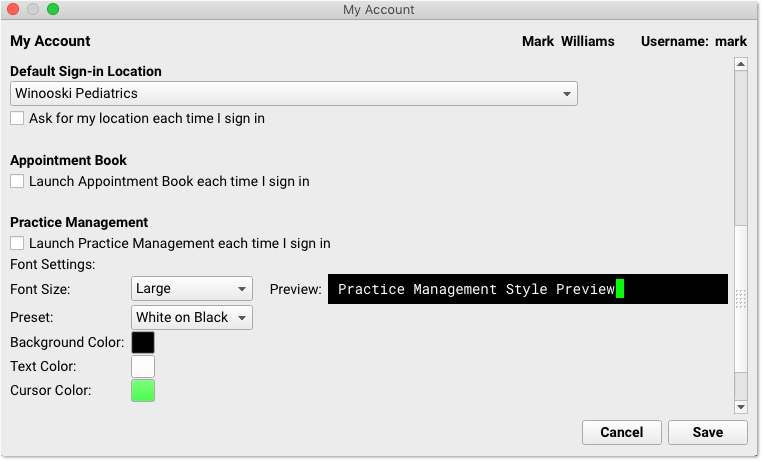 You can choose a Small, Medium, or Large font. You can select a preset color option (white on black or black on white), and you can override those presets with your own preferred Background Color, Text Color, and Cursor Color.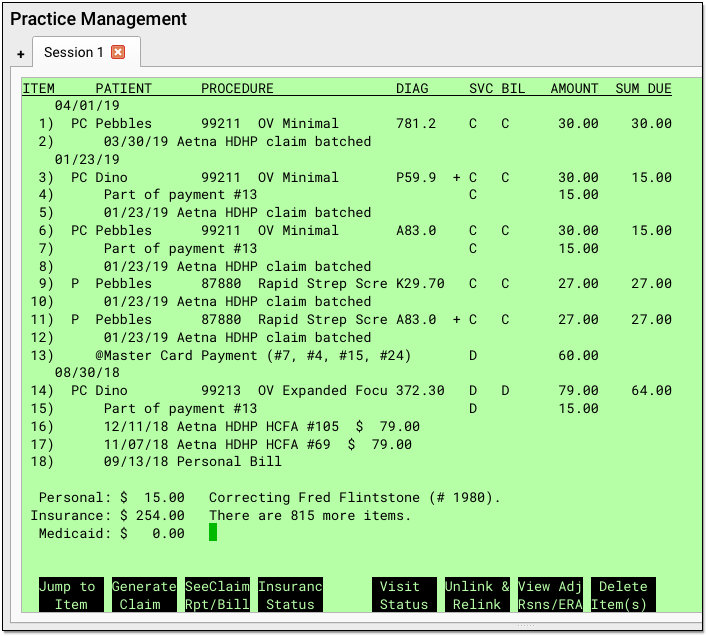 As you make adjustments, a preview panel on the right will show you the final result. By using these tools, you can customize the Practice Management window's appearance so it will be readable and easier on your eyes.
Customize Practice Management Window For Your Staff: All the users at your practice can make the above changes themselves in the My Account tool. You can also make these changes for them in the User Administration tool.