Recent and Upcoming Appointments
The Recent and Upcoming Appointments component, which can appear on the Medical Summary, Phone Notes, or any chart note, displays important information about a patient's appointments at your practice.

The component can display the last visit (including diagnoses), last and next physical date, and any upcoming scheduled appointments.
Details
Where does the scheduling information come from, and how does PCC EHR figure out details like the clinician for an appointment or the next physical due date?
Last Visit: The Last Visit is calculated from the last charted visit in PCC EHR. The clinician indicated and any diagnoses are drawn from that chart note. (An appointment may be initially scheduled for one clinician and then changed on the chart note.)

Last and Next Physical: The last and next physical dates are mirrored in the Partner Practice Management system. When a patient is billed for a physical code, the date of their last physical and the calculation of their next physical updates automatically, based on a schedule stored in your Partner tables. You can adjust a patient's last and next physical dates in the Patient Editor (notjane).

Scheduled Appointments: Upcoming appointment information is drawn from the Partner and PCC EHR scheduling systems.
Configuration
The Recent and Upcoming Appointments component may appear on any PCC EHR ribbon, including the Medical Summary, Phone Notes, Patient Check-In, and visit protocols.
Using the Protocol Configuration tool, you can edit this component wherever it appears. For example, you might configure the component to display all visit types within the Medical Summary, but only future visit types in the Patient Check-In Ribbon.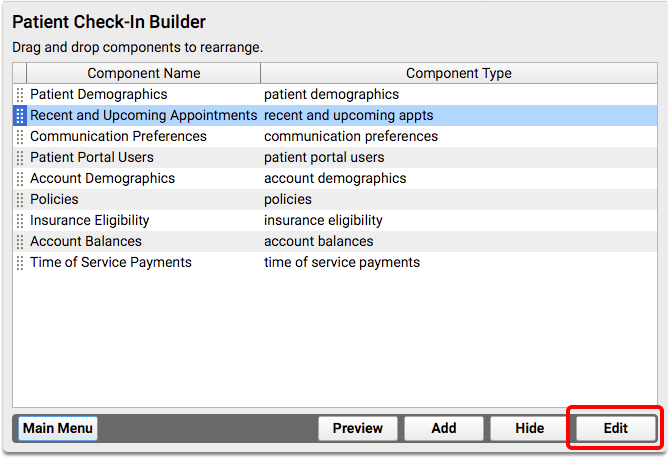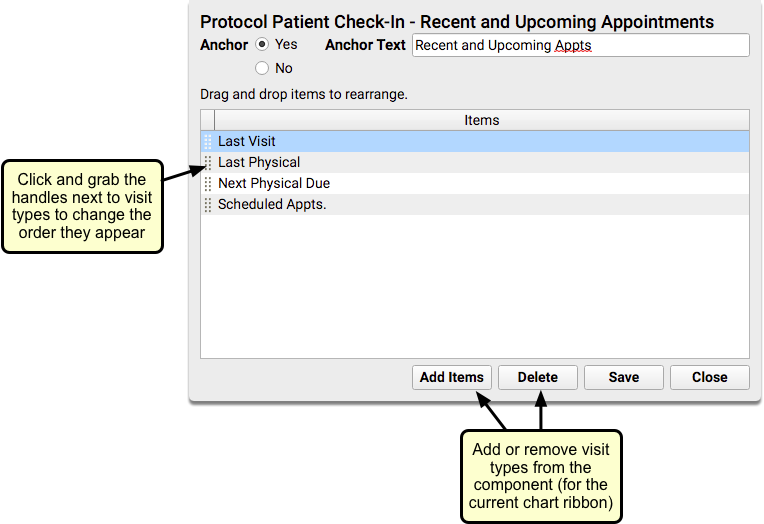 You can configure which of the appointment types are visible by showing or hiding the Last Visit, Last and Next Physical, or Scheduled Appointments sections. You can also rearrange the order in which the appointments appear, and choose whether to use this component as an anchor in the protocol ribbon.