The patient Problem List is a list of patient issues. These items can be based on any diagnosis. The Problem List appears on a patient's Medical Summary by default, but can be added to any chart note protocol. You can add or remove problems, and rearrange problems. The Problem List makes prominent patient issues clear to anyone who opens the chart.
Review a Problem List

Each problem includes a diagnosis description (from SNOMED-CT, or ICD-9 for pre-2014 Problems) and a Resolved/Active/Inactive status. There are also optional fields for Problem Note, Onset date, and Resolved date.
Sensitive Diagnoses: Diagnoses on the problem list that are sensitive are indicated with a red lock. These diagnoses will not appear on the patient portal or on printed patient-facing materials and reports. For more on how to configure sensitive diagnoses, click here.
If you wish to view active, inactive, and/or resolved problems, you can use the Display filter menu to change which problem statuses should be visible. PCC EHR will remember your preferences across all charts.

Click "Edit" to make changes to the Problem List.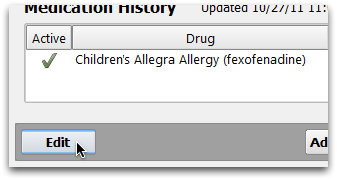 Add a Problem
You can add a problem while charting the diagnosis during a visit.

You can also add a problem on the Medical Summary screen. Click in a blank field to add a new problem. You can type a few letters and PCC EHR will search through your practice's Favorites list.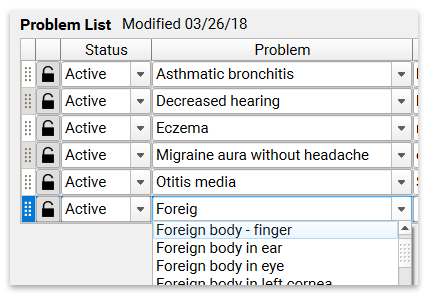 Can't Find a Problem?: The list of available problems comes from a subset of the SNOMED-CT library. You can right-click on the field to search the entire SNOMED-CT library of diagnosis descriptions.
Set a Status
Click on the drop-down menu to set the status of any problem.

Problems can be Active, Inactive, or Resolved.
Toggle Sensitive Diagnoses
Click on the lock icons to indicate whether or not it will appear on patient-facing reports and in the portal.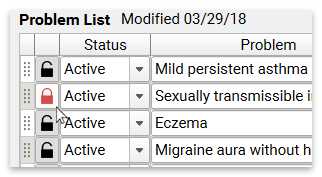 For more information on using and configuring sensitive diagnoses, click here.
Indicate "No Known Problems"
You can select "No Known Problems" from the drop-down list of problems in order to indicate you have reviewed the patient's history and are maintaining a problem list for them.

Using this indicator is recommended, especially if you are attempting to meet Meaningful Use requirements or wish to apply for the ARRA incentive. Leaving the Problem List blank is not the same as indicating "No Known Problems".
Rearrange Problems
Click the button tab and drag a problem to rearrange your problem list.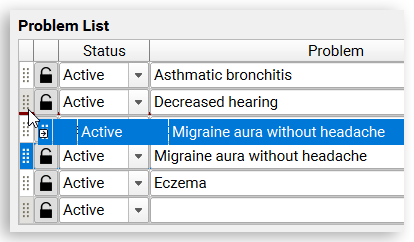 Remove a Problem
Select any problem and erase the problem field to remove it from the patient's problem list.
Alternatively, you can right-click on a problem and select "Delete Problem from the contextual menu":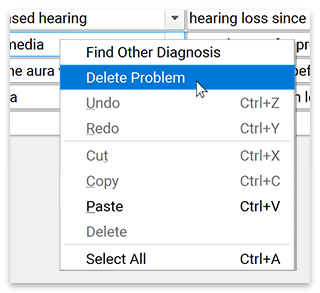 After removing a problem, click "Save" to save your changes.
Problem List Entries, Code Set and Terminology Updates, and ICD-9
Every six months, the SNOMED library of clinical terms updates. The update sometimes revises the text descriptions for diagnoses. When this happens, PCC preserves the original text description as entered in a chart note, showing the historical diagnosis as chosen by the physician. The patient's Problem List, however, will display the newest and most up-to-date text description for a given diagnosis.
If a diagnosis is removed or deprecated from SNOMED, PCC will preserve the deprecated item on the Problem List for the patient.
PCC EHR's chosen diagnosis terminology switched from ICD-9 to SNOMED-CT in 2014. However, the patient's Problem List may continue to display historical ICD-9 diagnosis descriptions. It is not possible to add an ICD-9 diagnosis to a patient's Problem List.
Down Syndrome Features and the Problem List
If a patient has a Down syndrome (Trisomy 21) diagnosis on their Problem List, PCC EHR will automatically display Down syndrome growth charts for the patient and will display all of their vitals percentiles based on Down syndrome growth chart data.
You can learn how to configure these options in the Configure Growth Charts article.