In first quarter 2020, PCC will release version 8.12 of our electronic charting and practice management software to all PCC users.
PCC 8.12 includes an all new charge-posting tool in PCC EHR. You can review and update an encounter's diagnosis and procedure codes, enter claim information, enter payments, and queue your claim right inside PCC EHR. PCC 8.12 brings other highly requested features to your practice, like editable chart sections in pocketPCC, more visibility for orders in the patient portal, improved chart note searching, and reporting updates.
Watch a Video Series: Want to see videos about the updates in this release? Watch the PCC 8.12 Video Playlist.
Implementation: PCC 8.12 includes features that require configuration and user-specific software training. Read about the features below and then review the PCC 8.12 Migration Considerations article.
Read below to learn more, and contact PCC Support for information about these new features or about any PCC product or service.
Post Visit Charges and Payments in PCC EHR
You can now post charges and payments in PCC EHR. When you are ready to post an encounter, click the "Ready To Post" button on the Schedule screen.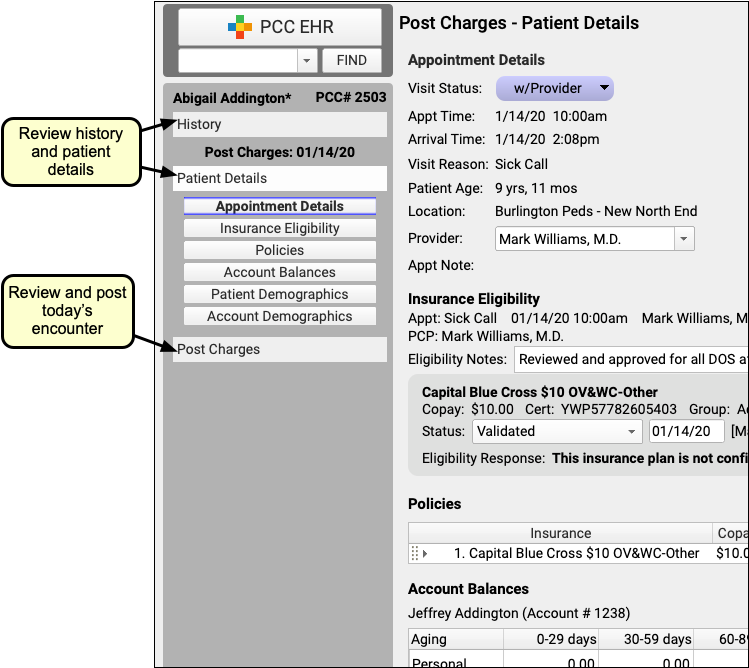 PCC EHR will open a Post Charges window. You can review a patient's history and details as you work with encounter charges. For example, you can use the Patient Details protocol to review eligibility, update a patient's insurance policies, or change demographic information. You can also click "Visit Note" in the lower-right corner to open the encounter's complete chart note in a separate window.
Next, use the Diagnoses and Procedures components in the Post Charges protocol to review and update charges for the encounter.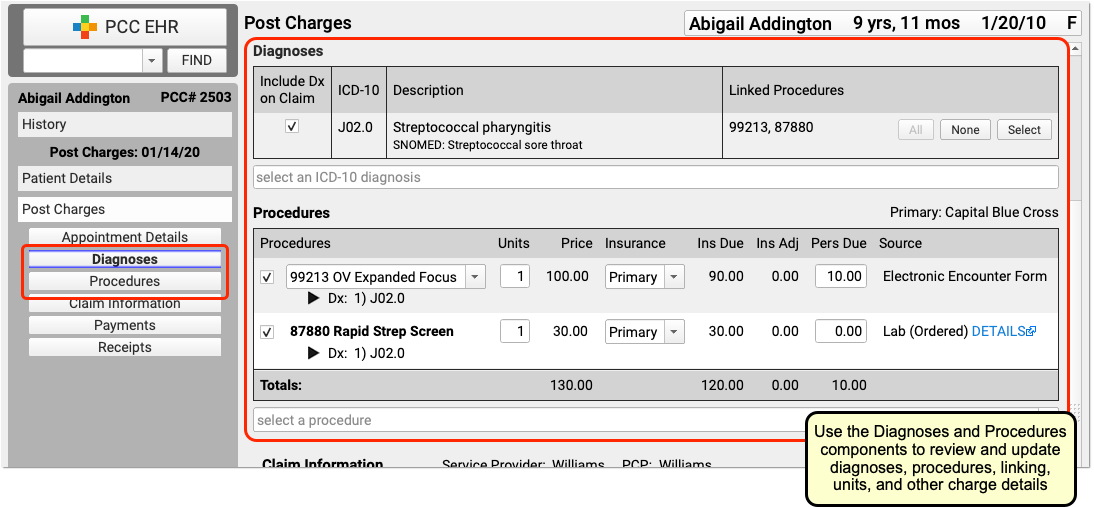 The Diagnoses and Procedures components display all the diagnoses and procedures that the clinician made ready for billing on the electronic encounter form. You can adjust linking or number of units, switch to a secondary insurance (or "Self Pay"), change the amount due personal, select a modified code, add billing diagnoses and procedures, and more.
Next, if an encounter needs to be billed under a different provider, requires a prior authorization number, or has additional details that should appear on the claim, you can enter that information in the Claim Information component.

What amount is due personal for this encounter? Did the family pay part of their balance today? Use the Payments component to review personal due totals and enter payments.

First review the ledger to understand the total of today's personal charges and any past due balance. Then select a Payment Type to begin entering a payment.
When you finish reviewing and updating all charge, claim, and payment information, click "Save + Post" to post the charges. (If you want a receipt right away, you can first click "Generate a Receipt".)


The Schedule queue displays that the encounter's charges are posted.
What Happens Next?: As soon as you post charges, PCC queues up a claim. You can click the "Posted" button to return to Post Charges to add a new payment or to get another receipt. Later, your practice can review, adjust, or delete charges and payments using Correct Mistakes (oops) in the Practice Management window. Finally, your billers can generate claims, which will automatically review claim information for errors and then send claims electronically to the payers.
More Details Please!: We couldn't fit all the different Post Charges options and features into this release article. To see more details and examples, read Post Charges in PCC EHR for a full how-to procedure.
Enter Visit Data in pocketPCC
In PCC 8.12 you can now enter visit data in pocketPCC. After a patient is checked in, all generic components included in the visit will be available in the Edit View in pocketPCC.
Click the edit button when viewing the visit, and all generic components in the visit will open for editing.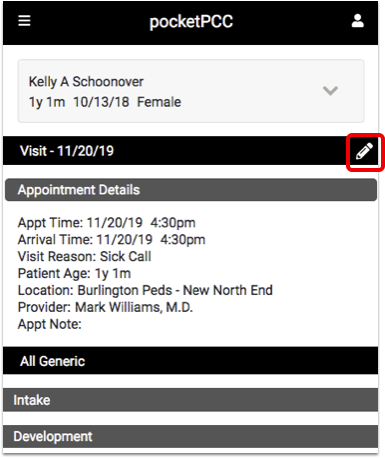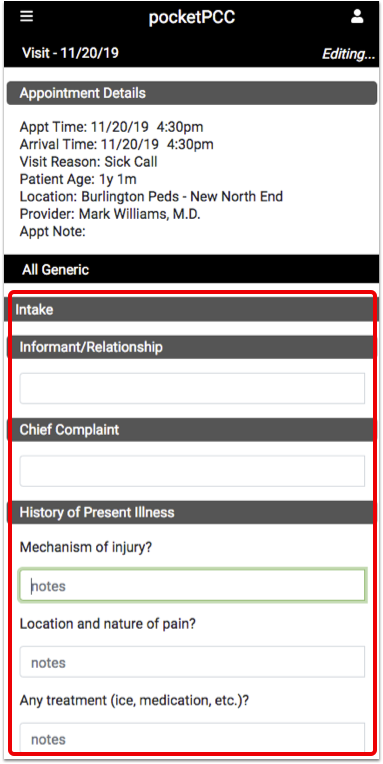 Select radio buttons above a question to enter your auto-notes for that entry, or tap the arrow to the right side of a text field to choose one of your previous answers entered in that field.
Once you're done editing, click save & exit at the bottom of the pocketPCC window to save your work. After saving, anything you've added in pocketPCC will appear in PCC EHR.
Finish Your Notes Without Being Timed Out of pocketPCC
Have you ever lost notes in pocketPCC because you were automatically logged out before you finished a note, or because you stepped away mid-note? In PCC 8.12, new pocketPCC settings have been added to the Practice Preferences window to help prevent lost notes.
You can control the Session Timeout settings for pocketPCC just like you can for PCC EHR. Instead of the default 15 minutes, you can choose from six different lengths, from 15 minutes to 4 hours.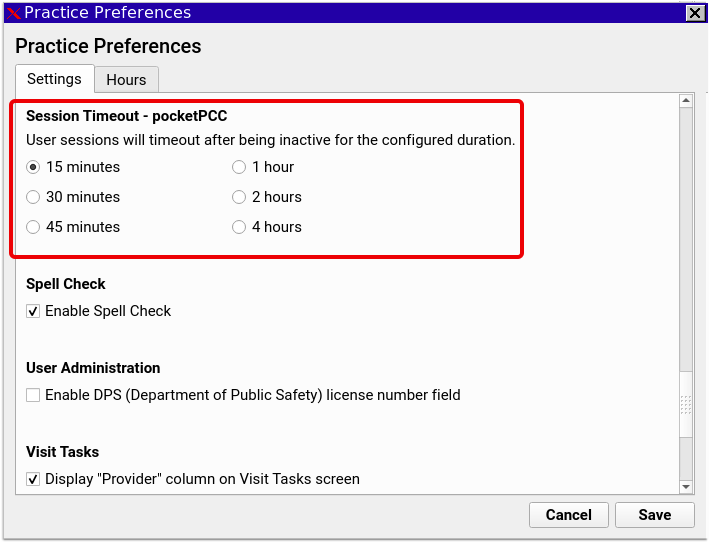 If any user leaves pocketPCC open but unused for the selected time, the session will automatically end. Any action in pocketPCC will reset the timer, so if you're interacting with pocketPCC in any way, you won't be logged out.
See Patient Care Center and More in pocketPCC Search Results
In PCC 8.12, pocketPCC's search results now show more than just names and birth dates so you can quickly choose the correct patient from the list of results. Search results now include each patient's PCP and flags. If you have multiple locations and you're using the Care Center feature in PCC EHR and Practice Management, each patient's care center will also appear.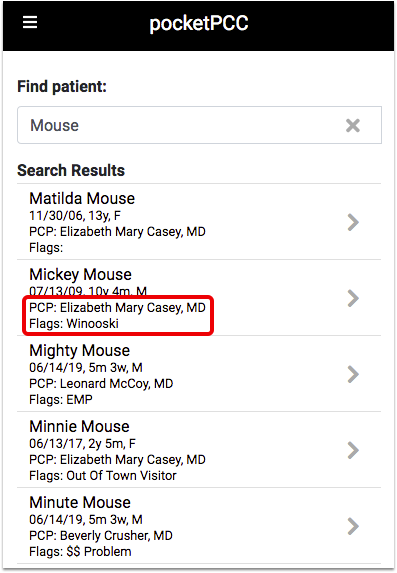 View Schedule Blocks in pocketPCC
Never miss another scheduled meeting. The pocketPCC schedule now shows more than just appointments: it also includes any Appointment Book blocks, so if you have a block of time set aside for a meeting or walk-in appointments, those blocks will now appear in your schedule.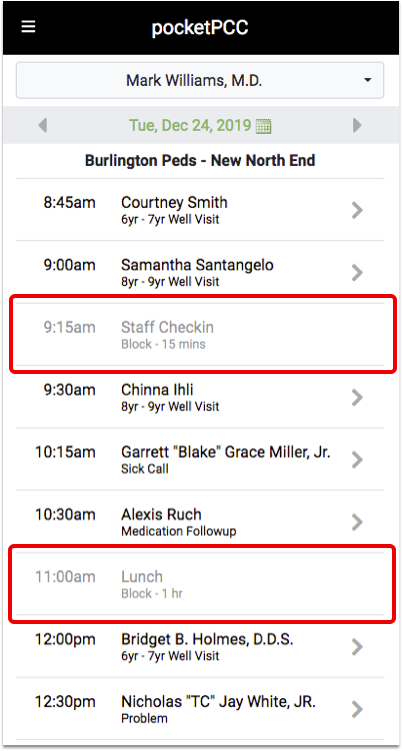 Blocks appear in-line with your appointments, and are displayed as gray text instead of black. Each block is labeled with its block type and length of time blocked. For example, the Staff Checkin block above begins at 9:15, and lasts for fifteen minutes.
Please note that only blocks added via Appointment Book will appear in pocketPCC. If your practice is not yet using Appointment Book and would like to begin, contact your PCC Client Advocate.
Display Any Order Type in the Patient Portal
You can now share the full range of orders with families through the patient portal. Open Patient Portal from PCC EHR's Configuration menu. If you check or uncheck the "Orders" box, you'll show or hide all orders, or you can select individual order types to show or hide.
These changes are applied practice-wide, and will affect all orders of that type. For example, checking Medical Procedure will display all medical procedure orders for all portal users in all visits that include a Medical Procedure order.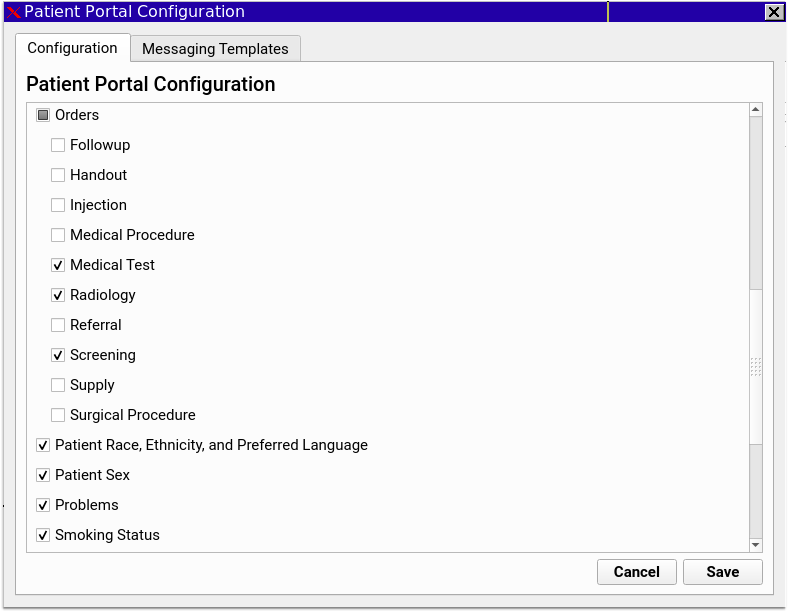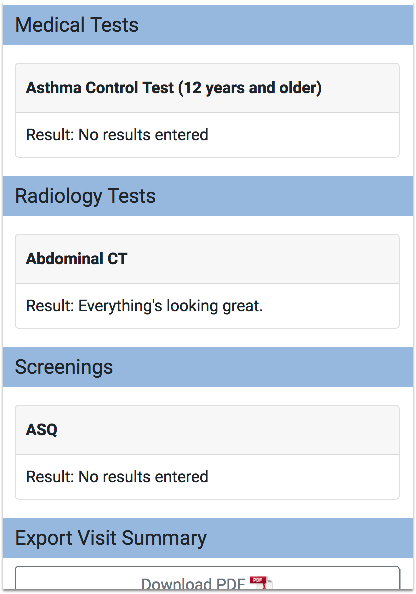 Likewise, if you uncheck an order type, the next time a user logs in to the patient portal, all orders of that type will be hidden from view across all users and all visits.
When you attach a document to an order through PCC EHR's Import Documents tool, those will appear in the visit's documents section, as long as the "Display in Portal Documents" option is selected.
Review Portal Payments in PCC EHR
The PCC EHR Report Library now includes a report on payments made through the patient portal. Find it in the Billing and Patient Portal reports categories, or search in the All Reports category.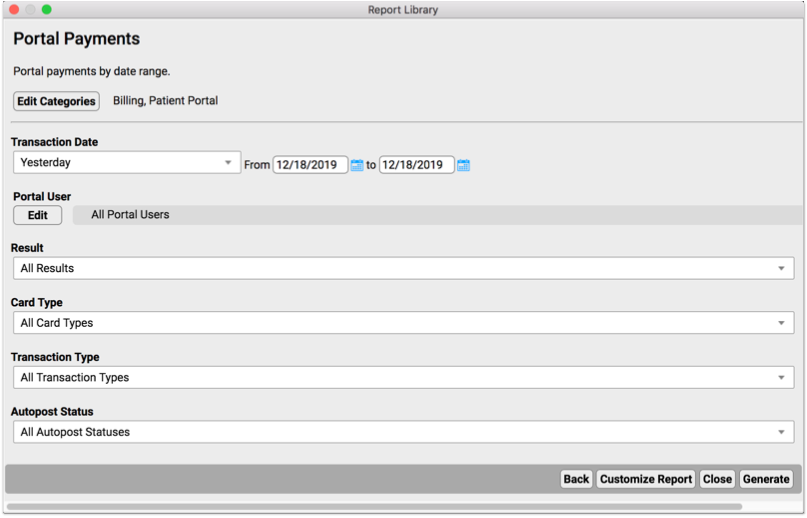 Select a range of dates, and optionally limit your report by portal user, result, card type, transaction type, and autopost status. The resulting report will list all payments made through the portal, including account details for each payment.
Search Within Patient Visit History
Looking for a specific visit or diagnosis in a patient's history? Now you can search a patient's history from the Visit History Index. Enter a phrase or keyword, such as a diagnosis, order, or other visit detail, and click search or press enter.

The Visit History Index will change to display only the visits that contain the search term you entered. The search box will show a count of how many visits contain that term, and which of those search results you currently have selected.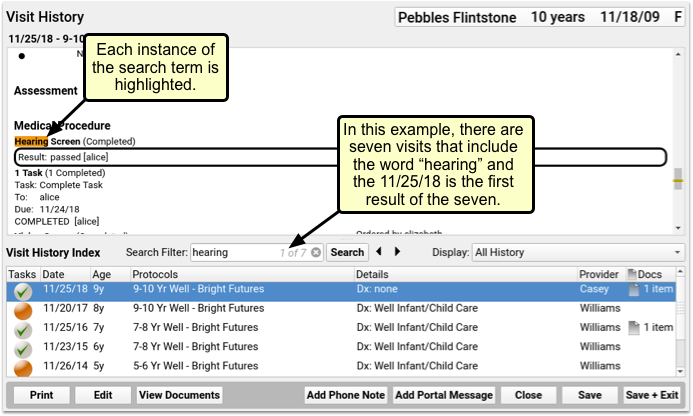 When you select a visit, the count will change to indicate which of the resulting visits you've selected. In the visit history window above, each instance of your search term will be highlighted.
To return to the full list of visits, click the x in the search box to clear the search.
Add Additional Races, Ethnicities, and Languages to Patient Charts
Your practice can now optionally add more detailed race, ethnicity, and language information to a patient's chart record.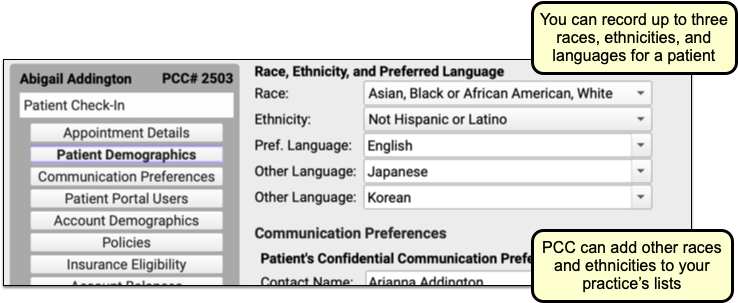 You can select up to three races, ethnicities, and languages, and more options for each are available to your practice.
As part of the patient's record, these values are available in custom form letters, reporting, and will appear on the Patient Visit Summary, in the patient portal, and wherever patient demographics appear.
Contact PCC to Add Additional Options: The PCC 8.12 update expands the list of races, ethnicities, and languages to include the full CDC OMB lists. All languages will appear automatically, and you can contact your PCC Client Advocate to add additional races and ethnicities to your practice's pull-down lists. For more information, read Add Additional Race, Ethnicities and Languages to PCC EHR.
Outgoing Records: If you export or send a C-CDA chart record for a patient, PCC EHR will automatically adapt race and ethnicity standards to the C-CDA standard. For example, C-CDA only supports ethnicities of hispanic or non-hispanic, so other ethnicities will be sent as non-hispanic.
Adjust Custom Reports: If you expand what your practice tracks for race, ethnicity, and language, you should also revisit any of your practice's custom reports that are based on these values.
Sign Up Now for the Clinical Document Exchange Responder Role
Does your practice frequently receive requests for patient records from local hospitals or other health care providers?
PCC has begun a phased rollout of the Clinical Document Exchange responder functionality to all PCC clients!
You can now sign up to automatically share clinical and demographic information with other adopters of the Carequality framework. Over 1,700 hospitals and 40,000 clinics are currently connected and exchanging clinical documents. You can search Carequality's nationwide registry to see if your local hospitals and clinics are part of the network.
If you are ready to sign up as a CDE Responder, or just want to learn more about it, read Getting Started with Clinical Document Exchange on learn.pcc.com.
PCC eRx is Now Fully Owned and Operated By PCC!
You may have noticed a change to our PCC eRx logo lately!  (Hint: It no longer says "powered by FDB MedsTracker")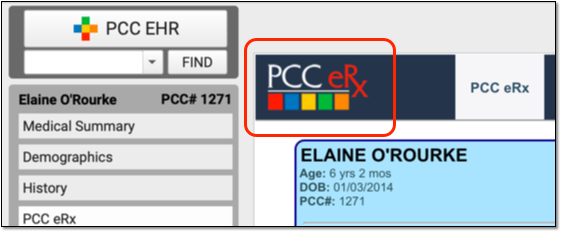 During the 8.12 release cycle, PCC completed the transition to having full control of our eRx solution.
Here's what the journey looked like:
In October of 2019, we migrated the hosting of PCC eRx from FDB's cloud-based infrastructure to each client's PCC server. Several clients reported significant improvements to the load speed with the new locally hosted version.
At the beginning of January, PCC completed a seamless one-time migration of all provider accounts with Surescripts from FDB ownership to PCC.
In mid-January, we transferred Exostar EPCS credentials from FDB's ownership to PCC. The migration occurred late at night on Saturday, January 11th, and was complete by the early morning hours of Sunday, January 12. While the transfer didn't affect prescribers' ability to send electronic prescriptions using their hard tokens, it did require each provider using the Authy app to replace their FDB Authy account with the new PCC account.
Finally, on March 2nd 2020, we deployed the full PCC-hosted eRx package to all offices. This final update included the new PCC eRx logo, a fix to a button that was inadvertently moved during a previous update (the "Mark as Reviewed" button in the Medication History component), as well as a re-direction of drug data referencing from FDB to PCC (identical data) and finally the acquisition of Surescripts formulary files, which had not been updated by FDB in some time. After the update, we received reports of much better formulary results for many of our clients!
Internally, PCC has added dedicated programmers to our eRx development team, and they are already hard at work making pediatric-focused improvements; in the coming months we will be rolling out some new functionality that you have been requesting!  
Stay tuned for information about a PCC eRx-only release coming later this year!
Large Reports and Data Source Reports Generate Faster
Reports in PCC EHR give you access to a massive amount of data. The more columns of data you include in a report, the longer it takes to generate.
Prior to PCC 8.12, stock reports were pulling, by default, dozens of columns of data, leading to long generating times for those reports as well as any custom reports built using those stock reports.
In PCC 8.12, we've reduced the number of default columns in the following reports in order to dramatically decrease generation time:
Patient List
Appointment
Chronic Condition Recall
Preventive Care Recall
Remember, if you want access to columns that we've removed from these reports' default lists, you can create a custom report that includes those additional columns.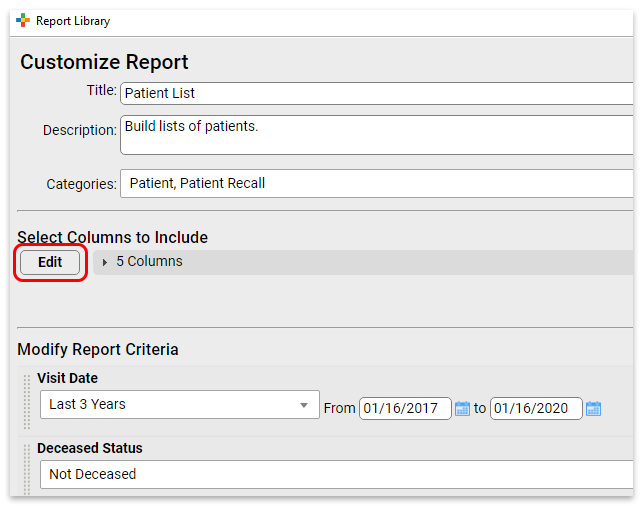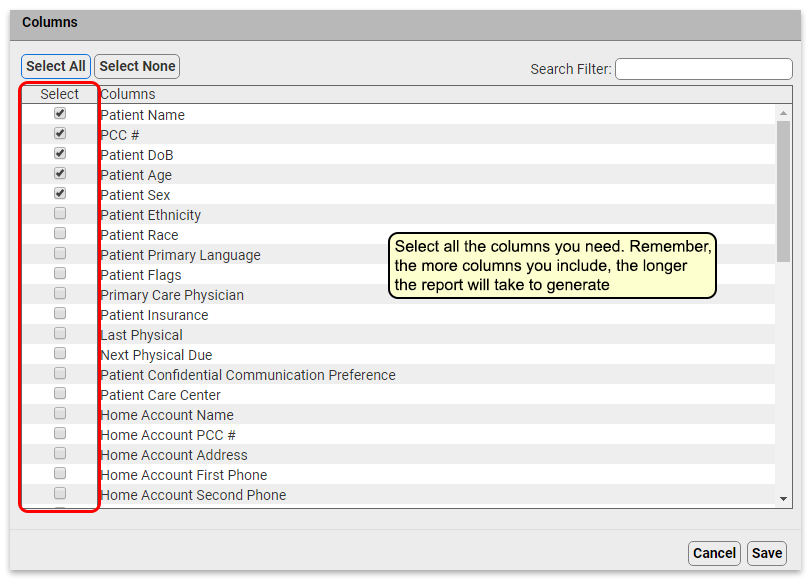 See Per-Provider Immunization Rates in the Dashboard
With PCC 8.12, you can compare immunization rates by provider for the following Dashboard measures:
Immunization Rates – Adolescents
Immunization Rates – HPV (Patients 13-17 Years)
Immunization Rates – HPV (Patients 13 Years)
Immunization Rates – Meningococcal
Immunization Rates – Patients 2 Years Old
Immunization Rates – Tdap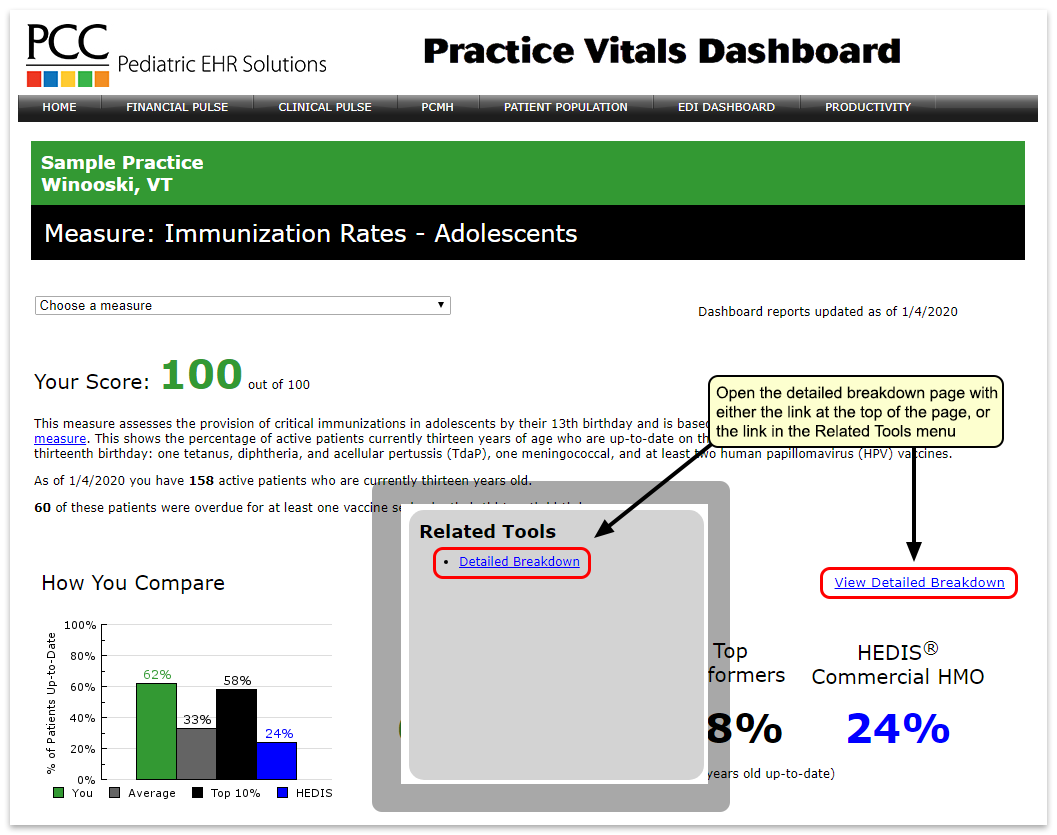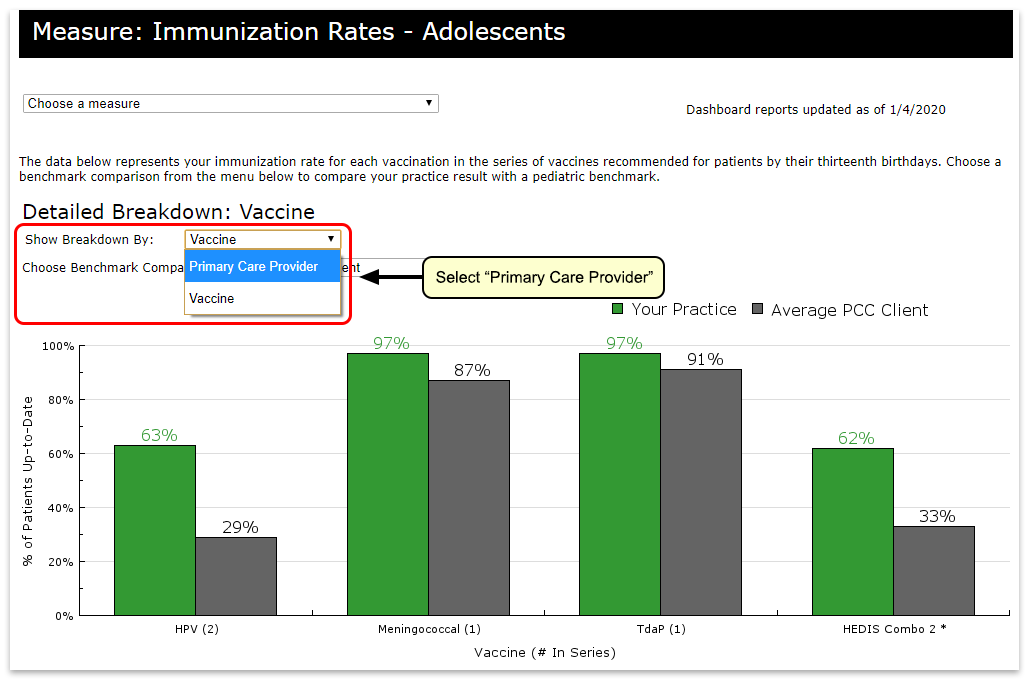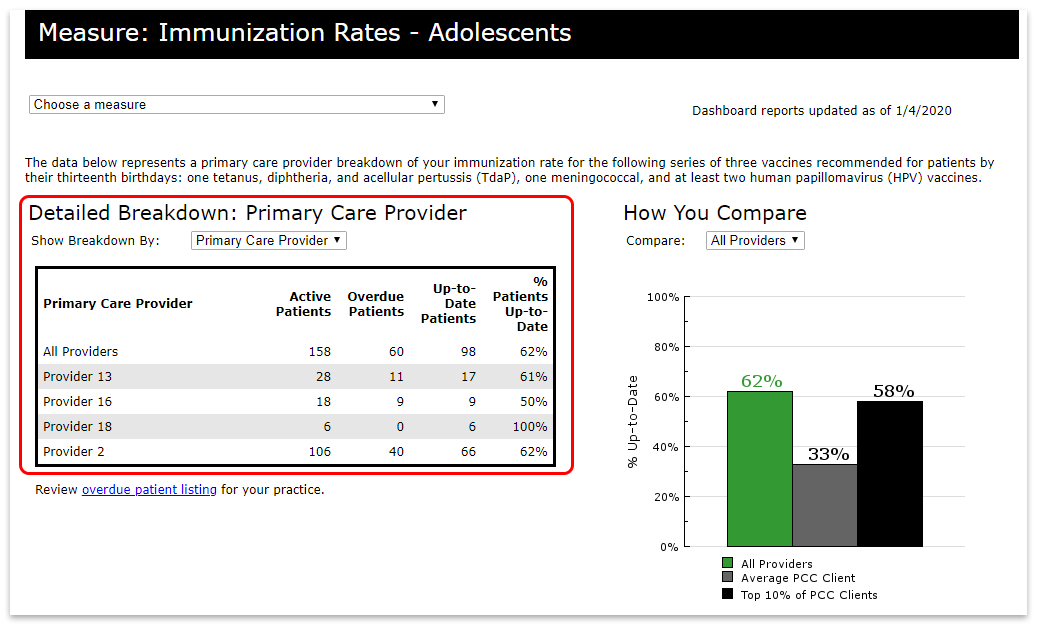 These per-provider breakdowns have also been added to the PCMH page of the Dashboard.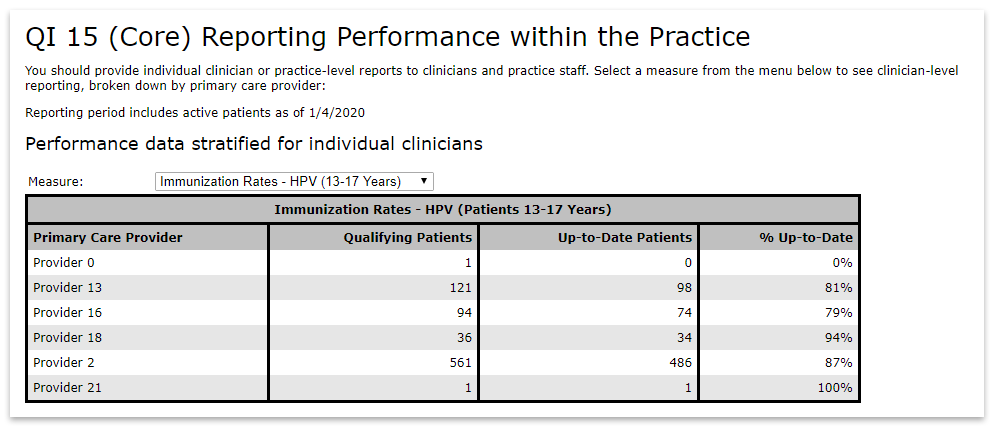 Filter New Billing Statuses in the Report Library
You can now filter reports in the Report Library based on billing statuses with just one filter.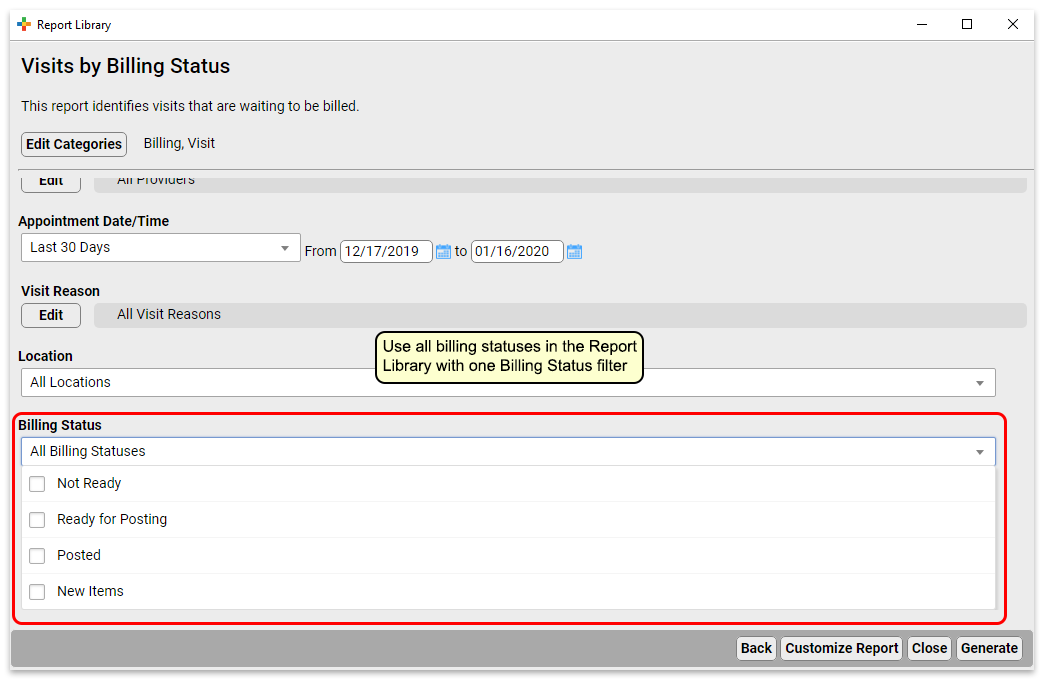 The Billing Status filter in the Report Library allows you to filter on the four billing statuses:
Not Ready
Ready for Posting
Posted
New Items
You could use this filter, for example to generate a report of all visits with "New Items," in order to determine if you need to submit corrected claims.
New and Updated Interfaces Available in PCC 8.12
With each release, PCC's Interoperability team expands and updates PCC's direct connections, partnerships, and integrations with insurance payers, immunization registries, and more. Here are the clinical and financial interoperability updates for PCC 8.12:
New and Updated Immunization Interfaces: As part of the PCC 8.12 release, PCC updated our immunization registry interfaces with Alabama (ImmPrint), Michigan (MCIR), Wyoming (WyIR), Ohio (ImpactSIIS), Maryland (Immunet), and New Jersey (NJIIS).

Updated Clinical Interfaces in PCC EHR: PCC added or updated clinical interfaces with Boone Hospital, Virginia Hospital Center, Trinity Elabs, CCHMC, Beaumont Hospital, and Urgent eLabs.

New Insurance Eligibility and Financial Interfaces: PCC added or improved interfaces with Wellcentive, Meridian Health Plan of Minnesota, Medicaid Priority Health in Minnesota, CareSource in Georgia, Mississippi Medicaid and Mississippi BCBS.
If your practice would like to take advantage of these connections, or you have another interface need, contact your PCC Client Advocate.
Immunization Forecasting is Up to Date
During the PCC 8.12 release cycle, PCC updated your immunization forecasting schedules to meet the latest CDC ACIP schedules and to correct unusual schedule scenarios or errors in forecasting.
PCC EHR automatically reviews each patient's immunization record and provides a table showing any immunizations that were missed, are recommended soon, or that occurred outside of the CDC's ACIP schedule.

PCC uses immunization logic and calculation services provided by Immucast by STC. During the PCC 8.12 release cycle, STC applied their latest patches (5.22.1 and 5.22.2), updating and correcting immunization schedules and bringing your system's Immunization Forecasting in line with the latest ACIP recommendations.
Here's a summary of the most notable improvements:
Influenza: STC adjusted the start date for influenza forecasting to July 1st, complying with new CDC CDSi recommendations. They also updated flu shot forecasting for the 2019-2020 flu season.

Influenza: Under certain circumstances, a warning for live, quadrivalent, intranasal vaccine for doses administered after 2010 to patients under 2 years (or over 49 years) did not display. A mid-release update corrected this omission.

Tdap: A mid-release update implemented the 2018 MMWR recommendation that patients age 11-12 who received Tdap as a catch-up series before age 10 can receive a Tdap at 10 years or older as the adolescent dose.

Influenza: After January 1st of this year, in certain circumstances patients were forecasted as needing an influenza vaccine for 07/01/2020, when in many cases they should be forecast as overdue for the 2019-2020 season. A mid-release PCC update resolved this issue.

Influenza: STC has added CVX code 197, which is a high-dose seasonal, quadrivalent, preservative free influenza vaccine.
PCC tests all adjustments to the immunization schedules. Please get in touch if you'd like to learn more about the updates, or if you observe a forecasting result or warning that doesn't match your expectation. You can review the full list of updates by reading the ImmuCast 5.22.1 and 5.22.2 release notes.
To learn more, read the guide to PCC's Immunization Forecasting features.
Other Feature Improvements and Bug Fixes in PCC 8.12
In addition to the features described above, PCC 8.12 includes these smaller improvements and squashed bugs.
Reduce Accidental Selection of Historic Answer Memory: In PCC 8.12, when you type in any field that remembers your previous 10 responses, you can press the down arrow to see the list of historic responses and then use the down arrow key to select an answer. (Previously, pressing the down arrow key would immediately select a previous answer and erase any text you had already typed.)

No More 'Chart is Already Open' Error Messages When You Schedule: You can now open a patient's chart, open the Appointment Book, and use the Patient Details feature without being warned you already have the chart open. Similarly, if you have the chart open and simultaneously use the Insurance Eligibility tool for the patient, you will be able to review the patient's eligibility without closing the chart first.

STC Immunization Forecasting Speed Improved: PCC is working with STC, our immunization forecasting vendor, to improve forecasting speed. A recent mid-release update fixed many of the issues that caused slow results.

Faster Report Generation: PCC 8.12 includes some behind-the-scenes changes that increase the speed of report generation in the PCC EHR Report Library.

Sort Order in Exported Reports: Changes to report output sort order were not reflected when reports were exported from PCC EHR. This has been fixed.

Screen Cut Off in Documents Window: Under certain circumstances, menus in the Documents window would extend off the screen. This has been fixed.

New Accounts in Training Databases: Under certain circumstances, creating a new account in a PCC EHR training database could cause PCC EHR to crash. This no longer occurs.

Vitals Weight Rounding Improved: PCC 8.12 corrects an unusual bug where rounding up was incorrect when converting from kilograms to pounds.