PCC 8.8 Release: Prescribe Better!
In May of 2019, PCC will release version 8.8 of our electronic charting and practice management software to all PCC users.
This eRx-focused release includes new features, updates, enhancements, and bug fixes for the prescription features in PCC EHR.
Watch a Video: Want to see a video summary of everything in this release? Watch the PCC 8.8 Release Video.
Read below to learn more, and contact PCC Support for information about these new features or about any PCC product or service.
Use RapidRx to Review and Send Prescriptions
As you adjust details for a prescription, you will now see the final prescription details in the RapidRx panel on the right-hand side of the screen. You can sign and send the prescription with a single click.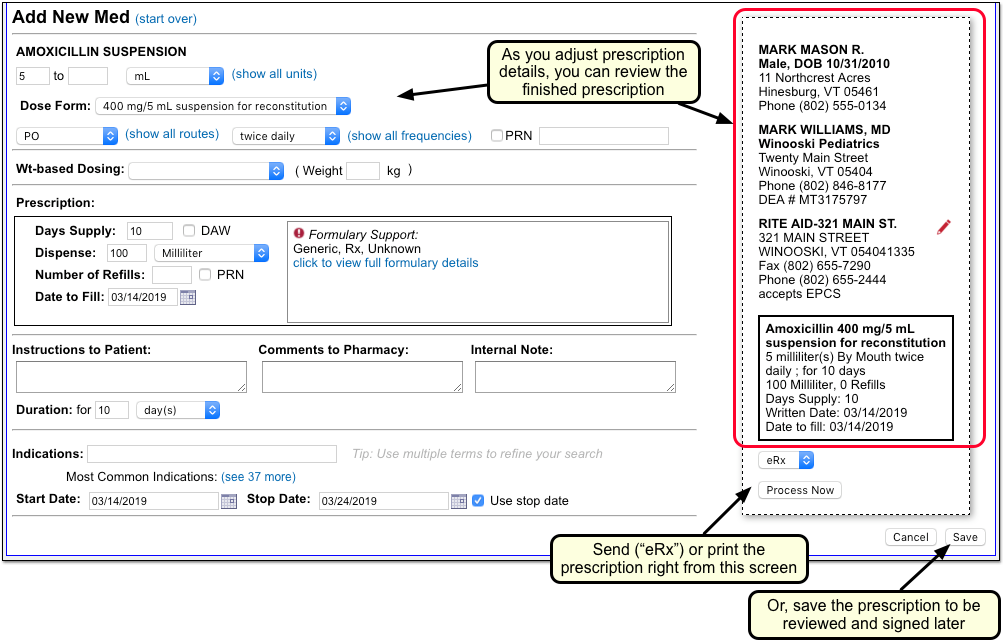 You can review exactly what the prescription will look like. As you make changes, the panel will update to reflect what will appear on the final prescription. Click "Process Now" to sign and send the prescription. You can use a pull-down menu to select wether you wish to send the prescription electronically ("eRx") or print it.
Sending a prescription with RapidRx is optional. If you're not ready to send a prescription yet, you can save it and finalize later in the Review and Sign component. For example, if you are queuing up three months of ADHD medications, you may prefer to create and queue up those prescriptions and then review and send them on the Review and Sign component.
Multiple Locations and Non-Visit Encounters: If you work for a practice with more than one location, and you create a prescription based on a portal message or other non-visit encounter, you will need to select the originating location of the prescription. Previously, PCC eRx prompted you for this information during Review and Sign. With RapidRx you can sign and send your prescription on the details screen, so in PCC 8.8 the prompt appears as soon as you select the drug.


Indicate DAW Where and When You Need It
As you create a prescription, you can select the DAW option as you enter the number of days' supply and dispense amount.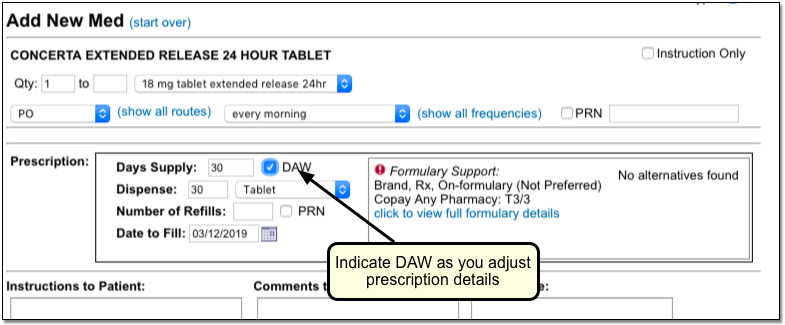 The new DAW option is more accessible and will work better in your prescribing workflow.
Better Auto-Calculation, Only When You Need It
As you adjust prescription details, PCC eRX auto-calculates dispense amounts and other values. In PCC 8.8, PCC eRx will only auto-calculate values when the change will be useful. When you select a dispense amount for albuterol inhalers, for example, your selection will no longer cause other fields to change.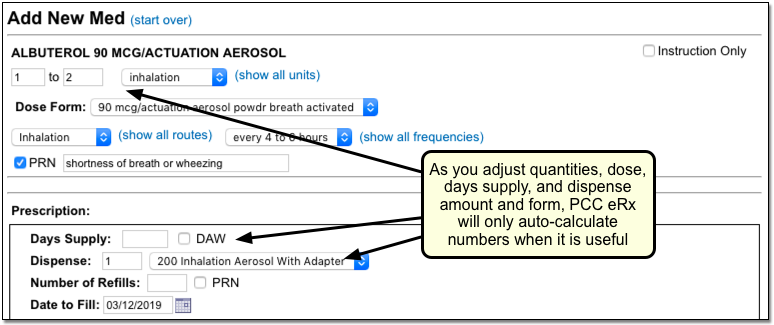 Auto-calculate is a great feature when you prescribe tablets and liquids. However, if you are selecting a drug form first (such as inhalers), or you have already entered a specific dispensary amount, auto-calculation shouldn't cause a "whack-a-mole" feeling where you need to adjust a field multiple times. After your PCC 8.8 update, PCC eRx will still help you auto-calculate amounts in a prescription, but it won't erase a value that you just entered.
Favorites Will Not Recalculate Values When You Prescribe
When you select a prescription favorite from the Favorites list, and then edit those prescription details for a patient, PCC eRx will no longer override your defined amounts.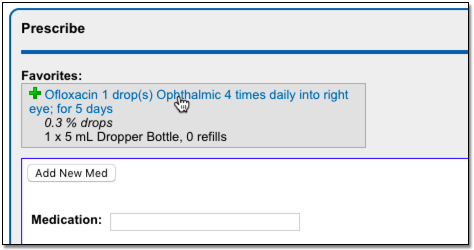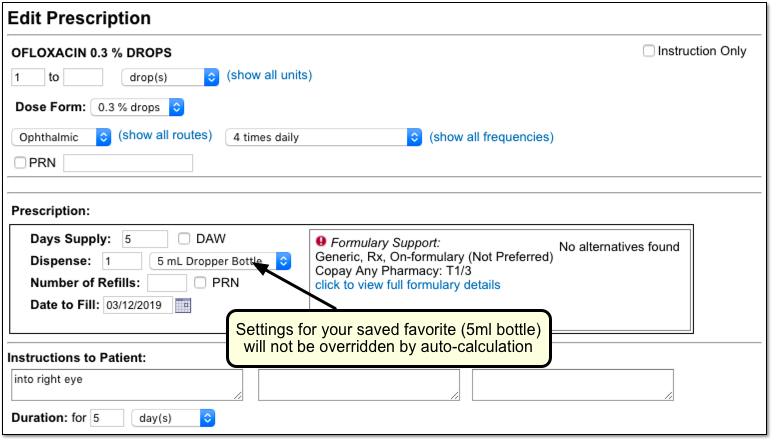 Auto-calculation will not override the dispense or unit measure that you saved in a favorite. Previously, if you had a prescription favorite for a 5ml bottle of eye drops, for example, and entered instructions for less than that amount, PCC eRx would auto-calculate the dispense amount and overwrite the preference in your favorite. After your PCC 8.8 update, PCC eRx will defer to the amounts and values you used when you created a prescription favorite.
Indications Will Appear on the Final Prescription Review Window
As you review and sign prescriptions, you can now see each prescription's indications.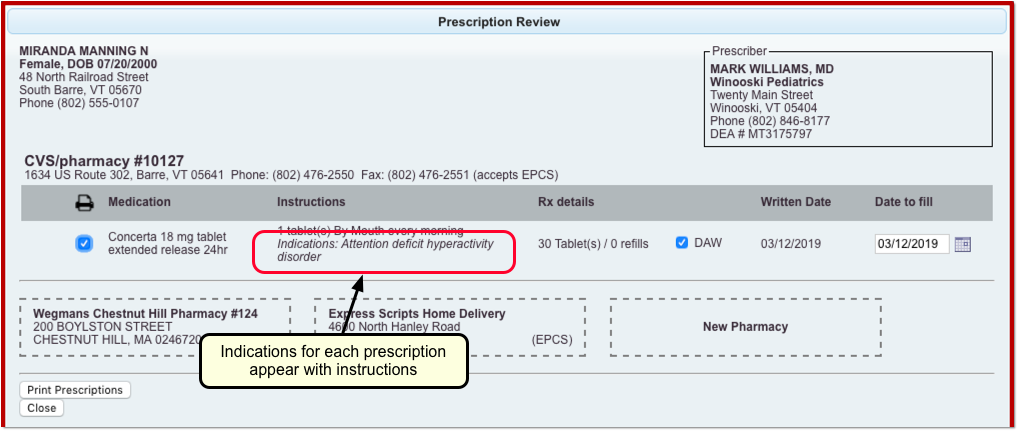 PCC eRx previously listed indications in a prescription's details. Now these indications will also appear in the Prescription Review window. Some states, such as Ohio, require indications for controlled substances. You can now double-check these indications in the final step.
What's the ICD-10 for an Indication on a Prescription?: If you hold your mouse over an indication listed on the Prescription Review window, you can see the associated ICD-10 code and description.

Easily Send Prescriptions to Different Pharmacies
As you review queued prescriptions for a patient, you can click and drag prescriptions to any of a patient's saved pharmacies.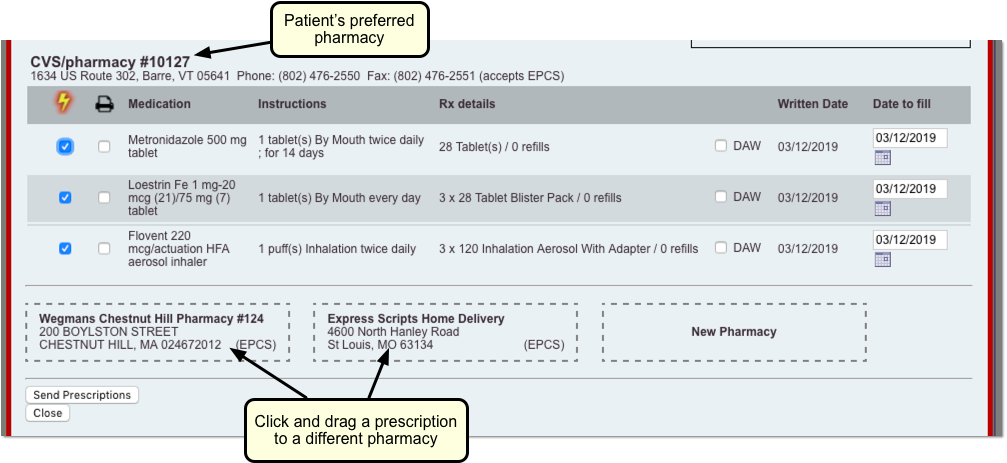 If you have a patient with prescriptions for both a local pharmacy and a mail-order pharmacy, or they need to fill a different prescription at their college town's pharmacy, you can make adjustments on the fly before you send the prescriptions.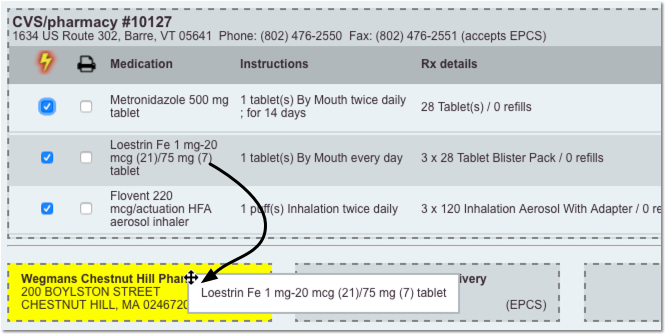 Add a Pharmacy on the Fly: Do you need to add a pharmacy for a patient as you finalize prescriptions? You can click "New Pharmacy" on the Prescription Review window.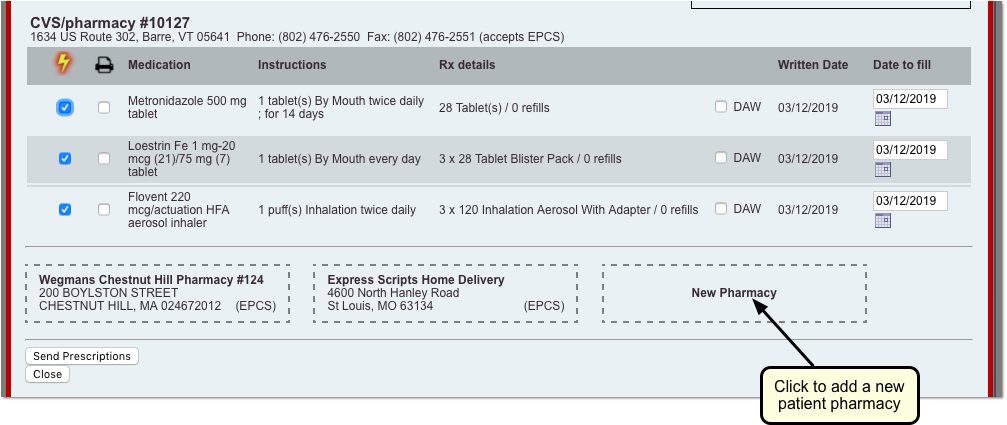 After you add a pharmacy, you can immediately assign prescriptions to that pharmacy. You can also select whether to send the drugs electronically or print (or both).
Print Pharmacy Name on the Printed Version of the Prescription
When you print a copy of the prescription for a family, the pharmacy will now appear on that printout. For example, you might send a prescription electronically, but then print a paper copy.
Only Available on Letter Paper: Pharmacy address printing is only available for full page, 8.5″ x 11″ prescription printing.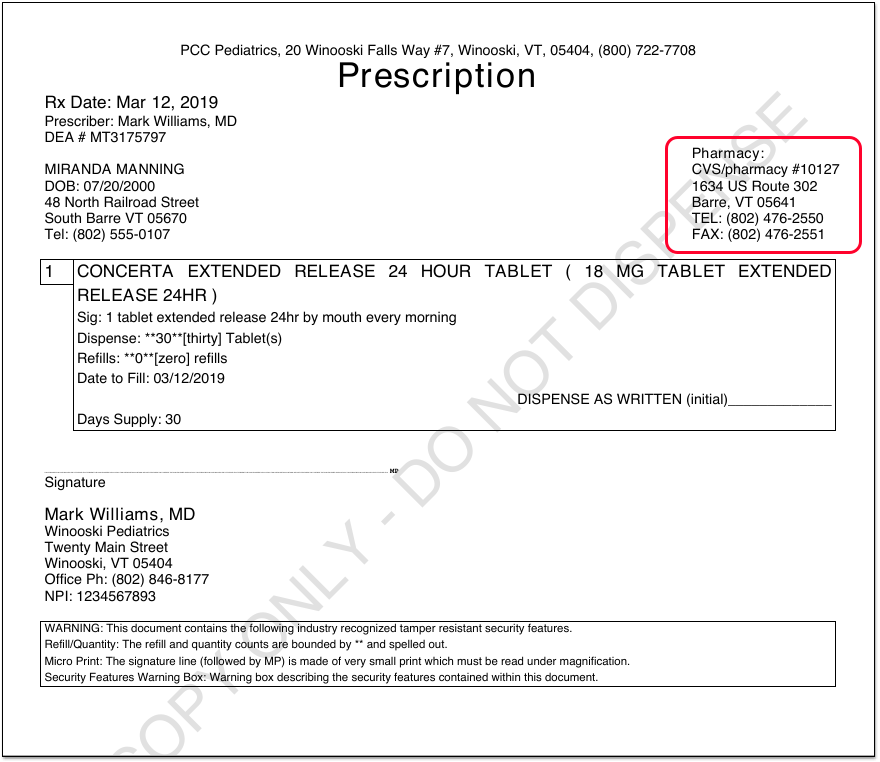 Note that if you print the actual prescription and do not send it electronically, the chosen pharmacy will appear on the printout, but the prescription can also be filled elsewhere.
Simplified Customization of Safety Checking
Your practice can define which types of medication alerts appear as you prescribe. You can also determine which prescriber roles at your practice should see different types of alerts. The PCC 8.8 update includes an improvement to the Safety Checking settings in PCC eRx Administration, making it clearer how to turn an alert on or off.

When you wish to disable a certain type of alert completely, you can deselect the checkbox in front of the item. When you wish to customize which roles should see a type of alert, click "Show Roles" and select or deselect provider roles.


For more information, read Customize PCC eRx Alerts and Warnings.
Other Feature Improvements and Bug Fixes in PCC 8.8
Dispense Volume/Quantity Does Not Recalculate After Saving: In certain circumstances, when you had edited and saved a prescription, it would no longer provide calculation assistance for dispense volume. Now it will. (33548)

Sprintec Tablets Quantity Fix: Under certain circumstances, pharmacies could receive the wrong dispense quantity for Sprintec Tablets. This no longer occurs.

Better Syncing Back to a Patient's Chart: If you clicked the Renew eRx blue swish button in the Prescription History component in PCC eRx, but did not sign and send the prescription, the pending prescription would not display in the Prescription component in the patient's chart. (It would appear once the prescription was sent.) PCC 8.8 allows the pending prescription to display.

Dispensary Amounts Auto-calculate Based on Common Practice (Highest Value in a Range): When PCC eRx auto-calculates a dispensary amount based on a range of usage (i.e. "1-2 tablets every 4 to 6 hours for 30 days") it will now suggest a dispensary amount based on the highest value in the range.

Medication Allergy Checking Update: During the PCC 8.8 release cycle, PCC patched PCC eRx to improve the behavior of medication allergy alerts as well as syncing of allergies between a patient's chart and PCC eRx.