Find Patients and Accounts in Practice Management
Finding a patient or an account is the first step to many actions. Whenever you wish to post a payment, check an immunization record, or update demographic information, you must first find the relevant patient or account.
Practice Management's "Find Routines" are the search screens you use when finding patients or accounts. Whenever you enter a patient's first and last name, you are using the Find Routines. The Find Routines also help you find recently accessed patients and accounts, find family members, and find missing patients and accounts quickly by reviewing their demographic information or performing other searches.
Find Patients and Accounts in PCC EHR: This article refers to the find tools in PCC's previous software suite, Partner, which is still used by some power-user tools in the Practice Management windows found in PCC EHR. For information on finding patients in PCC EHR, read Find Patients and Accounts.
Find Patients and Families by Name
Finding patients or accounts by name is easy. When you first run an account or patient based program, you will see a screen similar to this: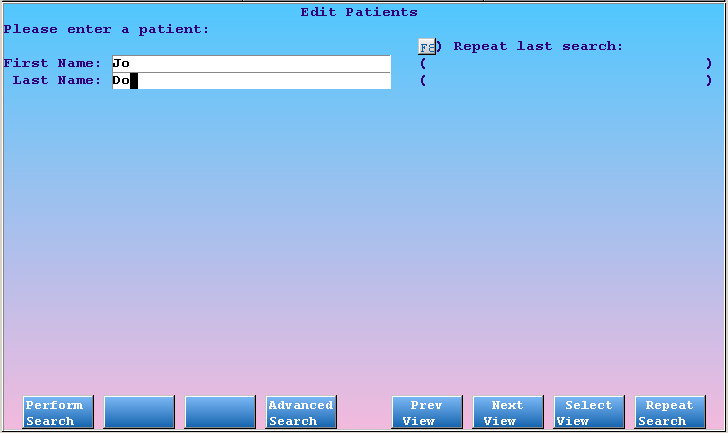 Type in part or all of the first and last name, pressing ENTER when finished with each. You can press either ENTER or F1 – Perform Search to continue to the list of results.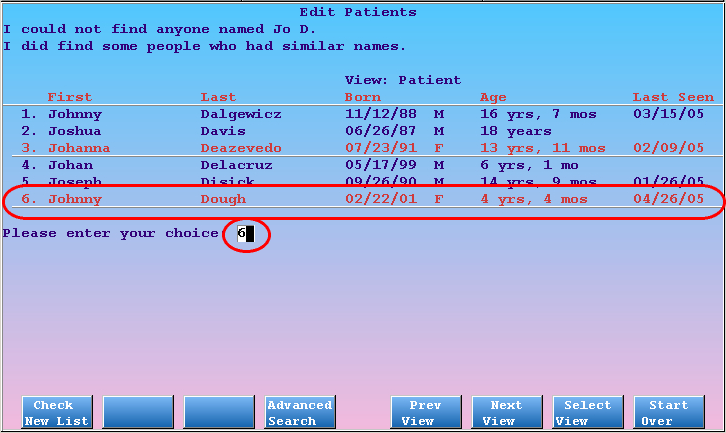 On the results screen, choose the number next to the patient or account you wish to view.
Press F1 – Check New List to find patients and accounts added to the system today. You can also press N to view the new list.
Open the Most Recent Patient or Account
Once you have found and worked with a patient or account, you may wish to find them again without retyping their name. As shown below, the bottom part of the search screen will list the last patient or account you were viewing: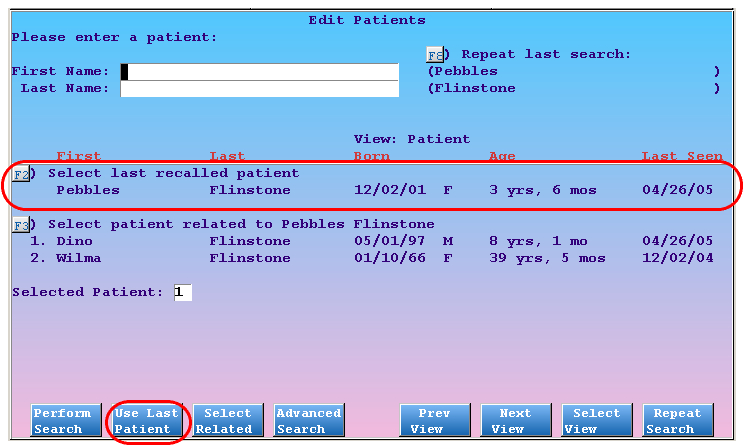 Press F2 – Use Last Patient to open the most recently viewed patient or account.
Open a Relation of the Last Patient or Account
Do you ever need to schedule siblings from the same family, or update account demographic information after scheduling a patient?
When you search for a patient, you can review a list of patients who share a custodian or guarantor with the last patient record you opened. If you are searching for an account, you will see the related account of the last patient you viewed. These options make finding family members a quick and easy task.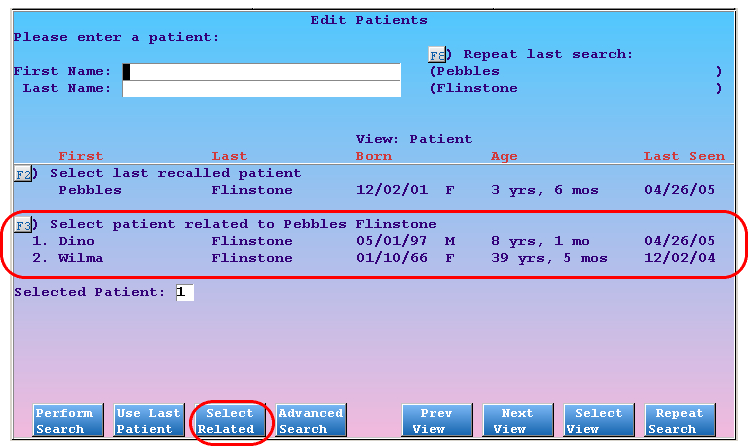 As shown above, press F3 – Select Related and then choose one of the listed patients. When searching for an account, F3 will let you select from accounts related to the last patient viewed instead.
Repeat the Last Search
Press F8 – Repeat Search to return to the results page of a recent search. For example, if you choose the wrong family or patient from a results list, you can quit the program you have run and use the F8 – Repeat Search key to search for the same name you typed previously.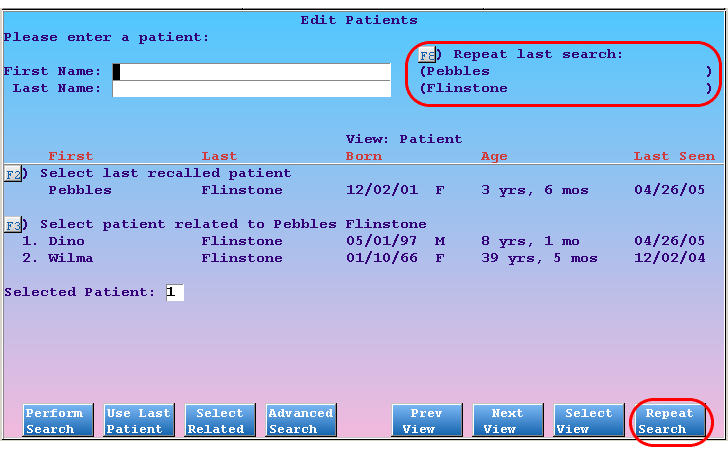 Find Patients by Birth Date
Enter a birth date in the First Name field of the find screen and press Enter twice or F1 – Perform Search to search by birth date.
Different Views for Search Results
The results of a search show you more information about the patients and accounts than just their names. For example, while viewing a patient, you may see both the date of birth and the last time the patient visited the office. This information makes it easier to choose the correct patient or account:

Press F5 – Prev View or F6 – Next View to cycle through even more information. The different results views can give you the hints you need to pick the right family or patient quickly. Press F7 – Select View to choose from a list of results views.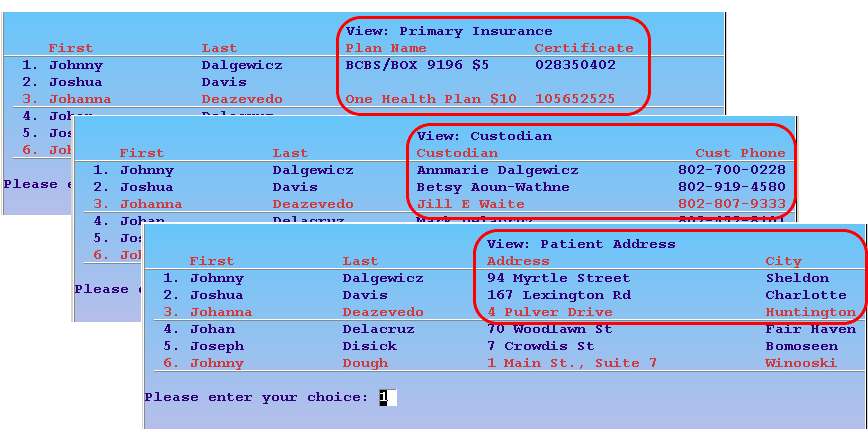 Advanced Searching (findem)
What if you know the patient's phone number, but nothing else? What if you only know what street someone lives on, or their insurance ID? From the find routines, press F4 – Advanced Search to run the findem program, where you can search by a wide variety of criteria.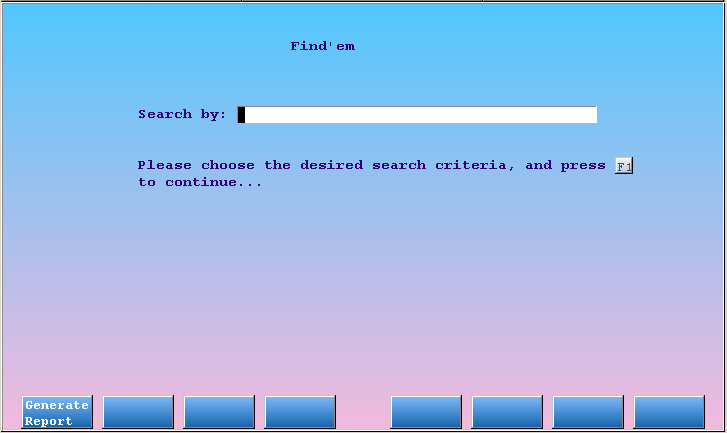 Tip: You can also press the A key from the search screen to run findem.
Choose Search Criteria
First, enter a criteria by which you wish to search, such as "Account Social Security #" or "Home Phone." Enter an asterisk (*) to see a list of possible search criteria: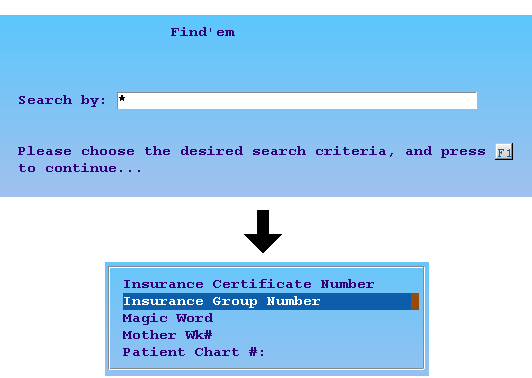 Press [F1 – Generate Report]
Enter the Text For Which You are Searching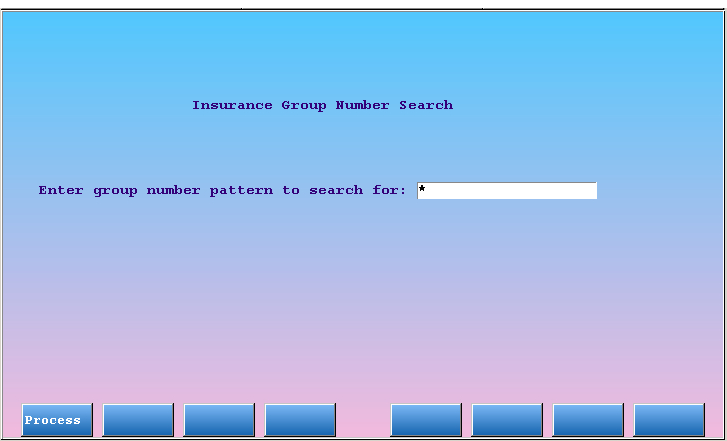 Type the text or number for which you wish to search. Press F1 – Process to continue.
Select From Results
The findem program will give you a list of patients who matched the criteria you entered. Use the arrow keys to pick the desired family and press F1 – Select Patient/Account to continue.