The Standard Sick Call Blocker
The Standard Sick Call Blocker, or SSCB, is the original sick call blocker designed for sam. The SSCB automatically places blocks for you, and it can vary the amount of sick call time to block based on the number of doctors scheduled to work on any given day. Once configured, Partner makes sure your providers' schedules are adequately blocked several months ahead of time.
You can configure blocks to occur consistently at specified times (i.e. at 9:00am), or randomly during a specified time range (i.e. at any time between 9 and 11am).
Watch a Video: Want to watch a recorded web lab, in which Lynne describes PCC's blocking solutions and sets up the Standard Sick Call Blocker? CLICK HERE. (16 minutes)
Automatic Block Adjustment
SSCB is the only sick call blocking program that is capable of re-blocking a day. Whenever you change a provider's hours in scrod, SSCB will add or cancel blocks accordingly. If it adds blocks, SSCB works around any existing appointments.
As opposed to the Consistent Sick Call Blocker (cscb) or Extended Sick Call Blocker (escb), you only need to set up and configure the Standard Sick Call Blocker once. You office manager does not need to re-run a blocking program or adjust configuration unless you want to set aside more or less time.
The Standard Sick Call Blocker is perfect for an office that needs a specified amount of sick time blocked, wants some variety in when the blocks occur, and does not want to hand-select times and re-run programs to place blocks.
Get Started with the Standard Sick Call Blocker
Follow the procedure below to set up the Standard Sick Call Blocker for your Practice.
Use setaside to Edit Your Blocking Rules
First, run the setaside program from a command prompt and enter parameters for SSCB.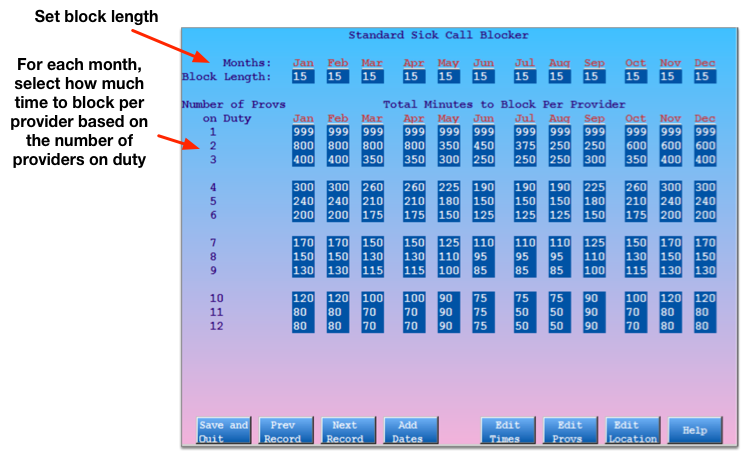 For each month, enter the block length and the number of total minutes you would like blocked when a certain number of physicians are working. In the example above, whenever 3 providers are on duty in January, the SSCB will block a total of 400 minutes each for sick time.
Optional: Customize Precise Times for Blocks
If you wish to specify precisely when blocks are allowed to appear, press F5 – Edit Times, and adjust open windows of time during which a block may be placed.
Adjust Providers and Locations
Press F6 – Edit Providers or F7 – Edit Locations to adjust for which providers and locations blocks should be placed. For example, you may not want blocks placed for your nurse practitioners.
Set Configuration Options
SSCB maintains blocks in your schedule and will place blocks every evening. You can adjust question 51 in The Scheduler section of ced to set how far in advance SSCB will place blocks.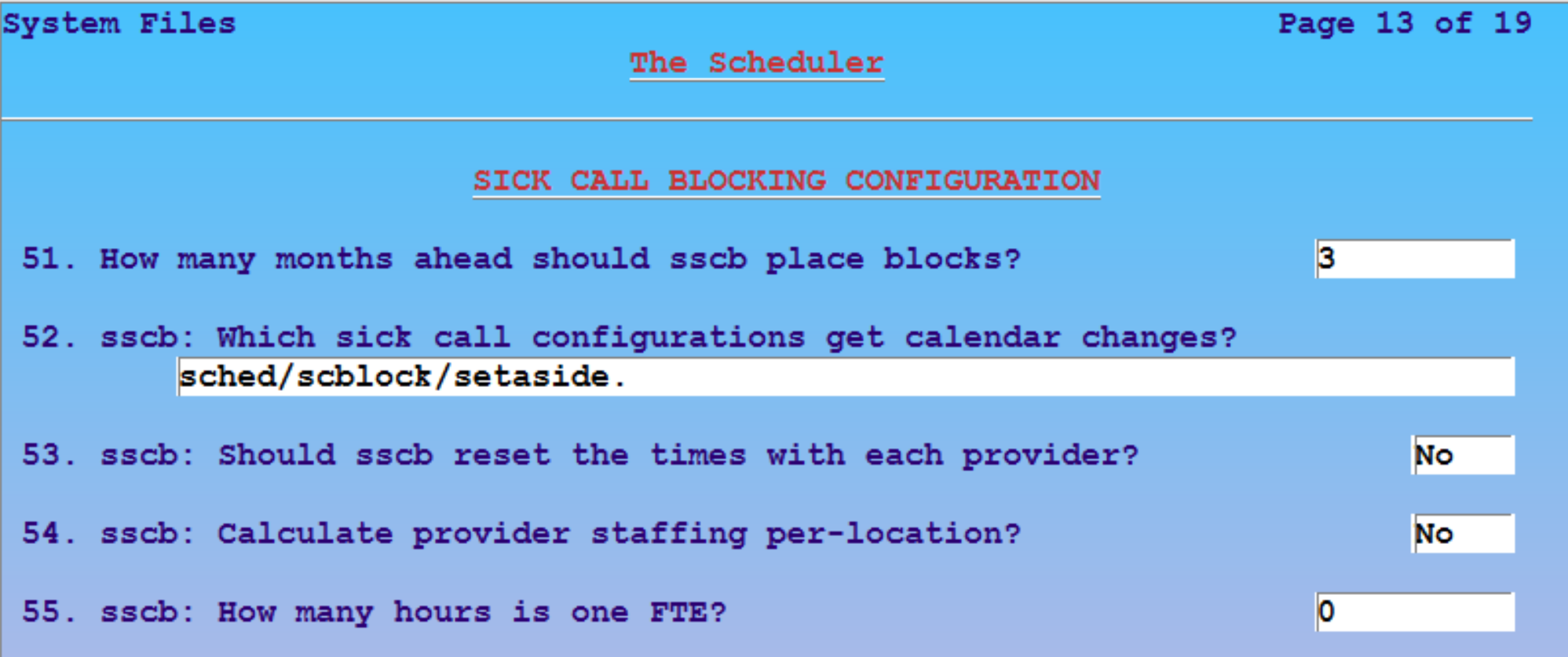 Call PCC Support
Contact PCC Support to turn on the Standard Sick Call Blocker. They will review your setaside choices, and can also discuss the options in question 52 through 55 in The Scheduler section of ced.
If you wish to work with multiple block types, PCC Support can also help set up the setaside program to edit multiple block types.
If everything is ready to go, PCC Support will turn on a program on your server that will start automatically placing and managing your blocks.
Check Your Work
Once blocks are in place, you can check your blocks in any scheduling report or by looking at your schedule in sam. You can also run the whatblocked program at a command prompt to see all the blocks placed and review any errors.