Tricare Merger: Become Credentialed and Enroll With Tricare East
Tricare North and Tricare South are merging into a new entity: Tricare East. If your practice wishes to submit claims to military families who were on Tricare North or Tricare South, you must become credentialed and enroll for electronic claim services, eligibility, ERAs, and optionally electronic funds transfer.
Follow the instructions below to credential and enroll your practice with the newly formed Tricare East. PCC recommends you complete these steps before 1/1/2018.
Watch a Video?: You can watch a video explaining the issue and some of the steps below. Click here: Tricare Merger. Please note that some of the Web site details have changes since the video was produced.
Contact PCC: After you have completed your enrollment, be sure and contact your PCC Client Advocate. PCC needs to generate claim and ERA enrollment through the claim clearinghouse. You will not receive ERAs until this step is complete.
Tricare East: Handle It Just Like Any New Payer, and Sign Up Now!
Any time a family brings an insurance card from a formerly unknown payer to your practice, you may need to become credentialed and enroll for claims with that payer. The new Tricare East payer should be treated as any other new payer.
The difference with the Tricare East merger is that a huge number of American families will be affected by this change on 1/1/2018. PCC is providing this how-to guide so you can prepare ahead of time and have the minimal amount of down-time before you are paid for claims.
Get Credentialed Now, But Don't Change Your Tricare Payer Configuration Until 2018: The instructions below include new payer ID information for the new Tricare entity. Do not use this information for dates of service prior to 1/1/2018.
Enroll and Sign Up For Services
Follow these steps to enroll with Humana and sign up for Tricare East services with Wisconsin Physician Services.
Apply to become a Tricare East Network Provider through Humana Military
Can You Skip This Step?: If your practice is already a contracted submitter with Tricare/Humana GBR, you can skip this step and continue below. Your credentials with Tricare South or Tricare North will automatically be transferred to the new Tricare East Network.
First, visit the Humana Military web site to apply for your practice's credentials with Tricare East.
https://infocenter.humana-military.com/HGBProvider/JoinTheNetwork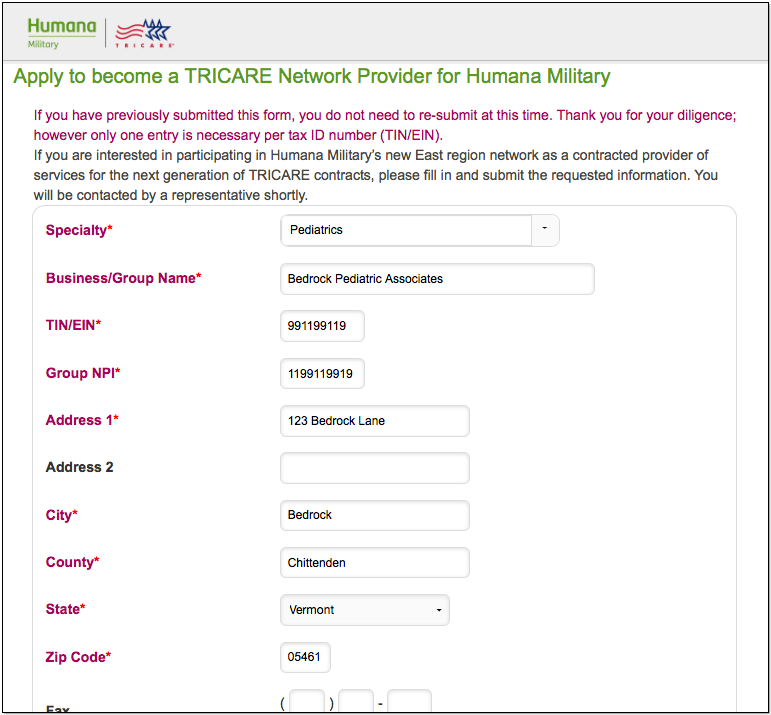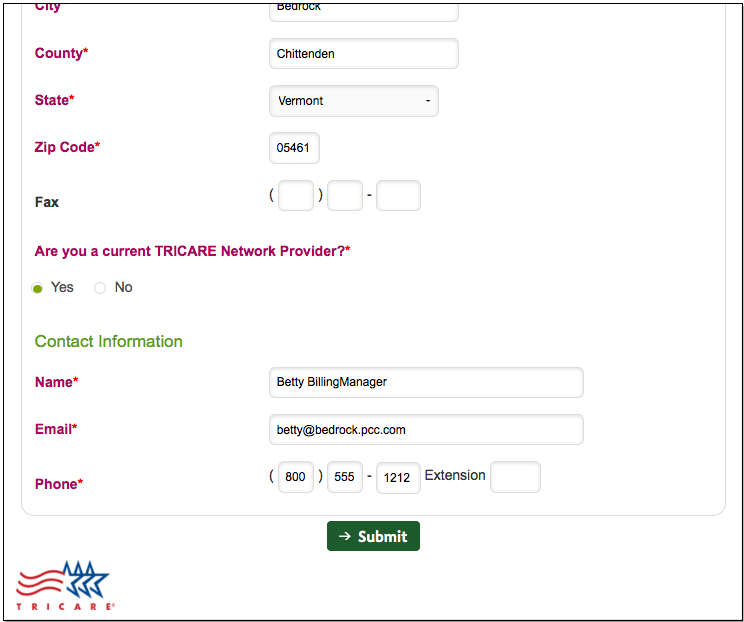 PCC recommends you enter your practice's business numbers and NPI, and not the individual NPI of a physician.
Enter your practice's basic information and click "Submit".

After you click "Submit", you will receive an e-mail, and a representative may contact your practice with additional steps.
Visit the Wisconsin Physician's Services Web site
Next, go to WPS web site to enroll your practice in claim services.
https://www.wpsic.com/edi/edi-forms.shtml
From this page, you will sign up your practice for electronic claims submissions and electronic remittance advice. Optionally, you can also enroll in electronic funds transfer.
Macintosh Users Must Use Chrome or Firefox: The Wisconsin Public Services web site does not support the default Safari web browser. If you need help installing a different Web browser, contact PCC's Technical Solutions team.
Click "Enroll for Electronic Transactions"
Select "Yes, I am a healthcare provider"
Enroll In Each Service
Select each service in which you wish to enroll. For example, for Claim Services, select "Professional Claim Inbound".
For each service you select, you will be shown a sample agreement and asked various questions.
Here are some of the answers you may need:
Trading Partner ID/Submiter ID: Enter "S000005". That's the letter S, followed by five zeroes, and the number five.

For which type of benefit or insurance are you enrolling?: Select "TRICARE EAST".

Contact Information: Enter your contact information.

Clearinghouse Information: Enter the information for Change Healthcare, the clearinghouse for your Tricare East Claims.

Clearinghouse Company Name: CHANGE HEALTHCARE
Clearinghouse Contact First Name: PROVIDER ENROLLMENT
Clearinghouse Contact Last Name: HELPDESK
Clearinghouse Contact Job Title: PROVIDER ENROLLMENT HELPDESK
Clearinghouse Contact Phone Number: 866.742.4355
Clearinghouse Contact E-Mail Address: PAYERREGISTRATION@CHANGEHEALTHCARE.COM

What is the name of your business?: Enter your practice's name.

What is the physical address of your business?: Enter your practice's billing address.

What is your Billing/Group Tax ID?: Enter your practice's 9-digit tax ID.

What is your billing or group NPI?: Enter your practice's 10-digit NPI.
For each service, the WPS website will show you a final agreement and display an "Electronic Signature" pop-up window for you to sign.
Track Your Pending Credentials and Enrollment
For each of the above sign-ups, you will typically receive and acknowledgement e-mail. Both the payer and the service organization will update you about the status of your enrollment, and sometimes provide a link to a web site where you can check your practice's status.
Contact PCC And Tell Us You Are Enrolled
Call or email your PCC Client Advocate and let them know that you have completed your online enrollment with WPS.
PCC needs to generate claim and ERA enrollment through the claim clearinghouse. You will not receive ERAs until this step is complete.
As Needed, Create New Insurance Policy Entries
As patients come in with new insurance cards, your practice will create new insurance plan entries in your Insurance Companies table in the Table Editor (ted). The cards may identify Tricare East, or they may identify Humana.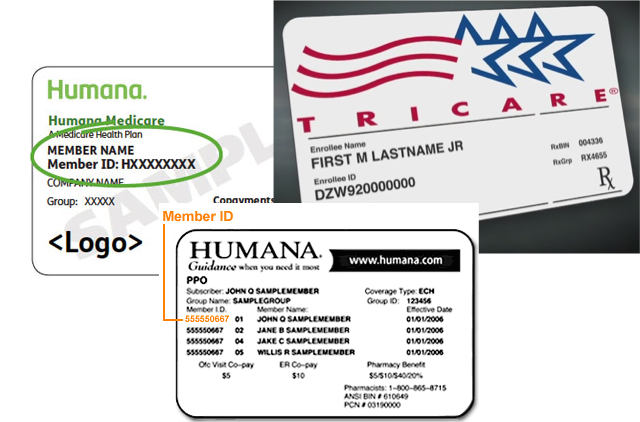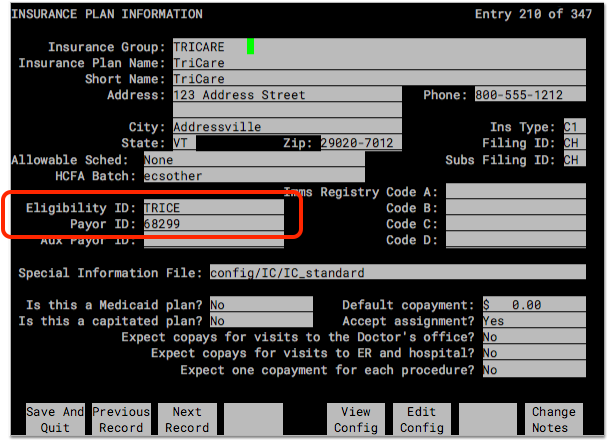 It may be easiest to clone one of the existing insurance companies affected by the merger. You will update the name of the plan, the payor ID and eligibility ID, and any other information found on the insurance card. As shown above, the Eligibility ID is "TRICE", and the new Tricare East Payor ID is 68299. Contact your Client Advocate for help configuring the new plans.
For more information on how to use this table, read the Insurance Plan Tables article. For more information on adding an insurance policy to a patient's account, read the Add an Insurance Policy… article.