Triage Phone Calls in Partner (pen)
The Phone Encounter Notes program (pen) is a powerful tool for handling patient phone calls. While you are on the phone with a patient, this software allows you to view patient information, record notes from the call, and perform many other useful functions.
Phone Notes in PCC EHR: When your office implements PCC EHR, the pen program is replaced by phone notes in the patient chart. Read Triage a Phone Call to learn more.
Introduction
Many offices use pen as a workstation for anyone answering the phone. Nurses working triage or schedulers can use pen to make a record of a call and jump directly into medical information or scheduling.
Here are some of the many tasks you can perform in pen:
Document patient phone calls
Review notes from all previous phone calls regarding a patient
Review patient histories, check immunization records, print form letters or schedule a patient while recording call details
Track the frequency of calls by certain patients
Assign and track a status for each phone conversation
Generate a summary of calls by date, patient, status, or person who took the call
Work down a list of outstanding calls
The pen program is a great tool for triaging incoming calls and it can fit seamlessly into your office's daily routine.
Quickstart: Take a Phone Call and Record Details
In the procedure below, you will learn how a user handles an incoming phone call using the pen program.
Run pen
Start the pen program by selecting "Enter/Review Phone Encounters" from your Daily Operations window or by typing pen at a command prompt. You are now ready for the phone to ring.
Press
When the phone rings, press F1 and enter the patient's name. You can also find a patient using their phone number or other criteria. Read Finding Patients and Accounts for more information.
Optional: Update Demographic Information, Schedule, Other
On the Patient Demographics screen, you can view basic information about the patient: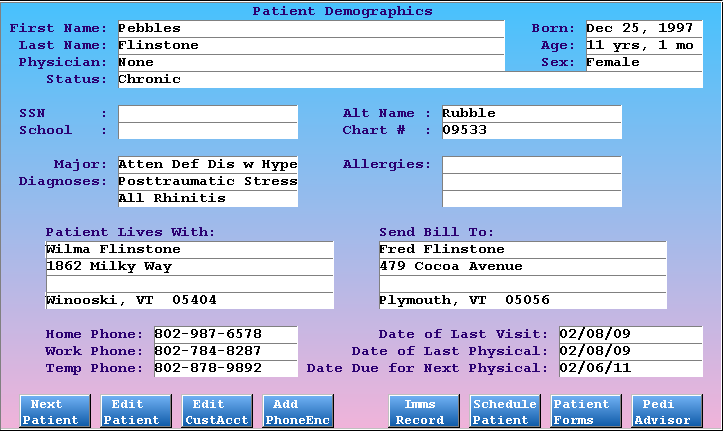 Use the function keys on this screen to quickly access other useful Partner programs, like the Scheduler (sam) and Pediatric Advisor. Below is a list of the functions you can perform from this screen.
F1 – Next Patient
Press F1 to save your work and begin the next call.
F2 – Edit Patient
Press F2 to run notjane, the Patient Editor, for this patient.
F3 – Edit CustAcct
Press F3 to run fame, the Family Editor, for the custodian account of this patient.
F4 – Add PhoneEnc
Press F4 to add a new phone encounter note or review and edit old phone encounter notes for this patient.
F5 – Imms Record
Press F5 to review or update the patient's immunization history.
F6 – Schedule Patient
Press F6 to schedule an appointment for the patient using either sam, Partner's scheduling program, or encount. Contact PCC to configure the scheduling method for F6.
F7 – Patient Forms
Press F7 to access the patient form-letter page and print form letters for the patient.
F8 – Pedi Advisor
Run the Pediatric Advisor, if it is installed. Pediatric Advisor is an optional Partner module that contains a library of pediatric handouts.
Press
When you are ready to add a new phone encounter note or review an old one, press F4. You will see a list of all recorded encounters for this patient. When the screen appears, the most recently recorded calls will be at the top of the list: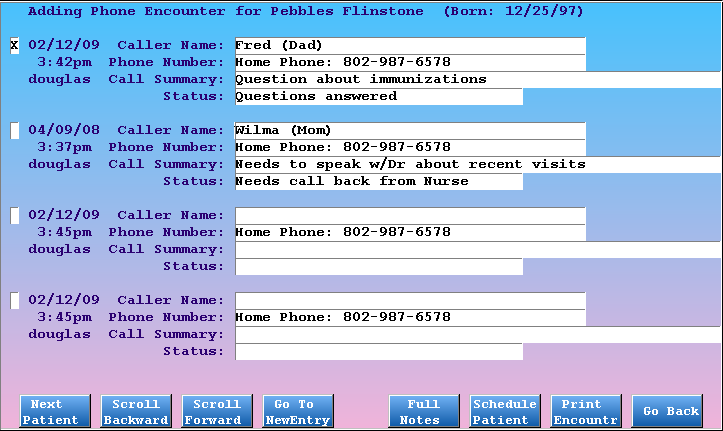 Create a New Phone Encounter
Select an empty encounter slot and enter a few details from the current call. Enter the name of the caller, and if desired, their relationship to the patient. You should also verify the caller's phone number, in case you get disconnected, or a provider needs to call them back later.
Note: If the screen is full of phone encounters already, press F4 – Go To New Entry to automatically select the next empty slot.
Press
Press F5 to bring up the Full Notes screen. Use the "Notes Concerning Phone Call" field to record notes as the phone call progresses.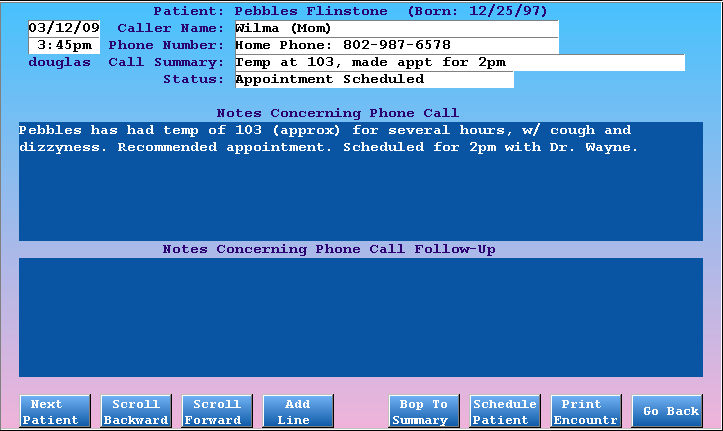 If you need more room for notes, press F4 to add a line.
Add Summary and Status
When finished entering notes, press F5 – Bop To Summary to enter/update the one-line summary of the call and the status (closed, waiting for callback, etc). The status can later be used for creating a list of calls needing a callback.
Optionally, Perform Other Actions for the Patient
If the call requires you to update demographic information, schedule appointments, mail out form letters, or perform other functions, press F8 – Go Back twice to get back to the Patient Demographics screen. From there you have access to many other Partner programs.
Save Your Note and Continue to the Next Patient
When finished with this phone encounter, press F1 – Next Patient to save your work and prepare for the next call.
Run the Phone Encounter Notes Program
You can run the pen program from the Daily Operations window in your Partner windows. Select "Enter/Review Phone Encounters".
You can also type pen at a command prompt. Some users remember the "pen" command because the pen program replaces the pen and paper they previously used to take notes for a call.
When you start pen, you will see the main screen shown below. From here you can jump into each of the pen functions described below.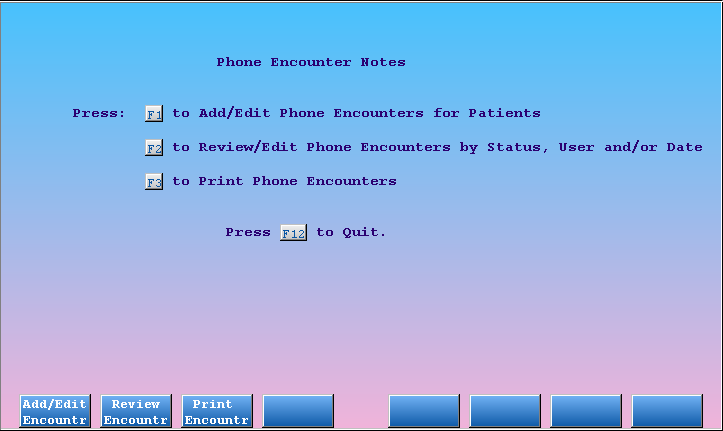 Function Keys
F1 – Add/Edit Encounter
Press F1 and enter a patient name to visit the Patient Demographics screen. From there, you can add new phone encounter notes or update existing ones. You can also jump into different programs for the patient you select. Read below for a detailed tutorial.
F2 – Review Encounter
Press F2 to generate a list of phone encounters (based on desired criteria) and select those you would like to follow up on. See below for more information.
F3 – Print Encounter
Press F3 to generate a list of phone encounters based on various criteria. You can then view the list, send it as an e-mail, or print it. See below for more information.
Call Back or Update a Phone Encounter Note
While many calls can be resolved immediately, others will need to be left open and addressed later. The parent may need to call back with more information or they may require a callback from the doctor. In either case, you may later need to update/edit an existing encounter record.
Run pen and Select the Patient
As described in the procedure above, run pen, press F1 – Add/Edit Encountr, and enter the patient's name. You will see the Patient Demographic screen filled with information relating to the patient.
Press
Press F4 to access all recorded encounters for this patient. When the screen appears, the most recently recorded calls will be at the top of the list.
Find the Relevant Phone Encounter Note
Select the encounter you wish to modify. You may have to press F3 – Scroll Forward to scroll down through the list of encounters to find the one you want.
Press
Press F5 to bring up the Full Notes for that encounter. Enter any new notes in the "Follow-Up Notes" field. If necessary, you can scroll through the original notes for specifics about the original call.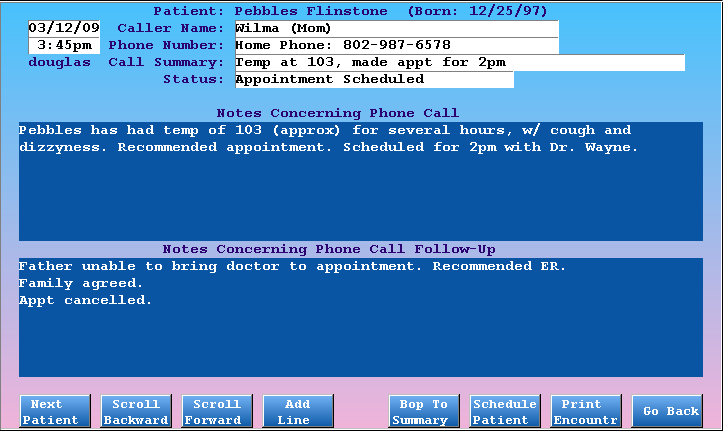 Update the Call Status
If you have performed some action relating to this call, you should update the Status of the call.
Press
When you are finished updating the encounter, press F1 to save your changes and move on to the next patient.
Phone Encounter Note Change Logging: Every time a user changes a phone encounter note in pen, Partner records the change and logs the previous version of the phone note. You can review the log by selecting any note and pressing [F8 – View Log].

Review Multiple Phone Encounter Notes
The Phone Encounter Notes program includes an easy way to work with multiple encounters. If the morning rush included several calls which require a provider's attention, you can generate a convenient list of those encounters and work on that list, item by item. You can also pull up all the encounter notes that a single user entered or restrict by a date range.
Follow the procedure below to create an interactive list of phone encounter notes:
Select Criteria
Choose the criteria for the phone encounter notes you need to review.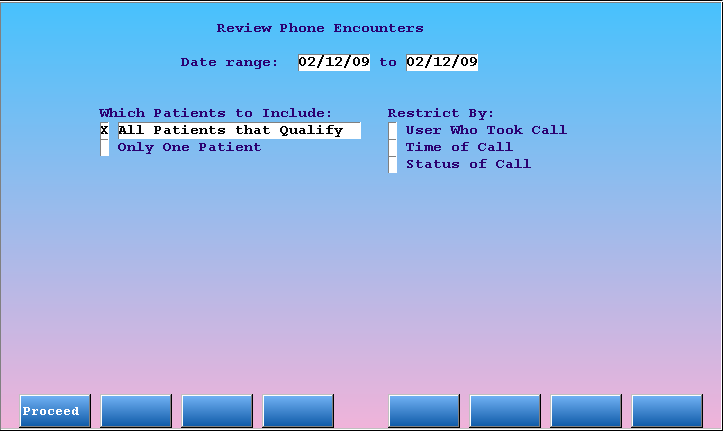 Set the date range for encounters entered today or for the dates you need. In most cases, you will want to work with "All Patients that Qualify," though you have the option of reviewing one patient at a time. If you wish to review all calls entered by a certain user or all calls during a time of the day, choose those options. Finally, use the "Status of Call" option to restrict by whether the call is open or marked for the doctor's attention.
Enter Criteria Guidelines
If you chose to exclude by the "Status of Call," pen will ask you to select the status by which you wish to restrict. Choose whatever call status you wish to review.
For example, a provider may wish to work with those encounters that have a status of Needs To Speak With Doctor. Highlight the desired status from the list and press Enter to include it in the report.
You may select several statuses. When done selecting, press F1 to generate a list of encounters matching your criteria.
View Results and Select a Call
The resulting list contains all of the phone encounters that meet your criteria. Select a call with which you need to work and press F1 – Review Entry.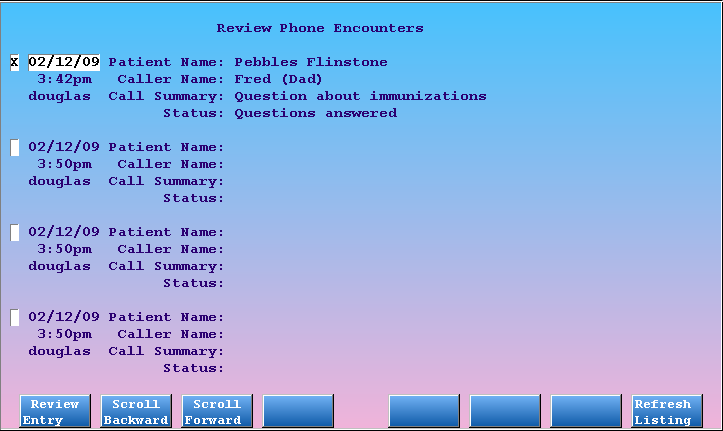 Work With Patient, Update the Call Information
Make additions or changes to the phone encounter note you selected. You can call the patient, review the original notes, add follow-up notes, and use the function keys on the demographics page to access other parts of Partner. When finished, press F1 to save your work. You will be brought back to this list where you can select the next encounter and continue working.
Print a List of Phone Encounter Notes
Press F3 – Print Encounter from the main pen screen if you need to print some encounter notes.
Indicate what type of encounters you are interested in, select a destination for the report (screen, mailbox, or printer), and then press F1.
The output is a detailed report on every encounter matching the given criteria. It contains all information entered for each encounter. When printed, each encounter comes out on a separate page. When viewed on the screen or in your mailbox, the report will look something like this:
Patient: Boynton, Blake PCC # 13543
Date: 09/01/98 Time: 11:20am
Caller: Blake senior
Phone: Custodian Home Phone: 391-3530
Status: Call if Worsens
Call Answered By: scott
CALL SUMMARY: Blake has developed a rash
Detailed Caller Notes:
Spotted, red rash first noticed last night, has gotten worse over
night. Puffy, sore to the touch. Recommended Calamine lotion,
call back in 24 hours if not better.
Detailed Follow-Up Notes:

Customize the Phone Encounter Notes Program
There are several ways of customizing the pen program to meet the needs of your office. For help with any of these advanced options, contact PCC at 1-800-722-1082 or <support@pcc.com>.
Add Your Own Status Indicators: The Call Statuses table in ted stores the different status indicators you can use with your phone encounters. Some standard indicators include Open, Closed, Needs Doctors Attention, and Appointment Scheduled. As encounters are entered, they should be assigned a status indicators for easy sorting and follow-up later on. You can add new status flags that meet the flow of your office.
Run ted and select the Call Statuses table.
Press

a

to add a new entry, or

c

to clone an existing entry.
Fill in the name of the new status and then press

F1

to save your work.
Retiring Old Status Indicators: You may eventually wish to retire a status indicator that you no longer use. As with any other Partner table, we caution you against replacing old, unused entries with more useful ones. Renaming entries can have a significant (and undesirable) effect on past encounters, so please do not reuse your table entries.
Instead, retire unwanted status indicators by inserting a tilde (~) at the beginning of the status's name. For example, See Mary becomes ~See Mary. The tilde makes the status inaccessible for future use.
Change Your Encounter Printout: pen prints a special form letter when you print out a single phone encounter note. The default form letter can be changed to meet the needs of your office. Contact PCC at 1-800-722-7708 or support@pcc.com for help editing your phone encounter note form.

Change the Width of your Encounter Notes: The Full Notes screen shows 80 characters on each line of notes. The printed width of these notes, however, can be set to any desired size. This may be useful if you print out phone encounter notes regularly and desire a certain format. Contact PCC at 1-800-722-7708 or <support@pcc.com> for assistance.