The Letter Selection Screen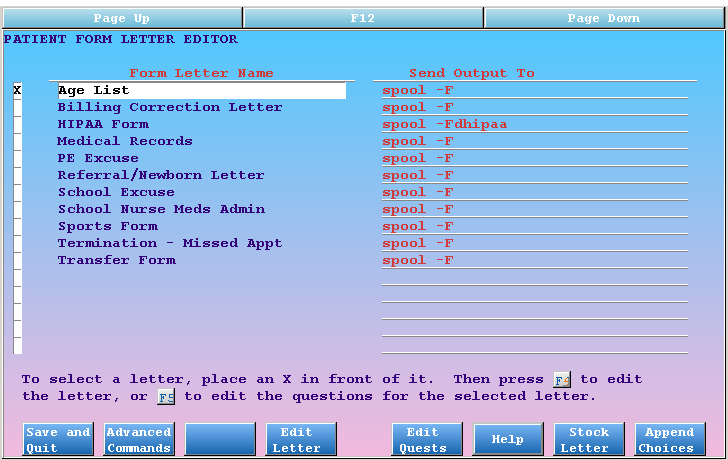 The screen above shows a typical list of patient form letters in waffle. For each letter, waffle displays two important pieces of information:
Form Letter Name

The title for each form letter. The title will appear in various programs that generate form letters.

Send Output To

The printer command used when the letter is printed. This is generally a "spool" command, and it may indicate a specific printer in your office. Contact PCC for help if you need to change the printer command.
From the Letter Selection Screen, you can perform the following tasks:
F1 – Save and Quit
Press F1 to save any changes you have made and exit waffle.
F4 – Edit Letter
Press F4 to edit the selected letter. waffle uses your preferred text editor, either fred or vi.
F5 – Edit Ques
Press F5 to add or edit questions that are attached to the selected letter. Read the Adding Special Questions topic for more information.
F6 – Help
Press F6 to view a help screen containing useful information for writing form letters in waffle.
F7 – Stock Letter
Select a new, blank letter and press F7 to automatically add basic practice information and the date variable to the letter.
F8 – Append Choices
Select a new, blank letter and press F8 to automatically add a selection of commonly used Partner variables to the end of the letter. You can then edit the letter and use the appended variables in the letter's text.