Start SAM and Find Patients Reference
You can launch the scheduler from several other Partner programs. For example, if your staff uses pen (Phone Encounter Notes) to handle triage calls, you can schedule directly from that program. If your front desk needs to schedule a follow-up visit while checking out a patient, they can press F8 – Patient Schedule while posting charges in checkout and jump into the scheduler. In fact, the programs checkin, pen, checkout, tickle, and the lab module all have a link to sam. If you use those tools, you will benefit from a direct link to the scheduler. Look for keys like this:


sam is also a stand-alone program. You can run it from the "Patient Scheduler" option in your Daily Operations window, or by typing sam from a UNIX prompt. The [prog]inquire[/prog] program, used to review or edit patient appointment histories, can also be run independently.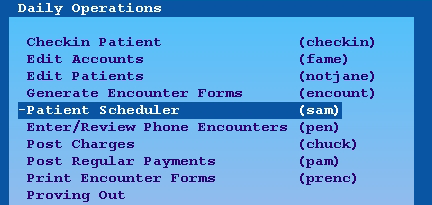 If you are not already working with a patient, you will be asked to select one when you first run sam. You can find patients by name as well as by birthday or any of several other criteria. For more information, read Find Routines in Partner.

More than One Office?: If you schedule appointments for more than one office or physical location, sam will ask you for which office you wish to schedule:

Once you have selected a scheduling office, sam will select it for you by default each time you run the scheduler. You can change the default by selecting a different location and you can override your default location at any time by changing the location field on the Search Criteria screen.