Read Your PCC Email with SquirrelMail
SquirrelMail is a Web-based e-mail program. With SquirrelMail, you can read and send e-mail and attachments from within a Web browser, such as Firefox or Internet Explorer. This manual contains an introduction to SquirrelMail.
Replaced By RoundCube: As of 2019, PCC will no longer install or support the SquirrelMail web-based e-mail solution. For practices that wish to use a web-based e-mail solution for their PCC e-mail, we now support RoundCube. You can learn how about RoundCube by reading the Read Your PCC Email with RoundCube article.
Start SquirrelMail and Login
Open a Web Browser
PCC recommends Mozilla Firefox. Other Web browsers, such as Microsoft's Internet Explorer, will also work with SquirrelMail.
Enter Your Office's Web Mail Address
In the browser address bar, enter your practice's Web Mail address. Your address is your PCC acronym followed by pcc.com/webmail. For example, if you work at Bedrock Pediatric Associates, your PCC acronym might be ROCKPA. Your Web Mail page would be https://rockpa.pcc.com/webmail/.

You can bookmark this page or create a Web shortcut on your desktop for quick access to SquirrelMail.
Type Your Name and Password
Your e-mail name and password are the same as your Partner login. If you do not have a Partner login, contact your Partner system administrator or office manager.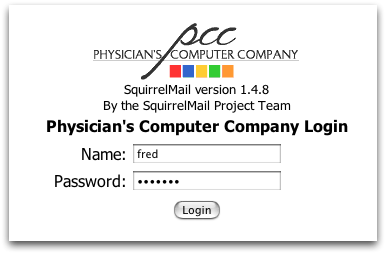 Send and E-Mail Message
Follow the procedure below to send an e-mail message.
Click "Compose" or "Reply"
Click "Compose" to begin writing a new e-mail message. Or, click "Reply" while viewing a message to compose a reply e-mail to the sender. You can click "Reply All" to ensure that your message will also be sent to everyone who received the original message.

Fill Out Message Information
Enter the address of the recipient, subject, and message text in the fields provided. Press the Tab key to move from field to field.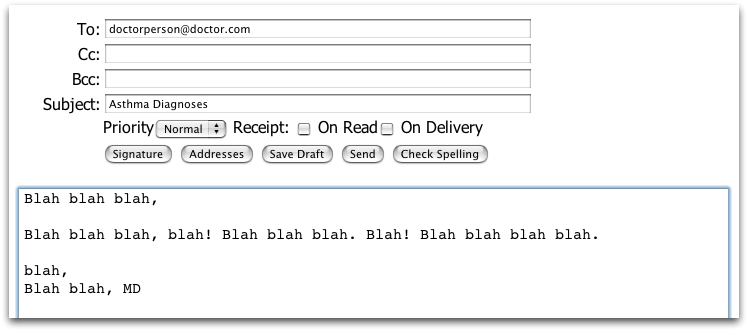 Multiple Recipients?: You can add several e-mail addresses in the "To" field, separating each one with a comma. You can also use the "Courtesy Copy" or "Blind Courtesy Copy" features to send copies of your e-mail to additional recipients. Recipients that you list in the "Blind Courtesy Copy" field will not see the list of other recipients of the e-mail.
Click "Send"

Send Message to Support
You can send a message to PCC Support any time in any e-mail program by composing a message to support@pcc.com.
You can also use the PCC Support button in SquirrelMail.
Click "PCC Support"
From any screen in SquirrelMail, click the "PCC Support" link at the top of the page:

Enter the Subject and Description of Your Problem
Fill out the fields with the information you want to send to PCC Support. Always include a brief subject line describing the problem or question and a detailed description.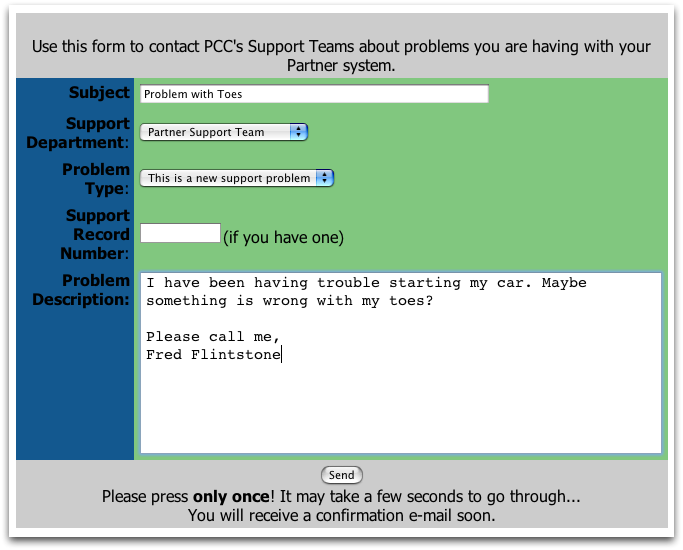 The Support Department, Problem Type, and Record Number fields are optional. Filling them out may help us serve you faster.
Click the "Send" Button

Click "Send" once, and wait for the acceptance message:

Error?: The PCC Support link feature does not work with all versions of Partner. If the above procedure does not work, you can still compose an e-mail message to support@pcc.com.
PCC Support will send you a confirmation e-mail letting you know that our support system has received your request for help.
Since all PCC clients have a guaranteed response time, you will receive an e-mail or phone call response to your problem within hours. For more information about our support policy, contact us at 1-800-722-1082, e-mail us at support@pcc.com, or use the feature described above.
Read and Delete E-Mail
On the main SquirrelMail screen, you will see the contents of your e-mail "INBOX." The most recent messages are located at the top of the list. Unread messages are shown in a bold font. The list displays the sender, date, and subject of each message.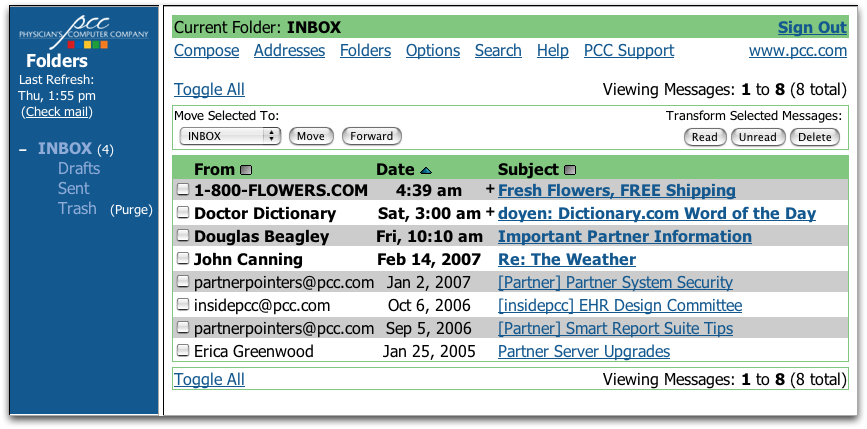 Click on the subject of any message to read it.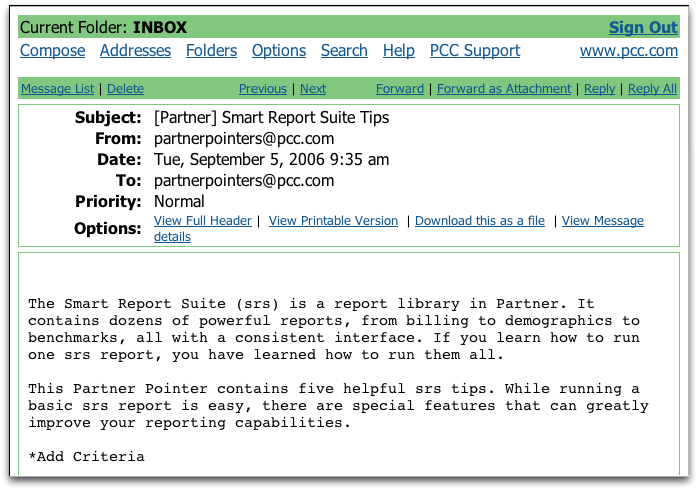 While viewing a message, you will see links at the top for performing common functions:

If you click "Delete," SquirrelMail will move the message to the trash and return you to your INBOX.
Store Addresses in SquirrelMail
You can add e-mail addresses to SquirrelMail's address book, making it faster and easier to e-mail your frequent contacts.
Click "Addresses"
Click the "Addresses" link at the top of the screen.

Review Addresses
SquirrelMail will display all the addresses in your address book, along with sections of the screen for adding new addresses or importing an e-mail address book.

Enter Address Information
Enter a unique nickname, along with an e-mail address. Optionally, enter the recipient's full name or a note.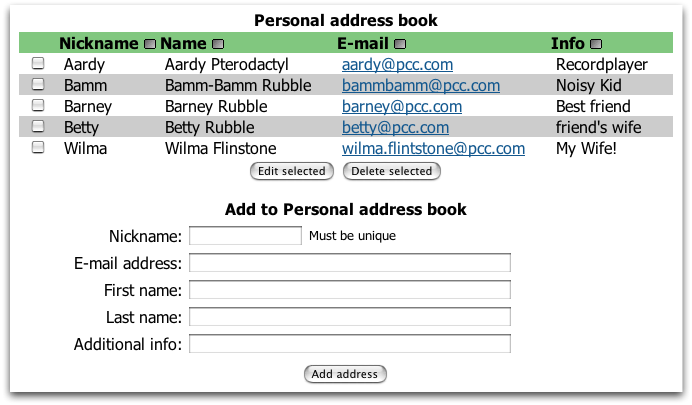 When you want to e-mail someone in your address book, you can do one of two things
Click on "Addresses" and then click on the recipient's e-mail address to begin writing a message to them.
Click "Compose" and enter the recipient's nickname. When you send the message, SquirrelMail will automatically use the correct e-mail address.
Send and Receive Attachments
You can send and receive files attached to e-mail messages in SquirrelMail. Using an attachment, you could send a spreadsheet to your accountant or receive pictures from colleagues across the country. Follow the instructions below to either send or receive an attachment.
Warning: Viruses and unwanted advertisement programs are often spread using attachments. You should never open an attachment that you are not expecting, even if it is from an address that is familiar to you. Speak with the sender and confirm an attachment's contents before you open it.
Send an Attachment
Compose a Message
First, create a new e-mail message that will contain the attachment. Either "Reply" to an existing message or "Compose" a new one. In the text of your e-mail, you should explain to the recipient what the attachment is.
Click "Choose File" to Select a File
The Choose File button is at the bottom of the e-mail composition screen.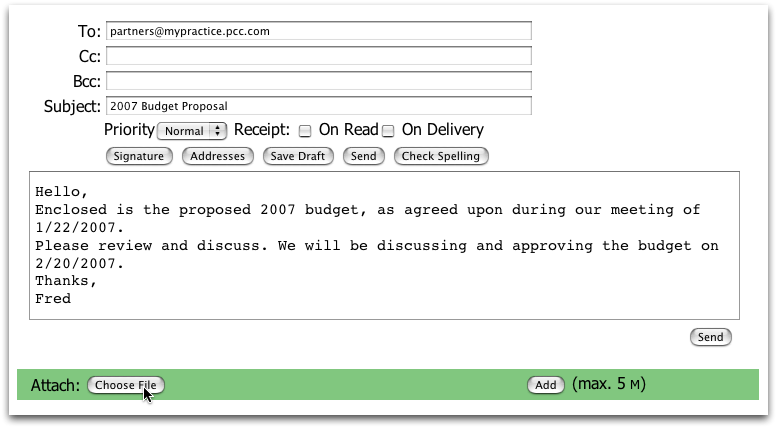 Find the File
Use the file dialog window to select the file you wish to attach to your message.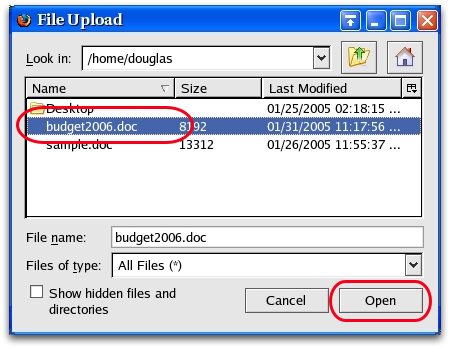 The file dialog window will look different depending on your operating system, but most windows work the same way. Navigate to your file's location, and click "Open" to select the file. You can also double click on the file name.
Click "Add" to Attach the File
You found and selected the file in the previous step, but you must click "Add" to upload the file and attach it to your e-mail message.

Optional: Add Additional Attachments or Delete Attachments
If you wish, you can click "Choose File" to repeat the process and add additional attachments. You can also select an attachment and click "Delete selected attachments" to remove it.

Click Send to Send the E-mail
Once you have finished adding or removing attachments to your e-mail message, click "Send" to send your message.
Receive an Attachment
Open a Message With an Attachment
A new message with an attachment looks like this:

The plus sign (+) indicates a message that contains an attachment. Click on the message's subject to open it.
Click the Filename or "Download"

Select "Open With" or "Save to Disk"
You can open a file and view it without saving a copy to your computer. Or, you can save it to a folder on your computer for later viewing.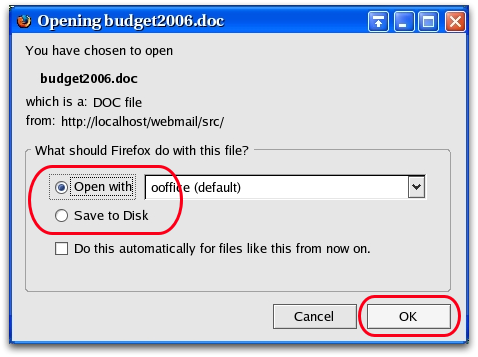 If you choose to open your file, it will open as soon as you click "Ok." If you choose to save the file, it will be saved to your default directory on your PC.
Using Folders
If you do not delete all incoming messages immediately after reading them, or if you want to save certain messages for retrieval, you should use mail folders. The default mail folders are "INBOX," "Sent," and "Trash," but you can add your own folders and use them for any purpose you like.
In the example below, you will learn how to create a "PCC Info" mail folder. Next, you will learn how to move messages into that folder.
Old Mail Folders: Did you use mail folders in your Partner e-mail before switching to SquirrelMail? Your old folders are still available and you can continue to use them. When you click to add a new mail folder, check the bottom of the screen for tools to "subscribe" to your existing folders.
Create a Mail Folder
Click "Folders"
The "Folders" link is at the top of your screen:

Enter a Name For Your New Folder
Type a new, unique name for your new folder. You can also subscribe to previously existing folders.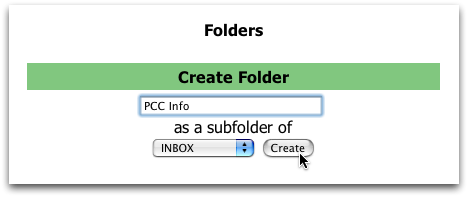 Click "Create" to Create the Folder
Click "Refresh Folder List" to Refresh Your List of Folders
Save Messages to a Folder
Go To Your Message INBOX
If you are not already viewing your message list, click "INBOX" or "Message List" to return to it.
Select Messages You Wish to Move
Click the check box next to each message that you wish to move to a folder. In the example below, six messages are selected.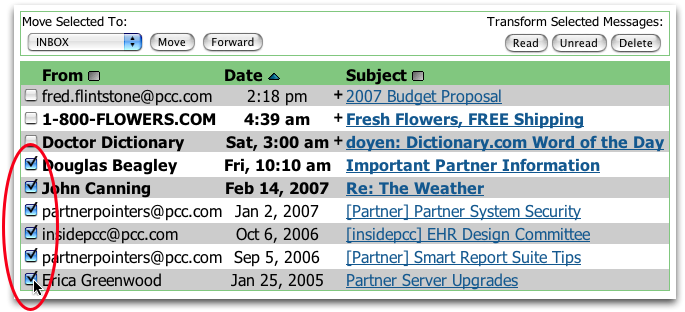 Click the "Move Selected To:" Box and Select the Destination Folder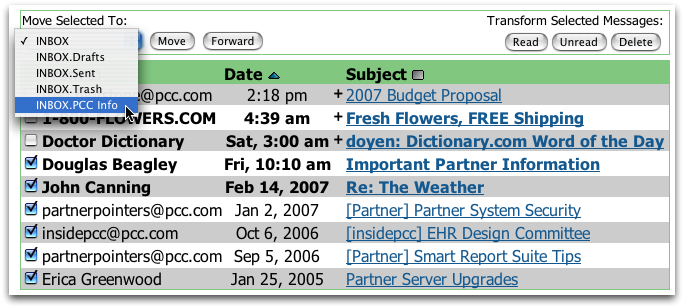 Click "Move"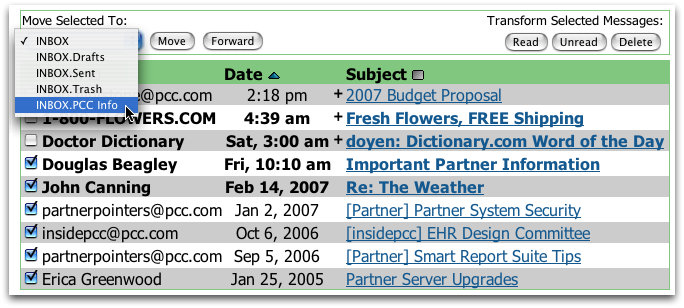 When you wish to retrieve your old mail messages, click on the folder title in the Folder List to view the messages in that folder: