Run Reports from PCC EHR's Practice Management Window
When you need to run a report, use the Report Library in PCC EHR. For clinical and financial analysis of your practice, use the Practice Vitals Dashboard.
PCC's former reporting system, located in the Practice Management window, includes additional customizable reports. Read the procedure below to learn how to use those reports: select options, choose an output destination, view a report on your screen, and print it.
Run a Report Program
First, find and run a report in the Practice Management window. Reports are located in several different windows and many reports are available inside the Smart Report Suite (srs) program. Some popular reports are available from function keys on other screens.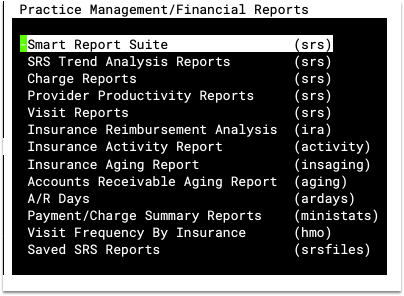 Read the Partner Report Catalog for help finding a report.
Select Report Options
The first screen of all report programs contains options. Here are two examples of report options screens: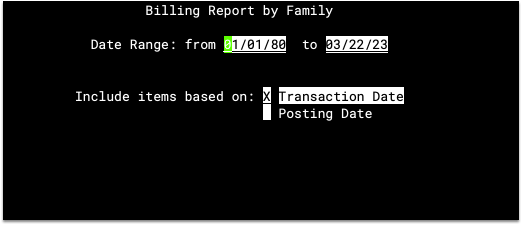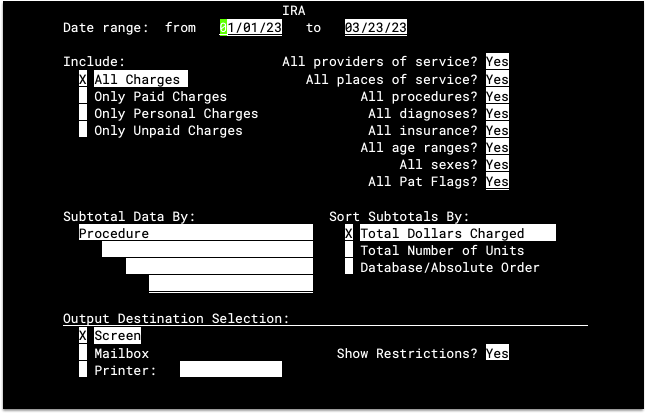 The date range is the most frequently used report option. Some reports have subtotaling, filtering, and sorting options that dramatically change the appearance or content of the final report.
Smart Report Suite Options: The srs-style reports display a Date Range selection screen followed by a Restriction Criteria screen. For more information, read The Smart Report Suite ([prog]srs[/prog]).
Press

Note: The F1 key runs most Partner reports, but the Patient Information (patinfo) and the Insurance Reimbursement Analysis (ira) report programs have multiple reports available from different function keys.
Optional: Select Details for Report Criteria
After you press F1 to generate a report, the report program may ask you filtering questions for the report criteria or other options that you selected. Some options require additional details.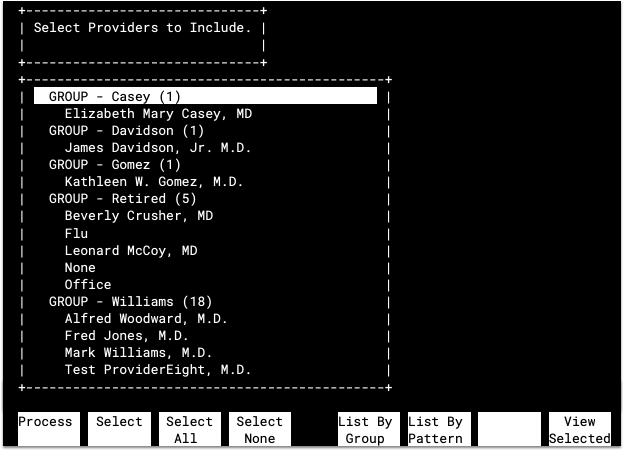 For example, if you answer "No" to the "All Providers?" option in the Appointment Summarizer (appts) report, then the program will ask you to select providers to include. The selection screen has useful function keys to speed up selection.
Select Report Output Destination
You can read Partner reports on your screen, format them for spreadsheets, or print them in an attractive, full-color PDF. While running a report, you will select output options in one of two different ways: on the main options screen, or on a Destination Selection screen after you press F1:

Or:

Mark your selection with an X and press F1 to continue.
Additional Options: After you mark your Destination Selection, you may see additional options. If you select to "Print" the report, for example, you can then choose a specific printer and/or a printing style.

View Completed Report
Unless you choose to send the report directly to a printer, an e-mail address, or another location, your report will appear on the screen: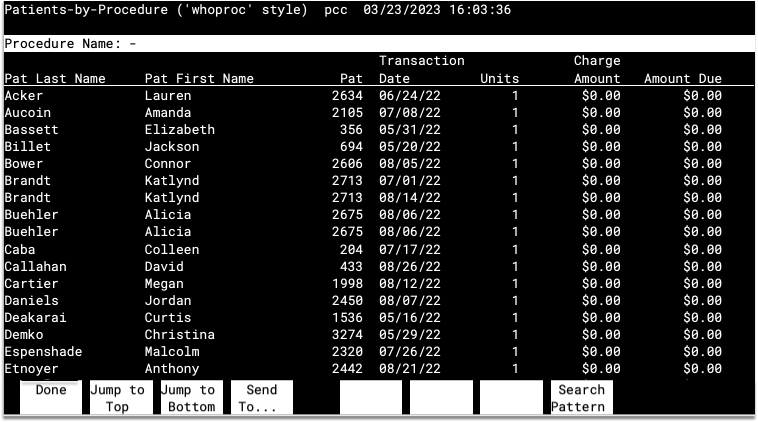 Navigating the Report: Use the arrow keys, the Page Up and Page Down keys, and the F2 – Jump to Top and F3 – Jump to Bottom function keys to navigate around the report. In some reports, the function keys may not be available.
Searching the Report: Press F8 – Search Pattern, enter search text, and then press Enter to search.

While searching, you can press F7 – Search For Next to view the next matching result or press F8 – Search Pattern to clear the search or enter a new search pattern. The "Search on whole words" option allows you to specify whether your search should only find results that are separate words and not part of a larger word.
If you are viewing a report without function keys, you can search for text by pressing the slash key (/), typing a search word, and pressing Enter. You can then jump down to the next search result by pressing N for "next result."
Optional: Send Report to a New Output Destination
After reviewing a report on the screen, you may decide to print or send the report to a new destination. If your report includes function keys, press F4 – Send To.... The Destination Selection screen will open and allow you to make another selection.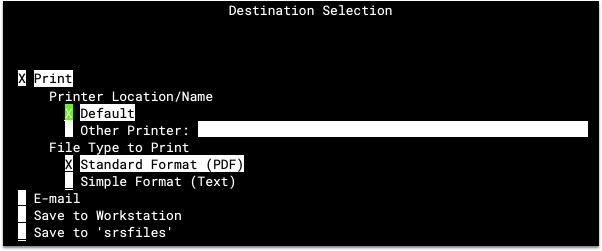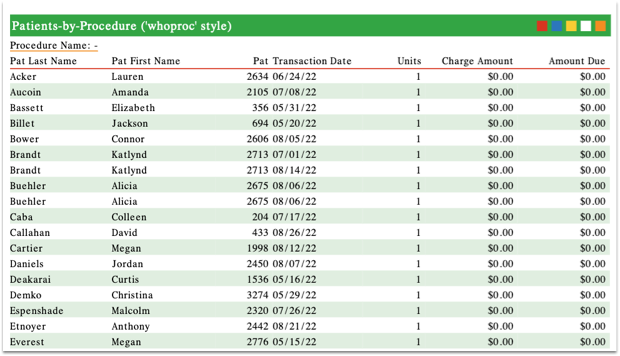 Now that you know the basics for running and reviewing reports in the Practice Management window, log in and try out some reports. For more details on Partner report options and features, read other Partner Reporting articles.