Quickstart: Post Charges and Check Out a Patient
Read the procedure below to walk through a basic checkout procedure in Partner.
Run Post Charges (checkout)
You can run the checkout program from your Partner windows.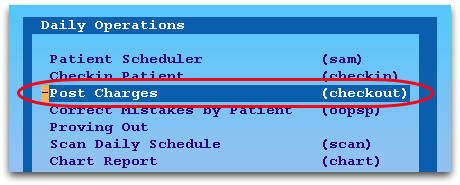 You can also type checkout or chuck at a command prompt.
Select an Appointment, Press F1
Just as the checkin program provides a list of today's appointments, the checkout program displays a list of patients waiting to be checked out: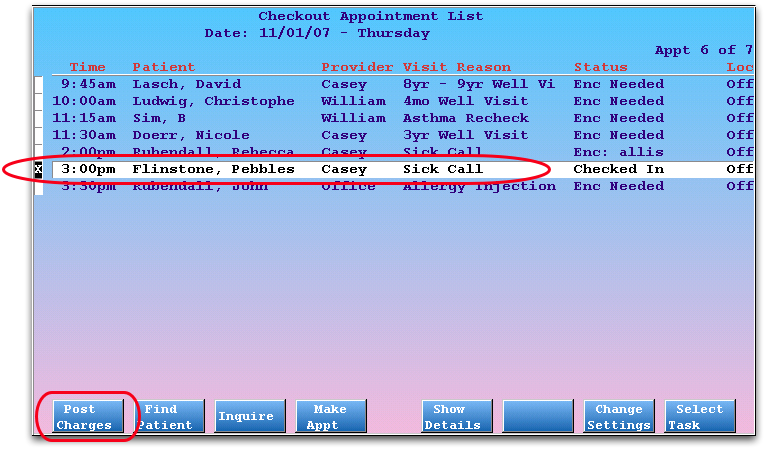 Use the arrow keys to select a patient and then press F1 – Post Charges. To learn more about the patient selection screen in Partner, read Appointment Lists.
Can't Find the Patient?: If a clinician created a new appointment in PCC EHR, it may have missed your usual checkin procedure. Press F8 to switch over to checkin to see any appointments that were not checked in. If no visit is available, you can press F2 – Find Patient to post charges for any patient on your system.
Review Insurance Notes and Copay, Other Messages
As soon as you select or find a patient, checkout will tell you the patient's insurance information, expected copay, and any copay note your practice added for the family: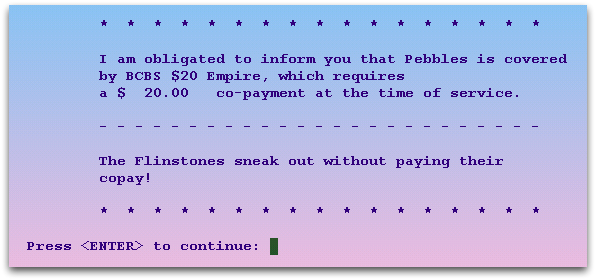 Press Enter to continue.
If your practice uses an EHR, and a clinician did not select a billing code for a diagnosis description, you may be prompted to choose the billing code before proceeding.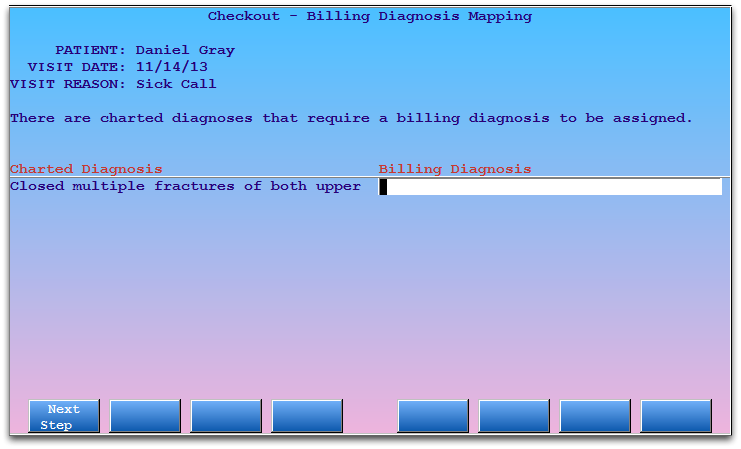 Check Demographic Information
Next, review and update patient and family information on the Demographics screen.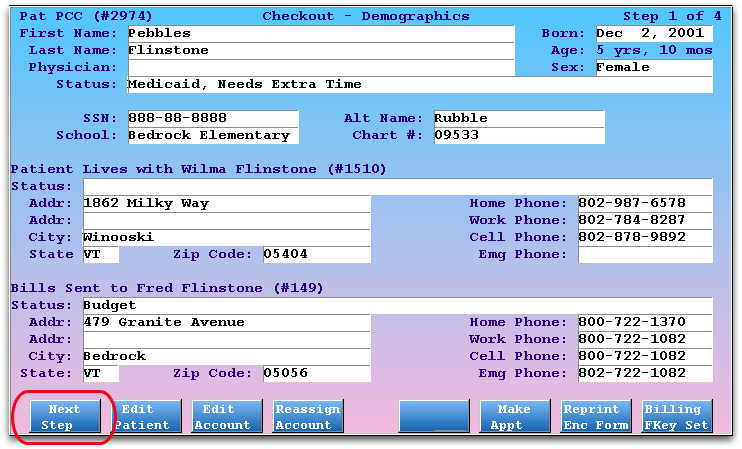 Press F1 – Next Step or Page Down to continue.
Check Insurance Information
Next, verify and update patient policies on the Policies screen. You should always confirm the patient's primary insurance before posting new charges.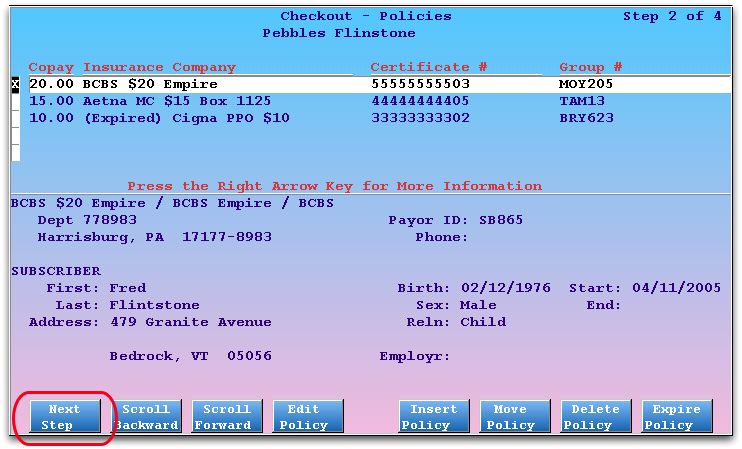 Press F1 – Next Step or Page Down to continue.
Post Procedures and Diagnoses
Next, enter procedures and diagnoses from the visit. The most common procedures and diagnoses for the scheduled visit reason appear for you to select.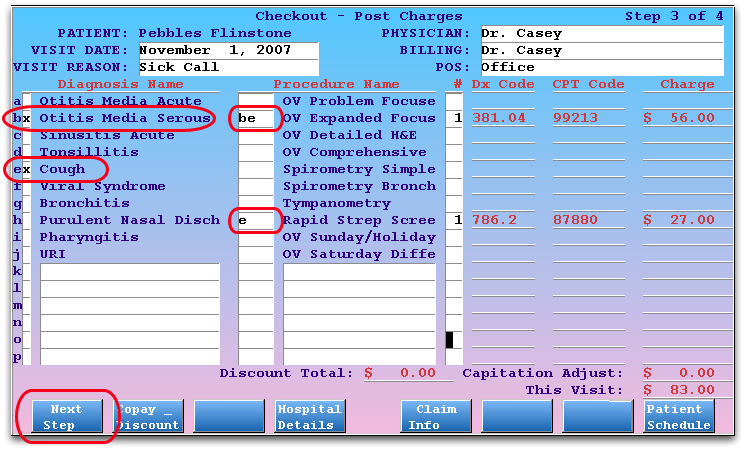 Press Tab or Enter to move among the fields. You can use an asterisk (*) to search in any field. Mark each diagnosis with an X. Mark each procedure with the letter of the diagnosis to which it should be linked. You can also change the date, provider, location, and visit reason if necessary.
EHR: If your practice uses an EHR, the screen may be filled out for you. Review the entries for accuracy before continuing. Depending on the EHR interface, you may wish to update codes, linking, units, add supply codes, or perform functions on the Claim Info screen.
Perform Other Special Visit Functions: If you need to change the copay, enter a discount, enter hospital dates, or enter special claim information, there are function keys on the Post Charges screen for each of those tasks.
Snap Codes: Your office can setup Snap Codes which automatically enter procedures and diagnoses and select them for you. For more information, read the Snap Codes guide.
Press [F1 – Next Step]
When you are finished entering diagnoses and procedures, press F1 or Page Down to continue.
Post Today's Payment
Enter payment information on the Payments screen. You can apply a payment collected during checkin or add new payments.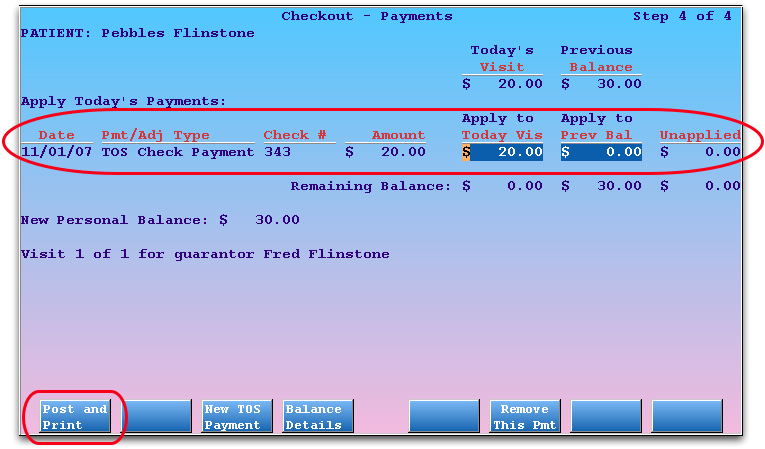 The Payments screen displays how much is due for today's visit and how much is due from a previous balance. If a payment was collected during checkin, you should review and confirm the amount and make sure it is applied correctly.
Press F3 – New TOS Payment to add a new payment and then enter payment type, check number, and amount.
Review Visit and Post
If you need to review previous steps in checkout, press Page Up or Page Down to move among the screens of the program.
When you are finished entering and reviewing all visit information, press F1 – Post and Print from the Payments screen to save the new charges and payments to the account.

The checkout program will warn you if you made any obvious mistakes, such as entering an invalid diagnosis code or forgetting to enter a payment type. checkout may also ask you whether or not you wish to print a receipt.

Conclude the Visit
After posting the charges, you will see a "Wrap Up" screen describing the visit. The Wrap Up screen allows you to print an extra receipt, correct any mistakes, print patient form letters, or perform other functions: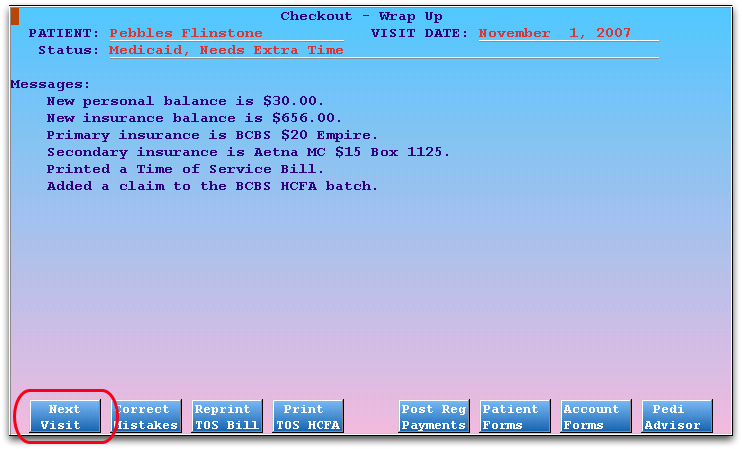 When you are ready to check out another patient, press F1 – Next Visit. Or, press F12 to quit checkout.
Automatically Mark Visit as "Gone"?: Partner can automatically change the PCC EHR visit status to "Gone" when you finish checking out a patient. This feature is optional and can be found in the PCC EHR section of the Configuration Editor (ced).