Posting Personal Payment Screen Reference
When you first run pam, it asks you for an account name. Once you have found an account, you are presented with the payment-entry screen: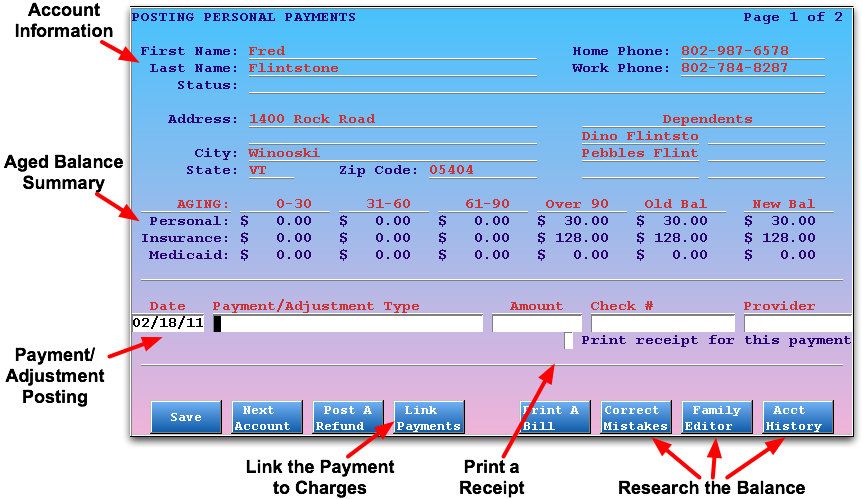 This screen contains useful demographic information for the account, provides links to several other Partner programs, and allows you to begin posting a payment by entering information in the available fields.
The demographic information includes account name and contact information. You can also review the Status field, which may list important billing statuses for the family, such as "Overdue" or "Bad Check." The screen also shows you a list of dependents to the family and a balance summary, aged by transaction date, for Personal, Insurance, and Medicaid balances on the account.
Look-Up Fields: Both the "Payment/Adjustment" field and the "Provider" field are look-up fields. You can enter an abbreviation or use an asterisk (*) to look at a list of possible entries. Common answers for the "Payment/Adjustment" field are "Personal Check," "Cash," or "Courtesy Adjustment."

More Demographic Information: Press Page Down to view a quick summary of other account demographic information, including insurance information and recent account notes. You can press Page Up to return to this screen. You can also press F7 – Family Editor to run fame and make changes to the account information.
Link Payments: Whenever you post a payment, you should use pam's Link Payments feature to link payments to the particular charges they are paying off. In other words, you should specify for which charges the payment is intended. If you don't press F4 – Link Payments, and press F1 to save the payment, you will be posting an unlinked or open-item payment. Open-item payments are still applied towards the account's oldest personal balance, but they may float around on an account, making it difficult to track and understand an account's history and remaining balance.
New Balance: Once you have posted a payment, the final column in the balance summary, "New Bal" will be updated with the accounts new outstanding balance:

Posting Personal Overpayments/Credits: Posting a personal overpayment in Partner is simple. Use pam to post a payment and do not press F4 – Link Payments. The account will have a credit, which you can then refund or leave on the account until the next visit. The credit will automatically be applied to any outstanding balances on the account, and you can link it to the charges by running oops.
Get a Receipt: Select "Print receipt for this payment" to generate a paper receipt when you press F1.
Function Keys
F1 – Save
Press F1 to save any payments you have entered as open-item payments and quit pam. You can then enter a new account name or press F12 to quit and run a different program. If you have entered a payment amount, you should consider pressing F4 – Link Payments and assigning the payment to specific charges before pressing F1.
F3 – Post a Refund
Press F3 to run the refund program. Use refund to post refunds or any other adjustments that take money away from an account or increase the balance.
F4 – Link Payments
Press F4 after entering a payment type (and check number, if desired) to select outstanding charges to which the payment should be applied. If you post a payment without using F4, it will be an open-item payment that Partner will automatically apply to the oldest unpaid charge.
Function Keys While Specifying Payments: On the first Link Payments screen, function keys are available to batch claims, print paper claims, print bills, run oops, and run the Family Editor (fame).
F5 – Print a Bill
Press F5 to print a paper bill, for any desired date range, for the account.
F6 – Correct Mistakes
Press F6 to run oops, the "Correct Mistakes" program. In oops, you can change the pending status of charges, delete payments or charges, and adjust various visit information. If you need to link or unlink payments from charges, run oops. For full documentation on oops, read Correct Mistakes.
F7 – Family Editor
Press F7 to run fame, the Family Editor. In fame, you can change account demographic information, including mailing address and insurance policy information. The Family Editor also provides access to the Collection Report, which can help you understand an account's outstanding balances. For full documentation on fame, read Editing Patients and Accounts.
F8 – Acct History
Press F8 to run tater, the Account History report. This report, which can be restricted by date and type of transaction, shows you a history of all transactions on an account.