Place Schedule Blocks (addblock)
The addblock program adds single blocks to your schedule. Is a provider going to be out of the office for an important meeting? Enter the date and time into addblock to block scheduling at that time. You can also review existing blocks, read block notes, and remove blocks from within addblock.
The instructions below will teach you how to use addblock and take full advantage of its features. Call PCC software support with any questions at 1-800-722-1082.
Adding a Single Block
Run addblock
You can find addblock in the "Scheduling" section of your Partner Windows. PCC Support can add it to any window, such as Daily Operations. You can also run it from a UNIX prompt by typing, "addblock".

Fill Out Block Information
As shown below, fill in the date, provider, block type, time, and location of the block. If your office only schedules for a single location, you can leave that field blank. If you would like to add more descriptive block types, such as meeting blocks or new-parent blocks, ask your system administrator or talk to PCC support.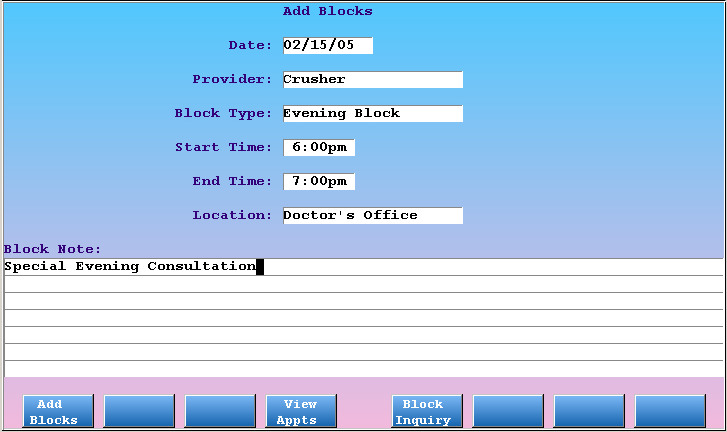 Provider Groups: Do you need to place a block for all of your providers, or all of your nurse practitioners? You can use a provider group, like "male" or "any" to place a block for multiple providers. Use the same provider groups you use when scheduling. PCC support can add new provider groups for any group of providers for whom you commonly place blocks.
Optionally, Add a Note
You can enter a note describing the block's purpose. See the example above. The note you enter will be visible in the scan report as well as the "Block Inquire" screen.
Press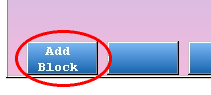 As soon as you press F1, addblock will place the block in your schedule. A message on the screen will tell you that the block has been placed.

Add More Blocks or Press F12 to Quit
Errors: If you see an error message, you may have forgotten to enter a date, block type, or start or end time. Press F1 – Go Back to fix your error and try again.
Function Keys in addblock
F1 – Add Blocks
Press F1 to place a block for the date, time, provider, and location you have selected.
F4 – View Appts
Press F4 to run scan and view your schedule for the date you have selected. Use this function when you want to see currently scheduled appointments for your chosen day.
F5 – Block Inquiry
Press F5 to review blocks, change block notes, or remove blocks. From the block inquiry screen, you can review all of a provider's current blocks. You can also change the note attached to a block and remove unwanted blocks.