PCC Instant Messaging (PCC IM) with Spark
Your practice can use a private, office-only chat service to send instant messages to communicate among clinicians and staff. Instant messaging, like texting, is a popular way to fire off a quick question or send a message to a co-worker. PCC can set up a private, secure instant messaging service that will be internal to your practice only.
PCC recommends using "Spark", a free third-party chat program, to access PCC IM.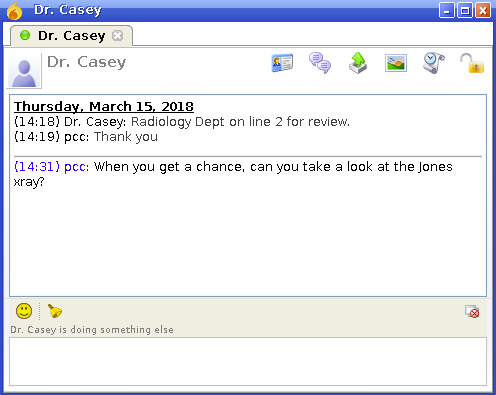 Every PC or Mac on your network can use the instant messaging service.
PHI Sent Via Instant Messaging?: Unlike mainstream instant messaging applications, such as Google Chat or AIM, PCC's private network instant messaging is maintained behind PCC's firewall, which means you can send PHI securely. If your office allows external instant messaging, your office's policy should reflect what usage is appropriate.
Availability and Activation: PCC's instant messaging service is available for all practices using Partner and/or PCC EHR, on computers running inside your PCC-maintained network. PCC Support must activate and configure PCC IM for your practice. Contact PCC Support (800-722-1082) and ask for the Technical Support Team.