Partner SAM Scheduler Configuration Overview
In addition to PCC's Appointment Book, PCC also supports a text-based scheduler that runs in the Partner interface. Partner's Scheduling Appointment Minder (SAM) is a powerful, fast scheduler.
How can you control what appointment times the Partner Scheduler (sam) offers your schedulers? How do you tell the scheduling system when a doctor takes a day off? How do you set physicals to be twenty minutes long, or change the winter schedule to include evening hours? The articles in this section will teach you how to configure and adjust your schedule to the needs of your office.
To learn how to do this for the PCC EHR Appointment Book, read Configure the Appointment Book.
Call PCC: PCC's Client Advocates provide unlimited training and support on scheduling topics. Call us at 1-800-722-1082 for help.
Basic sam set-up is easy: enter each provider's hours in profile, and use scrod to set up the calendar. Add blocks to control when time is available, and use ced and ted to make other configuration changes. Here's a more detailed description of each step:
Review and Edit Scheduling Tables
Partner keeps a list of providers, visit reasons, and time profiles. Run the Table Editor (ted) and select the appropriate table to make changes to any of these lists and add new entries.
Edit Profiles
Run the Provider Profile Machine (profile) and enter your providers' work hours into Partner. In addition to the regular profile, you can set up different profiles for different seasons, hospital rounds, or other purposes.
Assign the Profiles or Other Hours to Specific Calendar Dates
Run the Provider Schedule (scrod) and tell Partner which profile each provider will work on each day, as well as on which days providers are out of the office. scrod's Strange Hours feature lets you put in a provider's exact working hours for a specific date instead of using a profile.
Review Block Design and Run Blocks
Blocks help guide when physical, sick, and recheck time becomes available in your schedule. To make changes to your blocks, you will edit your block template files, run the Remove Sick Call Blocker (rmscb) to remove the existing blocks, and then run the Consistent Sick Call Blocker (cscb) to place blocks according to the revised block template files. You can also use the Extended Sick Call Blocker (escb) and the Add Single Blocks (addblock) program to add individual blocks.
Special Configuration Editor Options
The Configuration Editor (ced) has a Scheduler section filled with questions that control Partner scheduling behavior.
Read the articles listed below for detailed procedures and instructions on each of the steps and programs mentioned above.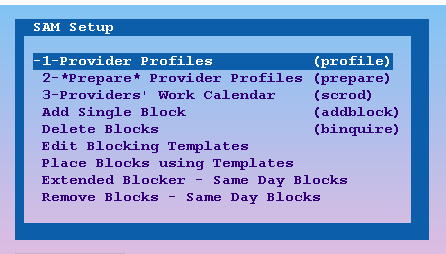 Most of the programs mentioned above are located in the convenient Scheduling Configuration (or "SAM Setup") window, under the Patient Scheduler section of your Partner Programs window. If you have trouble finding the tools you need, call PCC.