Partner and PCC EHR Integration
PCC EHR shares information with Partner, PCC's practice management system. Many of the features of each product interact with one another.
If you are a Partner system administrator, this page will help you understand how PCC's two products affect each other and how the services interact.
Partner Configuration Tables
Some of the tables, edited in the Partner Table Editor (ted), affect functionality of both Partner and PCC EHR.
Provider Table
Actions in PCC EHR are recorded per-user, and all of your providers will have their own PCC EHR login username and full name. For filtering appointments or assigning provider responsibilities, however, PCC EHR uses your Partner provider table as the master list of providers.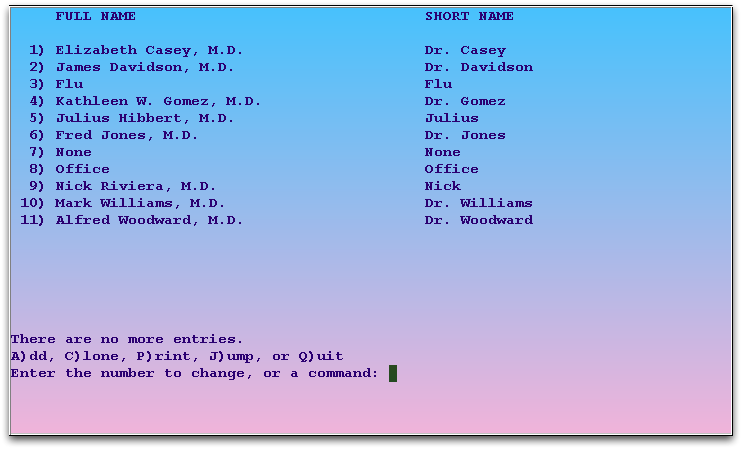 If you need to make changes to a provider's last name, for example, you will need to change it in PCC EHR's User Administration tool as well as in the Table Editor (ted).
Visit Reason Table
The visit reasons, available in the Table Editor (ted) in Partner, are an important element to both Partner and PCC EHR.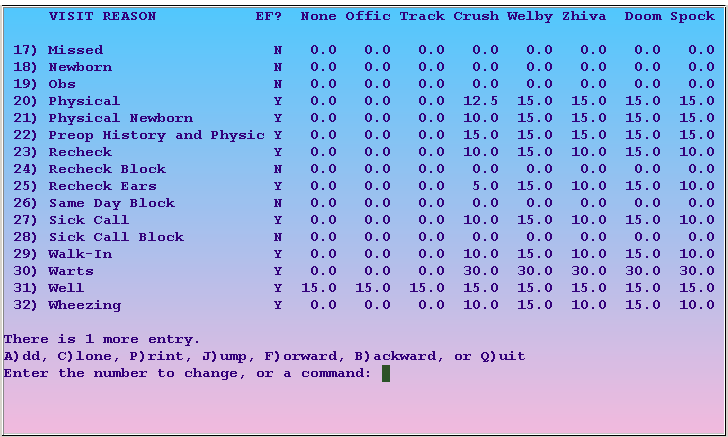 The visit reasons affect scheduling in Partner, form letters and encounter forms generated before a visit. During a visit, the visit reason and provider trigger a specific chart note protocol. Finally, the visit reason controls the charge posting screens that users see in checkout.
You can edit and revise your list of visit reasons yourself, as a Partner administrator, but PCC Support can help you figure out how your visit reasons, schedule, and charting will all work together. To learn about how a visit reason determines the chart note used in PCC EHR, read the Protocol Map article.
Diagnosis Table
The Diagnoses table, available in the Table Editor (ted) in Partner, is the master list of diagnoses (including allergies) used by both Partner and PCC EHR.
In PCC EHR, your list of diagnoses is used on the Problem List and while charting diagnoses. Only items from the diagnoses and procedure tables are available on PCC EHR's electronic encounter form. In Partner, diagnoses are integral to the charge posting and billing process.
Patient Accounts and Merging
PCC EHR and Partner share patient account information. There is one patient chart in PCC EHR for every patient in Partner.
If you accidentally create a duplicate patient in Partner, then a duplicate patient will appear in PCC EHR. If you merge two patients in Partner, then their charts will be merged in PCC EHR.
For more information, read the Partner help article on movekid.
Patient Checkin
The Patient Checkin program in Partner triggers an arrival notification in PCC EHR. You can also indicate that a patient has arrived by opening a chart and clicking "Patient Arrived", but using checkin helps an office confirm patient information, insurance information, and collect the copay.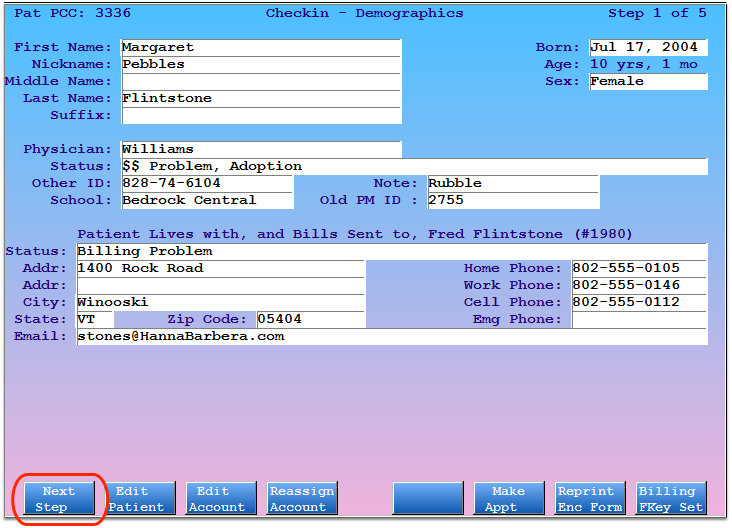 Your office should review checkin configuration and utilization in your office, as how you use checkin affects your workflow with PCC EHR.
Patient Checkout and Billing
At the conclusion of a visit, your office can use the electronic encounterform to send diagnoses and procedures back to Partner for billing. This feature is optional, as many offices prefer to use paper encounterforms for their checkout workflow.
Visits will appear for checkout in the standard checkout appointment list. If an appointment was created in PCC EHR instead of Partner scheduling, you may first need to use checkin to check the patient in.
By default, all charges will appear assigned for the provider of the encounter, whichever clinician is indicated at the top of a visit's chart note. You can change the billing provider or provider of service using the fields in the upper-right corner of the checkout screen.
Immunizations
Once an office installs PCC EHR, immunization records shift from the Partner programs (imms) to the PCC EHR chart records. All immunizations should be entered into PCC EHR by the provider or nurse when administering the shot or on the Immunization History screen. You can still review immunizations in Partner, but you can not edit them.
What Still Happens in Partner?
While PCC EHR performs most clinical duties, the Partner PM system still:
Generates paper encounter forms (superbill)
Generates handouts (notices, forms, medical information, etc.)
Generates school forms (patient immunization and physical record)
Posts charges
Maintains insurance policy and other billing-related information and patient-to-account relationships
Partner No Longer…
It is important to note that some familiar Partner operations will change once you adopt PCC EHR.
Posting charges in Partner will no longer update a patient's immunizations, major diagnoses, and allergies. Those records are now recorded during charting, along with other clinical data, in the patient's electronic chart in PCC EHR. Clinical data does not rely on a patient's charge history.
Phone encounter notes, which Partner users create using the pen program, now exist in the patient chart in PCC EHR. When you go live with PCC EHR, all existing Partner pen notes are loaded into the patient's chart history. PCC EHR has additional fields, a phone encounter task tracking system, and integration with a patient's medical record. The old, Partner pen program is disabled when PCC EHR is activated.