The System Administrator should lock out any user who should no longer be using your Partner system. Your Partner server contains an enormous amount of Private Health Information (PHI) as well as sensitive financial information about your practice.
Whether an employee has left your practice or is being assigned to a new position away from the computer, they should be locked out of the Partner system as soon as their Partner related responsibilities are finished.
Run useradmin and press F3 – Lockout User to retire a user's login name. You will be shown a list of users from which to choose: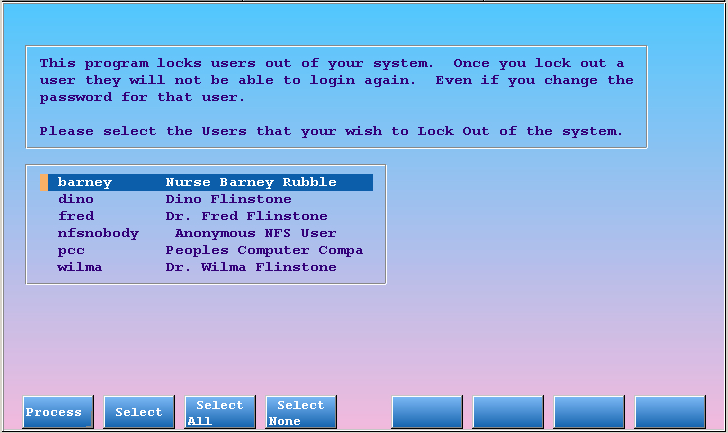 Select the user whom you wish to lock out and press Enter.
Computer System Names: You may see some system login names that are part of how the operating system functions. Do not lock out those users.
CALL PCC: You may want to inform PCC when you remove a user from your system. If a former employee often spoke with PCC, you should tell our support team that the user should no longer be given access to your system. If the user had access to Partner from a home or remote office, it is especially important that you contact PCC and tell us to turn off that connection.