Customizable Charge Screens in Partner
Your practice can customize the default lists of diagnoses and procedures that appear on the screen during checkout in Partner. Computer screens are too small to display the hundreds of different procedures and diagnoses that you may perform, so checkout brings up a list based on the visit reason or other criteria.
Your practice's custom lists of per-visit diagnoses and procedures are called "charge screens".
Does Your Practice Use an EHR?: If your practice uses PCC EHR or another EHR that integrates with Partner, then you will see the clinician's selected diagnoses and procedures on the Post Charges screen in checkout. Your front desk staff or biller can also select diagnoses and procedures by hand.
Sample Charge Screens
If a patient is scheduled for a sick visit, Partner can automatically display your practice's custom "Sick" charge screen, which could include Otitis Media and other common sick diagnoses. For a well visit, you may have a Well charge screen that displayed 99393 along with immunization codes.
Here is a sample "Baby Well" charge screen from a PCC practice that incorporates both sick and well visit codes: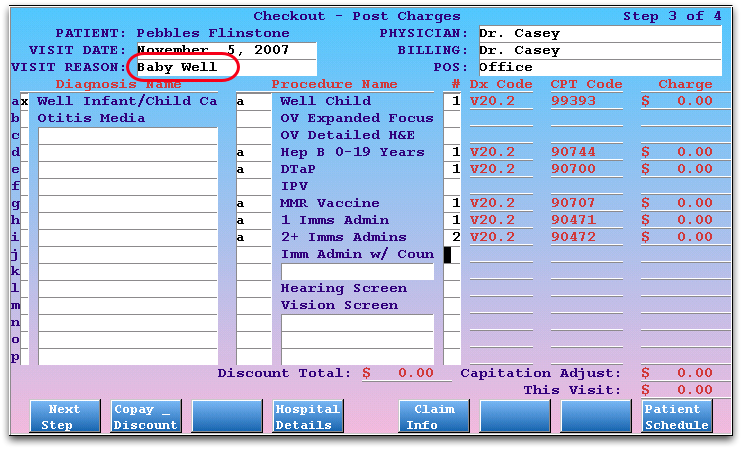 This screen displays the v20.2 Well Infant diagnosis code, along with Otitis Media as a sample common diagnosis. For procedures, the 99393 appears along with other handy procedures, such as the immunizations given to babies. The screen also has plenty of blank spaces for less common diagnoses and procedures that occur during a visit.
Many offices design a different Well Child screen for every age physical. That allows them to specify which immunizations appear, for example.
Automatic By Age: Partner can place the correct physical procedure for the child's age on the charge screen automatically. Partner users should not need to hunt for the correct age-specific physical procedure code.
Here is a practice's custom "Asthma Recheck" charge screen: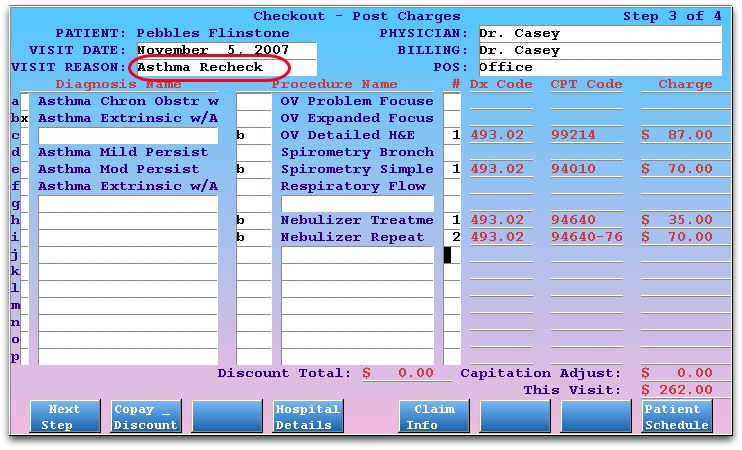 Custom Length, More Screen Space: The examples above show room for 16 diagnoses and 16 procedures. If you make your Partner window larger, checkout can show up to 23 of each. Contact PCC Support to learn more.
Edit Charge Screens
Use the Charge Screen Editor (csedit) to edit your charge screens or make changes to an existing charge screen.
You can run csedit from a command prompt or by selecting the csedit option from your Partner Configuration window.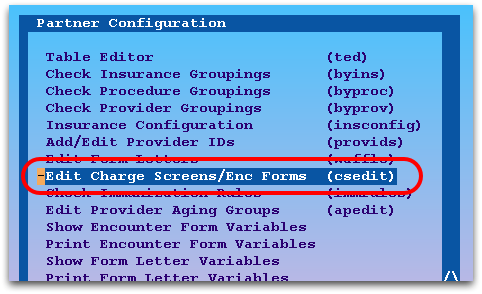 On the main screen, you can select from your existing charge screens and press F4 – Edit Screen to make a change.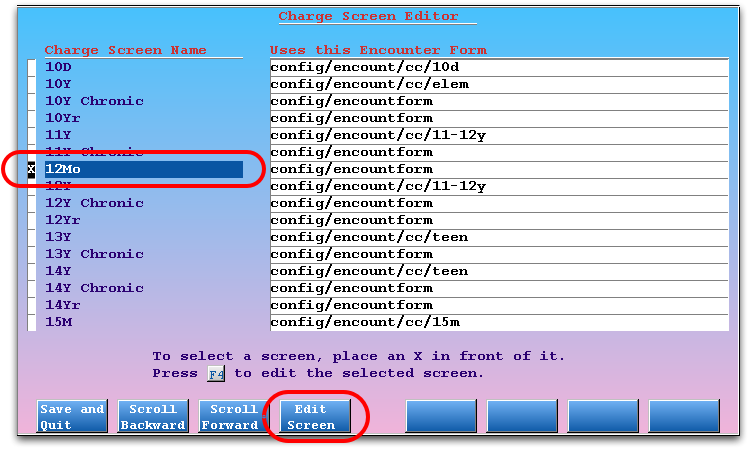 To learn more about csedit and editing charge screens, read the example help article, "Add a SnapCode to a Charge Screen".
ICD-9 and ICD-10: During 2014, Partner will prepare for the ICD-9 to ICD-10 migration by duplicating your existing charge screens and making new ICD-10 versions. When you run the csedit program, you will be able to switch between editing the charge screens with ICD-9 codes and ICD-10 codes by pressing F5 – ICD-10 csedit.