The SAM Notes and Confirmation View
Press F1 – Schedule Appt from the Normal, Detailed, Day, or Patient View to begin confirming appointments listed at the top of the screen. From the Notes and Confirmation screen you can enter notes and confirm the appointment: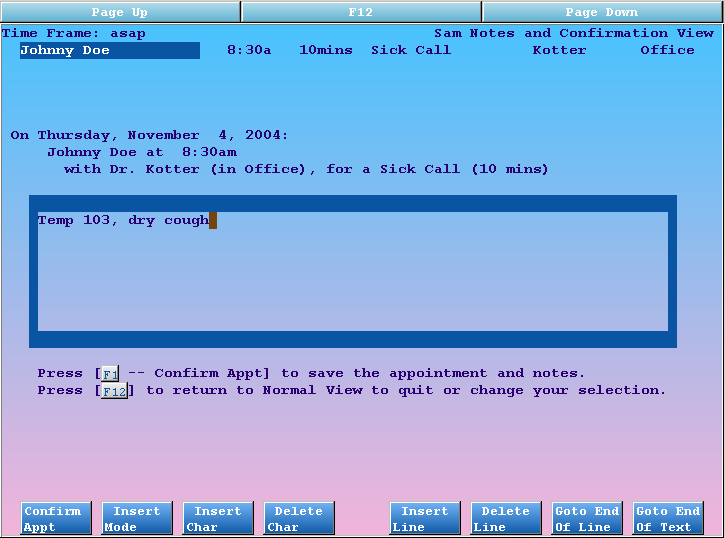 While you are confirming, you can remind the caller about the time and date you have selected and note any pertinent information about the visit. The function keys are the standard options for the fred text editor. They allow you to manipulate the notes you type in various ways.
If you change your mind, or you selected the wrong visit time by mistake, just press F12. You will be taken back to the Normal View so you can pick a different appointment or quit.
The most important function is F1 – Confirm Appt, which will confirm the appointment you have selected and save any notes you have typed. If you are scheduling for two or more patients, you will be shown a separate confirmation screen for each one. If you are scheduling an appointment for today, an encounter form will print out as soon as you save.
After confirming the appointment(s), you will be brought to the find routines so you can schedule for the next patient. If you want to check the work on the visit you just made or make changes to the patient's demographics, you can press F2 – Use Last Patient to return to the SAM Search Criteria screen. From their you can run inquire or view the patient's demographics.
Conflicting Appointments
If at any time you attempt to confirm a time slot that is already filled or is otherwise unavailable, you will be shown a conflict screen: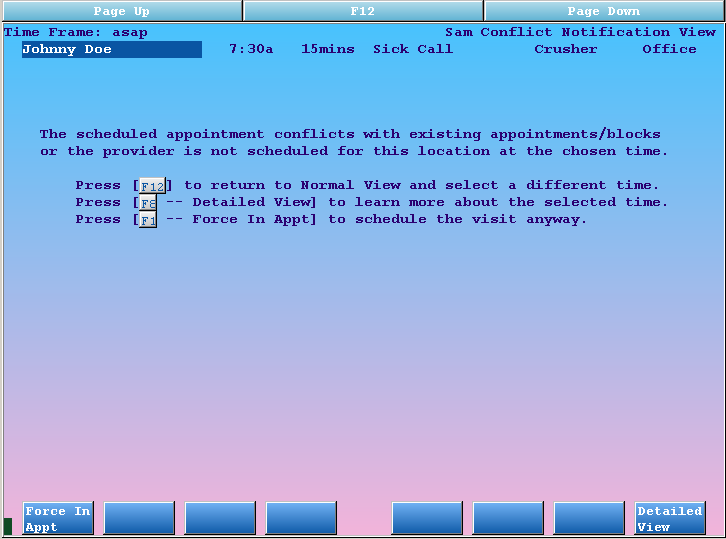 The conflict screen conveniently has a function key for jumping to the Detail View for more information. You can press F12 to return to the screen where you selected the appointment time, or press F8 – Detail View so you can evaluate the day in more detail and determine how the slot was already filled.
If you are certain that you wish to schedule the appointment anyway, press F1 – Force In Appt to continue scheduling. This may result in double booking or scheduling an appointment when the provider is not scheduled to work. PCC can turn this option on and off for specified users.