Appointment Lists in Checkin, Checkout and Nimms
Partner's checkin, checkout, and nimms programs have appointment lists that make selecting a patient fast and easy. Instead of typing in a patient's name, you can pick from a list of patient appointments. When you need to, you can skip the list and enter a name, but the appointment lists save time and reduce mistakes.
Overview
When you run checkin, checkout, or nimms, you see a customizable list of today's patients: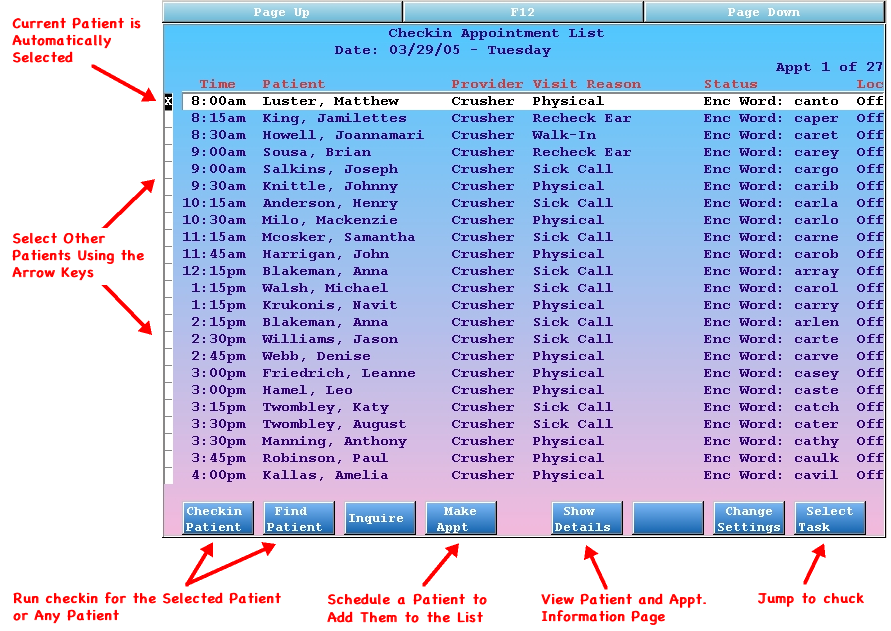 Basic visit information is included on the list, and you can quickly select a patient and press F1 to continue. Function keys at the bottom of the screen help you find any patient or perform other important tasks.
By default, patients disappear from the Checkin Appointment List after they are checked in and disappear from the Checkout Appointment List (or Nimms list) when checked out. You can customize that behavior.
Review the Appointment List
When you run a program that uses an appointment list, such as checkin, Partner finds all the appointments that match certain criteria and creates a custom "Appointment List" for the program you are running.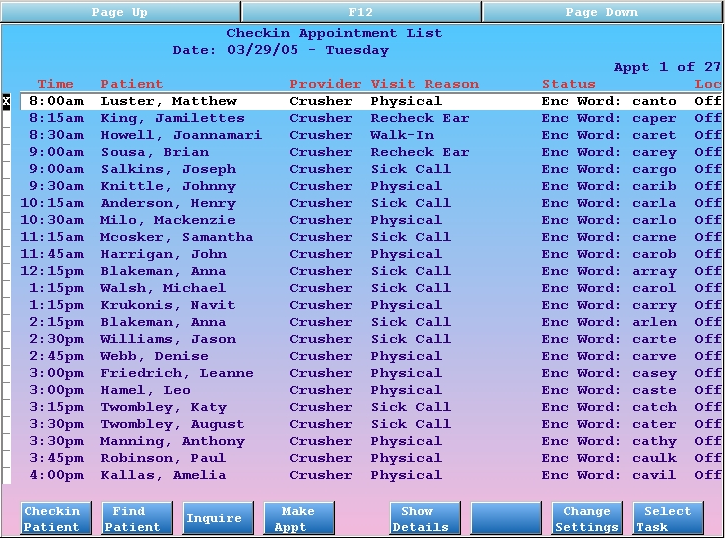 The list automatically scrolls to the current time. If it is two o'clock in the afternoon, the list will scroll to show patients who are scheduled for two o'clock.
Use the arrow keys or press Page Up and Page Down to scroll up and down and view the entire day. Press the right or left arrow key to move through the days. In this way, you can review appointment lists for any date, just as if you were flipping through a paper scheduling book.
Once you have chosen an appointment with which to work, press F1 to continue working with the patient in the checkin, checkout, or nimms programs.
Created in PCC EHR?: If an appointment was created in an EHR and not Partner, you will see "(EHR" appended to the status.

Can't Find an Appointment?
If you can't find an appointment, you can run the inquire program and check the patient's schedule. If you can't find the appointment in checkout, you might switch over and review the checkin program. By default, appointments do not appear in checkout until they are checked in.
If the patient does not have an appointment, you can press F4 to schedule one. The patient will be added to your list, and (optionally) Partner will print an encounter form for the appointment.
If you wish to proceed without an appointment, press F2 – Find Patient to search by name or other criteria. Read Finding Patients and Accounts to learn more about finding patients.
Extra Functions and Tools
While you are choosing a patient to work with, you can perform many other useful functions.
F3 – Inquire
Press F3 to run inquire for the currently selected patient. You can review the patient's visit history, change notes for the visit, and cancel, delete, or mark any appointment as missed.
F4 – Make Appt
Press F4 to run sam and schedule any patient. You should do this for all "Walk-In" visits so they will have an encounter form and an appointment in your system. If your office does not use sam, F4 can be configured to run encount.
F5 – Show Details
Select an appointment and press F5 to view the Appointment and Demographic Information screen, which contains full details about the patient and the currently scheduled appointment: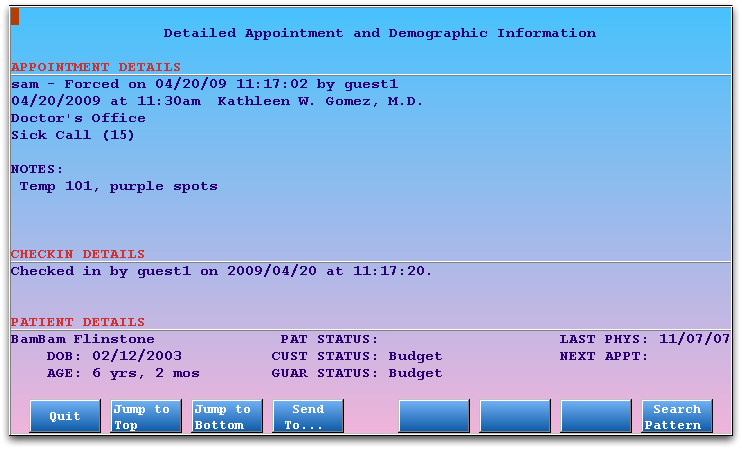 F7 – Change Settings
Press F7 to open the Settings window for the Appointment List. For a complete guide to configuring what appears on your appointment lists, read the Configure Appointment Lists section.
F8 – Select Task
Press F8 to switch between patient check-in (checkin) and check-out (checkout). You can view a custom appointment list in both programs.
EHR Charges with No Partner Appointment
If an EHR sends Partner new patient diagnoses and procedures with no associated appointment, the charges will appear at the bottom of the Checkout appointment list.

You can select these patient charges in checkout and post them as you would any appointment.
When Will This Occur?: These entries will appear if a provider uses an EHR to chart a visit for a patient who was not scheduled in Partner. They may also appear if you schedule an appointment using your EHR instead of Partner and your EHR can not export appointment information to Partner.
Configure Appointment Lists
You can control which appointments appear on the lists when you use checkin, checkout, and nimms. You can also change the appointment sort order.
For example, you may only want checkout to only show appointments scheduled at the office, not appointments for the hospital. Or you may want checkin to only list appointments with certain physicians, or to sort appointments by the physician's name.
While viewing the appointment list in any program, press F7 – Change Settings to go to the Settings screen. You can configure different settings for checking in and checking out, so press F7 while viewing the appointment list that you wish to change.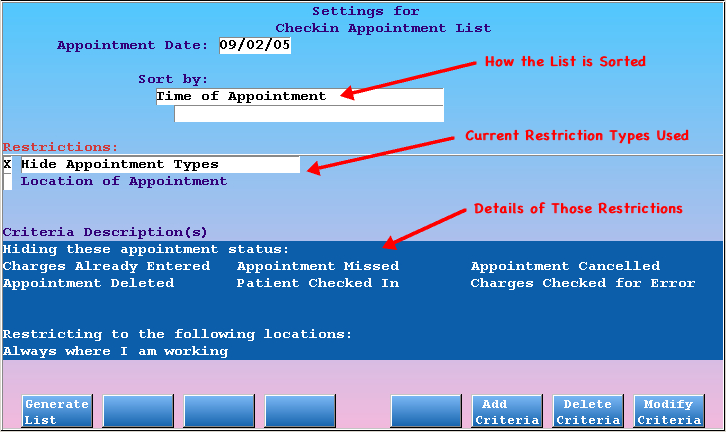 Sort By
At the top of the screen, you can control how the list will be sorted. Enter an asterisk (*) to view sort options. You can use two different nest sorting criteria.
Restrictions
The Restrictions section shows the different types of restrictions currently used to determine which appointments appear.
The Criteria Descriptions section shows the specific restriction details for each restriction type currently in use.
Example: Typical Settings for Patient Checkin
The default settings for the checkin appointment list are shown in the image above.
The list will sort appointments by Time of Appointment
The Hide Appointment Types criteria will hide appointments that have already been checked in or checked out, along with other statuses.
The Location of Appointment restriction will keep the appointment list limited to patients that the user likely needs to check in.
Default criteria are suitable for most users in most situations. If you wish to restrict your list to one provider, a certain portion of the day, or make other changes, use the function keys at the bottom of the screen.
Whatever custom restrictions you add, keep in mind that for most offices, you will always want to hide checked-in appointments from the checkin list and hide checked-out appointments from the check out list.
Add, Delete, or Modify Criteria
Use the function keys at the bottom of the screen to modify the criteria.
F6 – Add Criteria
Press F6 to add a restriction criteria. You can choose from a list of possible criteria that have not already been used. There are seven possible criteria: Location of Appointment, Hide Appointment Types, Encounter Form, Provider of Appointment, Reason for Visit, Appointment Status, and Time Range. Once you have chosen from the list, you can enter details about how the criteria should be restricted. For example, the Time Range criteria looks like this:

F7 – Delete Criteria
Choose an existing restriction and press F7 to delete it. Once you have deleted a restriction criteria (and pressed
) you will probably see more appointments in your list.
F8 – Modify Criteria
Choose an existing restriction and press F8 to make changes. You can then re-enter the details for that restriction. For example, if you wanted your appointment list to show visits that had been marked as missed, you would select "Hide Appointment Types," press F8 and then unselect appointment types of "Appointment Missed."
Once you have finished making changes to the restriction criteria, press F1 – Generate List to return to the appointment list with your new criteria in place.