What's New in PCC 7.0.4 If I Already Have PCC 7.0?
PCC 7.0.4 will be released to all clients in October of 2015. Some practices already have PCC 7.0, and may already be familiar with many of the new features in the 7.0.4 update.
What's new in PCC 7.0.4 update that is different from the PCC 7.0 release?
Read below to learn more!
Watch a Video: Want to watch a video summary of everything in this release? Click Here
PCC 7.0, 7.0.4, and PCC 7.1: PCC released an optional PCC 7.0 release in September of 2015. The next planned release was PCC 7.1. However, your feedback led to some great ICD-10 and workflow-related features, so all PCC practices will receive PCC 7.0.4 on October 25th. If your practice is already running PCC 7.0, you can read the details below to learn about features that are new to you. If your practice is using PCC 6.29, and skipped the first PCC 7.0 release because you did not need 2015 data for the ARRA EHR Medicaid Incentive program or a PCMH program, read the complete PCC 7.0.4 release notes to learn about all the great new features in PCC version 7.
Contact PCC Support for information about the items below or about any PCC product or service.
Search By ICD-10 Codes for Diagnosing and Problem Lists
You can now search by ICD-10 code or description when you add a diagnosis to a patient's chart, either in the Diagnoses component or on the Problem List.
When you can't find a SNOMED-CT diagnosis description, use your mouse to right-click on the field and select "Find Other Diagnosis...".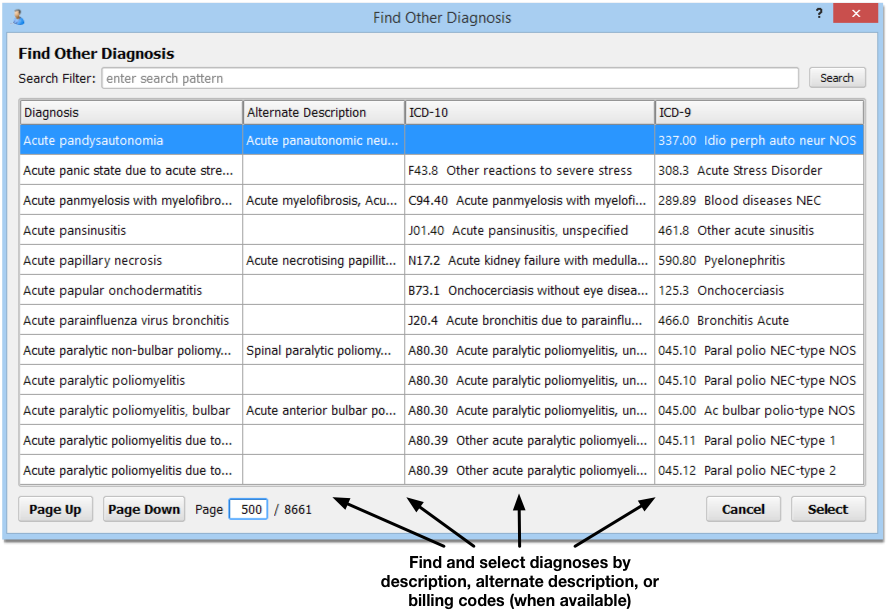 In the Find Other Diagnosis window, enter a search string. You can search for diagnosis descriptions using SNOMED terminology, and in PCC 7.0.4, you can also search by ICD-10 codes.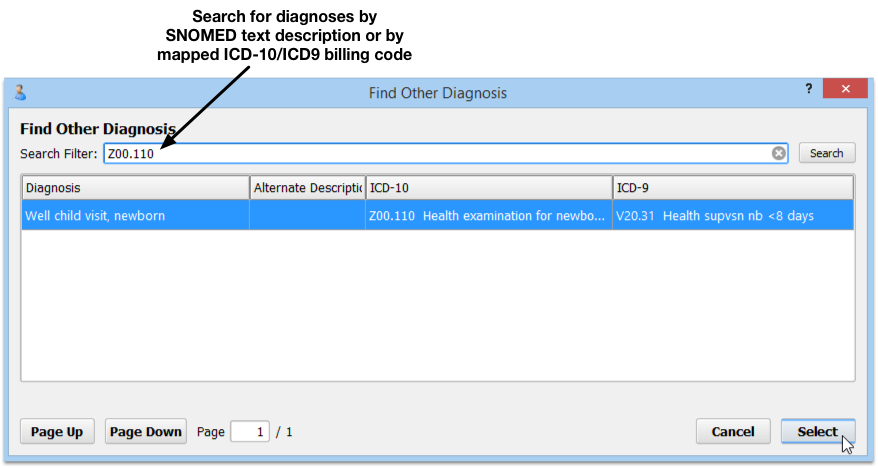 If a clinician knows the billing code but does not know the chart diagnosis description, they can now enter the billing code to search for matching results. This matching is reliant on the National Library of Medicine's assisted mapping between SNOMED-CT and ICD-10, or on your practice's custom billing configuration.
Add ICD-10 Default Diagnoses to Your Electronic Encounter Form
You can now add additional ICD-10 codes to your Electronic Encounter Form, also know as the PCC EHR "Bill" window. These codes will appear, ready for selection, whenever you click "Bill" from a chart note.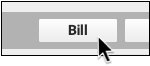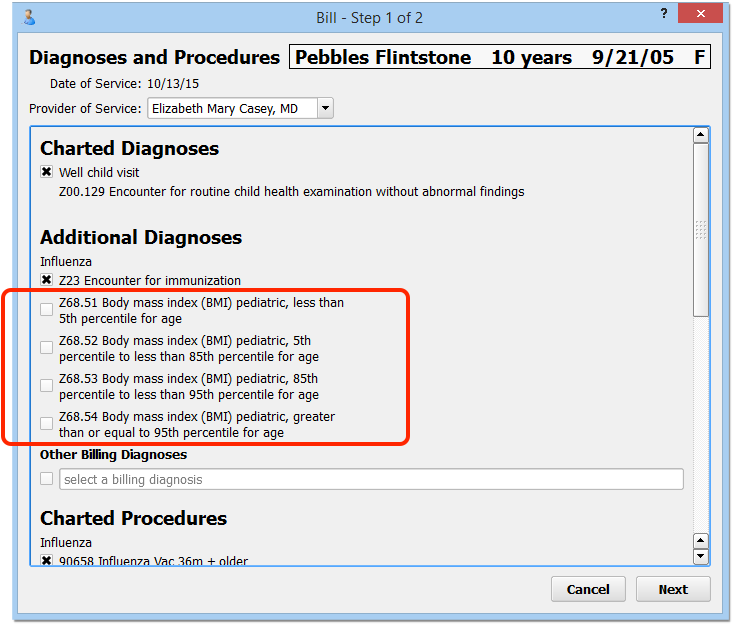 Diagnoses should always be recorded on the chart note, accompanying other assessment notes. However, there are a few unusual billing situations where you may need to add an ICD-10 billing code to an encounter:
Some PCMH programs ask for BMI percentile coding on claims. There are ICD-10 codes for BMI percentiles that are not described by SNOMED-CT. Your practice could add the BMI percentiles to the electronic encounter form for easy selection during any visit.
The ICD-10 codes for abnormal well visits do not have a set of clear 1-to-1 associations in SNOMED-CT.
You can use the Billing Configuration tool to add ICD-10 diagnoses to your billing screen.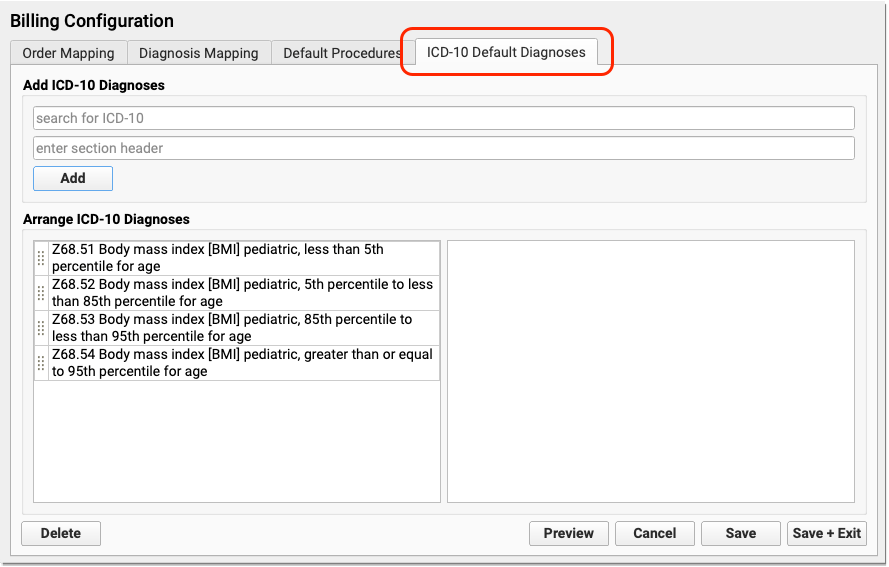 As you add diagnosis codes, remember that these codes are for billing purposes only. They will not appear on the patient's chart note or be part of a patient's medical history or summary of care.
Format a Summary of Care Record for a Referral
When you generate a Summary of Care Record for a referral, you can select a specific referral and optionally limit the output to information from that referral encounter.
When you need to create a C-CDA summary of care, select "Summary of Care Record" from the Reports menu.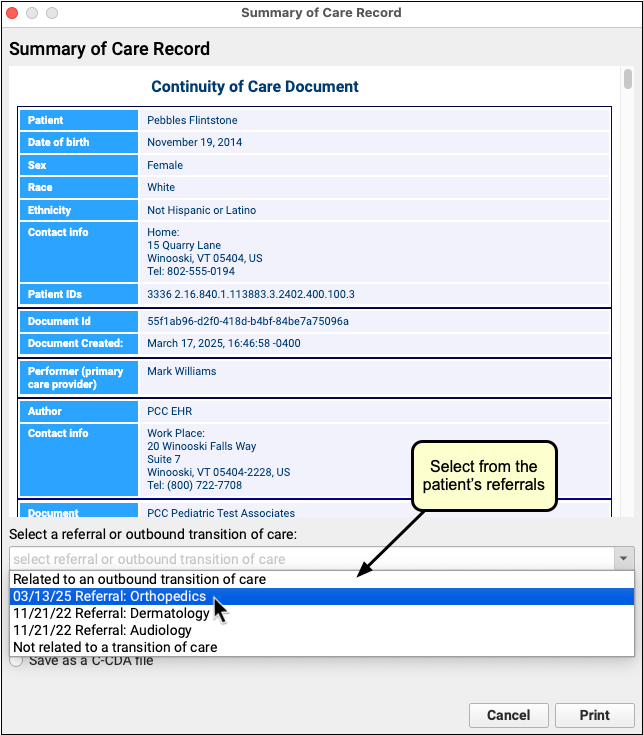 Choose the specific referral order from the selection pull-down menu.
By default, the referral Summary of Care report will limit procedures, orders, and vitals noted for that given encounter date. (The output also includes the patient's Problem List, and other chart information not specific to a particular encounter.)
Optionally, you can deselect the "Limit to referral encounter" check box, and the Summary of Care report will generate the patient's complete C-CDA with all available patient information.
Insurance Information: The Summary of Care report will now include insurance policy information for the patient, making it a better solution for referrals.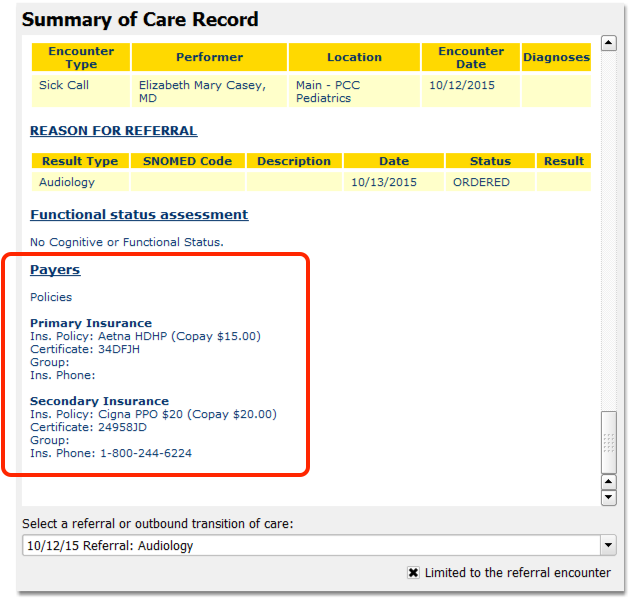 Drill-Down to Per-Patient Detail for the MU and CQM Reports
In the Meaningful Use Measures and Clinical Quality Measures reports, you can now click "Details" for any measure to review patient-level details for the results.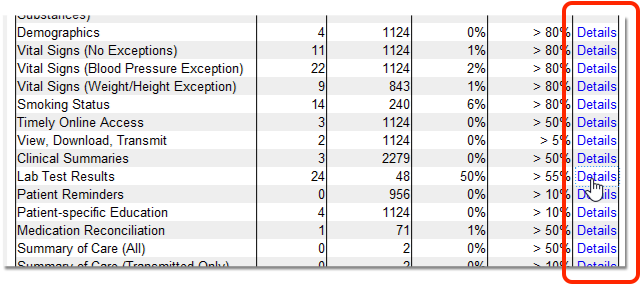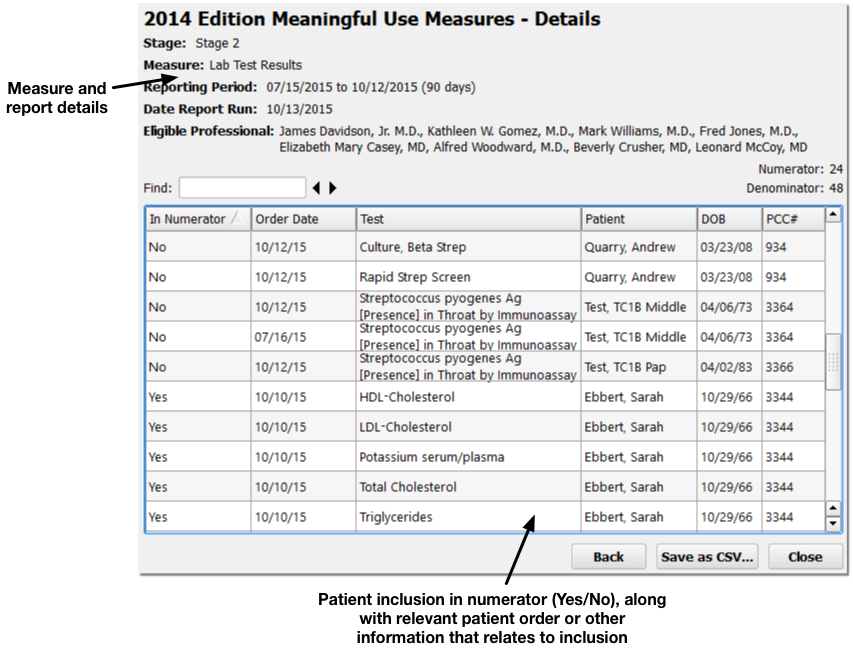 In the Details window of the Meaningful Use Measures report, details for the report and the selected measure appear at the top. The table displays whether or not the patient was included in the numerator, along with any relevant patient details for the measure, such as an order, diagnosis, or other information from the chart.
In the Details window of the Clinical Quality Measures report, you can review the relevant patients in more detail.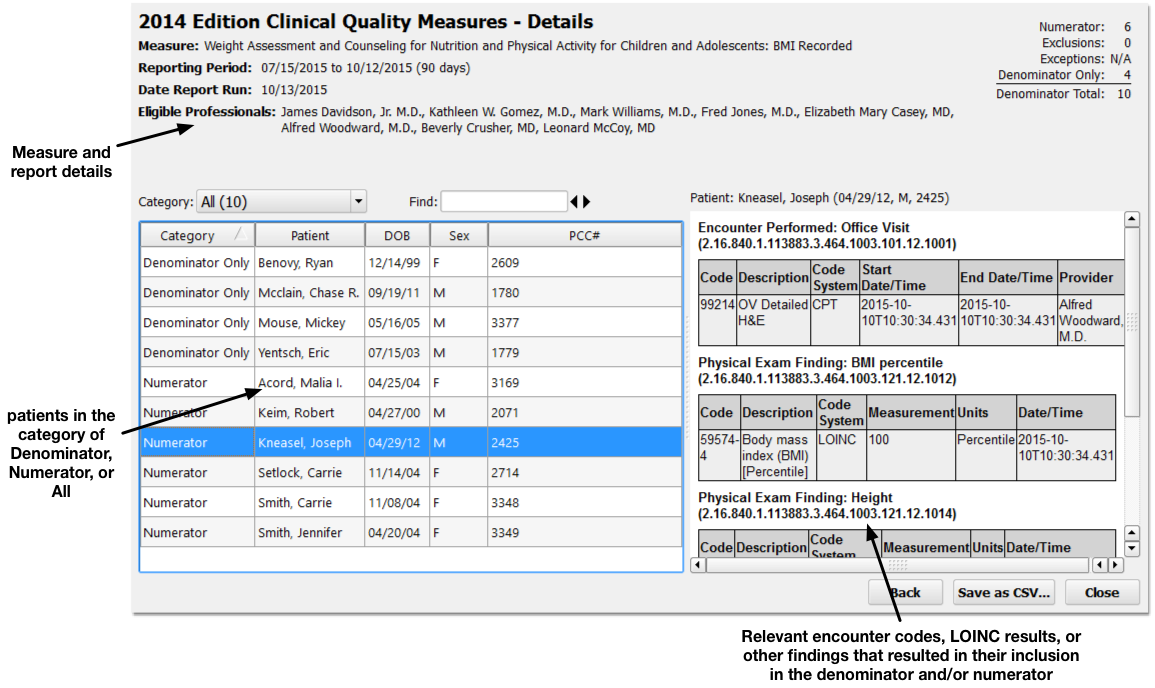 Information about the report and the selected measure appear at the top. On the left, you can use the Category drop-down menu to specify what portion of the patient population you wish to review (Numerator, Denominator, or All patients).
Click on any patient on the left to review what occurred for them to be counted in the denominator or the numerator on the right.
By reviewing patient records to determine why they were or were not included in a measure's calculation, you can address potential problems in your patient workflow or PCC configuration that may alter your final percentage.
Immunization Forecasting Logic Update
PCC's immunization logic partner, STC, is implementing several patches to the Immunization Forecasting features in PCC EHR. The new changes will bring Forecasting Results and Forecasting Warnings more in line with ACIP standards.
Age Restriction Adjustments: PCC's configuration for age restrictions have been adjusted to the ACIP default. The previous configuration caused immunizations such as Hib and HPV to be ignored for patients within certain age ranges.

MSPV Forecasting: MSPV administered at 11 years of age will now result in an Immunization Forecasting Result for MCV at 16 yrs of age.

Hib Update: Dose 3 of Hib administered at 12 months of age or older, with less than an 8 week interval from previous dose, generated a Forecasting Warning, but was still shown as valid. Dose 3 Hib without the proper interval will now display as invalid as well as produce a warning.

2015-16 Seasonal Influenza Recommendations: For 2015–16, ACIP recommends that children aged 6 months through 8 years who have previously received 2 or more total doses of trivalent or quadrivalent influenza vaccine before July 1, 2015, require only 1 dose for 2015–16. The two previous doses need not have been given during the same season or consecutive seasons. Children in this age group who have not previously received two or more doses of trivalent or quadrivalent influenza vaccine before July 1, 2015 require 2 doses for 2015–16. The interval between the 2 doses should be at least 4 weeks. Immunization Forecasting Results will make recommendations in accordance with these new guidelines. (Visit CDC.gov for more information)

PPSV Forecasting: Immunization Forecasting Results and Warnings in PCC EHR will now match ACIP interval recommendations for PPSV and PCV-13 for patients 65 years or older.
Other Feature Improvements and Bug Fixes in PCC 7.0.4
In addition to the features described above, PCC 7.0.4 includes these smaller improvements and squashed bugs.
New SNOMED-CT Descriptions for Newborn Visits: PCC 7.0.4 adds three new requested newborn visit SNOMED-CT descriptions. The addition of these codes will help your practice code for specific visit types without unusual mapping work-arounds. PCC has added these codes to your practice's "Favorites" list of common, easily searchable diagnoses.

TOS Bill (the Checkout Receipt) Now Displays More Characters of the ICD-10 Code: Some ICD-10 codes are much longer that ICD-9 codes. PCC software already accommodated that length on your computer screen, and the PCC 7.0.4. update widens the available room on the TOS Bill, also known as the "checkout reciept", that your practice can print when you post charges.

Hospital Visits that Span the ICD-9 to ICD-10 Transition: Posting a charge that extended across the ICD-9/ICD-10 transition could sometimes result in validation errors. PCC has resolved these issues. For information on posting these visits, see the CMS's guide to visits that span October 1st.

Network Errors Could Cause DrFirst to Stop Working: At some PCC practices, under certain circumstances, network errors could cause the DrFirst interface to stop working. Those practices needed to contact PCC Support to manually restart the prescriptions interface. The PCC 7.0.4 update fixes this problem. Network or internet problems at your practice can still interrupt PCC EHR services, but will no longer cause the DrFirst prescriptions interface to stop working for your practice.

Diagnoses Not Appearing, Not Lining Up With Selection Boxes: If a user selected and then deselected multiple diagnoses while moving between the Bill window and the chart, diagnoses could sometimes not appear or appear misaligned on the screen. This no longer occurs.

Fax and Copier-Friendly Printing of the Summary of Care Report: The C-CDA standardized output of the Summary of Care report includes a dark background for some fields, which made the report difficult to fax or duplicate with a black-and-white copier. The PCC 7.0.4 update changes these fields so they no longer have a dark background when printed.

Improved Output of 'No Known Problems/Allergies' on Summary of Care Report: The Summary of Care report now does a better of job of indicating when a patient has the "No Known Problems" or "No Known Allergies" diagnoses, or when the record is blank and no diagnoses have been recorded.

Summary of Care Report Sorts More Sections By Date: The Summary of Care report now sorts all appropriate sections by date, and not just the encounters. For example, the report now displays Problem List items sorted by onset date, and sorts vitals by the date they were recorded.