Quickstart: Edit a Patient
Follow the procedure below to learn the basics of the Patient Editor, notjane.
Run notjane
You can access notjane from the Partner windows or by typing notjane at a command prompt: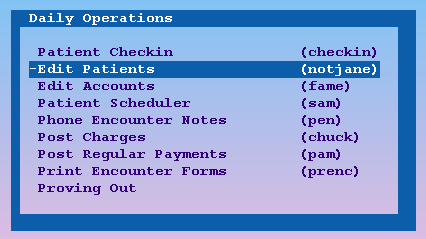 You can also run notjane from the main patient demographic screen in checkin. Run checkin for the patient, then press F2 – Edit Patient. You can then skip to step 3.

Find a Patient
Enter the patient's name, or part of the patient's name.

You can also search by chart number, phone number, or several other criteria. To learn more, read Finding Patients and Accounts.
Make Your Changes
On the first page in the Patient Editor (notjane), you can change the patient's basic demographics. Move around the screen by pressing Tab, Enter, or the arrow keys. You can also move back one field by pressing the Backspace key. If you wish, you can press Page Down to cycle through all the pages of notjane.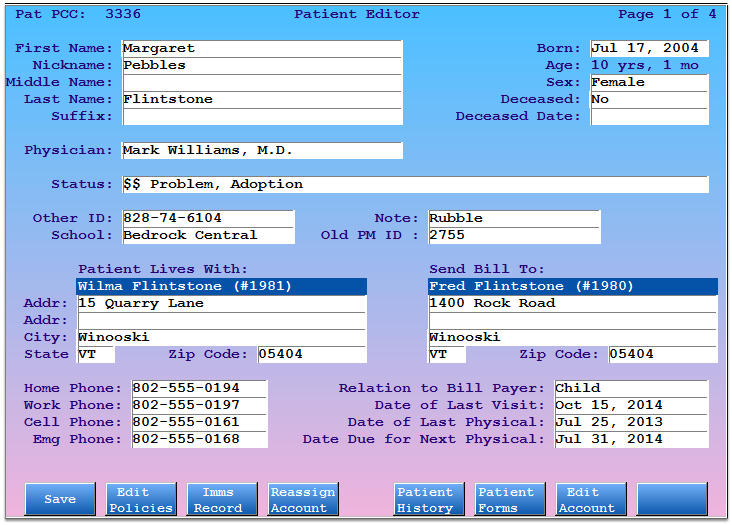 Press
Press F1 to save your changes and quit. If you do not want to save your changes, press F12 instead.
In the procedure above, you ran notjane and made a small change to a patient's basic information. In the next sections, you will learn about each of the pages in the notjane program.