Read the sections below to learn how to prescribe medications using PCC eRx in PCC EHR.
Watch Videos: You can watch two quick overview videos to learn how to prescribe: The Prescribe Medications video and the Dosing and Other Prescribing Features video.
Prescribe a Medication
How do you prescribe a medication in PCC EHR?
Click to Open the PCC eRx Section of the Chart
While viewing a patient's chart, click the PCC eRx chart navigation button to begin working with medications.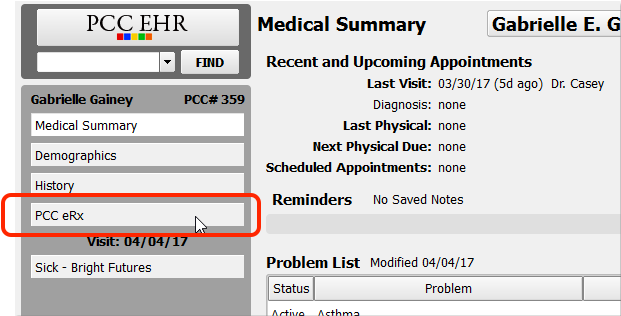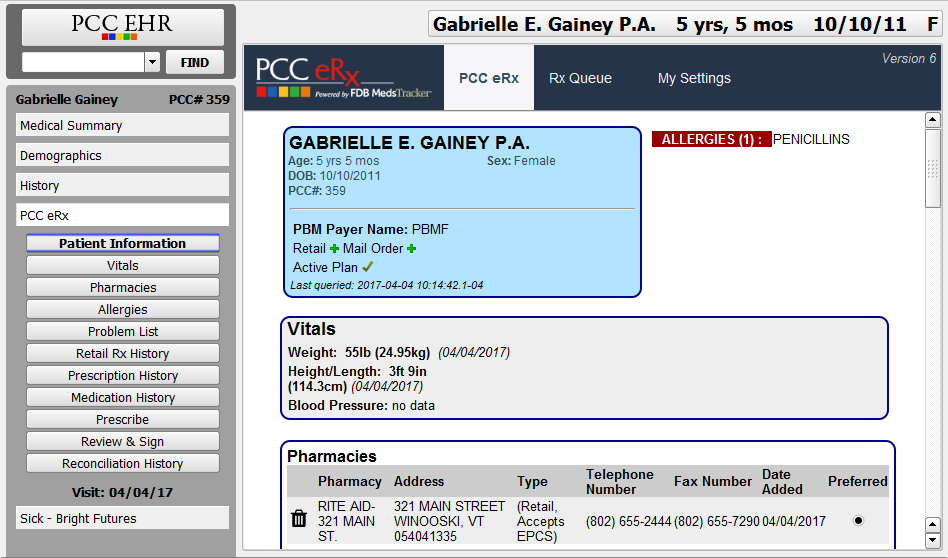 Review Patient Information
PCC eRx is a single ribbon of patient medication-related information, made up of components, just like a chart note protocol.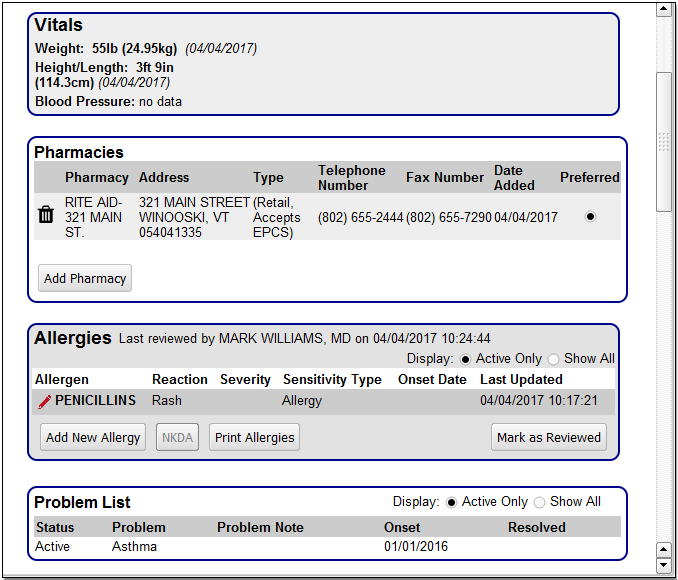 You can click on an anchor button to jump down to the component you wish to review.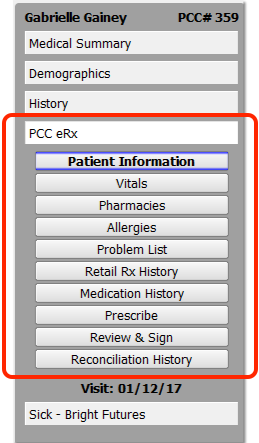 The components contain everything you need to review when working with a patient's medications: prescription benefit coverage, preferred pharmacy, allergies, problem list, retail Rx history, medication history, today's vitals, and more.
Component Reference: Read the PCC eRx Component Reference to learn additional tips and functions of each PCC eRx component.
Review the Prescribe Component
Click the Prescribe anchor button or scroll down to the component to prescribe a new medication.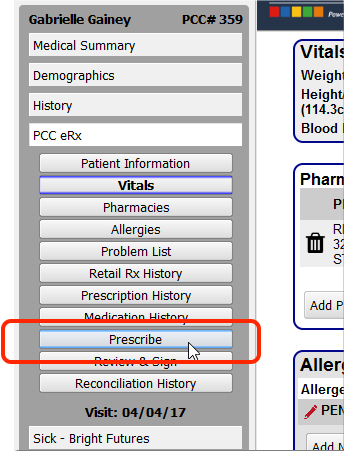 Click to Prescribe a Favorite, or Search for a Medication
Click the green plus on a Favorite prescription to create the prescription. Or, you can click the name of the Favorite to edit it before you prescribe.
Or, use the Search field to find a medication.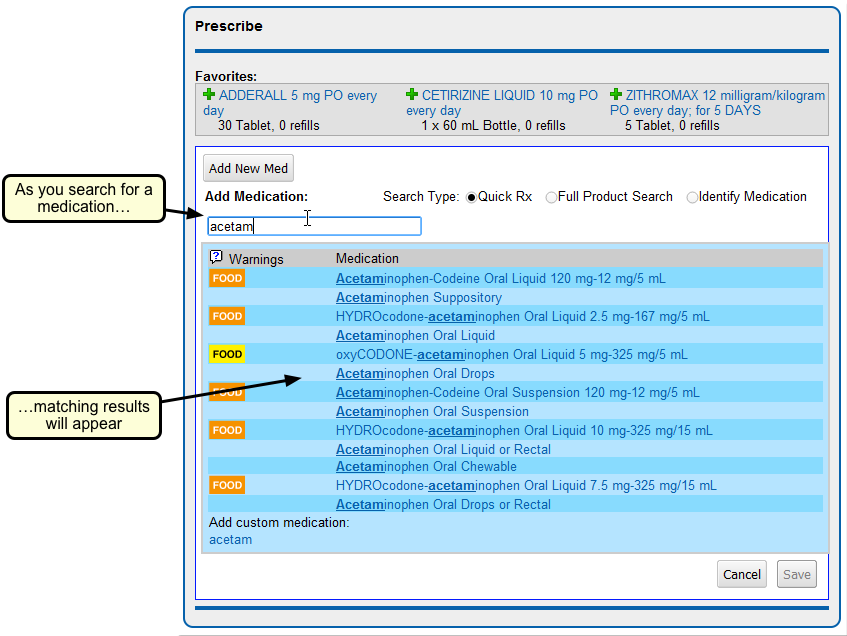 PCC eRx helps you search, correcting your spelling errors and showing you only those medications that your practice has prescribed in the past and that are appropriate for the patient's age. If PCC eRx identifies an allergy, drug-to-drug interaction, or other concern, you will see an alert next to the search result. As you hover your mouse over a selection, you will see common indications.
If you have a favorite medication that matches your search result, you will see it at the top and you can click the green plus to prescribe it, or the blue link to make changes and then prescribe.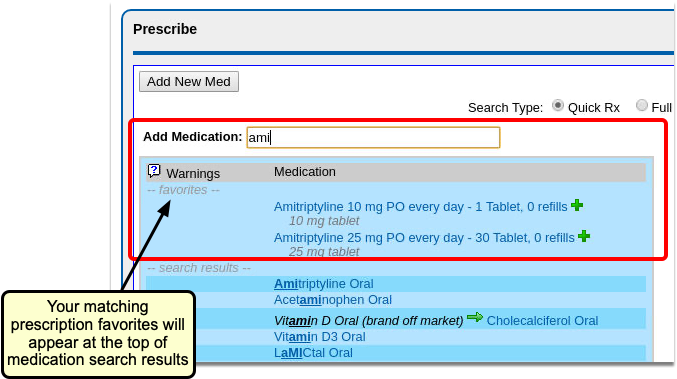 Find a New Medication or Medical Equipment: To search the entire medication list or find DME or other unusual items, click on the "Full Product Search" link.
Select Dosing Statement
After you select the medication, choose from a list of dosing statements.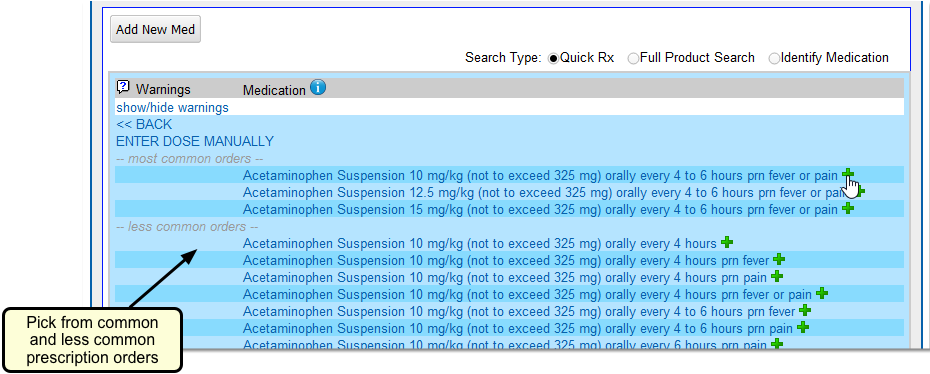 For most medications, you'll see precise order options, including dosage and frequency. The list of dosing statements is based on those that your practice has used in the past, and it will grow as your practice encounters more dosing situations.
Click the green plus to create a prescription, or click the blue link to make modifications before you create the prescription.
Don't See What You Need?: If you don't find the precise drug or dosing statement you need, you can click "Full Product Search" or another filter option to expand your search. When choosing a dosing statement, you could also click "ENTER DOSE MANUALLY" or click on an option that is close to the dose and strength details you want and make changes on the next screen.
Optional: Update or Modify Prescription Information and Click Save
If you clicked on a blue link to edit a prescription, next you will see options to update or modify details including dose, sig, instructions, and any indications you would like to record. Click "Save" to create the prescription.


PCC eRx enters many details for you. If you selected a Favorite or one of the order descriptions, for example, you won't have to re-enter the dose and frequency details.
Adjustments, Formulary Support, and Other Features: Depending on the drug, you will see other features on the screen. You may see a weight-based dosing calculator, renal or kidney warnings, and other options. Also, if PCC eRx is able to identify the patient's prescription benefit coverage, you will see a Formulary Support section on this screen.
Add Indications: As you review and update prescription details, you can pick from the patient's Problem List or from a list of common indications and add them to the prescription.
Review and Sign the Prescription
PCC eRx displays all pending prescriptions in the Review & Sign component, where you can approve and send them to the patient's pharmacy.
On the Prescription Review pop-up window, you can select either an electronic or print prescription. You can also review and make a last-minute change to the pharmacy destination. Click "Send Prescriptions" to sign and send the prescription.
Wait For Completion, Don't Click Close: After you click "Send Prescriptions", PCC EHR will process your prescriptions and send them to the pharmacy. If you click "Close" during that process, you may cancel your submission. Wait until you receive verification that the prescription has been sent. The Review & Sign window will close automatically.
After you create and send a Prescription, it will appear on the patient's chart note as well as in the Patient Portal and in pocketPCC.
Contraindications, Warnings, and Allergies?
As you prescribe, PCC eRx will alert you to any drug-to-drug interactions, age or allergy warnings, and other contraindications for the patient for the selected medication. You will see proactive warnings in the search results when you search for a medication.


You will also see reactive warnings when you create the prescription.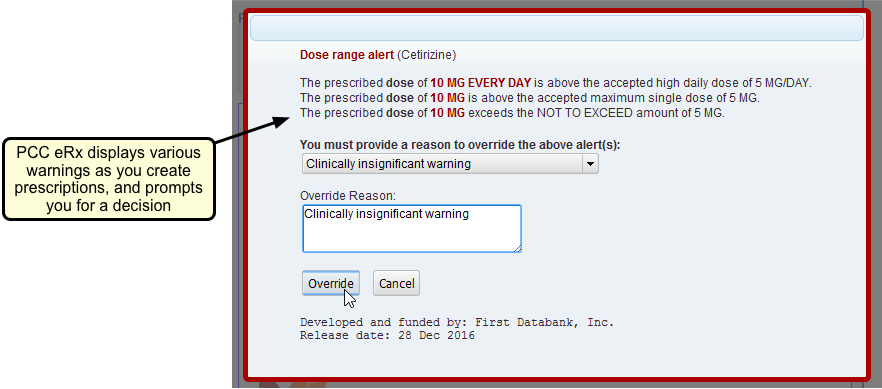 [/note]
All Prescribing Activity is Linked to an Encounter
PCC eRx records all prescription activity in the context of an encounter. If you wish to review eRx information for a patient and there is no corresponding visit chart note, phone note, or other encounter, you can select the appropriate encounter or create an "eRx Encounter".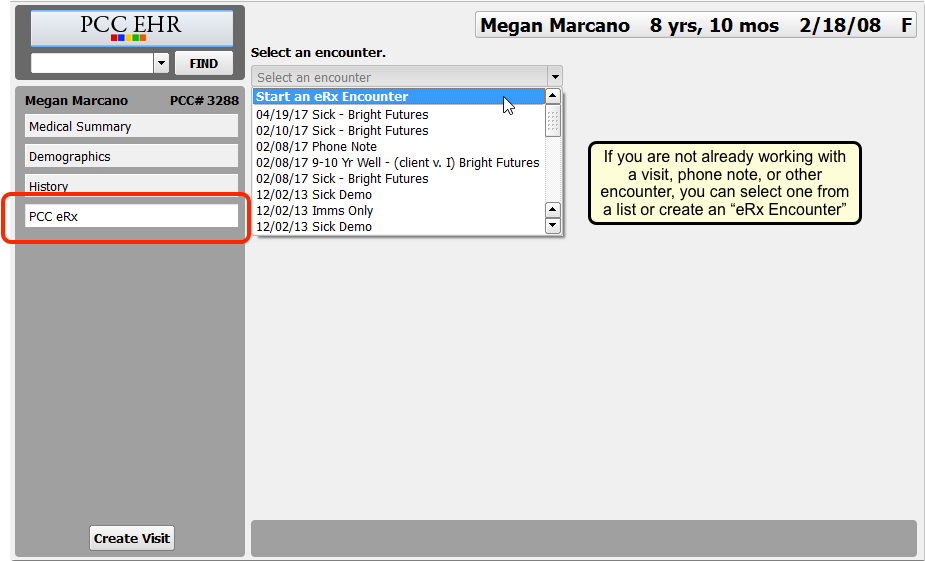 During PCC's initial migration from the previous eRx system, PCC automatically created eRx encounters in the patient's Visit History if it had a prescription with no corresponding encounter.
How Does an LPN, Provider Agent or Mid-Level Provider Prescribe?
Based on your state requirements and office policy, your practice may allow RNs, LPNs, and MAs to create and send prescriptions on a provider's behalf. Or, you may require a provider to review those prescriptions before they are sent.
You can customize the prescribing roles of each user in the User Administration tool. Pending, unsent prescriptions will await approval and processing on the Rx Queue.
For example, a Provider Agent can create and send prescriptions, using the same tools as shown above, on behalf of a supervising prescriber. Later, the supervising physician can review and approve the prescription on the patient's chart or in the Rx Queue. In contrast, a PCC EHR user designated as a Mid-Level Provider can create and send prescriptions using their own credentials, but the prescription is still under the auspices of a supervising provider.
For more information about Prescriber Roles, read Set Up PCC eRx User Accounts in PCC EHR
For more information about Prescriber Roles, read Set Up PCC eRx User Accounts.
Dose Features
When you create a new prescription, you pick a drug and dose form. Then, on the details screen, you can make numerous adjustments to dose and frequency instructions. Read the sections below to learn more about some of the special dose-related prescribing tools in PCC eRx.
Select a Dose Form
When you select a drug, you will see a list of the dose options your practice has used in the past. For many drugs, such as Amoxicillin Oral Suspension, you'll see the default base strength underneath.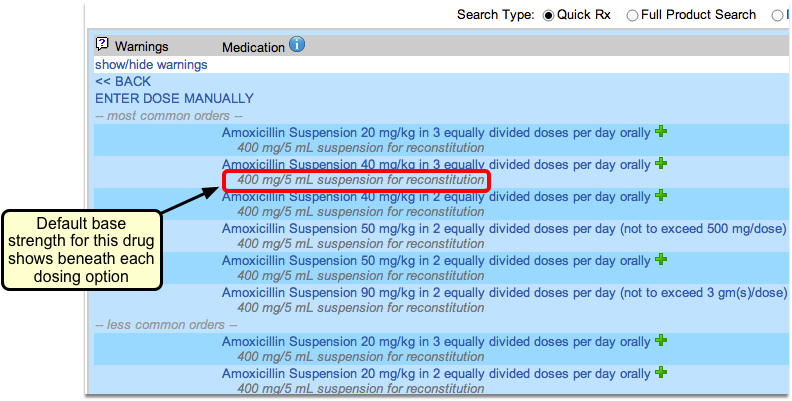 PCC eRx only shows you strengths and dosages that your practice has prescribed in the past and that are common based on the patient's age. If you search for Advair for a 12 year old patient, for example, you will not see the 500 mcg dose Advair Inhaler.
Click "Full Product Search" to see all possible results or dose statements for the medication.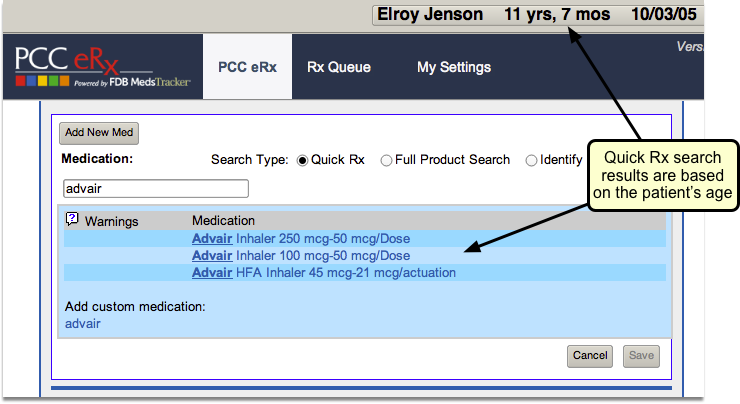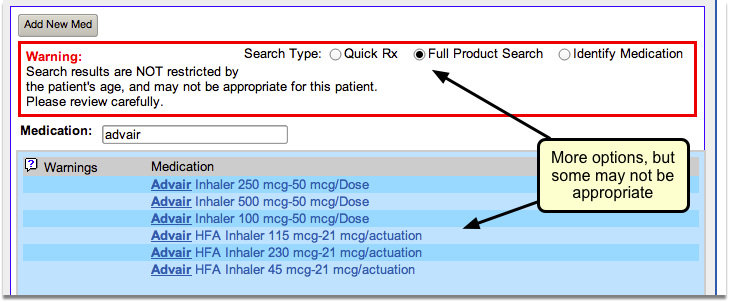 These details make it easier to pick the correct dose form. Of course, you can always make a change afterwards, on the details screen.
From Dose Form to Patient Instructions
After you select the dose and form of a drug, PCC eRx will fill out the dose volume details. You can make changes as needed.

Routes and Frequencies
For each medication, PCC eRx offers the most likely route and frequency after you select the dose form.

However, you can use the pull-down menus to make changes.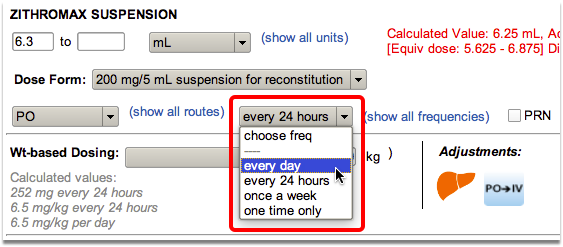 If you can't find the option you want, you can browse through the complete list of all entries, including an exhaustive list of frequency options.


Use "Instruction Only" Option For a Loading Dose
PCC eRx's powerful dose and frequency tools help you create a sig. But what about a loading dose, where you want the patient to take a different dose on the first day than on later dates? Do you need to create two different prescriptions?
When you want to do a loading dose, click the Instruction Only checkbox.
You don't wish to prescribe a single recommended dose or frequency for the prescription, so the fields for doing that will disappear from the screen.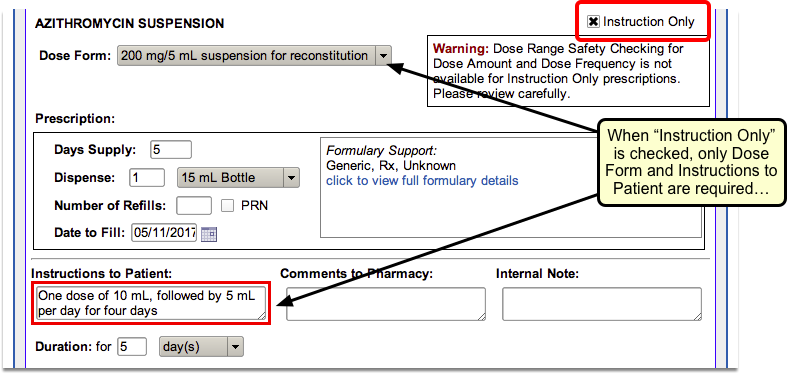 In the above example, you want the patient to take 200mg form of azithromycin for an ear infection, taking 10mL on the first day, and then 5mL on days 2 through 5.
Use Caution With Instruction-Only Prescriptions: Since you are entering instructions manually, PCC eRx can't do an auto-calculation. Make sure the dispense amount matches. While PCC eRx will still alert you for allergies or drug-drug interactions, there will be no dose checking warnings because the dosage is entered in plain text.
Weight-Based Dosing
After you select a drug, PCC eRx will display a list of common "orders" or dosing statements that your practice uses.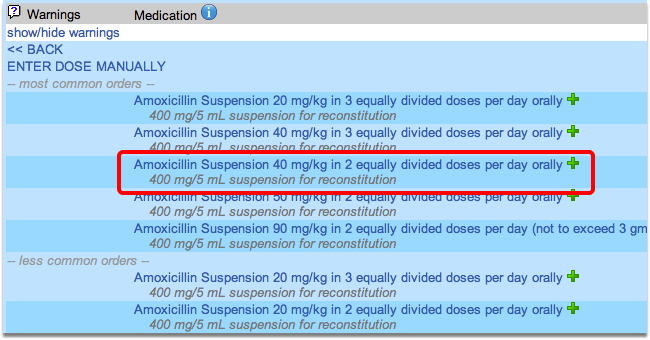 For a liquid antibiotic, or other drugs that are commonly prescribed based on weight, this list will also display a strength based on weight.
On the prescription details screen, PCC eRx will use the patient's last known recorded weight measure to calculate dose and frequency for you. The logic of the calculation appears in red.

PCC eRx knows how a drug is dispensed (for example, with a 5mL dropper), so it will adjust the precise dose and frequency to accommodate the drug's details while remaining within the "equivalent dose" range for the drug. You can make adjustments to the dose and frequency, and even pick a different base strength if you want.
If you have not seen the patient in the office for a while, and you have an updated weight value for them, you can enter it in the weight-based dosing calculator and all of the appropriate numbers will update.
When making adjustments, you should review the Days Supply field in the Prescription box to make sure it matches your intended prescription.
Prescription Features
After you've picked a drug and finished adjusting the dose and frequency, you can make final decisions about how many days supply to prescribe, along with dispensing, duration, and other changes to the prescription. Read the sections below to learn more about how these options work.
Days Supply and Auto-Calculation
After you select and review the dose form, you will begin most prescriptions with the Days Supply field, which appears right at the top of the Prescription section of the Add New Med details screen.

When you enter a Days Supply PCC eRx will automatically calculate the Dispense field. Adjusting the quantity or frequency of the drug will re-calculate the amount to dispense.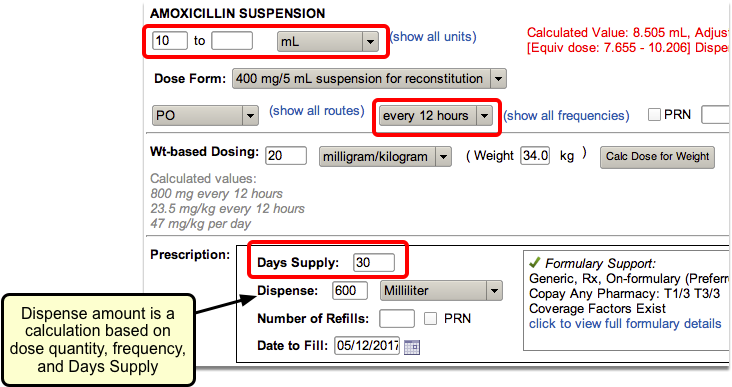 Whenever possible, PCC eRx intelligently updates these prescription details. You can also make manual adjustments.
Duration for Antibiotics and Short-Term Medications (Less than 30 days)
In addition to entering the Days Supply, which changes the dispense amount of the drug, you can also enter a Duration and/or manually adjust the prescription's Stop Date.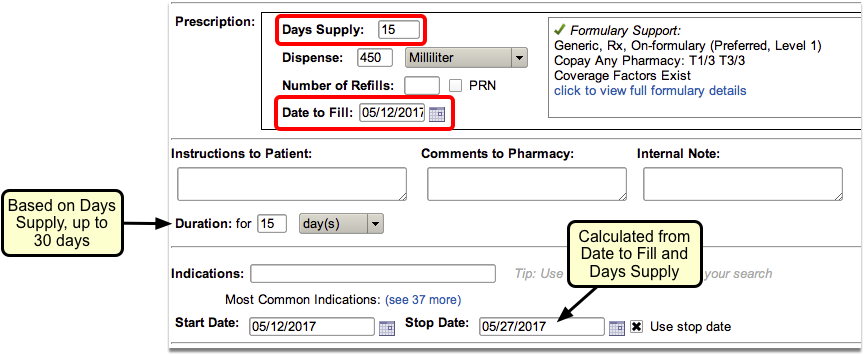 A Duration is typically used for short-term medications or antibiotics, like azithromycin or prednisone. When you enter a Days Supply of less than 30 days, PCC eRx will auto-calculate the Duration. Start Date and Stop Date are also automatically calculated, based on the Date to Fill and the Days Supply.
Understanding Days Supply vs Duration vs Stop Date: The Days Supply is the official amount to dispense. A Duration is an instruction on when to discontinue, typically used for antibiotics or short-term medications. The Stop Date is the date after which the medication should become inactive.
Formulary Support Lookup Information
In the panel next to the Prescription section of the screen, you will see formulary lookup results based on the plan coverage known for the patient.

You might see dollar signs ($) to indicate price, along with brand/generic information, whether or not a prescription is "Rx" or "OTC". You may see covered, covered but not preferred, or alternative options.
Formulary results come from patient insurance plans and are not maintained or written by PCC or our prescriptions partner, First Data Bank.
Indications
You can add one or more indications to a prescription. You can select from either the patient's relevant Problem List items, or common indications for the medication.


To create the handy Patient Problems & Diagnoses list, PCC eRx looks for any patient diagnoses that may be relevant. If it can't find any, it will always list at least the top item from the patient's Problem List. You can click "Show All" to pick from their entire Problem List.
The Most Common Indications list, on the other hand, displays the most common diagnoses used as indications for the selected drug from a large population sample.
Comments to Pharmacy on Prescriptions
Practices use Comments to Pharmacy for coupon codes, flavor requests for liquids, "dispense in 2 bottles", and more.
By default, PCC eRx sends the Comments to Pharmacy for a prescription on electronic prescriptions only. They do not appear on printed prescriptions, which the family carries to the pharmacy, as this field is designed to be a communication between the prescriber and the pharmacist.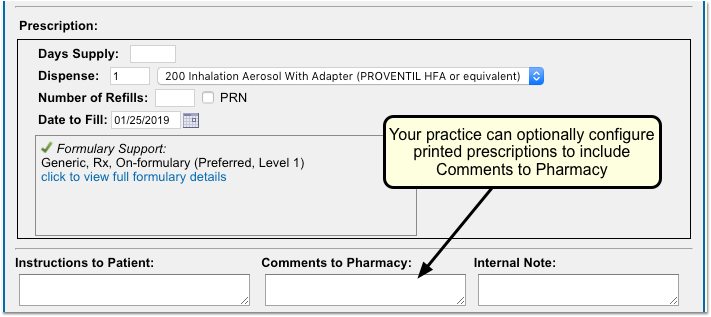 If instructions should appear on the printed prescription and be visible for the patient, they should instead be entered in the Patient Instructions field. Also, keep in mind that many instructions (such as a delay of when to fill the prescription) should be communicated using the other features and fields of a prescription and not with a text note.
Add Comments to Pharmacy to Printed Prescriptions
Your practice can optionally configure your prescriptions so that Comments to Pharmacy also appear on printed prescriptions. If you would like to change your practice's configuration so that comments to the pharmacy appear on printed prescriptions, contact your Client Advocate.
Family Will See These Comments: If your practice decides to make the change, all Comments to Pharmacy will appear on printed prescriptions, where patients and families may view the comments. Inform your prescribers so that they do not use that field for comments intended only for the pharmacy staff.
4-Quad and 2-Half Printing: Comments to Pharmacy may not print correctly on specialized 4-quad or 2-half prescription printing. For information about your prescription printing configuration, contact your Client Advocate.
Internal Note
The Internal Note field appears in the prescription details screen next to the patient and pharmacy instructions when you create a prescription.

You can use the Internal Note to enter any special details about the prescription that your office needs to track. The Internal Note will appear in the Medication History component in PCC eRx, so you can review it any time you are updating medications or creating new prescriptions.

Review and Sign Component Features
After you create a prescription, either by renewing or using the Prescribe component, you can review it, make changes, or complete the prescription in the Review and Sign component. Read the sections below to learn about additional functions and tools in this component.
Delete a Medication From the Review and Sign Component
If a prescription was created in error, how do you delete it?
Visit the Review and Sign component and click the red pencil icon to edit the prescription.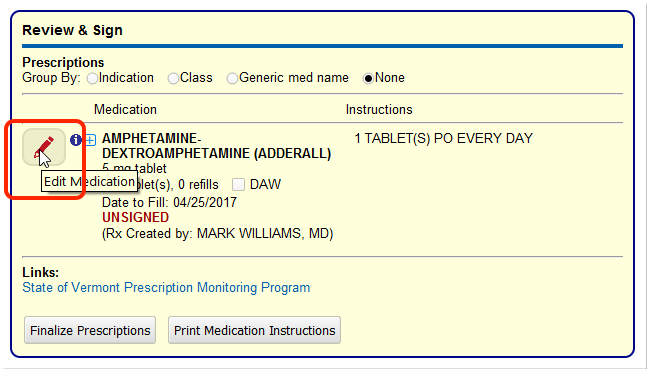 Next, click "Delete".
Select a Supervising Provider
If you are a Provider Agent or Mid-Level Provider (see Set Up PCC eRx Accounts), then the first time you prescribe, PCC eRx will ask you to identify your supervising provider.
When you create a prescription, the supervising provider information will be linked to the prescription.
If you need to change the supervising provider on a prescription, you can click the red pencil in the Review and Sign component and select a different provider.
Select a Prescribing Location
By default, prescriptions use the location of the scheduled appointment. However, you may create prescriptions in the context of a phone note, or a portal message, which do not have a scheduled appointment location. PCC will then use the prescriber's default location, which is set in their user information in the User Administration tool.
No Prescribing Password Required for Non-Schedule Drugs
As shown in the procedure above, when you prescribe a non-schedule medication, you do not need to enter a password or pin number.
PCC eRx uses your PCC EHR login ID and password to determine your prescribing role and authorize prescriptions.
For Electronic Prescribing for Controlled Substances (EPCS), PCC eRx will prompt the user for both a passcode and then either a token ID or a software token confirmation.
Update Your Password, Do Not Share Accounts, and Remember to Log Out: PCC recommends that you update your PCC password periodically. You can change your password in the My Account tool in the Tools menu. For security and auditing purposes, a login account should never be used by more than one person, and every user should log out and close all PCC EHR and Partner windows when they leave their workstation unattended.
Enter Token One-Time Passwords for EPCS Medications
When you review and sign a controlled substance, you will need to use an EPCS token.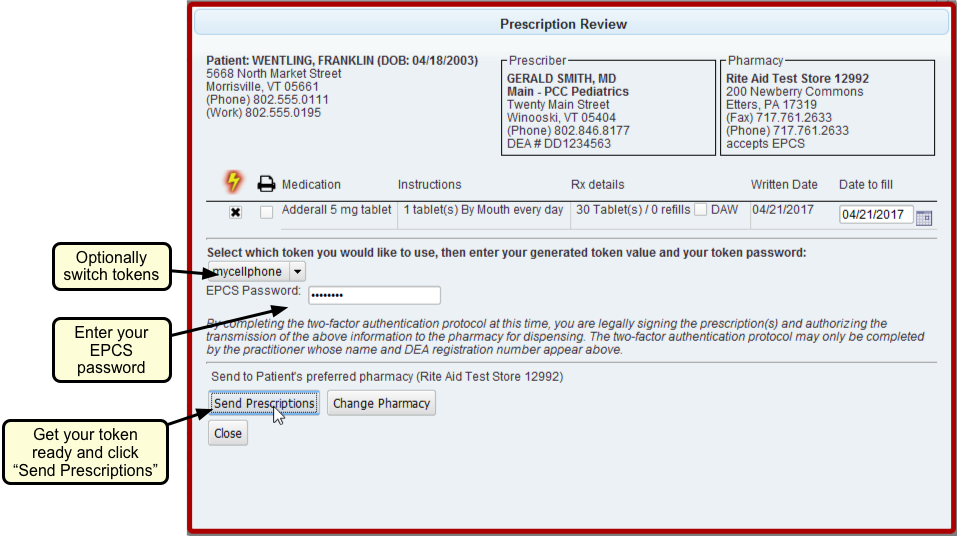 For more information, read Enroll and Prescribe With EPCS.
Print and Reprint Prescriptions
You can click the printer icon in the Review and Sign component to print a copy of any prescription.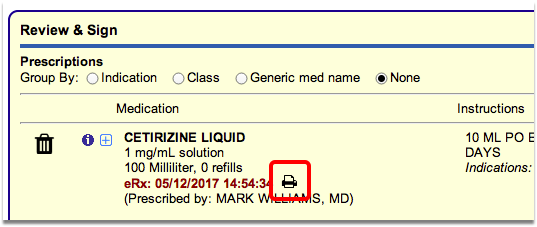 If you need an official, actual prescription version that may be used at a pharmacy, you can hold your mouse over the print icon to reveal a secondary print icon.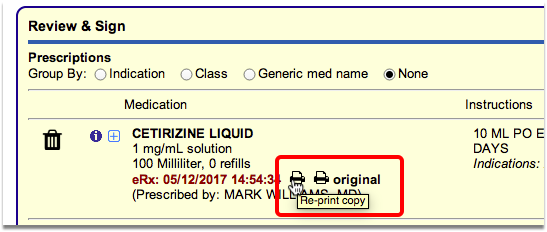 You should verify that duplicate hard copies of prescriptions are destroyed.
Invalid Units of Measure
If a prescription created before your PCC 8.0 update has an invalid Unit of Measure, you may be unable to finalize a renewal for that prescription.
Under certain circumstances, a prescriber could have created a prescription in DrFirst Rcopia with a Unit of Measure that could not be imported during your PCC 8.0 update. When a prescriber attempts to renew that prescription in the new PCC eRx, the Review and Sign component will allow you to print the prescription but not submit it electronically.
To fix this problem, click the red pencil icon to edit the prescription, and then select a new value on the Dispense Quantity Unit of Measure list.
Don't Click "Close" Until Prescriptions Are Sent
When you finalize your electronic prescriptions, are you accidentally canceling your submission?
In the Review & Sign component, you can finalize one or more pending prescriptions for a patient. When you click "Send Prescriptions", PCC eRx processes and sends the selected prescriptions. This communication establishes an end-to-end connection with a pharmacy, and can take a few seconds. PCC eRx will let you know if any errors occur during transmission.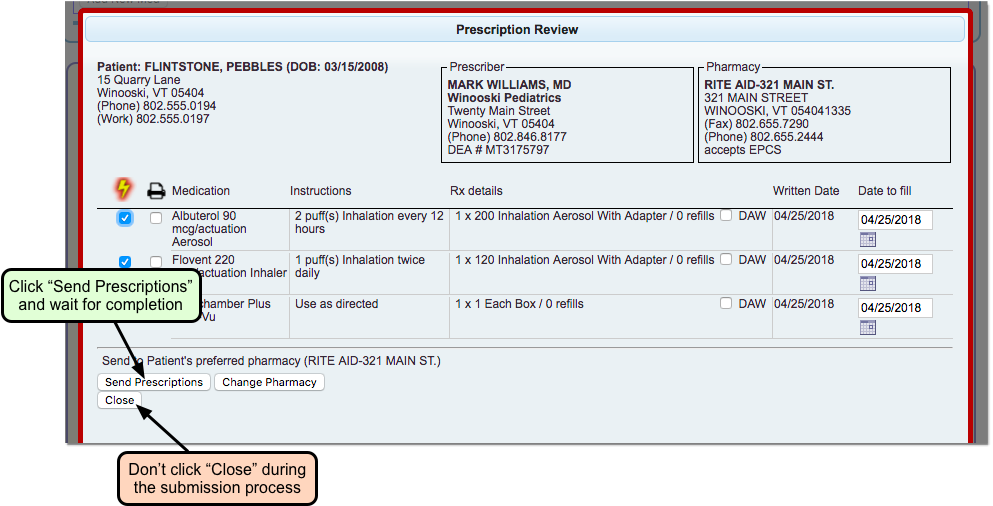 However, if you click "Close" before the submission finishes, you may end up canceling your submission. The prescriptions will remain unsent, waiting back on your queue or the Review & Sign component.
Instead, wait for confirmation that the prescriptions were sent. Then, if there are no unsent prescriptions, the window will close by itself and you can continue to your next task.
View Prescription Activity on the Visit Chart Note
You can review what was prescribed on a chart note, phone note, or other record in the Visit History.
After a prescription is created, a Prescriptions component appears on the visit chart note or other encounter. The prescription information is saved as part of the patient's Visit History.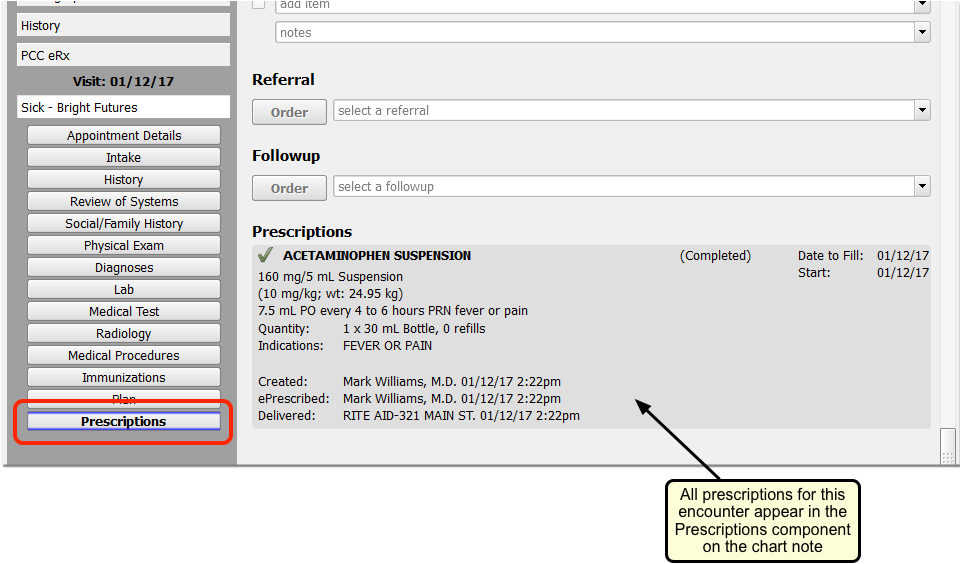 The Prescriptions component displays all new prescription information for the encounter. You can always tell what was prescribed during a visit by looking at the visit chart note.
Similarly, if you prescribe a medication after a phone call, or in response to a patient portal message, the information will appear on the corresponding encounter protocol.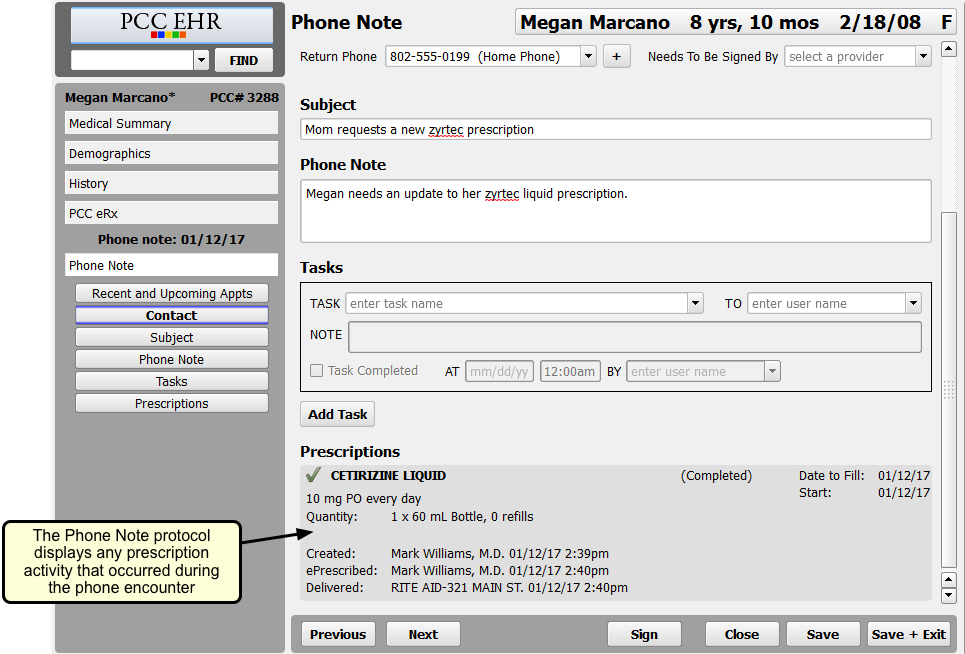 In addition to the medication name, dosage, sig, instructions and other notes, you can see who created the prescription and the date and time when the prescription was created, sent, and received.
Every prescription will also have a status icon.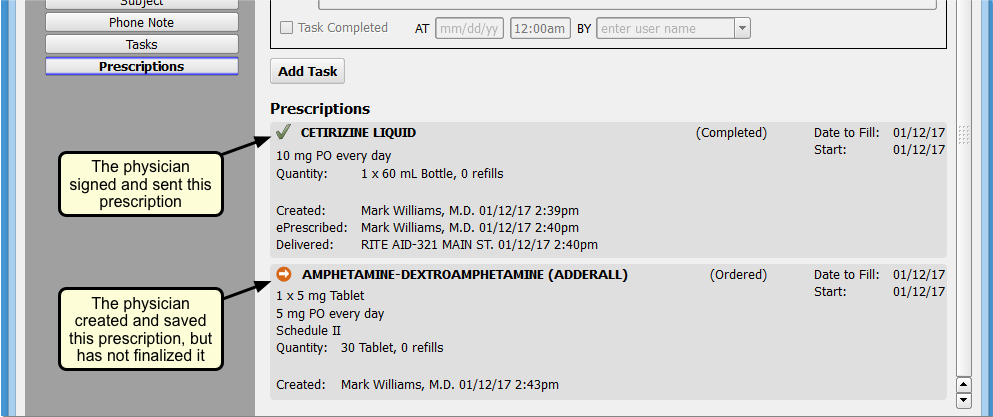 The green checkbox indicates that a medication has been prescribed. An orange arrow means that the prescription has been created but not sent.
You can also review the Prescriptions component on encounter notes in the Visit History in pocketPCC.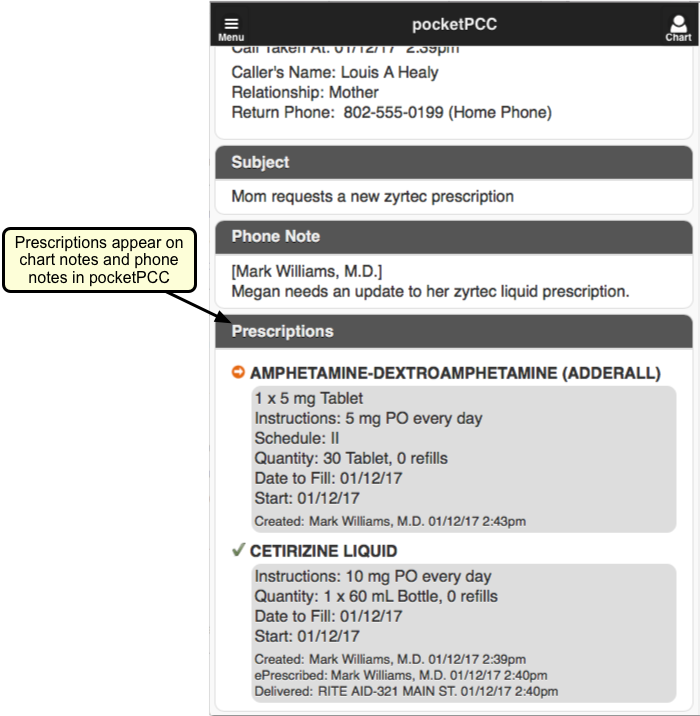 Custom Location: By default, the Prescriptions component appears at the bottom of all protocols. If you'd like this information at the top of the chart note or in the Plan section, for example, your practice can use the Protocol Configuration tool to customize where the Prescriptions component appears.
Provide a Sample Medication
If you provide a sample medication, you can record it directly in the patient's Medication History. For more information about adding an historical medication, read the Medication History article.
You might also record the sample information in the Plan section of the chart note, or record the information with an order on the chart note. For help setting up components or creating custom orders, contact your PCC Client Advocate.