PCC eRx 2017 Migration Considerations
The new PCC eRx is going to improve your practice's prescribing workflow and save you hundreds of hours. However, learning a new tool takes time! Even if you prepare your practice's prescribers, it will take a while to learn the new tool and get up to speed. Also, there are important migration and implementation considerations that you need to be aware of.
This article is for your practice's PCC EHR administrator, or your prescriptions expert, or your PCC champion. Read the sections below to learn how to best prepare for the new PCC eRx.
As always, your PCC Client Advocate will be ready to help! In fact, they've probably already talked to you about some of the issues below. Take a look at these items, share the videos with your prescribers, and get ready for a vastly improved prescription and medication management experience.
Enable PCC eRx Accounts for All Appropriate Clinicians and Staff
Right now, if you haven't done so already, you should enable PCC eRx accounts for all of your prescribing clinicians, along with any staff who may be working with medication information.
Watch the PCC eRx account setup video to learn how:
Issues to Keep In Mind:
Old, Old Passwords?: If you are setting up an eRx account for a clinician with a password that does not meet current requirements, you will need to change their password before you can enable prescribing.

Renewal Request Service May Be Operated By Your Hospital: One of the optional services for prescribers is renewal requests. If you check the appropriate box on the eRx tab in User Administration, pharmacies will be able to send renewal requests directly to PCC EHR. However, it is possible that a hospital or other clinical facility currently holds that service for a prescriber. You may need to contact that entity in order for them to change the prescriber address. Contact your Client Advocate for assistance.

Identity and How Will My Name Appear?: As you double-check the usual prescriber information in the User Administration tool (DEA, NPI, etc.), you should also look at the prescriber's First, Middle, and Last names as well as Professional Suffix. This information is used for account setup with the eRx vendor, and it will also appear on prescriptions after your PCC 8.0 update.

Who is a 'Provider'?: When you turn on prescribing, you are asked to select a Prescriber Role for the user. In certain states, a non-MD clinician may be prescribing without a supervising provider, entirely under their own credentials. In those circumstances, it is appropriate to give that user the role of Provider in the PCC eRx tab of the User Administration tool. All role selection should be based on the prescribing privileges the user should have, not based on a job title.

Prescribers With Supervisors Will Pick Them When They First Prescribe: The first time a Mid-Level Provider or Provider Agent creates a prescription, they will be prompted to select their supervising provider.
Your Client Advocate Will Contact You for eRx Transition Information
Before your PCC 8.0 update, your PCC Client Advocate will contact you to collect information needed for your eRx transition.
For example, we'll make sure we have the correct NPI numbers and fax numbers on file for your practice, ask if your state has a prescription drug monitoring program, collect a W-9 from you to verify your practice location, and explain some special configuration options that are available. Your Client Advocate will also need a utility bill for your practice in a provider's name.
Help Your Office Get Trained on PCC eRx
Your practice can get familiar with PCC eRx right now by watching the PCC eRx Video training series.
You can pick any topic to learn and re-learn the tasks or functions you need to know more about.
Topic
Video
Article
Prescribe Medications
Watch
(7 min)
Read
In about 7 minutes, learn how to prescribe medications in the new PCC eRx.
Rx Queue - Alternative Prescribing Workflows
Watch
(6 min)
Read
Learn about the Rx Queue, renewal requests, and how provider agents prescribe.
Weight-Based Dosing and Other Prescribing Tools
Watch
(8 min)
Read
Learn more about how to use the dose, frequency, days supply and other features when you prescribe.
Medication History
Watch
(9 min)
Read
Quickly review and update a patient's medications, review pharmacy history, and renew medications.
Allergies
Watch
(5 min)
Read
Learn how to record and review patient allergies and handle drug allergies as you prescribe.
Set Up PCC eRx Users
Watch
(7 min)
Read
Learn how to set up staff and clinicians in your office to use the e-prescribing features in PCC EHR.
EPCS: How to Enroll Prescribers and Prescribe
Watch
(10 min)
Read
Enroll in EPCS, perform identity proofing, and prescribe a controlled substance electronically.
PCC eRx 2017 Migration Considerations
Read
Your practice's eRx champion or PCC expert can read about all the different issues related to the eRx transition.
PCC eRx Component Reference
Read
Read special tips and tricks of each component on the PCC eRx ribbon.
Clear All Pending Prescriptions From Your eRx Tasks Queue
The PCC 8.0 update can not convert pending prescriptions or renewal requests that are on the previous eRx system, DrFirst Rcopia. Before your PCC 8.0 update, you must approve, process, and sign any outstanding prescriptions that are on this queue.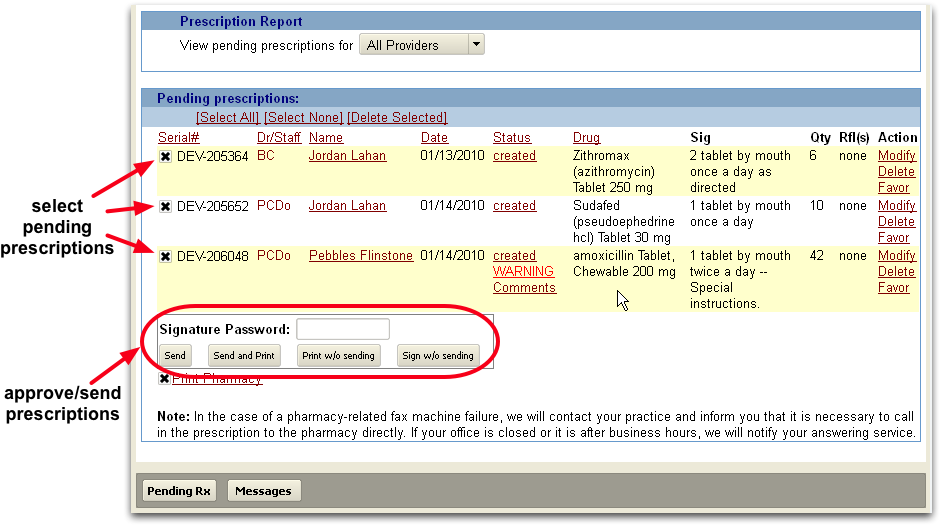 Tell Staff to Keep the Current Queue Clear!: Once you have cleared the DrFirst Rcopia Rx Tasks queue, work with your clinicians and staff to make sure it remains clear up to the date of your PCC 8.0 update.
Register for EPCS
PCC will work with your practice to order new EPCS tokens and set up EPCS for prescribers before your PCC 8.0 update.
First, PCC will work with your practice to order new tokens. Next, your practice administrator can start the process for all prescribers who will use EPCS. Next, prescribers can log into a web site and complete their identity proofing and register their tokens.
After the PCC 8.0 update, prescribers who prescribe controlled substances can complete the EPCS registration process right in PCC EHR. For more information, read EPCS: Enroll Prescribers and Prescribe.
In order to facilitate this process, PCC has made the following adjustments to EPCS in PCC EHR:
Get Registered Quickly: The new EPCS registration process does not require an identification letter sent through the mail. Once your EPCS token arrives, you can complete registration quickly.

No Monthly/Annual Fee: There is no longer an additional fee for EPCS. Your PCC subscription covers EPCS for any prescribers at your practice who prescribe controlled substances.

Free Token and Replacement: Your EPCS token, and a replacement token every year, is included in your PCC subscription.

Improved App Support: EPCS in PCC 8.0 supports one-touch token apps for the Apple Watch and/or your mobile device.
Run DrFirst Rcopia Prescription Reports You Need for Compliance or Incentive Programs
The new PCC eRx has its own set of reporting tools. If you currently run prescription reports in DrFirst for auditing, incentive program applications, or record keeping, you will want to run those reports before your PCC 8.0 update, as the old DrFirst reports may not be replicated in the new PCC eRx. PCC 8.0 migrates all historical patient medication and prescription information, but some data may not migrate as expected.
So, what kind of reporting did you need DrFirst for? Here are the three circumstances where you may have run reports in DrFirst:
Meaningful Use Audit from Your State
You do not need to run DrFirst Rcopia-based prescription reports for Meaningful Use.
Your practice meets a Meaningful Use (EHR Medicaid Incentive Program) measure by having software that can show prescription information in a certain way. You should never be required to show prescription reporting from a previous year, two years ago, etc.
If you are faced with this requirement, please contact PCC. We have worked with AAP to fight back against auditors who are requesting data that does not follow the legal requirements of Meaningful Use or other state-led implementations of the EHR Medicaid Incentive Program.
PCMH-Related Reporting
If you use DrFirst to produce generic vs. brand name reports, or on-formulary/non-formulary reporting, and you wish to use 2016 or early 2017 data for PCMH, then you may want to run those reports prior to your PCC 8.0 update.
However, there may be other ways to achieve a 90-day window of data for different PCMH requirements. The new PCC eRx data and reporting will be better under most circumstances, but it may not include generic vs. brand name or on-formulary/non-formulary information from before your PCC 8.0 update.
Payer Requests, PFP, Formulary Reports, Other Audits
Are you participating in a pay-for-performance initiative, and does a payer who provides medication coverage want to know your on-formulary/non-formulary rate? PCC provides that reporting in the new (PCC 8.0) PCC eRx and the EHR Report Library. However, if you need dates from before your PCC 8.0 update, you should run the reports before your update. There is some data, such as formulary information, that the DrFirst Rcopia prescription service does not share in a data migration.
Patient Prescription History Migration Considerations
Your practice's PCC 8.0 update will migrate and convert all of your patients' previous medication and prescription histories. Prescription records will move from the DrFirst Rcopia system to the MedsTracker by First Data Bank system.
Where Will Prescription History Appear After the PCC 8.0 Update?
You will be able to review a patient's prescription and medication history in many different places in PCC EHR.
Medications Appear in the Medication History Component: Patient medication history will continue to display in the Medication History component. PCC EHR can display the Medication History component on the Medical Summary or on any protocol, and a specialized version of the Medication History component appears in the PCC eRx tool. Any medications you added to a patient's history, either manually, by prescribing, or by copying retail pharmacy history, will continue to appear as they did prior to your PCC 8.0 update.

Prescriptions Appear in the Prescription History Component: In PCC eRx, you can also review medication history in a different way: by looking at a history of all prescriptions. The Prescriptions History component provides a list of all prescriptions, which can be a quicker way to find and renew a prescription.

Prescriptions Appear on Chart Notes and Other Encounters in the Visit History: PCC 8.0 will display prescriptions on the chart note for visits during which a prescription was created. For example, if you saw a patient for a sick visit and prescribed a medication that same day, you will be able to review the prescriptions for that day in the Visit History and on the chart note for the visit. Similarly, if you created a phone note when your practice spoke with a family, and subsquently created a prescription, that prescription activity will be visible on the phone note.

PCC 8.0 Might Add New eRx Encounters to a Patient's Visit History: In the event that your practice created a prescription for a patient without any other record of a phone call or other encounter, the PCC 8.0 update will create an "eRx Encounter" in the patient's Visit History to display the history of the prescription.

Prescription Activity is Reflected on PCC EHR Reports: PCC EHR prescription reports and various mandate reports will reference medication history from both before and after the PCC 8.0 update. Your reporting periods for the EHR Medicaid Incentive Program, for example, will be able to cross over your PCC 8.0 update date.
Will All Prescription History Migrate Exactly As It Appeared in DrFirst?
The PCC 8.0 update will safely migrate your patient's medication records. As with any data conversion, there are some changes which may impact your practice's use of various PCC tools.
Due to differences between DrFirst Rcopia and the new First Data Bank eRx services, there are some interesting accommodations made for the migration of data during the PCC 8.0 update.
Medication Records from Before PCC EHR: If your practice converted medication records from an EHR you used before PCC EHR, and there is no recorded NDC code for the medication, it will appears as a "free text" medication. The medications will still be part of the patient's chart record, but certain reports or drug-to-drug interaction features for older records may not work as expected. PCC recommends that your practice review patient medications at every visit and update medication histories so they match drugs found in the drug database in PCC eRx.

New Allergy Information May Appear in the Chart: If your practice stored resolved/inactive drug allergies in the DrFirst Rcopia system, those records will now appear in PCC EHR (previously, they did not appear in the patient's chart unless they were entered there).

Brand Name, Generic, and Over-the-Counter: The DrFirst Rcopia system stored one of three flags on each prescription: Brand Name, Generic, or Over-the-Counter. Prescription histories prior to your PCC 8.0 update may display only "Generic", for example, and are not able to display "Generic" and "Over-the-Counter". These concepts should not be mutually exclusive, and the new PCC eRx can store the information in a better format. Prescriptions made after your PCC 8.0 update can have a separate "OTC" indication, as well as an indication of whether the drug is generic or brand name.

NKDA Means No Known Drug Allergies: In PCC 8.0, PCC eRx can identify patients with an NKDA (No Known Drug Allergies) status. If your practice used custom reports to find patients with an NKDA allergy listing, you may need to update those reports so they find patients with the No Known Drug Allergies status instead.

Problems Recorded in the DrFirst Rcopia System: In rare circumstances, your practice may have stored Problem List records in the DrFirst Rcopia system without recording those problems on the Problem List in the patient's chart. As part of the PCC 8.0 update, PCC will attempt to capture any such records and add them to the Problem List in the patient's chart. If the data can not be migrated (because it is ICD-9 or ICD-10, for example), your Client Advocate will contact you with the list of relevant patient records that may need review.

PRN and As-Needed Indications in Prescription History: In the previous prescription system, there were different ways to indicate PRN. There was an "as directed" option, as well as a method to indicate "as needed" in the dose field. Or, the information may have been recorded in patient instructions. In PCC 8.0, PRN can be indicated with a single checkbox. Your PCC 8.0 update will migrate PRN-related information into the prescription history for your patients. Depending on how PRN was indicated in DrFirst, it may appear in the "Patient Instructions" field instead of the PRN checkbox.
Maintenance Medications and Stop Dates
Ongoing maintenance medications, such as Flovent or other problem management medications, do not typically have a "Stop Date" or "Duration". Depending on how your practice created prescriptions and managed maintenance medications, your staff may need to make adjustments to their workflow after your PCC 8.0 update.
In the previous PCC eRx system, a stop date was often generated when you created a prescription.
If the prescriber did not remove that stop date by de-selecting the checkbox, then the prescription had a stop date, after which the medication would be inactive, even for an ongoing maintenance medication. When the family called to renew the prescription, the prescriber may not have even noticed that the medication was now technically inactive. They would navigate to Manage Medications, click the link to "Show Medication History", locate the stopped medication, and then re-prescribe.
In the new PCC eRx, it is easier to see the stop date for a prescription as you prescribe. As in the previous PCC eRx system, by default only active medications display, so prescribers will need to choose to display both active and inactive medications to locate stopped medications. PCC recommends that your staff pay close attention to the Duration and Stop Date fields when they create prescriptions or manage medications.
Where Do I Find Migrated Maintenance Medication Prescriptions After the PCC 8.0 Update?
If a patient had a maintenance medication with a stop date or duration prior to your PCC 8.0 update, those medications will appear in the Medication History just like any other historical medications.
If the prescription had a stop date that has since come to pass, then the medication is inactive, even though it is a maintenance medication. Users can click on the "Active and Inactive" filter to see all medications, or use the Prescription History component to see a record of all past prescriptions.
Invalid Units of Measure
If a prescription created before your PCC 8.0 update has an invalid Unit of Measure, you may be unable to finalize a renewal for that prescription.
Under certain circumstances, a prescriber could have created a prescription in DrFirst Rcopia with a Unit of Measure that could not be imported during your PCC 8.0 update. When a prescriber attempts to renew that prescription in the new PCC eRx, the Review and Sign component will allow you to print the prescription but not submit it electronically.
To fix this problem, click the red pencil icon to edit the prescription, and then select a new value on the Dispense Quantity Unit of Measure list.
PCC EHR's Meaningful Use Measures and Clinical Quality Measures Reports
The new PCC eRx includes an update to the underlying data structure for prescriptions. (For an example, read "Brand Name, Generic, and Over-the-Counter" above.) That means that you may see slightly different numbers in the Meaningful Use Measures report report and the Clinical Quality Measures report. In some cases, your scores or measures may improve.
Review and Update Pharmacies for Patients
The PCC 8.0 update will automatically add all pharmacies on record for a patient's prescriptions to their pharmacy list in the Pharmacies component in PCC eRx. The most recent pharmacy will be selected as the patient's "Preferred" pharmacy.
The next time your practice creates a prescription for a patient, you should review pharmacy preference with the family. You can click the trash icon to delete any one-time pharmacies from their list. Next, you can click to select their preferred pharmacy.

Modifying pharmacy information takes only a few seconds, and it can be done by any user with any level of PCC eRx authorization, including Non-Clinical Staff.
What happened to Pharmacy Coupon Codes?
Your previous prescription Favorites could not be migrated with PCC 8.0. The new PCC eRx will build favorites dynamically, as you prescribe, so in a few weeks you will be back up to speed.
However, there's one con to losing your pre-programmed favorites: Coupon Codes. We know that some practices had Coupon Codes for pharmacies set up in their prescription favorites. Those will not migrate with your PCC 8.0 update.
The good news? You can put your coupon codes into the "Instructions for Pharmacy" field for a prescription. Also, you can save those Instructions for Pharmacy as part of a favorite.
A guide to managing prescriptions favorites is coming soon.
Custom Strength Med w/ Two Prescriptions
Sometimes in DrFirst, PCC's previous prescription system, you needed to create two prescriptions to get the desired strength for medications like Concerta. For example, you may have made two prescriptions, 54 mg and 18 mg to get to 72 mg. In DrFirst, the way those displayed made it handy to re-prescribe both. The new PCC eRx groups them as a single entry. If a patient has two different strengths active on their Medication History, they will both appear. But if they are inactive, it's tricky to read on the Medication History.
Solution? When you review the patient's medication history, you may have to click the disclosure plus (+) to fully understand the custom strength.
When you wish to review custom medications, it may be much clearer to review the Prescription History component, as all prescriptions will be listed and you will not have to click to see different prescriptions for the same drug.
Configure and Customize Your PCC eRx Experience
After your PCC 8.0 update, your practice can begin prescribing using the new PCC eRx. After you have been prescribing for a few days, you may want to review various customizations you can make in order to improve your prescribing workflow.
Customize Your Protocols for the New Prescriptions Component: All prescribing activity for an encounter will appear in a Prescriptions component. The new component will appear on chart notes, phone notes, and other encounters. By default, that component appears at the bottom of the protocol. You can customize your protocols in the Protocol Configuration tool. For example, you could move the Prescriptions component up nearer the top of a chart note, or place it adjacent to the Medication History component. You may also want to make other changes to your protocols to remove any work-arounds or previous tools you used for recording prescription activity that are no longer necessary.

Manage Your Favorites: PCC eRx automatically learns and updates each prescriber's favorites — the list of quick, clickable prescriptions. Every day, that list of favorites in the Prescribe component will improve. Each prescriber can also manually edit and update their favorites. More information, including documentation and a training video on working with favorites, is coming soon.

Configure Default Ages for Various Indicators: The Vitals component inside PCC eRx displays vitals that were collected during the associated visit. The component can also include clickable indicators for whether or not a patient is pregnant or lactating, as well as any answer recorded in the Smoking Status component on the chart note. Your practice can customize the age at which these additional indicators appear. Stay tuned for documentation on PCC eRx customizations, or contact your PCC Client Advocate for help.

Other Customization Options: In addition to the highlights on this list, your practice can customize your PCC eRx alert message sensitivity, add a password requirement for all prescribers, create custom dosing defaults for medications, and much more! Stay tuned for additional documentation and training videos.