In July of 2012, PCC will release PCC EHR 6.9. This update includes a new component for appointment information, great new Growth Chart features, and a flowsheet for patient vitals.
Watch a Video: Want to watch a video summary of everything in this release? CLICK HERE.
Implementation: The new features in PCC EHR 6.9 require configuration and user-specific software training. Read about the features below and then review PCC EHR 6.9 Migration Considerations.
Contact PCC Support at 1-800-722-1082 for information about these or any features in PCC EHR.
Review Recent and Upcoming Appointments
The new "Recent and Upcoming Appointments" component displays details about a patient's last visit, last physical, next physical due, and upcoming appointments.

Use the component to quickly review important patient appointment information.
Medical Summary, Phone Notes, and Chart Notes: The Recent and Upcoming Appointments component will appear on your office's Medical Summary screen and your Phone Note screen after your PCC EHR 6.9 update. You can use the PCC EHR Configuration tool to move, remove, or configure the contents of the component. You can also add the component to any chart note protocol, so clinicians can see the information in the ribbon as they chart a visit.
Growth Charts Improvements
PCC EHR 6.9 includes several improvements to growth charts, making them easier to read and use.
Full Screen View
You can now hide or show tabular data for growth charts, revealing a bigger, full-screen view.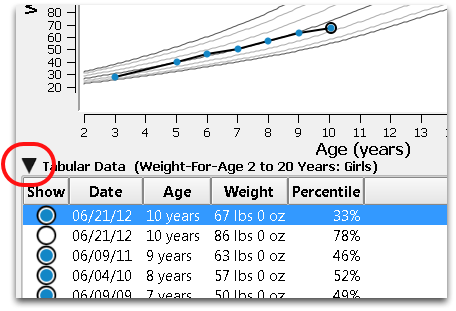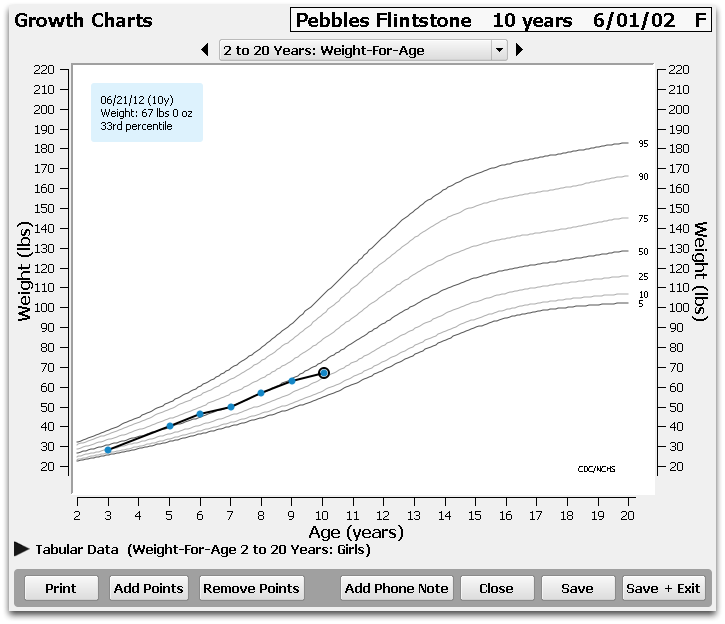 The Tabular Data label now indicates the name of the growth chart, making it clear that the points shown are a subset of all growth data.
Data Point Details, Selecting Data Points
Click on any data point, either on the chart or in the Tabular Data table, to highlight it on the growth chart. An information box will display complete details for that data point.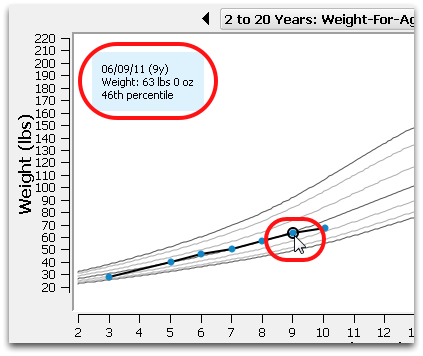 After selecting a data point, you can use the up and down arrow keys to move between the points to review each one.
Pull-Down Menu for Growth Chart Selection
You can now select the growth chart you need with a pull-down menu or arrow button at the top of the screen.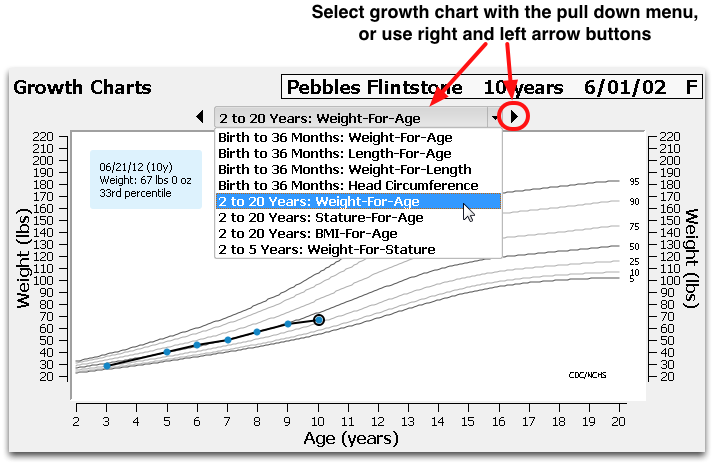 For convenience, the list will not include 2 to 20 years growth charts if the patient is under two years old.
Click the triangle arrows to cycle through a patient's growth charts.
Arrow Key Navigation: Once you have selected a growth chart with the pull-down menu, you can use the up and down arrow keys on your keyboard to cycle through the other growth charts. Once you have clicked on a point or a tabular data entry, you can use the up and down arrow keys to cycle through other data points.
Add Growth Charts to Any Chart Note
You can add the new and improved growth charts to your chart note protocols (or any ribbon), enabling clinicians to review growth chart information quickly while they chart a visit.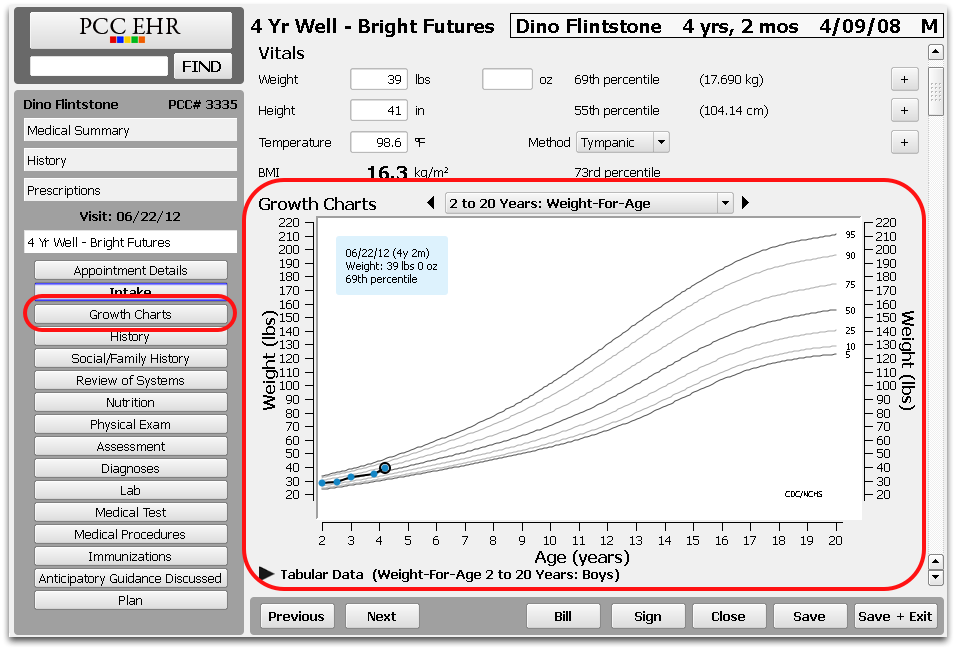 Click on the pull-down menu to select any growth chart for review. Click on any data point for precise information, or click the Tabular Data arrow to review full details of all data points.
Live Updating: If you enter new vitals into the chart note, as illustrated in the example above, click "Save" to update the growth charts in the chart note with the new vitals data.
Configuration: Use the PCC EHR Configuration Tool to add the Growth Charts component to any chart note protocol.
Vitals Flowsheet
The new Vitals Flowsheet, located in the Flowsheets section of a patient's History, shows vitals over time. Use it to quickly review a history of any vitals measurement.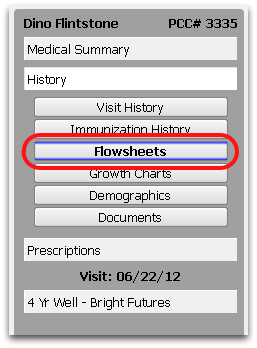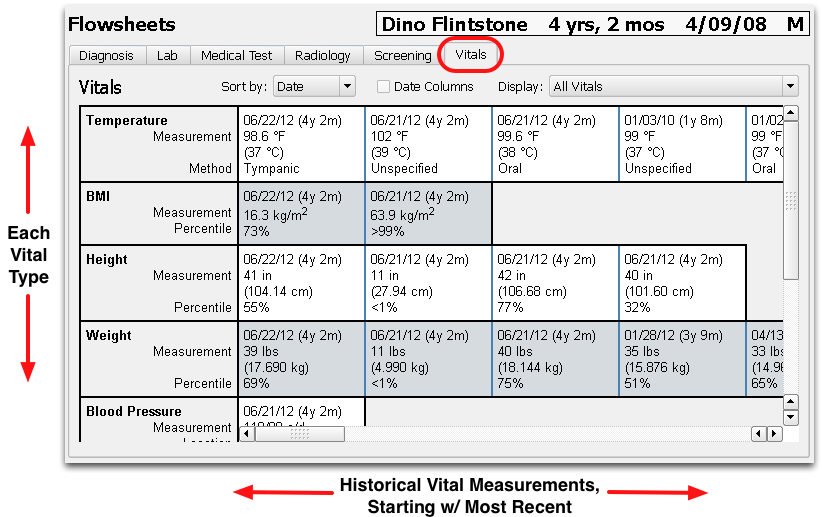 Like other flowsheets, the Vitals flowsheet shows different vitals down the screen, with measurements in reverse chronological order extending to the right. You can see every vitals measurement (height, weight, temperature, etc.) ever collected on a chart note or entered in the Growth Charts section of the patient's chart.
As with other flowsheets, you can use the "Sort by" menu to arrange the vitals, or use the pull down Display menu to focus in on one or more specific vitals category.
Arrange By Date: Click "Date Columns" to arrange all vitals by dates. The Date Columns feature makes it easy to review all vitals taken on a specific date and then view the patient's progress from appointment to appointment.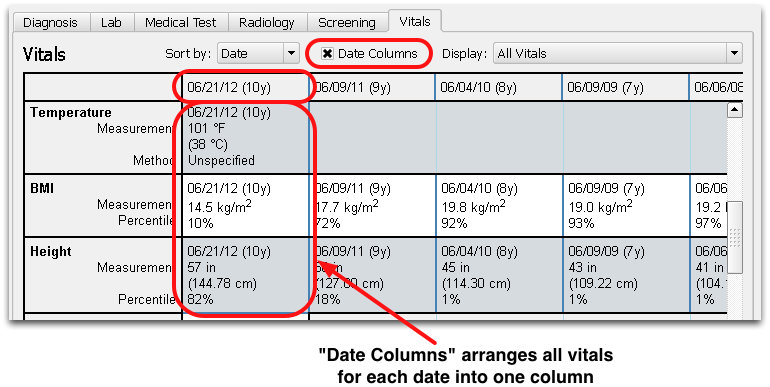 Other Improvements in PCC EHR 6.9
In addition to the major features described above, PCC EHR 6.9 includes these simpler feature improvements:
Improved Layout Tools in Protocol Builder: The protocol builder inside the PCC EHR Configuration Tool now displays components with grab handles for rearranging, and includes alternating colors for easier reading. These visual changes make it a easier to design and build your practice's Medical Summary, Phone Notes, and Chart Note ribbons.

Faster Chart Opening: Depending on your office's configuration and your individual workstation, optimization and improvements in PCC EHR 6.9 improve the speed of opening a chart by as much as 20%.
Minor Bugs Squashed in PCC EHR 6.9
In addition to new and improved features, PCC EHR 6.9 includes small bug fixes. Some of the more interesting bugs squashed are listed below.
Printing Multi-Page Documents: When all images in a multi-page document had the same assigned display priority, only the final page in a range of pages could print. The printing system now corrects for this issue. Special thanks to PACSS for help tracking down this issue!

Shot Data For Immunization Registries: Due to issues related to immunization data crossing between Partner and PCC EHR, back-dated immunization posting sometimes resulted in the lot number and manufacturer not being exported for immunization registries. Now PCC EHR stores and exports all data for immunization registries without Partner crossover, eliminating the problem.

Lab Notes Remembered By User: Answer memory in lab orders sometimes incorrectly displayed historical answers for all users. Now when you are entering lab information, such as notes, you can easily access your most recent answers for that field without a list of other users' recent notes.

Macintosh Health Information Summary Bug: In certain conditions, printing the Health Information Summary from a Macintosh computer caused PCC EHR to freeze. This no longer occurs.

Print Preview Window: In rare circumstances, the print preview window opened too small on the screen. This no longer occurs.

Better Phone Note and Signing Queue Columns: The columns on the phone note and signing queues now use available space more efficiently.

Better Display of Long Document Notes: Document notes in the Document Details panel now wrap in order to better display long notes.

Charts with Many Phone Notes: If a patient had an unusually high number of phone notes, it could take a long time to open the chart. Now the number of phone notes should not effect chart opening time.

Menu Selection Closes PCC EHR: In rare circumstances, selecting an item from a particular pull-down menu could cause the Macintosh version of PCC EHR to close. This no longer occurs.