PCC EHR 6.9 Migration Considerations
PCC EHR 6.9 introduces new features in many different areas. Use the guide below to learn about the "migration considerations," or changes in PCC EHR 6.9 that need extra planning or configuration. Read the PCC EHR 6.9 Release Documentation for complete details on all feature updates.
Contact PCC Support at 1-800-722-1082 for information about these or any features in PCC EHR.
Move, Remove, Add, and Configure the "Recent and Upcoming Appointments" Component
After your 6.9 update, the new "Recent and Upcoming Appointments" component will appear at the top of your practice's Medical Summary Screen and Phone Notes. Use the PCC EHR Configuration Tool to move it, remove it, add it to other ribbons, and configure which types of appointments are displayed.
Select the component in the Medical Summary Builder or Protocol Builder and click "Hide" or "Delete" to take it off the ribbon.

Click "Add" in the Medical Summary Builder or Protocol Builder to add it to the ribbon.

To move the component around, click on the drag handle.

Click "Edit" to configure the component.

Click and drag items to rearrange them, or click "Add Items" or "Delete" to customize which appointments appear. You can choose to display the patient's last appointment, last physical, next physical, and upcoming appointments. Add or remove these items anywhere the Recent and Upcoming Appointments component appears in order to best suit your office's workflow needs..
To review a step-by-step example of how to make these changes, read the Configure the Medical Summary help article. For more information about editing chart note protocols, read the Protocol Builder documentation.
Add Growth Charts to Any Chart Note
Use the Protocol Builder (inside the PCC EHR Configuration Tool) to add growth charts to any visit protocol.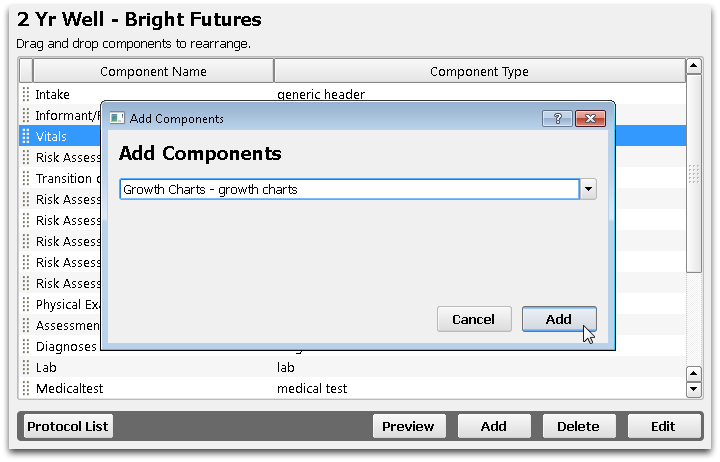 Other Ribbons: Since growth charts are now a component, you could also add them to phone notes or any ribbon in PCC EHR. Your office can decide on which protocols or screens growth charts will appear.
For more information about adding special components to chart notes, read the Add Medical Summary Components or Growth Charts to a Protocol article.
Refresh Training on Flowsheets
The new Vitals flowsheet can help your clinicians quickly review a patient's progress over time. If your office could benefit from this, you may want to review Flowsheet functionality with your clinicians.