In June of 2012, PCC will release PCC EHR 6.8. This update includes handy new features and answered user requests throughout PCC EHR.
Watch a Video: Want to watch a video summary of everything in this release? CLICK HERE.
Contact PCC Support at 1-800-722-1082 for information about these or any features in PCC EHR.
Custom Immunization History
In PCC EHR 6.8, you can customize the Immunization History layout in the patient chart. Use the Immunization Configuration tool to reorder the immunizations or hide/display an immunization by default.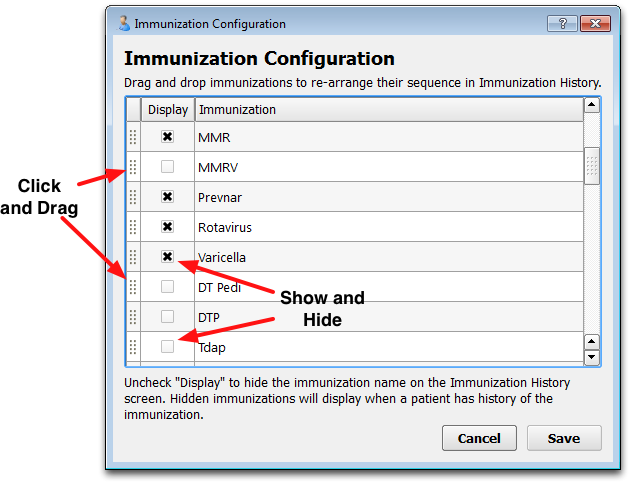 Click and drag immunizations to set your office's desired order. Select or deselect the "Display" checkbox to add or remove an immunization from your office's default view.
All Immunization Records Displayed: If a patient has a record for any immunization, it will appear on their Immunization History whether your office chooses to display it by default or not. For example, you can deselect an older vaccine, like IPV, and it will only appear for patients who have IPV in their records.
New Immunizations or Combination Vaccines: The list of available immunizations comes from the Immunization and Disease table in the Table Editor (ted) in Partner. Contact PCC Support for help adding new immunizations or combination vaccines.
User Permissions: The Immunization Configuration tool is only available to users with appropriate user permissions. Contact your system administrator or PCC Support if you can not access the tool.
Adjustable Visit History Index
You can now expand or contract the Visit History Index, which displays the patient's list of visits, phone notes, and unattached documents.
Click on the dotted grow line to change the size of the index panel.
The index will reset to the default size when you leave the chart. The new default size displays about six rows of information instead of four.
Display Visit History by Type
While reviewing the patient's Visit History, you can now filter the index to display visits, phone notes, and/or unattached documents.
Click on the "Display" pull-down menu and select the history items you wish to view.
In order to ensure the chart record remains easy to review, the default display (All Items) will return when you close the chart.
Improved Import Documents Options
When importing documents to a patient's chart, the options for attaching the document to a visit are now easier to use.
To associate a document with a visit, click "Attach Document to Visit" and select a visit. You can then optionally select an order or orders within that visit.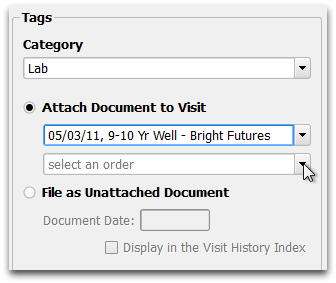 Or, click "File as Unattached Document" to simply import the document to the chart. You can then optionally enter a date for the document and indicate whether or not the document should appear in the Visit History Index for the patient.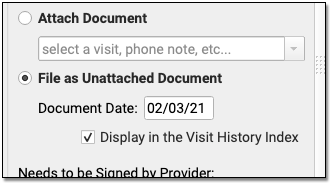 Default: When you choose to file a document as unattached, PCC EHR assumes that you wish to add the document to the patient's Documents section, but not to the Visit History.
Lab Specimen Collection Information
Lab orders now include optional specimen collection information.

Click the checkbox to automatically enter your name and the current date and time. You can then adjust or update the information with the correct user, date, or time.
When recorded, specimen collection information appears on the Edit Orders window, on the View Details lab report, in the Visit History, and in the Sign Orders window. Specimen collection information is part of the CLIA lab standard and will support PCC's future integration with lab services.
Configuration: After your PCC EHR 6.8 update, the specimen collection feature will appear in all of your labs. You can use the Lab Configuration Tool to turn the specimen collection fields off for any lab order.
Minor Bugs Squashed in PCC EHR 6.8
In addition to new and improved features, PCC EHR 6.8 includes small bug fixes. Some of the more interesting bugs squashed are listed below.
Updating Appointment Notes: Updating an appointment note in Partner now updates the appointment note in PCC EHR.

Sync a Patient's PTNM and NKDA Status: When a patient takes no medications or has no known drug allergies (PTNM, NKDA), you can now sync that information back from the patient's PCC eRx record by clicking "Medications Reviewed", "Problems Reviewed", or "Allergies Reviewed" in the Prescriptions section of their chart.

PCC eRx Patient Data: Patient information, such as family addresses, was sometimes unable to sync with PCC eRx. PCC EHR has implemented a new toolset for our Rcopia integration, and we have re-synced your patient data.

Billed Column: In some situations, the Billed column on the PCC EHR Schedule screen did not update when it should. The column now always updates.

"Free Form" Text Medications: The Medication History component sometimes did not correctly display medication details if you used a free-text name when adding the prescription in PCC eRx. We have corrected this behavior and the PCC EHR software update will re-sync data for any situation where this may have occurred.

BMI on Visit Summary: BMI Percentages did not appear on the Visit Summary for patients between two and three years old. They now appear.

Tasks on the Schedule Screen: If an order had an unintentional blank task, it could sometimes cause the orange ball task indicator to appear on the Schedule Screen. A blank task will no longer make the orange ball appear.

Auto-Notes Configuration Window: On some systems, the Auto-notes Configuration tool window opened in a way that was difficult to use. This no longer occurs.

Wide Labs: Some lab orders displayed oddly on the screen or too wide for the window. This no longer occurs.

Lab Interpretation on Flowsheets: Some lab result interpretations appeared incorrectly (as "Abnormal") on patient flowsheets. Now flowsheets display the exact interpretation entered for the order.

Phone Notes for Co-Signing: In some situations, a signed phone note that required co-signing was not appearing on the signing queue, which also caused an incorrect queue total. This no longer occurs. Following this update, clients who use co-signing may find that they have some additional Phone Notes awaiting co-signature on the Signing queue.

CQM 0002: One of PCC EHR's CQM calculations did not filter by patients with a pharyngitis diagnosis, as it should. CQM 0002 calculations will now consider that diagnosis.