In April of 2012, PCC will release PCC EHR 6.7. This update includes improvements to working with siblings, the Medical Summary screen, and phone notes. We've also completed some key background optimizations as we continue our project to speed up your PCC EHR experience.
Watch a Video: Want to watch a video summary of everything in this release? CLICK HERE.
Implementation: The new features in PCC EHR 6.7 require configuration and user-specific software training. Read about the features below and then review PCC EHR 6.7 Migration Considerations.
Contact PCC Support at 1-800-722-1082 for information about these or any features in PCC EHR.
Review Siblings on the Medical Summary
You can now review a list of siblings on any patient's Medical Summary.

After the PCC EHR 6.7 upgrade, the new Siblings component will appear at the top of your office's Medical Summary. You can use the Medical Summary Builder, inside the PCC EHR Configuration Tool, to move it or hide it.
Click "Open Chart" to open a sibling's chart side-by-side with the current chart. You can open up to four sibling charts at once.
What is a Sibling?: A sibling in PCC EHR is any patient who shares either a custodian or guarantor account with another patient. If your office uses group accounts for a camp, foster home, or other group, you will be able to see all patients in that group in the Medical Summary Siblings component.
Add Siblings Component to Chart Notes: The new Siblings component can also appear on your chart note protocols. Use the Protocol Builder to add the component if you want to see the list of siblings while charting.
Copy Medical Summary Notes to Siblings
You can now copy any chart-wide note from a patient's Medical Summary to their siblings.
Medical Summary note components, like the Reminders, Social/Family/Medical History, and Confidential Notes, may contain information that should be added to a sibling's chart as well. When you want to copy one of these notes to a sibling, right-click on the note and select Copy (Component Name) to Siblings.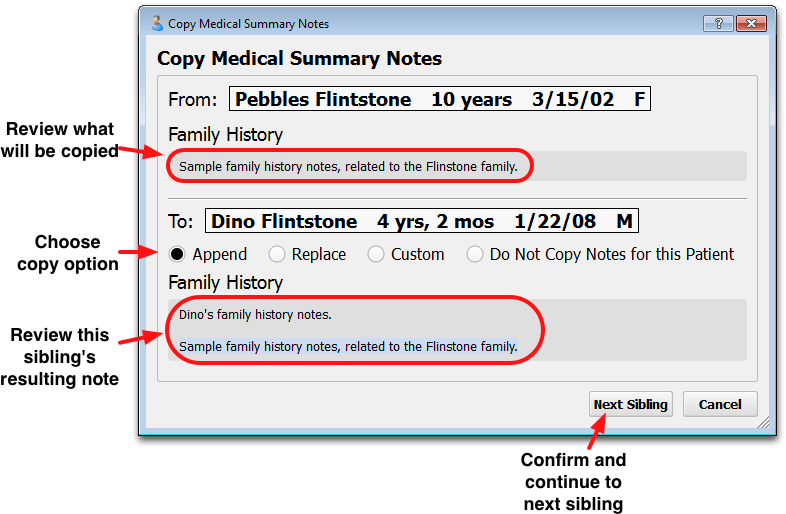 A window will help you append, replace, or customize what will be copied to the sibling. You can review exactly what the sibling's new note will be, and you can use the "Custom" option if you want to make changes.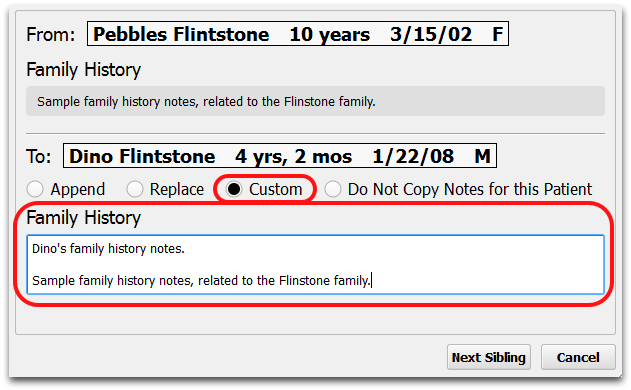 After selecting "Custom", you can revise the resulting note and use your mouse and your computer's copy and paste commands to adjust the text.
Smart Copy: PCC EHR will save you time by ignoring identical text between siblings. For example, if both siblings already have exactly the same text at the beginning of a Family History note, PCC EHR will only prompt you to copy the new text to the sibling. The copying process will skip the part they already have in common.
Edit Menu: Instead of right-clicking on the note field you wish to copy to siblings, you can also select "Copy Medical Summary Notes to Siblings" from the Edit menu and then choose which note to copy.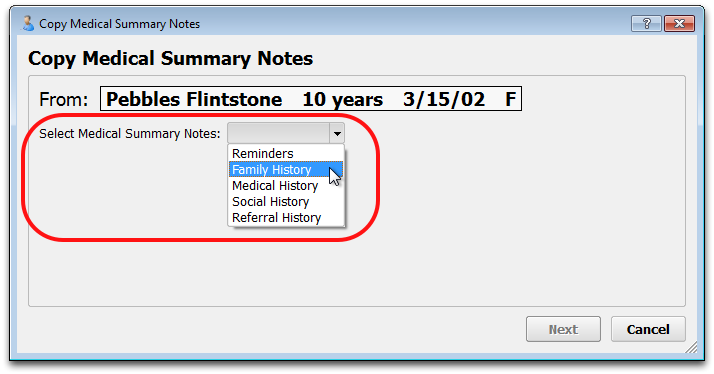 Only Medical Summary notes that contain text will appear on the drop-down menu. If the patient only has one note, such as "Reminders", PCC EHR will automatically select that one for you.
Custom Medical Summary Notes
By default, PCC EHR includes Reminders, Social, Family, and Medical History, and a Confidential Notes field on your Medical Summary. In PCC EHR 6.7, you can create custom note or history fields for any purpose.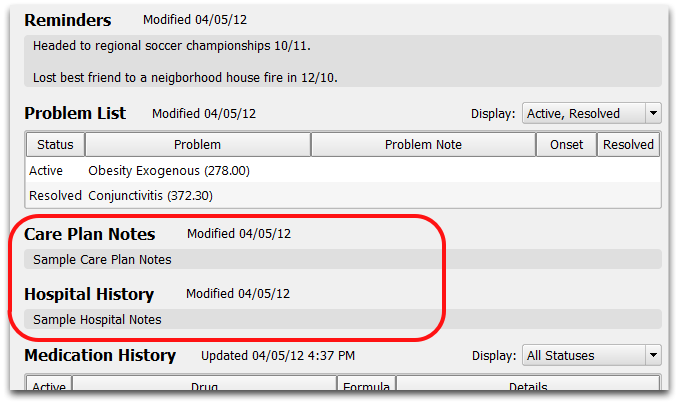 If you need a chart-wide component to record care plan details, hospitalization history, referral history, or other items, you can now store that information on the Medical Summary. You can also make those same components appear on your chart notes.
First, use the Component builder in the PCC EHR Configuration Tool to create a new Medical Summary component or modify an existing one. Then use the Medical Summary Builder and the Protocol Builder to add your new component to the Medical Summary or chart note protocols. For more information, read PCC EHR 6.7 Migration Considerations.
Phone Note Subject Line
The new Subject field in Phone Notes helps you summarize the purpose of a call. The subject will appear in the patient's Visit History and make it easier to review the patient's record.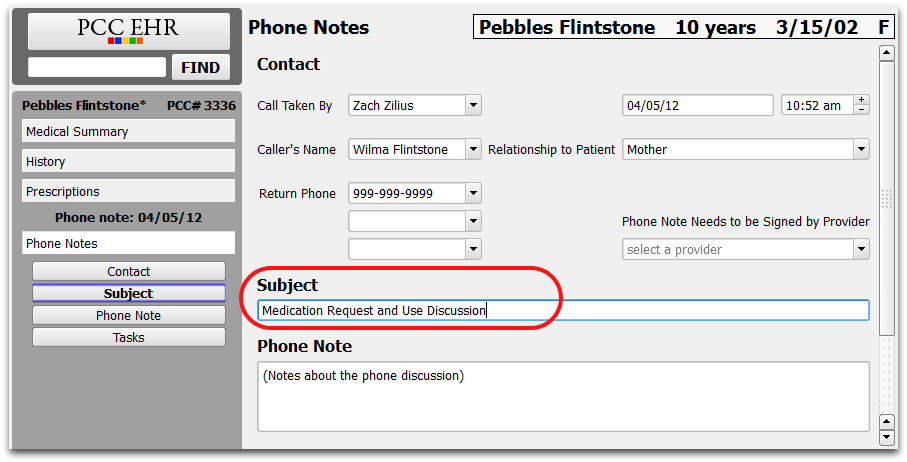 The Details column in the Visit History index displays the diagnosis (Dx) for standard visits and the subject for phone notes.
Delete a Phone Note that Was Created in Error
You may occasionally create a phone note that is unneeded, either by clicking the Create Phone Note button accidentally, or starting a phone note that you later decide is unneeded or in the wrong patient's chart.
In PCC EHR 6.7, if you close a patient's chart before saving a phone note, without entering any information, the phone note will not become part of the patient's record. Additionally, if you type part of a phone note and then close the chart, PCC EHR will prompt you to save the phone note. If you select "Discard", the phone note will not be saved.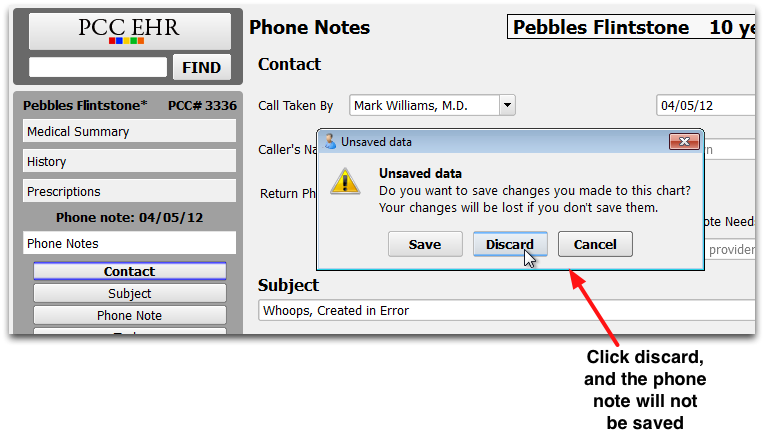 Finally, users with the required administrative privileges may now delete a phone note from a patient's record.
Select the phone note from the Visit History index, and click "Edit" to open it. Then select Delete Phone Note from the Edit menu.
If this security privilege is unavailable to you, contact your office's PCC EHR administrator or PCC Support to activate it.
Other Improvements in PCC EHR 6.7
In addition to the major features described above, PCC EHR 6.7 includes these simpler feature improvements:
Improved Side-by-Side Chart View: When you have two sibling charts open side-by-side, the tabs for navigation are now at the top of the screen. This makes it easier to understand which chart you are viewing and switch between them.

Additionally, when opening a sibling chart, PCC EHR now displays the sibling immediately instead of opening the sibling in the background.

Background Performance Tools: PCC EHR now tracks how long it takes to open charts, automatically logging that information. In the case of a software or network-related problem in your office, PCC will be better able to evaluate the problem and evaluate the impact of improvements.

Faster PCC EHR: By adjusting some of the default network settings, PCC EHR 6.7 speeds up access between your computer and your PCC server. You may see faster access speeds for a variety of PCC EHR tasks.

Add Confidential Toggle to Medical Summary Note Components: You can now add the Confidential toggle arrow to any chart-wide note field. If your office wants the Medical, Social, or Family History component contents to be hidden upon first opening a chart, for example, you can use the Component Builder in the PCC EHR Configuration Tool to make it confidential. PCC EHR logs whenever a confidential toggle is clicked, which creates a record of which users reviewed certain patient information.
Minor Bugs Squashed in PCC EHR 6.7
In addition to new and improved features, PCC EHR 6.7 includes small bug fixes. Some of the more interesting bugs squashed are listed below.
Faster Signing Queue Filters: Earlier this year, PCC made some optimization improvements which unexpectedly introduced slowness when using filters on the Signing queue. We have changed how this queue works, and the Signing queue now filters more quickly.

Import Documents Category Selection: While importing documents, if you selected a category and then viewed the document without saving, it would release the category and you'd have to re-select. Now the screen holds on to the category.

Faster Visit History Loading: When saving changes in the chart, the Visit History screen sometimes reloaded four times. It now only reloads once, speeding up the interface.

Margin and Display Issues: In some situations, the Phone Tasks queue was too wide for the screen. Spacing around the Allergies component and some headers was also incorrect. Some lab orders displayed a small results field in certain circumstances. These elements now appear as designed.

Tab Order in Problem List/Allergies: PCC EHR 6.7 improves the tab order when adding problems to the Problem List or allergies to the Allergies list.

Electronic Encounter Form Fixes: Diagnoses on the EEF now always appear in the same order as the chart note. Additionally, de-selected procedures will not appear on the Linking screen.

Race Selection: In March, PCC fixed a 6.6 release bug that prevented race selection. In PCC EHR 6.7, we resolved a related bug which sometimes caused the patient's race selection to blank out while making changes.

Old Prescriptions By Date: In rare situations, when a patient had prescriptions entered more than three years ago, the medication history would not sort in date order. Now it always will.