PCC EHR 6.7 Migration Considerations
PCC EHR 6.7 introduces new features in many different areas. Use the guide below to learn about the "migration considerations," or changes in PCC EHR 6.7 that need extra planning or training for your staff. Read the PCC EHR 6.7 Release Documentation for complete details on all feature updates.
Contact PCC Support at 1-800-722-1082 for information about these or any features in PCC EHR.
Move Siblings Component on the Medical Summary, Optionally Add It to Chart Notes
After the PCC EHR 6.7 upgrade, the new Siblings component will appear at the top of your office's Medical Summary. You can use the Medical Summary Builder, inside the PCC EHR Configuration Tool, to move it or hide it.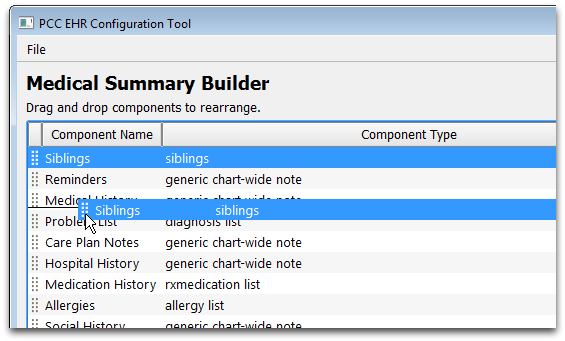 Optionally, you can use the Protocol Builder to add the Siblings component to your chart notes.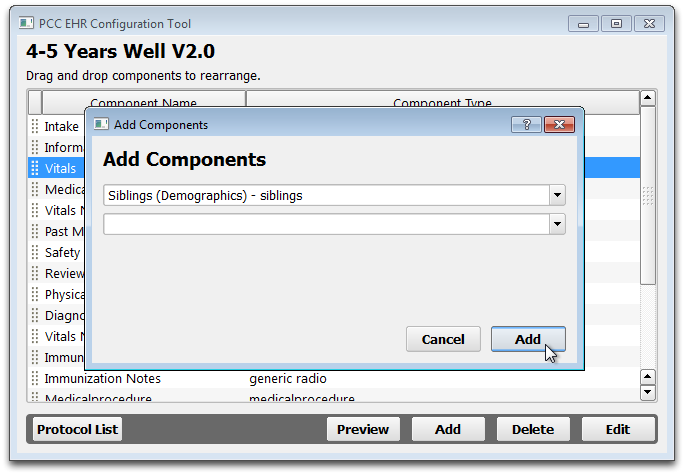 Implement Workflow Changes for New "Copy to Siblings…" Feature
Now that you can quickly copy any note from a patient's Medical Summary to their siblings, you may want to review how your office uses note fields, particularly the Reminders, Family, and Social History fields.
When revising a patient's Family History summary, for example, your clinicians may wish to always right-click and select "Copy Family History to Siblings", so they can review each sibling's Family History and copy in the new notes, if appropriate.
PCC EHR users can learn how to copy notes to siblings by reading the PCC EHR 6.7 release documentation or by watching the PCC EHR 6.7 Video (coming soon).
Review Charting Needs and Create New Chart-Wide Components
In PCC EHR 6.7, you can create custom chart-wide text fields for any purpose and add those components to your Medical Summary screen or your chart notes. If you need a place to track a patient's care plan, hospitalization history, referral notes, or other items, you can create them.
First, use the Component builder in the PCC EHR Configuration Tool to create a new Medical Summary component or modify an existing one.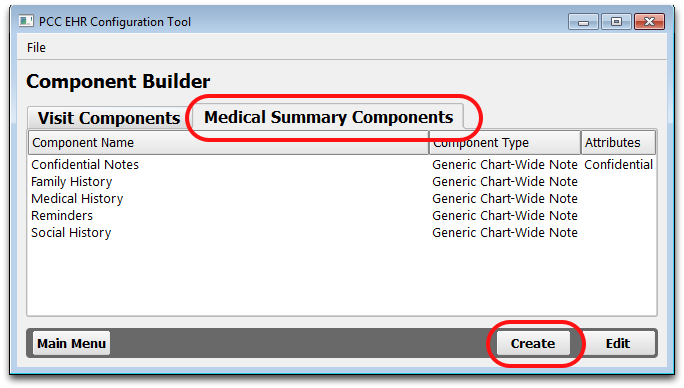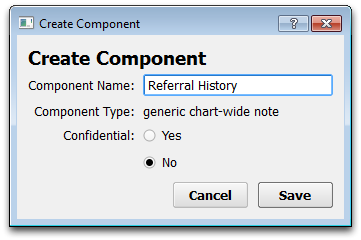 You can edit the name and also indicate whether the component should have a flip-down privacy triangle, like Confidential Notes. Note that you can also add the confidential feature to any existing medical summary component, such as the Family and Social history fields.
Visit Components vs. Medical Summary Components: The Component Builder now has two tabs. The first tab is for creating and editing Visit Components, which appear as multiple instances on chart notes. The second tab is for creating and editing Medical Summary components, which are chart-wide fields that exist once for the entire patient record. They can appear on both the Medical Summary and chart notes.
Next, use the Medical Summary Builder and/or Protocol Builder to add the new fields to your office's Medical Summary or chart notes.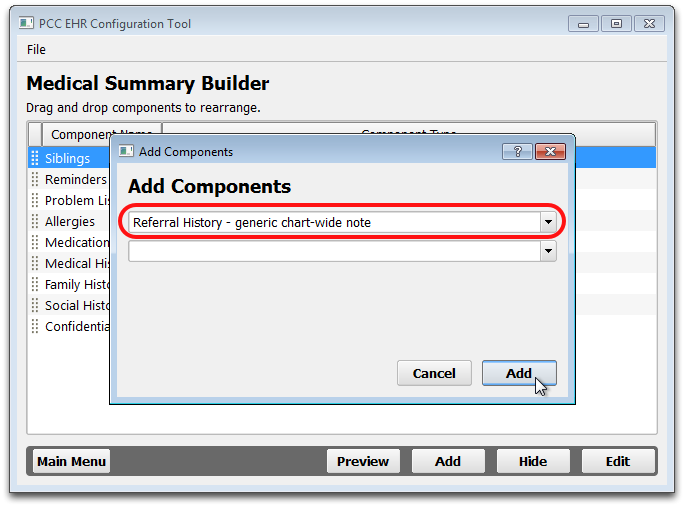 You can click and drag the new component to position it. Select it and click "Edit" to adjust attributes such as anchor button and display text.
Import Partner's "Call Summary" Data to Your PCC EHR Phone Note Records
If you used the Phone Encounter (pen) program in Partner before you went online with PCC EHR, then PCC Support transferred patient phone notes to PCC EHR when you went live. Now that PCC EHR's phone notes include a Subject line, PCC Support can transfer the "Call Summary" field from those old notes into your patient's past records.
Contact PCC Support to request this free data migration.


Move the Phone Note Subject Line
By default, the new Subject line appears above the Phone Note field on phone notes. You can use the Protocol Builder inside the PCC EHR Configuration Tool to edit the Phone Note protocol and move it elsewhere.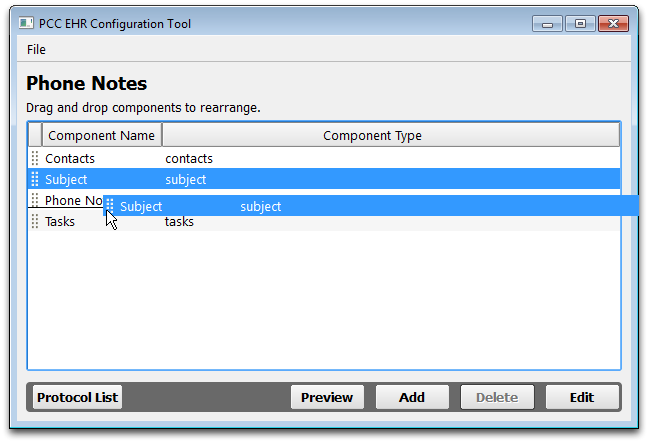 For example, you may find it more useful to enter a subject at the end of a call. You could move the Subject line below the Phone Note field.
Give Users Permission to Delete Phone Notes
All users can now avoid creating an erroneous phone note: if they return to the schedule without saving a new phone note, PCC EHR will prompt them to save and then discard the note if they do not.
However, some phone notes will still be created accidentally, and you can grant users the ability to delete phone notes in the User Administration program.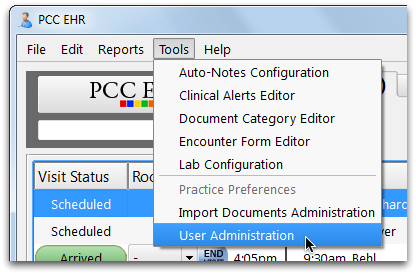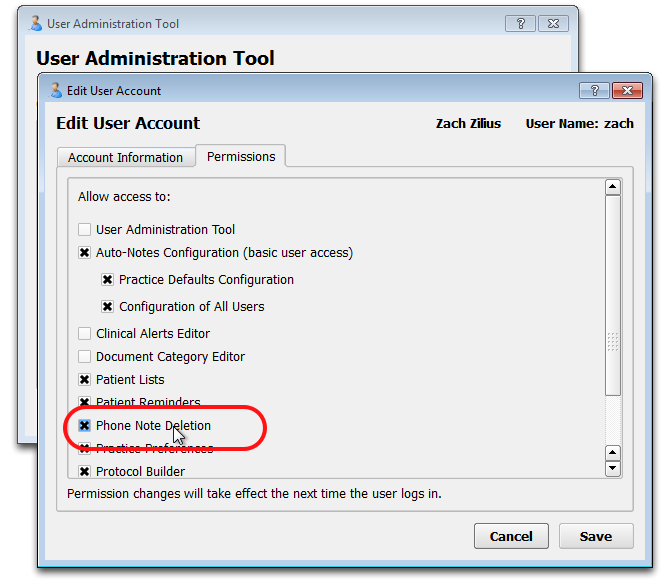 Your office can decide whether to give the deletion ability to just a few users or all users.
Already Authorized: Any PCC EHR user who already has access to the User Administration Tool will be given Phone Note Deletion authorization automatically as part of the 6.7 update.