PCC EHR 6.6 Migration Considerations
PCC EHR 6.6 introduces new features in many different areas. Use the guide below to learn about the "migration considerations," or changes in PCC EHR 6.6 that need extra planning or training for your staff. Read the PCC EHR 6.6 Release Documentation for complete details on all feature updates.
Contact PCC Support at 1-800-722-1082 for information about these or any features in PCC EHR.
Set Your Preferred Display Filters
Each PCC EHR user can set which statuses they wish to see on patient Problem Lists, Allergies lists, and Medication Histories.

Once a user has set the display filter in a chart, PCC EHR will remember their preference whenever they open any chart.
Add Medical Summary Components to Visit Chart Notes
If your office would like to see the Problem List or other Medical Summary component inside some of your custom chart notes, you can use the PCC EHR Configuration Tool to edit your protocols.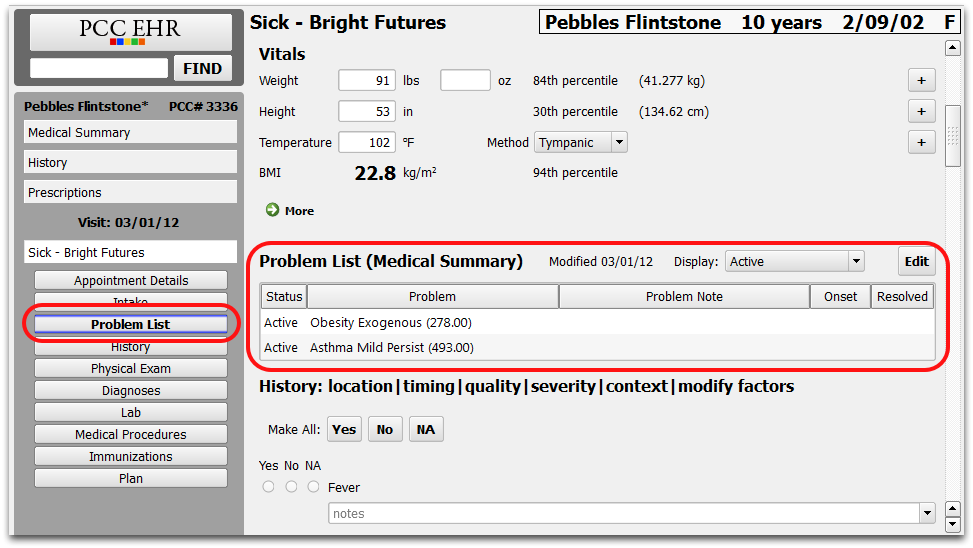 As your practice decides which Medical Summary components to add to visit protocols, remember that Medical Summary components are chart wide, they are not part of the visit.
For example, the Medical Summary has an optional Social History component, a useful place to summarize important points from the patient's social history. You can add that component to your chart note protocols, but you may wish to also maintain a different Social History note box, for charting longer details learned during that visit.
Medical Summary components are a window to the patient's summary information, but they will not appear later, on the historical record of the patient's visit chart note. (A small reminder about this appears under a Medical Summary component when you edit it in a chart note.)
Use the PCC EHR Configuration Tool to edit your chart note protocols and add these components.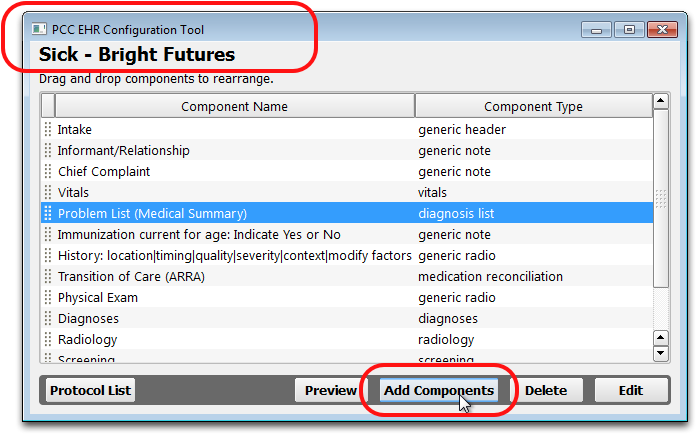 Configure the Medical Summary Anchor Buttons
Use the Medical Summary Builder in the PCC EHR Configuration Tool to set which Medical Summary items should have anchor navigation buttons, and what anchor text appears on the button.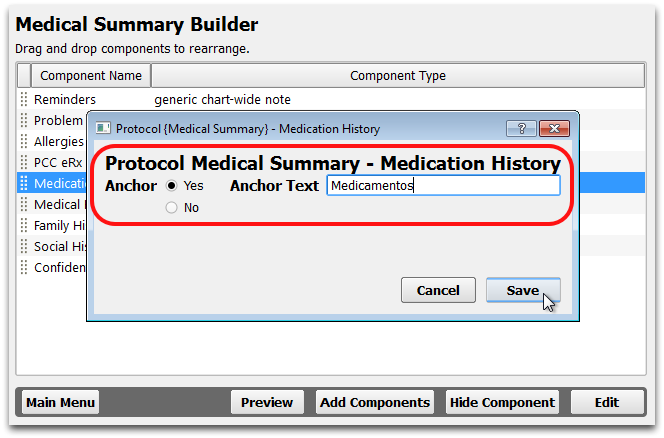 Review Rx Tasks Queue, Number May Have Changed
Prior to PCC EHR 6.6, the Rx Tasks queue number could display the number of pending refill requests and prescriptions needing clinician approval. Now it also adds the number of prescriptions that have already been sent, but still need a clinician's signature.
Your clinicians may need to review their Rx Tasks queue and sign old prescriptions if they have not done this as part of their current workflow.