In January of 2012, PCC will release PCC EHR 6.4, a major update including bold new features and answers to your frequent requests. The Schedule screen now helps you track incomplete labs and other orders, chart navigation is now cleaner and more powerful, and you can now update the patient's Problem List and Allergies while selecting diagnoses for a visit. In addition, our development team has completed a huge list of smaller requested features, bug fixes, and speed optimization changes.
Watch a Video: Want to watch a video summary of everything in this release? CLICK HERE.
Implementation: The new features in PCC EHR 6.4 require configuration and user-specific software training. Read about the features below and then review PCC EHR 6.4 Migration Considerations.
Contact PCC Support at 1-800-722-1082 for information about these or any features in PCC EHR.
Tasks Column on the Schedule Screen
You can now see if a patient has incomplete orders, such as incomplete medical procedures, unfinished labs, or pending immunizations, directly on the Schedule screen.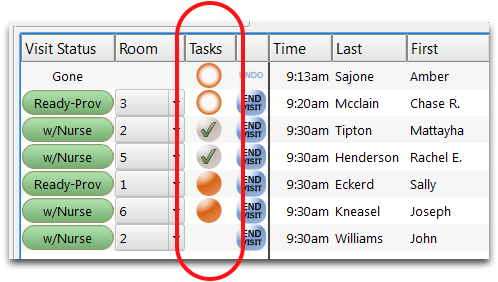 The new Tasks column indicates if a visit has any orders with incomplete tasks, tests without their required results, or immunizations waiting to be administered. The column displays one of four different possible states.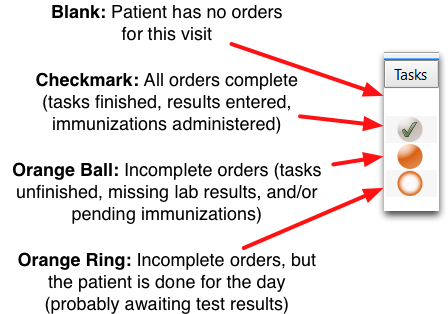 At a glance, you can tell if a patient has outstanding orders that you should address (orange ball), or if all orders are complete (a green checkmark). The hollow orange ring indicates that a patient has incomplete orders, but a user has indicated that none of the tasks or results are for today and the patient can go home.
Click on the task indicator to open up the new Edit Orders window and work on tasks or change the status.
Open and Edit Orders from the Schedule Screen
While reviewing whether a patient has any outstanding orders for today, you can click the task indicator to open an Edit Orders window.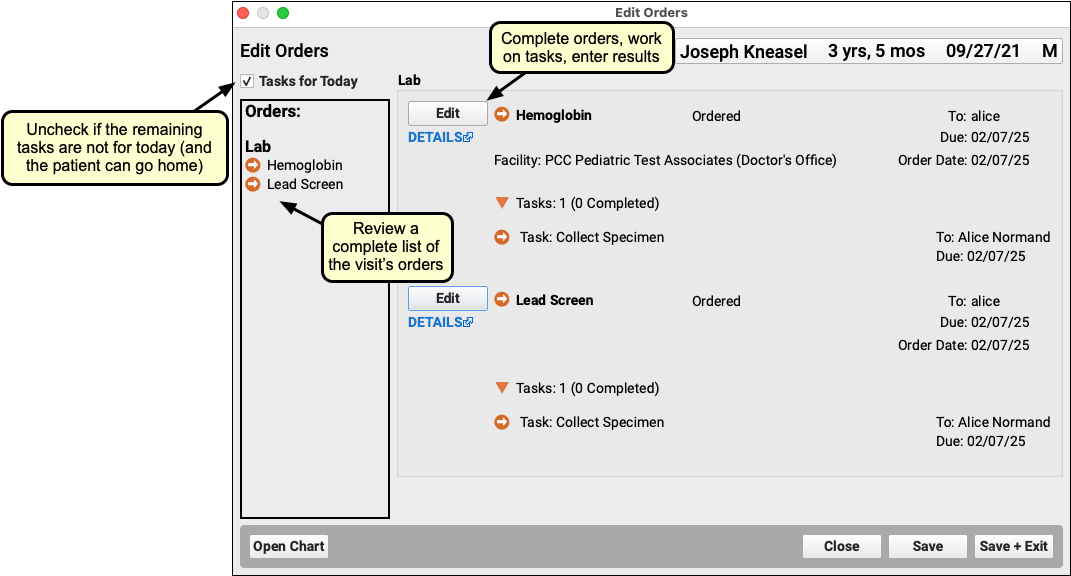 Use the Edit Orders window to review and work on all the orders for a particular visit. You can open orders, enter results, administer immunizations, and edit tasks as you would in the chart.
Tasks and Results for Today: If the incomplete orders are for test results or they include tasks that won't be completed today, you can deselect "Tasks for Today" to indicate that the patient may leave. The indicator on the schedule screen will change to let users know that remaining tasks are not for today.

You can select or deselect "Tasks for Today" manually at any time. Creating new orders for the visit will turn the orange ball indicator back on.
PCC has improved the navigation of the patient chart, creating more room for new features and chart sections.
Chart navigation buttons are now in expanding sections, the Medical Summary screen has new anchor navigation buttons, and visit chart notes now collapse or expand as you work. Finally, when you click a navigation anchor, the relevant section title appears in blue, helping you locate the section visually.
Read below to learn more about each of these chart navigation improvements.
Expanding Sections
The Medical Summary, History, and visit chart notes all collapse and expand to show more chart navigation anchor buttons. For example, the Demographics, Growth Charts, and other chart sections are now grouped under the History section: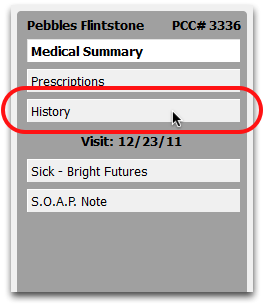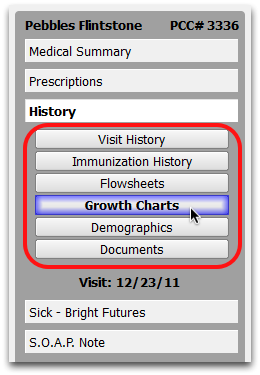 The first level of chart navigation includes navigation buttons to the Medical Summary screen, History, and Prescriptions. The History section now contains the Visit History, Immunization History, Flowsheets, Growth Charts, Demographics, and Documents chart sections, as shown above. Note that the Visit History has been moved to the top of the history items for easier access.
Jump Back to Where You Were: As you move around the chart, PCC EHR keeps track of where you were and makes it easy to pick up where you left off. If you are typing Plan notes into a chart note and jump to the Visit History, Growth Charts, or another section of the chart, PCC EHR will remember where you were and put your cursor back in the Plan field when you return.
Medical Summary Navigation
Click on a Medical Summary navigation anchor to scroll to that section.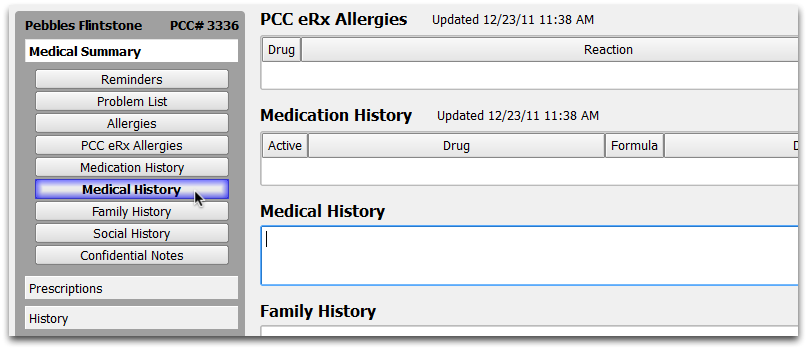 The new anchor buttons will help you jump directly to the part of the Medical Summary you need to review. That means you can easily review the information you need, even if the Patient has a long Problem List or Medication History.
Editing Shortcut: If you are editing the Medical Summary, clicking on the anchor button will put your cursor directly into the needed field, as shown in the image above.
Coming Soon: Later in 2012, PCC EHR will include the ability to add, remove, or rearrange components on your office's Medical Summary screen. Stay tuned!
Visit Chart Note Protocol Navigation
When any chart notes are open, each protocol gets an expanding navigation button. The protocol name(s) appears beneath the visit date on the first level of the navigation bar.
Click the protocol name to display the navigation anchors and work with the chart note.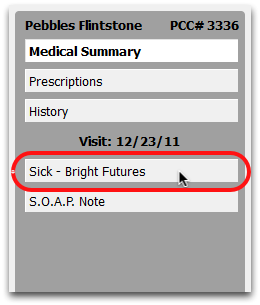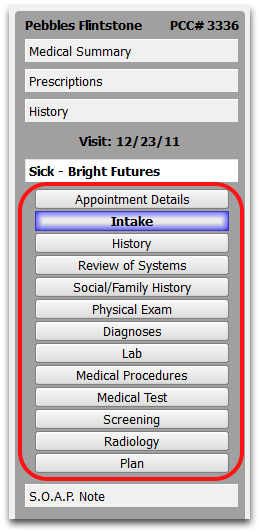 Instead of filling up the whole navigation menu and requiring a scrollbar to reach sections of your chart note, the new anchor buttons collapse or expand as you work. If you click a different protocol for the visit (or another chart navigation button) the protocol will slide closed. When you reopen it, PCC EHR will remember your last position.
Instead of a "Top" button, all protocols now have a handy "Appointment Details" anchor button at the top.
Multiple Visit Protocols: If a visit has more than one protocol, they will each appear with their own collapsible button. (Tabs are no longer needed.) The visit above has two chart note protocols, a modified Bright Futures Sick protocol and a SOAP notes protocol.
Highlighted Section Titles
When you click on an anchor button, either in the Medical Summary or in a chart note, the section title will briefly highlight in blue.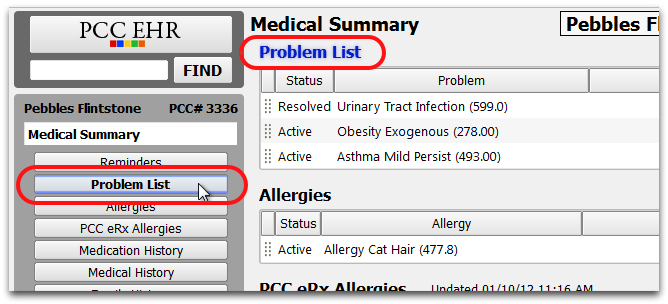 The blue highlight will help you find the section you need on the screen, whether reviewing the Medical Summary or charting a visit.
Update the Patient Problem List and Allergies While Charting Diagnoses
As you mark off diagnoses during a visit, you can now immediately add those items to the patient's Problem List or Allergies list.


After entering or checking off a diagnosis on a chart note, check off "Add to…" to add it to the Problem List or Allergies list. You can optionally enter an onset date and Problem note (or Allergy Reaction note).
By using this handy shortcut, physicians no longer have to enter a diagnosis twice (once on the chart note and then again on the patient's Medical Summary).
If a diagnosis is already on the Problem List or Allergies list, PCC EHR will indicate that in the chart note.

Last Answer for Text Box Components
The Last Saved Answer feature is now available for any generic text box component in your chart notes. After your update, you will see the patient's last saved response to a question as you chart.

Click Last Answer to add the text to today's chart note.
Configurable: Last Answer functionality can be turned on and off for various chart note components. Read the Answer Memory article to learn more about the various answer memory features in PCC EHR and configuration options for each one.
Medical, Family, and Social History Fields
The Medical Summary screen has three new sections for Medical, Family, and Social history. Use these sections to store important history information for the patient.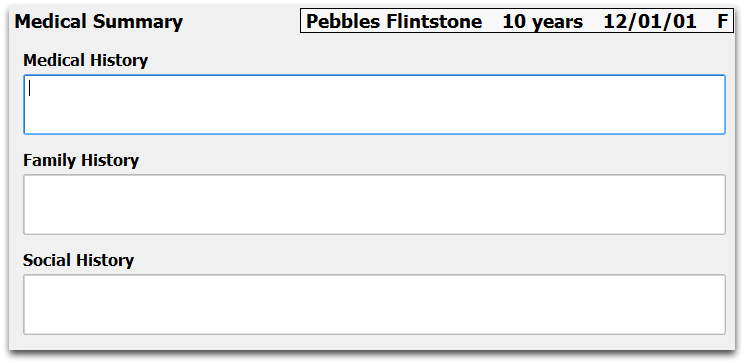 While the patient's visit chart notes may also contain history information taken down during a visit, the new Medical, Family, and Social history fields are for your history notes that remain on the patient's Medical Summary from visit to visit.
Confidential Information Field
The Medical Summary screen includes a new Confidential Information section, which is hidden when users first open the chart.
Click the expanding triangle at the bottom of the Medical Summary screen to view and edit confidential information.


PCC EHR logs every time a user accesses or edits a patient's Confidential Notes.
No Saved Notes, Modification Date: You will see the "No Saved Notes" text next to the section header if the section is blank. If any notes have been entered, you will see the "Modified" date, letting you know that there is Confidential information stored in the field and when it was last edited.
Filter Queues for Multiple Clinicians
You can now set filters on the Visit Tasks, Phone Tasks, and Signing queues to watch several assigned users or providers at once.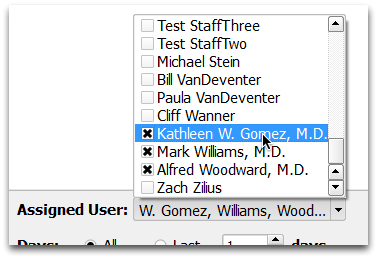 Instead of switching back and forth among various nurses or physicians, you can now set your queue filters to display all the clinicians or users you need to watch.
You can click "Save My Defaults" on any queue to make the selected set of users your default view.
Other Improvements in PCC EHR 6.4
In addition to the major features described above, PCC EHR 6.4 includes these simpler feature improvements.
Most Recent Visits at the Top When Linking Documents: The Import Documents window and the Edit Tags window now list appointments in reverse chronological order, with the most recent visits at the top. You can quickly connect documents for today to today's visit without scrolling through the patient's history.

Use More Than Three Chart Note Protocols for a Visit: You can now use more than three chart notes for a visit. PCC EHR formerly limited the number of protocols to three. PCC Support can now increase that limit, should your office use protocols in a way that requires more than three.

Sequence in Visit History Matches the Chart Note Sequence: The patient's Visit History now displays chart note items in the same sequence as the original chart note. (Previously, items within a component, such as a Review of Systems, appeared in the order they were entered.)

Add a Protocol to a Visit, Protocol Opens Immediately: When you add a chart note protocol to a visit, in order to chart different details, PCC EHR now immediately opens that protocol and shows you its navigation buttons.

Arrive Patient and Create Visit Buttons: The Arrive Patient and Create Visit buttons now appear at the bottom of the navigation bar in a chart, reducing accidental clicks.

Opening Chart Speed Enhancements: Our development team made a series of changes that should reduce the time it takes to open a chart.
Minor Bugs Squashed in PCC EHR 6.4
In addition to new and improved features, PCC EHR 6.4 includes more bug fixes than any other PCC EHR release. Our development team used December to knock down over a hundred fixes! Some of the more interesting bugs squashed are listed below.
Retired Items No Longer Displayed: Diagnoses, procedures, and other table items that have been retired (with a tilda (~) symbol) will no longer appear for selection in drop-down lists.

Answer Memory for Radio Line Components: In some situations, PCC EHR's Answer Memory was not working for radio line components. Answer Memory now works for those fields.

RDP Window Improvements: Users who connect to PCC EHR via a remote desktop connection, either from home or in a remote office, sometimes experienced window problems and windows of the wrong size. PCC EHR 6.4 resolves those issues.

Duplicate Note Error: In rare circumstances, if you added two notes to a chart item and then removed the first note, the remaining note would appear twice. This no longer occurs.

Patient Education Window Improvements: The Medline Plus information window sometimes blocked access to other windows. This no longer occurs.

Pocket Partner to PCC EHR Interface Improvements: In some situations, Pocket Partner visit notes were not coming forward to PCC EHR. The interface has been improved and any remaining notes have been forwarded.

O2 Saturation: O2 Saturation now appears on the Patient Visit Summary report.

Large Scanned Document Management: While importing extremely long scanned documents, PCC EHR would sometimes pause for long periods. This no longer occurs.

Fixed Resolved/Active Status: Some "Resolved" problems on the Problem List were switched to "Active" for some patients during a previous update. All erroneous patient problem statuses are fixed by this release.