PCC EHR 6.4 Migration Considerations
PCC EHR 6.4 introduces new features in many different areas. Use the guide below to learn about the "migration considerations," or changes in PCC EHR 6.4 that need extra planning or training for your staff. Read the PCC EHR 6.4 Release Documentation for complete details on all feature updates.
Contact PCC Support at 1-800-722-1082 for information about these or any features in PCC EHR.
Adjust Workflow for Tasks Column and Edit Orders Window
The new Tasks column on your office's Schedule screen and the new Edit Orders window may lead to workflow changes. You may wish to work with your staff to discover how the feature can best benefit your office.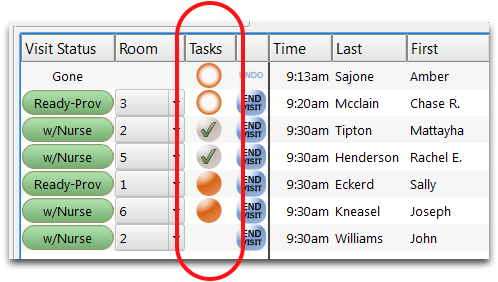 For example, who will review the tasks column and make decisions about the patient? Who will open the Edit Orders window, review the patient's orders, and deselect the "Tasks for Today" indicator if the patient can go home? How will these new tools change your existing workflow for catching orders or using the Tasks queue?
Turn it Off?: If your office likes your current workflow and does not wish to see the Tasks column on the Schedule screen, you can turn it off in the Practice Preferences tool.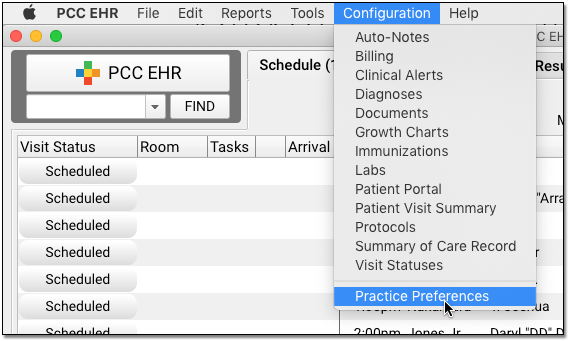 Take extra time to show your clinicians and other users the new chart navigation tools. They include the Medical Summary anchor buttons, the collapsible "History" section, and the collapsible chart note anchor buttons. Make sure everyone can find what they need and understands how to get around a patient chart.
You should especially show users how to find the Immunizations record, Demographics, and other chart sections that formerly were at the first level of chart navigation. They are now stored in the History section: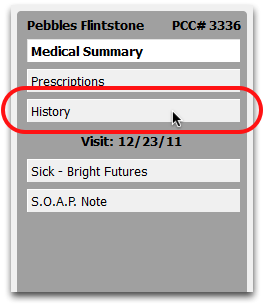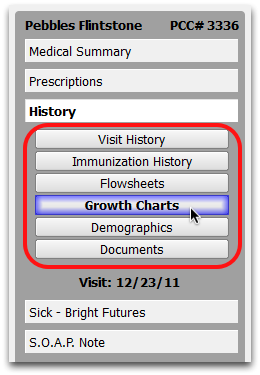 Note that the Visit History button is located at the top of the History section.
Train on Problem List and Allergies List
Your clinicians can update the patient Problem List and Allergies list on-the-fly, while charting diagnoses. This is a great tool, and it is worth it to take some extra time and show it to those who may benefit from this feature.

Problems vs. Allergies: PCC EHR knows that a diagnosis is an allergy based on the Allergy toggle question in the diagnosis table in the Partner Table Editor (ted). Edit your diagnosis table if you need to add allergies or classify a diagnosis as an allergy.
Turn Off "Last Answer" for Some Text Box Components
Generic text components can now display the patient's last saved answer. You may wish to turn this feature off for some components.

Read the Answer Memory article to learn more about the various answer memory features in PCC EHR and configuration options for each one.
Change How You Record and Store Medical/Family/Social History
The Medical Summary now has sections for Medical, Family, and Social history. You may currently record that information on chart notes, scanned documents, or use other methods. You may want to work with your office to decide how you will collect this information and store it moving forward. The new fields in the Medical Summary are ideal for information that persists across any visit.
Decide How to Use the Confidential Information Field
The Medical Summary includes a new Confidential Information section at the bottom. Your office should develop a policy for how this field will be used and what information should be stored there.

Set Filter Queues and Save New Defaults
Since you can now watch more than one user or clinician on your queues, you may wish to help each nurse or other PCC EHR user set up exactly the physicians they wish to follow.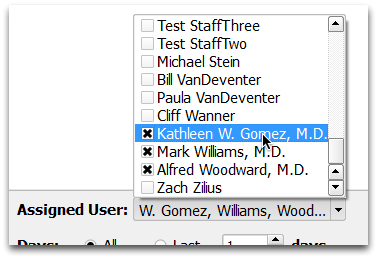 Users can log in and select more than one user or clinician for the Schedule, Tasks, Phone Tasks, and Signing queues. After selecting who they wish to watch, they can click "Save My Defaults" to make the selected set of users their default view.
Use More than Three Protocols
If your practice would like to use more than three chart note protocols for some visits, contact PCC Support and ask them to turn on this feature for your office.