In April of 2014, PCC will release PCC EHR 6.21. This update includes a new search feature, a new Personal Contacts component, and other system optimizations. Read below to learn more.
Watch a Video: Want to watch a video summary of everything in this release? CLICK HERE.
Contact PCC Support at 1-800-722-1082 for information about these or any features in PCC EHR.
Search for Text Within a Chart Note or Protocol-Based Chart Sections
In PCC EHR 6.21, you can select Find from the Edit menu to search through a visit chart note, the medical summary, or another protocol-based chart section. You can also use your operating system's keyboard shortcuts (ctrl+F on Windows or Linux, command+F on Macintosh).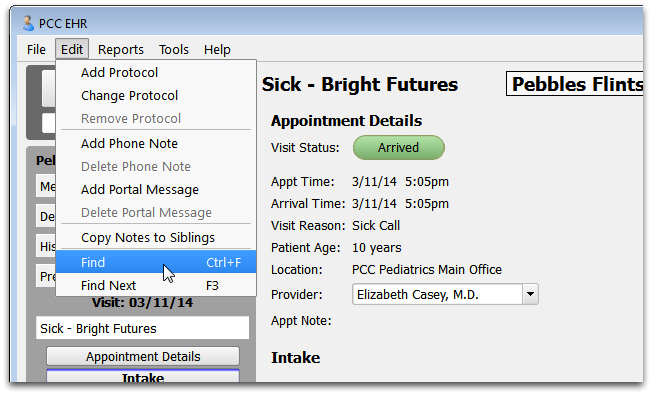 PCC EHR will search the visible text in the ribbon. You will see the total found results, and the first result will be highlighted for you.
You can click the arrow buttons to cycle through matching results, or press the keyboard shortcut (F3 on Windows, command+G on Mac OSX, and ctrl+G on most Linux installations) to move to the next result.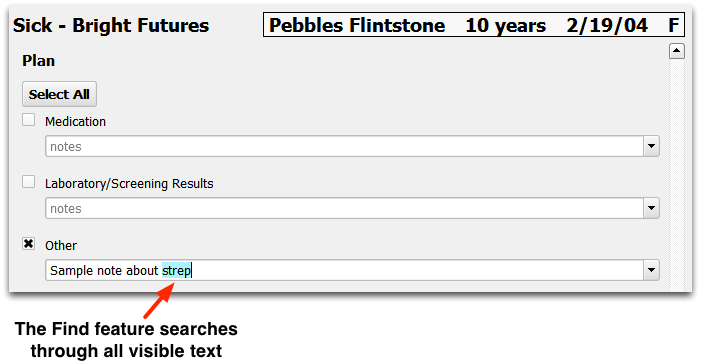 You can use the new search feature to find a lab result, jump to a note about a specific problem or diagnosis, or find anything else that appears in visit chart notes, phone notes, or the Demographics or Medical Summary chart sections.
Search Through "Visible" Text: The find feature does not search through text that is not visible in the ribbon. For example, if the expand arrow on a Care Plan intervention is closed, you will only be able to find visible portions of the intervention.
Personal Contacts Component
The new Personal Contacts component can store a patient's parents, guardians, or other relations.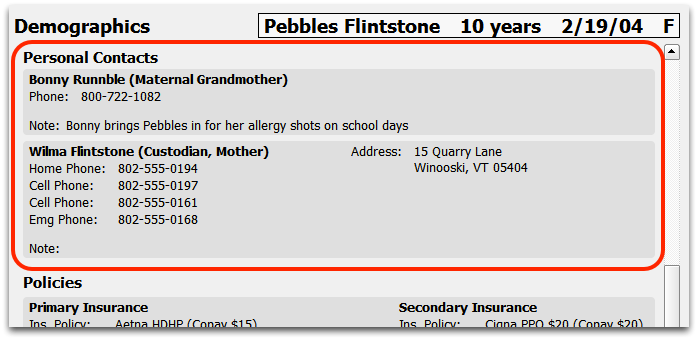 The Personal Contacts component appears on the Demographics section of a patient's chart by default. You can move, remove, or add the component to any chart note protocol, the Medical Summary, or your Phone Notes protocol.
In edit mode, you can add a note describing the contact, edit, or remove the contact.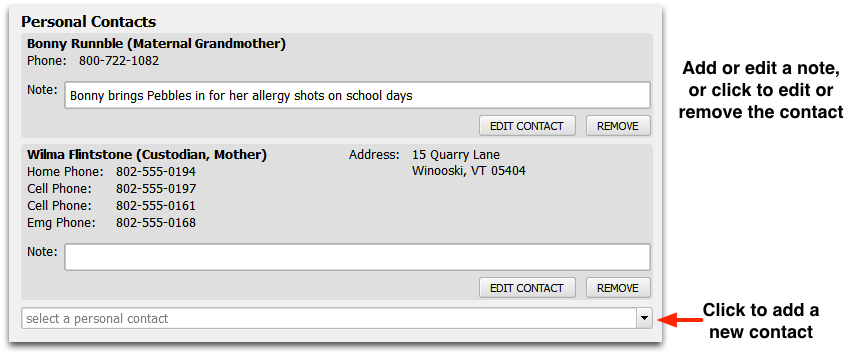 Click on the blank field to add a new contact. You can create a contact or select from the patient's connected practice management accounts (Custodian, Guarantor) or MyKidsChart.com user accounts.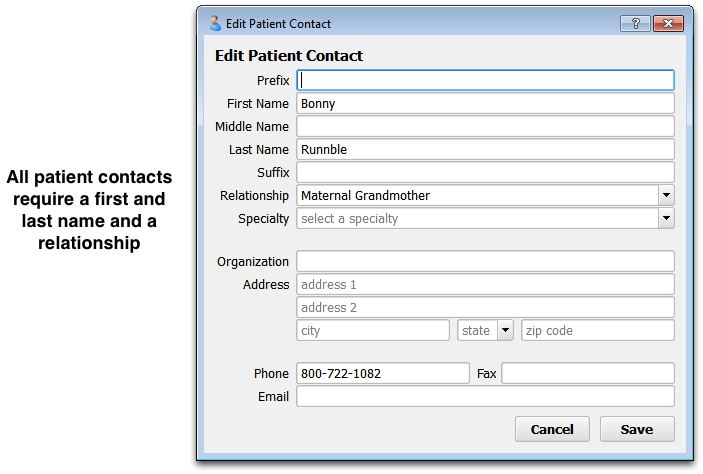 The First and Last name and Relationship fields are required for each personal contact.
Next of Kin: The Personal Contacts component is designed to work as the "Next of Kin or Associated Parties" segment of the HL7 standard and is a requirement for some state immunization registries.
Automatically Add the Custodian?: If you want every new patient's custodian to be added as a contact automatically, you can turn that feature on in the Component Builder. Also, during the 6.21 software update, PCC Support can automatically add patient custodians as Patient Contacts. Contact PCC Support to request this service.
Set Your Safe Backup Duration of Removed Images
When you delete a scanned document in PCC EHR, a safe copy is kept on your server in case you removed it in error.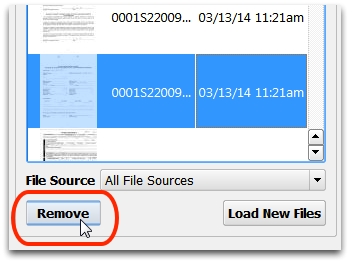 In PCC EHR 6.21, PCC Support can customize how long that removed document will be kept "in the trash" before it is permanently deleted. After the specified duration, the image is permanently deleted to reclaim disk space and reduce your office's backup time.
The default time set by the 6.21 update is 365 days. Contact PCC Support if you would like to increase or decrease your removed image safe copy duration. The minimum amount of time is 30 days, in case an accidentally removed image needs to be restored.
Documents Attached to a Patient's Chart are Never Deleted: If a scanned document has ever been attached to a patient's chart, it will remain a part of your system's permanent record and will not be deleted. Even after you remove it from the patient's chart and from the import queue, your system will maintain a copy for chart auditing purposes.
How Do I Restore a Removed Image or Document?: You may not have been aware that you can restore a scanned image that was accidentally removed. Contact PCC Support if you ever need to retrieve a lost image.
Other Feature Improvements and Bug Fixes in PCC EHR 6.21
In addition to the features described above, PCC EHR 6.21 includes these feature improvements and squashed bugs:
Immunization Registries that Require Mother's Maiden Name, Birth Order, and Next of Kin: PCC's immunization registry interfaces can now include the new fields in the HL7 2.5.1 standard. These fields include the mother's full maiden name, patient birth order, and next of kin. If your state's registry requires these fields, you can fill them out in the Demographics section of the patient's chart.

Chart Open Time Optimization: With every release, PCC optimizes databases and customizes software in order to make your experience faster. In this release, we accelerated how fast charts open by 10%. The change will be most noticeable at large practices.

Partial Date Onset Allergies: PCC recommends that drug allergy onset dates be entered fully in order to support reporting and contraindications, but PCC EHR will display drug allergies even without the onset date.

Printing an Unsaved Intervention: If a user created an intervention and then attempted to print without saving, a blank intervention would print. Now PCC EHR will prompt the user to first save the intervention and then print.

Change Order of Diagnosis Linking: In some situations, it was not possible to re-open the electronic encounter form and change the order of the diagnoses linked to a procedure. Now you can (up until the visit charges are posted).

E-Labs Import Queue: The E-Labs queue now includes pagination, accelerating tasks when a large batch is being imported.

E-Labs Attached to Deleted Appointments: If the appointment for an e-lab was deleted, the "Signed" status did not appear after signing an e-lab result and it was impossible to remove the lab from the signing queue. Now labs from deleted appointments will not appear on the signing queue.

Problems and Allergies in Visit History: In some circumstances, allergies and problem list items did not appear in their components in the chart note in the Visit History. Now they do.