In November of 2011, PCC will release PCC EHR 6.2. Last month, we finished our full ARRA certification test. This month, we move on to a large set of exciting new features and answered client requests. PCC EHR 6.2 includes Flowsheets, a redesigned Medical Summary screen, several other requested features, and solutions to a series of small bugs.
Watch a Video: Want to watch a video summary of everything in this release? CLICK HERE.
Implementation: The new features in PCC EHR 6.2 require configuration and user-specific software training. Read about the features below and then review PCC EHR 6.2 Migration Considerations.
Next Month: In December's PCC EHR 6.3 release, PCC will focus on a new database infrastructure. The release will pave the way for future features, but it includes no new features for your practice to learn or configure over the holiday season.
Contact PCC Support at 1-800-722-1082 for information about these or any features in PCC EHR.
New Medical Summary Screen w/ View Mode
The Medical Summary screen has been redesigned to include more information in an easier to read format. When opening a patient's chart, you will see the Medical Summary in a cleaner "read only" view mode.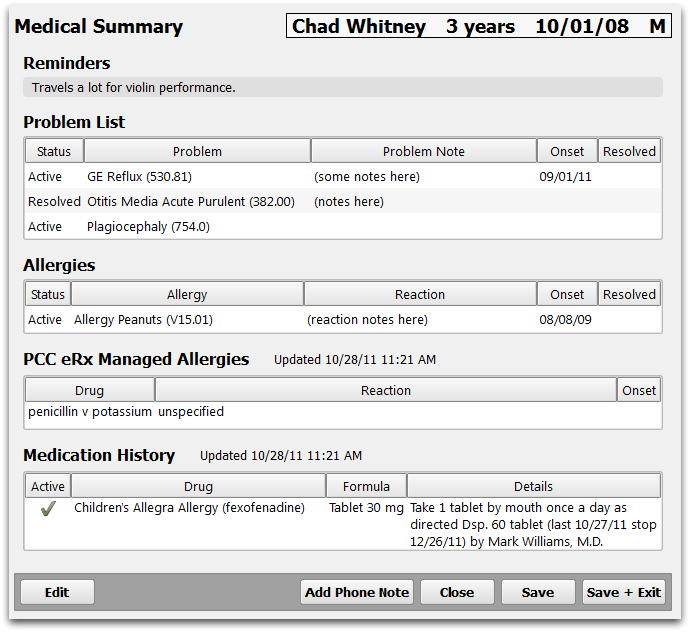 Each section of the Medical Summary is wider, making room for new fields. The new screen conserves space and dynamically adjusts the size of each section to make things more efficient.
The Status column for Problems and Allergies is now on the left, making it easier to organize and work with active issues.
Click Edit to make changes.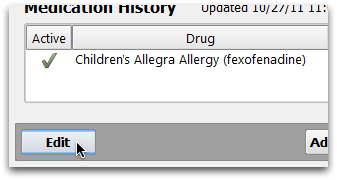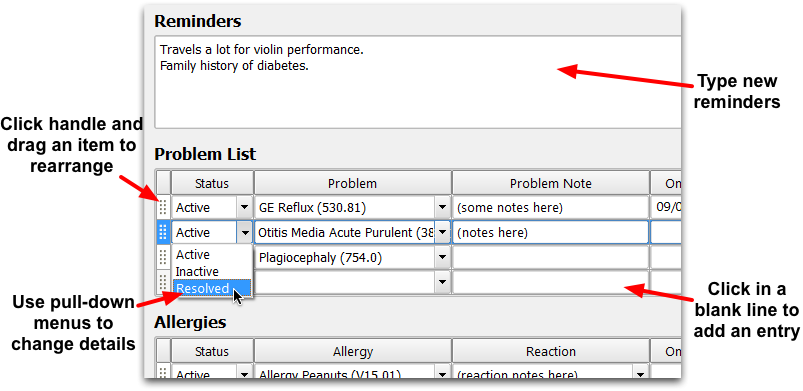 In edit mode, you can make changes to the fields or add items.
Removing Items: Blank out a line to delete any entry. You can also right-click on an entry and select "Delete Problem" or "Delete Allergy".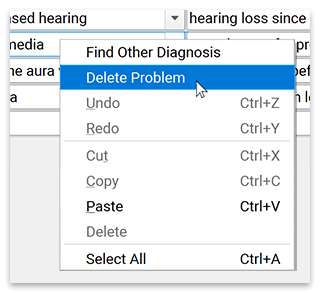 Coming Soon: PCC has a series of planned new features for the Problem List and other items in PCC EHR's Medical Summary. The changes in this release pave the way for improvements in 2012.
Flowsheets
You can now review a patient's medical history for lab tests, medical tests, radiology, or screenings. Click the "Flowsheets" button to view flowsheets for the patient.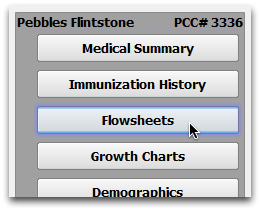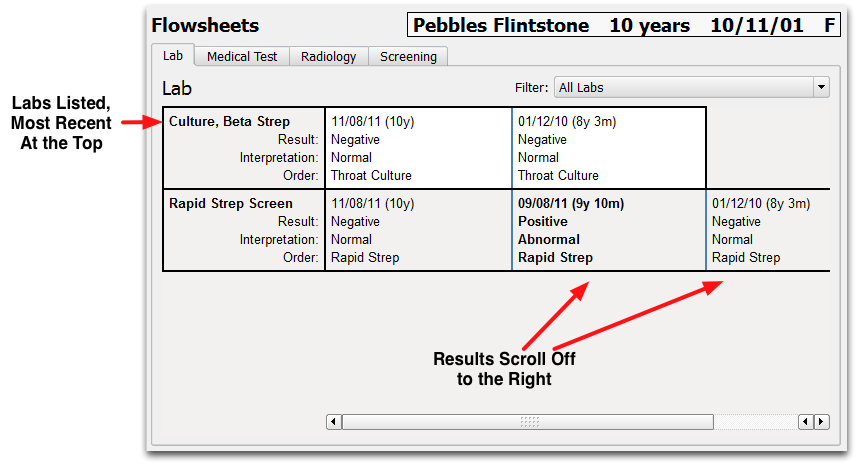 Click a tab at the top to choose the type of information you need. Then view each occurrence of related items for the patient. Scroll down to find the lab test or other order, and then scroll left-to-right to see the history.
All completed items in the patient's record appear chronologically by when they were ordered, and abnormal results appear in bold text.

Use the pull-down Filter menu to jump directly to the items you wish to review.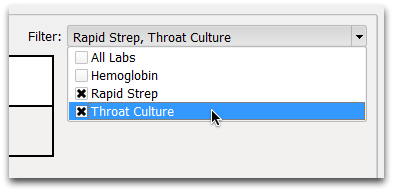 The new Flowsheets section of the patient's chart is ideal for examining a patient's history of lab results or other orders related to a specific problem. For more information, read the complete Flowsheets documentation.
Problem Note and Allergy Reaction
You can now add a free-text Problem Note for items on the patient's Problem List. You can also add a Reaction to items on the Allergy List.

Click "Edit" to enter or edit Problems or Allergies on the Medical Summary screen.
PCC EHR keeps track of your phrasing for allergy reactions, so your common reactions will be available via a pull-down menu as you type.
Onset Date for Problems and Allergies
You can now enter an onset date for both problems and allergies on the Medical Summary screen. PCC EHR 6.2 also adds a resolution date for the Allergies list, matching the Problem List.

Work On Chart Note Before Patient Arrives
You can now open a chart note and enter preliminary notes before the patient is officially "arrived" or has checked in.
Double-click on any visit in the schedule to jump directly to the chart note for that visit. You can enter and edit notes and close the chart without "arriving" the patient.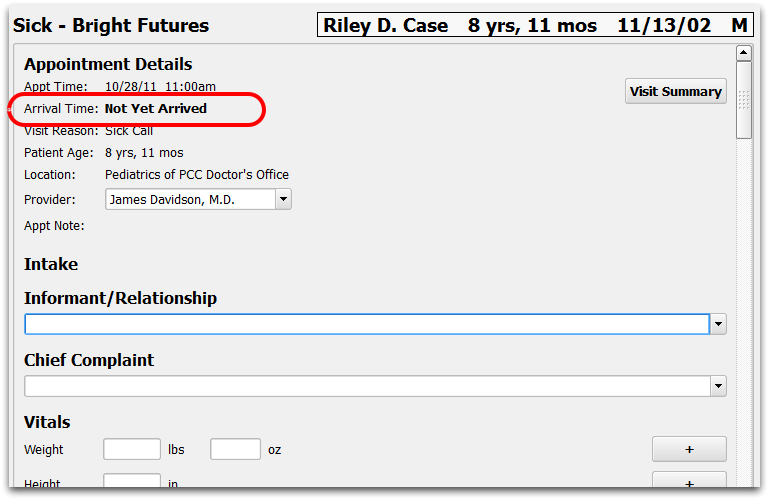 When the patient actually arrives, your office can check them in with the checkin program in Partner. Alternatively, you can click the red Arrive Patient button.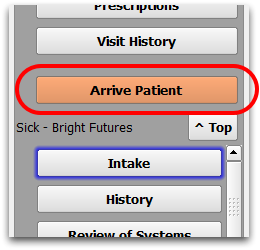 When you edit chart notes for future appointments, billing functionality and orders are disabled to prevent conflicts and confusion.
Age at Time of Service in Chart Notes and History
PCC EHR now displays the patient's age at the time of service for their appointment. You can see the age on the chart note, either while reviewing it in the Visit History or while editing the note.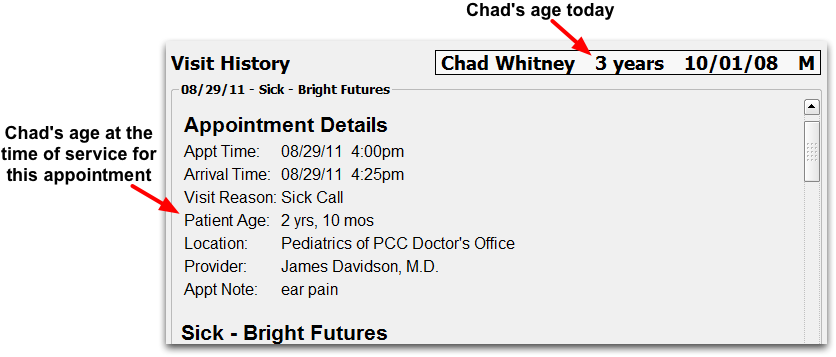 You can also see how old the patient was in the index of the Visit History.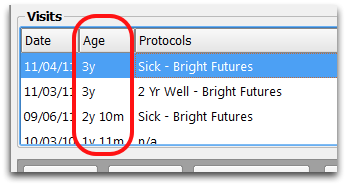 Age Column on Schedule Screen
The PCC EHR Schedule screen can now display the patient's age.

The patient's age can help a physician or nurse plan for the visit. You can turn the Age column on or off in the Practice Preferences.
Click "Last Answer" For Quick Charting
You can now click "Last Answer" to re-enter the patient's most recent response to a question or other chart item.


PCC EHR tracks the last saved answer for many chart components (Q&A, checkboxes, smoking status, etc.). With the "Last Answer" button, you can record the same answer in a new visit with one click. This will allow you to move quickly through a long series of common history questions.
If you click Last Answer after entering new notes, the last answer will be appended to the end of your new notes.
Practice Address, Last Physical, and Immunizations on the Health Information Summary
The Health Information Summary report now includes your practice's address, the date of the patient's last physical, and the patient's immunization record.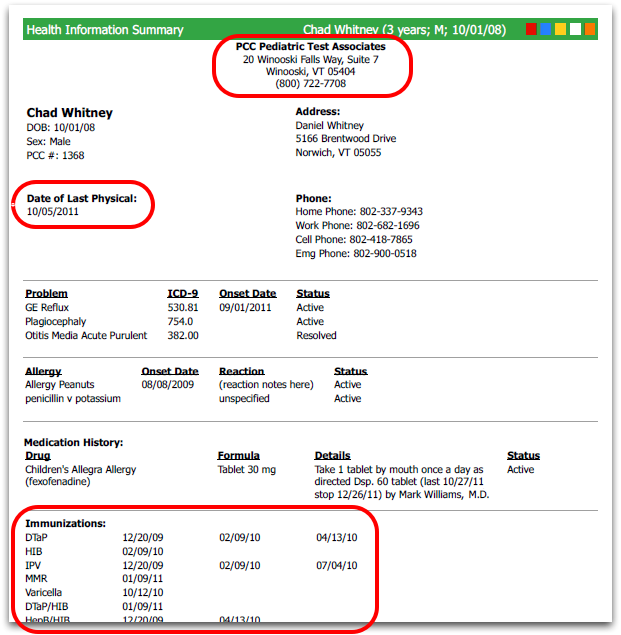 Use the Health Information Summary report to provide the patient or family with a record of the patient's important chart information.
Other Improvements in PCC EHR 6.2
In addition to the features described above, PCC EHR 6.2 includes these small additions:
Better Recovery After a Lost Connection: If DrFirst Rcopia drops your office's connection for a moment, PCC EHR is now better able to reestablish the connection.

Clearer Signing Label: The "Sign" button will be labeled "Co-Sign" only for those users who are co-signing charts, and not for those who require a co-signer.

Blank Out a Note Field to Clear It: For some charting note fields, the way to delete a note was to enter a blank space, which made it seem impossible to delete some notes. You can now delete or clear out a note field and save it as empty.

Faster Tag Assignment: Editing and saving a document's tags is now faster and more responsive.

Better Drop-Down List Response: Drop-down selections, such as the "Assigned To" filter on the Visit Tasks queue, now refresh the list as soon as an item is selected. This will improve the behavior of many pull-down lists in PCC EHR.

New Mexico Immunization Registry Interface: PCC EHR now supports submissions to the New Mexico state immunization registry.

Go Live Date Will Reduce Phone Note Signing Clutter: Your practice's Go-Live date now controls when phone notes appear on the Signing Task queue, just like Visits.

Prevent Sending Non-VXU Immunizations to Registries: When turned on, this new feature will filter out immunizations that do not have CVX values from your immunization registry submission. Some registries reject submissions if they contain any immunizations that do not have CVX information. Many medical practices use Partner's immunization tools for items that are not actually immunizations, now we can easily filter those items from the registry submission.
Minor Bugs Squashed in PCC EHR 6.2
Our clients helped us find and squash the following bugs this month:
If a user deleted all documents assigned to a specific category before reassigning them to a new category, the old category could not be deleted. You can now delete a document category either after all documents have been reassigned or if all of its associated documents have been deleted.
Under rare circumstances, the Import Documents window could close PCC EHR if you selected multiple associated orders on a day with multiple visits. This no longer occurs.
When switching to a different protocol, sometimes a lab might display on the Visit Tasks queue but not appear on the new protocol. This no longer occurs.
When importing documents, sometimes the wrong horizontal and vertical size were assigned, resulting in extra white space around the image or unusual crops. Now images always appear correctly.
The immunization VIS field information was carrying forward as a default in some circumstances where it should not. This no longer occurs.
After users made changes to a protocol, the changes would not show up for visit chart notes if the provider was mapped for that protocol beforehand. Because of this bug, provider mapping needed to be adjusted in order for protocol edits to take effect. Now, changes to a protocol will be immediately visible for the next visit a user checks in with that protocol.
A recent update caused the Import Documents screen to display a static document category list, which did not update when changes were made in the Document Category Editor. Document category changes are now once again reflected in the Import Documents pull-down list.
The rotation of some images in the TIFF format did not import correctly. They now import with the correct rotation.
Diagnoses that were checked and unchecked would still appear in the Patient Visit Summary report if a note was added. This no longer occurs; if a diagnosis is not checked, it will not appear on the report.
When there are multiple protocols open for a visit, the immunization component would sometimes appear on both protocols, creating confusion. Now the immunization component will only appear once.
Procedures that appeared for optional selecting on the Encounter Form did not appear on the Review screen, though they were still billed correctly. Now all procedures appear correctly on the Review screen.
Snap Labs sometimes appeared on the electronic encounter form, causing confusion. Snap Labs are only used for ordering labs on a chart note. They will no longer appear on the Electronic Encounter Form.
Contraindicated immunizations will no longer be automatically added to the encounter form.
In rare circumstances, after editing a Q and A component, the next time you used it you could select incorrect answers by hitting the down arrow. This problem has been fixed in the 6.2 update, and an additional update process has cleaned up any erroneous information that may be in patient histories.
When editing components in protocols, sometimes the protocol builder prevented changes. This no longer occurs.
If your immunization label had a space at the end or beginning, it would not appear on the Patient Visit Summary report. The report now ignores the spaces and displays the immunization.
Under rare circumstances, synching patient data between systems could cause an immunization record to appear twice. This no longer occurs.
Contextual menus for setting Auto-Notes are now disabled in the protocol preview. This change prevents a System Administrator from accidentally overwriting a clinician's custom Auto-Notes.