PCC EHR 6.2 Migration Considerations
PCC EHR 6.2 introduces new features in many different areas. Use the guide below to learn about the "migration considerations," or changes in PCC EHR 6.2 that need extra planning or training for your staff. Read the PCC EHR 6.2 Release Documentation for complete details on all feature updates.
Contact PCC Support at 1-800-722-1082 for information about these or any features in PCC EHR.
Train Office on New Medical Summary Screen
The new Medical Summary screen will be easier to read and navigate, and it allows more room for each subject. Because some basic functionality has changed, we recommend you encourage users to review key features after your update.
Size of Items Expands: Each section of the Medical Summary screen expands to fit the patient's content. If a section is small or has no visible lines, it is because the patient has no data. Instead of several small scrollbars, a scrollbar for the whole Medical Summary will appear as the patient's record grows more complex.

Click "Edit" to Edit: In order to fit more information on the screen, the new Medical Summary screen does not have all the tools for editing turned on by default. Click "Edit" to edit the Reminders, Problem List, and Allergies.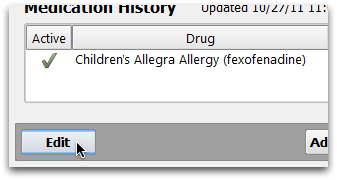 Right-Click to Delete (or Wipe Out the Text): After clicking edit, you can right-click on a problem or allergy to delete it. You can also just change the problem or allergy to a different diagnosis, or wipe out the text.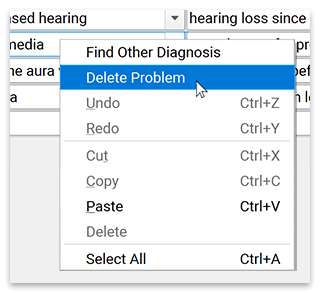 Coming Soon: PCC has a series of planned new features for the Problem List and other items in PCC EHR's Medical Summary. The changes in this release pave the way for improvements in 2012.
Flowsheet Configuration and Data Migration
The new Flowsheets section of the patient's chart is a powerful tool for reviewing patient diagnostic histories.
Orders and tests will only appear on each flowsheet if they are classified as Labs, Medical Tests, Radiology, and Screening. After your PCC EHR update, you may not see all the diagnostic items you expect, and they may appear on a different tab than you wish. You may also see two lines for a single lab, if you formerly used generic orders for items that are now recorded as discrete labs.
To make your flowsheets more useful, you should review and revise your chart note protocols and reclassify some of your orders. PCC Support can convert your historical items so they are classified the way you want. This might also be a good time to convert generic order labs into discrete lab tests, in order to take advantage of some flowsheet features.
For more details and a complete guide to Flowsheets, read the Diagnostic Flowsheets help article.
Using the New Medical Summary Fields: Notes, Reactions, Onset Date, and Resolution Date
The Problem List and Allergies section on the Medical Summary screen now include notes/reactions, and onset and resolution dates.
Your office should decide how you will use these fields and when you will enter them. The fields are not required, so you do not need to update all charts, but you may wish to for certain problems and allergies.
As clinicians enter reactions, PCC EHR will learn the common phrases and display them for quick entry later.
Report Change: PCC EHR reports, like the Health Information Summary report, previously displayed an "onset" date that indicated when the problems or allergies were added to PCC EHR. These reports will now display the onset date as entered on the Medical Summary screen.
New Workflow for Patient Checkin and Pre-Visit Work
In the past, your staff needed to first "arrive" patients, either by checking them in or clicking "Arrived", before they could work on the chart note. Now they can pop open a visit and work on the chart note before arrival or checkin.
This change should be seamless and easy to use, but you may wish to review the feature with your staff so they are not unnecessarily "arriving" patients who are not yet in the office.
Seeing the Future in Visit History: After entering notes and saving them, you will be able to see the chart note of the future visit in the Visit History section of the chart. It may be unusual for staff reviewing the Visit History to see "future" appointment notes.
Remove Old Methods of Tracking Age at Time of Service
Charts now track and display the patient's age at time of service. If your chart note protocols formerly included a blank text box in order to track that information, you can remove that field and train your staff where to find the information.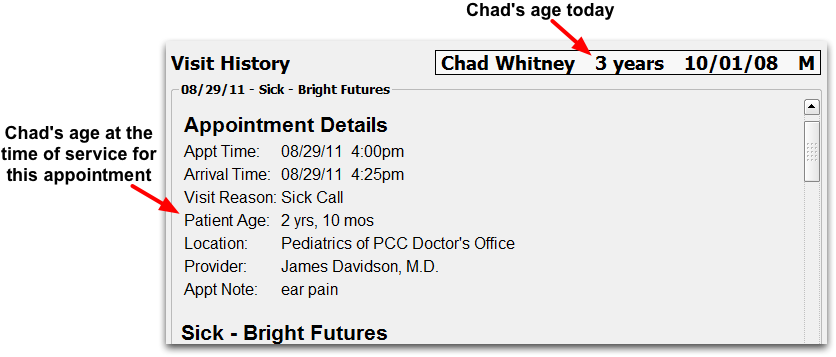 Work with PCC EHR if you need help editing your protocols.
Optional: Turn Off Age Column (Or Arrival Time)
The PCC EHR Schedule screen now displays the patient's age.

If you do not wish to display this information, you can remove it. You can also show or hide the patient arrival time column. Use the Practice Preferences tool under the Tools menu.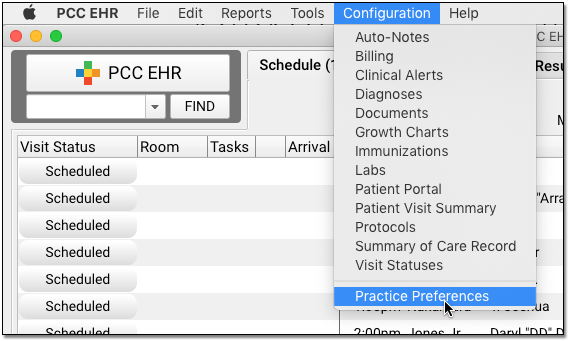 Review "Last Answer" Feature for Your Components
You can now click "Last Answer" to re-enter the patient's most recent response to a question or other chart item.

Tab Order: This new feature modifies the tab order for the components, so if you have a quick-fingered keyboard user, they will need to adjust their workflow slightly.
Last Answer Configuration: This new feature presents an ideal time to review your chart note protocols and turn the "Last Answer" feature on for any components for which they may be useful. You can turn on or off the Show Last Answer feature. Read about PCC EHR's Answer Memory to learn more.