In January of 2014, PCC will release PCC EHR 6.19. This update includes the official shift to SNOMED-CT for charted diagnoses, problem lists, and allergy descriptions. Other new features include the completion of our Meaningful Use development for e-labs and the completion of our system backup feature overhaul. Read below to learn more.
Watch a Video: Want to watch a video summary of everything in this release? CLICK HERE.
Implementation: The new features in PCC EHR 6.19 require configuration and user-specific software training. Read about the features below and then review PCC EHR 6.19 Migration Considerations.
Contact PCC Support at 1-800-722-1082 for information about these or any features in PCC EHR.
Diagnose with SNOMED-CT
PCC EHR's charting tools now use SNOMED-CT, the industry standard for recording diagnoses in a clinical setting. In the Diagnosis component in chart notes, and in a patient's Problem List and Allergies list, PCC EHR records and displays SNOMED-CT descriptions.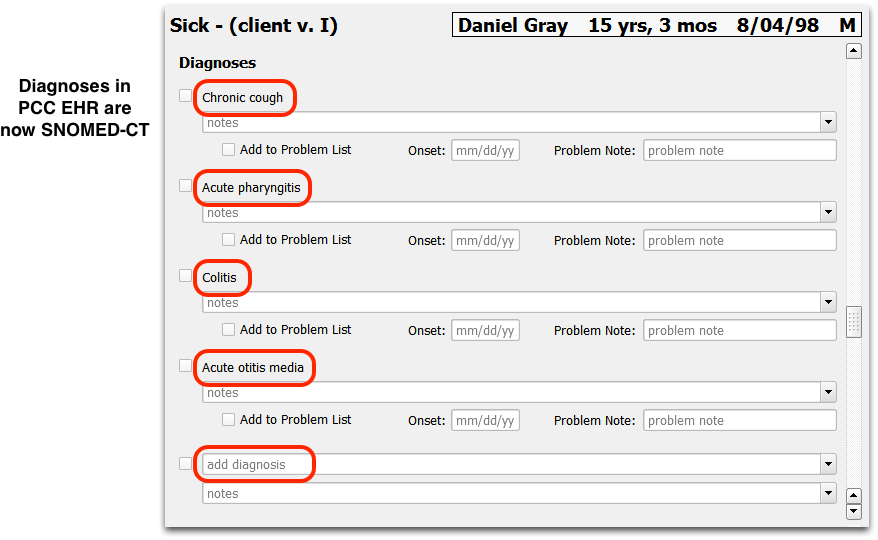 When you want to add a diagnosis, you can just start typing.

PCC EHR will display matching search results, and you can arrow down to quickly select the SNOMED-CT description you need. Optionally, you can use the mouse.
SNOMED-CT descriptions will appear everywhere diagnoses appear: on the Medical Summary, in Visit History, on the Diagnoses Flowsheet, and on PCC EHR output, like the Patient Visit Summary and in My Kid's Chart, PCC's patient portal.
Can't Find a Diagnosis Description?
As you type, diagnosis input fields search through your diagnosis favorites. PCC created a default Favorites list of about a thousand common pediatric diagnoses. (The allergy list contains about a hundred allergies.) If you want to search the entire list of 75,000+ SNOMED-CT descriptions, right-click on the field and select "Find Other…".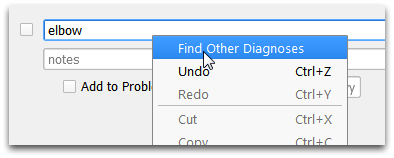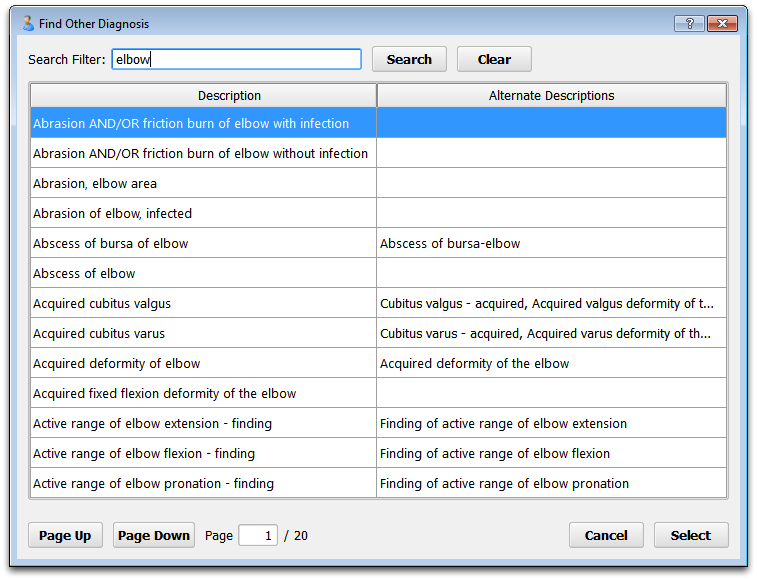 In the Find Other Diagnoses window, you can review matching results and add search terms to find exactly the diagnosis you need.

Once you have added a diagnosis or allergy to a patient's chart, PCC EHR will remember it and mark it as a favorite or allergy. It will be searchable without the added step from then on.
Old ICD-9 Descriptions
Previously charted ICD-9 diagnoses will remain in each patient's chart.

If you add a new diagnosis, however, SNOMED-CT descriptions will be used instead.
Patient reports and many other PCC EHR tools will make use of both historical ICD-9 and SNOMED-CT diagnoses.
The Clinical Quality Measures reports, used for assessing Meaningful Use compliance and PCMH, will use both historical ICD-9 and SNOMED-CT data to calculate your scores.
Clinical Alerts and Patient Lists that use diagnoses as a criteria can look for ICD-9 and SNOMED-CT.
Continuity of Care Documents, used to communicate medical information between vendors, will include both ICD-9 and SNOMED-CT records.
PCC's built-in patient education materials, offered through Medline Plus, include pull-down menus that show both historical ICD-9 and SNOMED-CT descriptions.
After your 6.19 update, your office should review the configuration issues on the accompanying PCC EHR 6.19 Migration Considerations document.
Bill with SNOMED-CT Codes in PCC EHR and Partner
When you select a SNOMED-CT diagnosis while charting a visit, PCC EHR will add that diagnosis to the electronic encounter form, and automatically select an appropriate ICD-9 code for billing in Partner.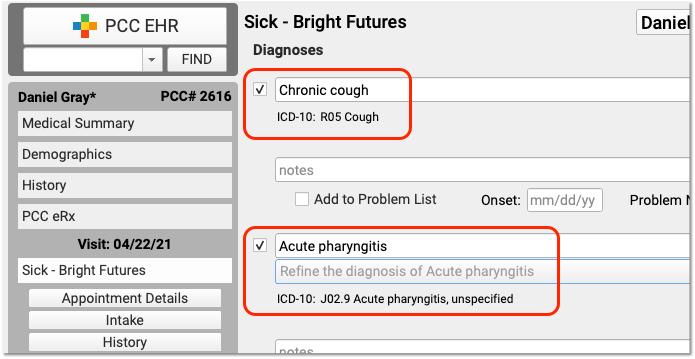 After October 2015, PCC EHR will select an ICD-10 code for you instead.
You can use the Diagnosis Configuration tool to edit which ICD-9 code will be billed for each SNOMED-CT description.
Unusual Descriptions w/ No Mapping
If a clinician selects an unusual SNOMED-CT description, with no mapped code, your practice will have opportunities during the workflow to select an appropriate billing code. First, you could select it on the electronic encounter form.


Or, if the physician chooses to leave billing code selection to the checkout staff or a biller, they can send the SNOMED-CT code through to Partner. The person posting charges in checkout can select the billing code.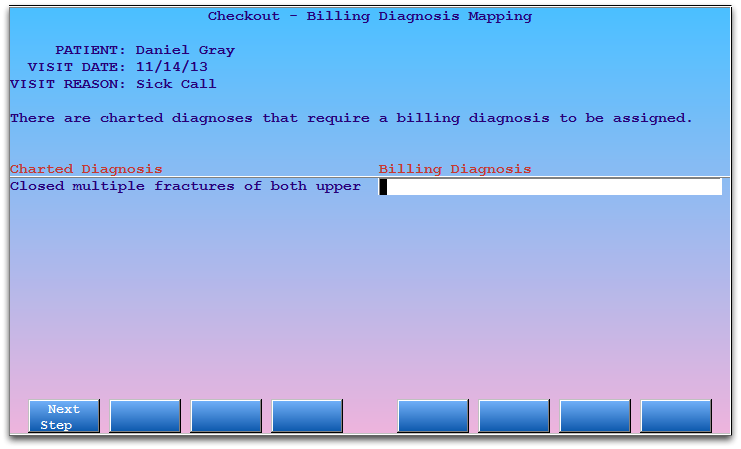 After charges are posted, the Daily Check (dailycheck) program, as always, will display what PCC EHR sent to Partner as well as what was posted.

So, if you do send a SNOMED-CT code through to your billers, your office can review what was sent and what was billed at the end of the day.
Later, you can use the Diagnosis Configuration tool to map the uncommon SNOMED-CT code to an ICD-9 code (or ICD-10 after October 1st, 2014) so that PCC EHR can select it automatically next time.
E-labs: More Support for HL7, ARRA 2, and Other Requirements
PCC continues to expand and improve support for e-lab data sent by hospitals and other vendors. These improvements mean that your office can exchange lab results and lab data with more vendors, and your lab result data formats meet standards required for Meaningful Use Stage 2 Attestation (ARRA).
Here are a few of the improvements in PCC EHR 6.19:
Expanded E-Lab Gender Support: For e-labs using HL7 structured data, PCC EHR now has expanded support for the sex field, including Female, Male, Ambiguous, Not Applicable, Other, and Unknown.

Multiple Race Support: PCC EHR can now receive e-labs containing multiple race information.

Vendor & LOINC Test Descriptions: If lab vendors send e-lab test results with their own custom descriptions instead of LOINC, PCC EHR can now receive and display both the custom descriptions and the official LOINC description.

SNOMED-CT Vocabulary Support: When lab vendors send SNOMED-CT results, PCC EHR can receive and display them.

HL7 Units: PCC EHR supports HL7-compliant standards-based units of measure as well as local units of measure.

LabCorp Interpretation Support: LabCorp does not use the standardized list of interpretation codes. PCC EHR can now receive and interpret LabCorp's list of codes, and will display both versions of the interpretation code.

Date/Time of Observation: In accordance with HL7 standards, the Date Performed column is now named "Date/Time of Observation", and time now includes seconds. (This date and time usually matches the Specimen Collected date and time.)

Country/County/Parish: When vendors supply country, county, and/or parish information, PCC EHR will record and display that information.

Performed Site Phone Number: When PCC EHR receives a site phone number from LabCorp or other vendor, it records and displays that information with the e-lab result.
If your practice does not yet receive lab results electronically, contact PCC to get started.
Backups Overhaul Complete
In 2013, PCC reviewed and updated our PCC server backup solutions. The 6.19 release marks the completion of our quest to improve backups for your PCC data and prevent data loss.
Every office is different, and PCC works to find the best backup solution depending on your location, office configuration, and other factors.
Here is a summary of PCC's different backup solutions:
Backup Tapes: Your practice's data can be backed up to an encrypted backup tape, and you can store a backup tape offsite for added data security in the event of a natural disaster. Backup tapes require manual swapping by your staff. They provide fast restoration of all practice information.

Remote Cloud Backup: PCC can use a secure, encrypted internet connection to backup your data on a remote server. This solution requires very little maintenance and ensures that data is safely offsite.

Network Accessible Storage: PCC can install a networked hard drive in a practice's office that automatically backs up all data. The NAS drive is a fast, local backup that makes data recovery easy.

RAID Array: Your PCC server includes a RAID array, one or more extra hard drives that automatically duplicate all information on your PCC server. RAID is not a backup solution and can not be used to recover deleted files. Your RAID array prevents data loss in the event of a hard drive failure. One faulty drive can be swapped out for a working drive without any interruption of service.
Contact PCC Support at 1-800-722-1082 or support@pcc.com to discuss backup solutions for your practice. We periodically review the technical needs of your practice to ensure your data is safe and secure from theft, natural disaster, and hardware failure.
Stage 2 ARRA Report for Medicaid Visit Percentage
The Partner arra report can now be run for either Stage 1 or Stage 2 Meaningful Use guidelines.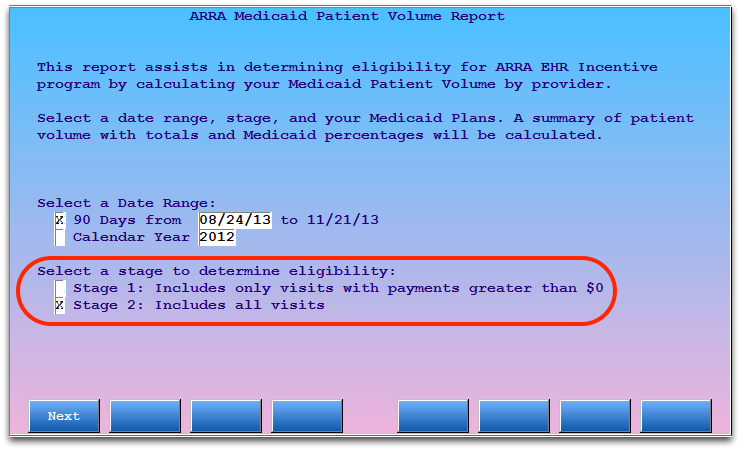 Under Stage 2 guidelines, all visits by Medicaid-eligible patients can count towards your Medicaid visit total, even if another insurance payor paid the claim. Visit the CMS.gov site to learn more.
Run the new Partner arra report to review your Medicaid visit percentage if you are applying for the ARRA incentive. For more information, read the ARRA Report article.
Other Feature Improvements and Bugs Squashed in PCC EHR 6.19
In addition to the features described above, PCC EHR 6.19 includes these feature improvements and bugs squashed:
More LOINC Codes, Newer Descriptions: In the PCC EHR 6.19 release, we updated the LOINC code database on your system to the newest standards with new descriptions and new codes. PCC EHR will remember any retired LOINC codes for old orders, and use new LOINC codes for new orders. If your practice used a LOINC value in lab configuration or clinical alerts that has now expired, PCC will contact you to update it to a new code.

End of Prior Text: After selecting "Last Answer", the input cursor will now be inserted at the end of the prior answer, making it easier to add additional information.

SHA-2 Encryption: PCC EHR CCD file communication now utilizes SHA-2 encryption for stronger data security and ARRA Stage 2 Attestation.

Other Race: "Some Other Race" is no longer an option in patient demographics as it was removed from the ARRA Stage 1 status list and the 2010 census requirements. Any prior selection of Some Other Race will be mapped to "Prefers Not to Answer" or changed to blank, according to your practice's preference.

Vitals Dates on Flowsheet: If you update or alter a visit's vitals records at a later date, the Vitals flowsheet will now display the vitals based on the date of encounter, not the date of editing.

Prescriptions on a Macintosh: The PCC EHR 6.19 release includes an Rcopia patch that improves PCC eRx stability for Macintosh users.

Always Link Subsequent and Parent-Child E-Lab Results: In some situations, subsequent versioned e-lab results, or multiple level parent-child results, were not always automatically linking to the original orders. Now they do.

Check and then Uncheck Interfered with Linking Screen: If a user checked and unchecked items on the Electronic Encounter Form in a specific order, it was possible for the items to display incorrectly on the Linking screen. Now the linking screen displays the changes.

Improved E-lab Error Reporting: If an e-lab file can not be read by PCC EHR, PCC EHR will automatically send an e-mail to PCC Support. In this release we made that reporting more robust, so it is triggered by program failure (as well as bad vendor files, broken connections, or vendor formatting problems).

Canceled Confidential Orders: When you print a chart note from the Visit History, any orders that are marked as confidential (when Display on Patient Reports is not selected) will produce a warning message. Previous to 6.19, that message appeared even for canceled confidential orders, which do not appear on printed output. It no longer will.

Long Signing Notes: In some circumstances, a long signing note could extend off the screen. Now long notes wrap to fit the screen.

Clinical Alerts Text Formatting: In a previous PCC EHR update, carriage returns were blocked from your Clinical Alerts, which could change multiple lines of text into paragraphs. The text format can now include carriage returns.