PCC EHR 6.19 Migration Considerations
The January 2014 release of PCC EHR includes the completion of our switch to SNOMED-CT for diagnoses in the patient chart. This is the first part of the 2014 retirement of ICD-9, and there are some "migration considerations", or changes that may need extra planning, training, or configuration. Read below to learn more, and share relevant details with your physicians and staff.
Read the PCC EHR 6.19 Release Documentation for complete details on all feature updates.
Watch a Video: Want to watch a video summary of everything in this release? CLICK HERE.
Contact PCC Support at 1-800-722-1082 for information about these or any features in PCC EHR.
Configure Your Diagnosis Favorites
You can make using SNOMED-CT easier for your practice by reviewing and updating your practice's Favorites and Allergies. Use the Diagnosis Configuration tool, found in the Tools menu.

While reviewing and updating your favorites and allergies, you can also select a different common description for some diagnoses. The SNOMED-CT standard includes some alternate descriptions.
For more information, read the Diagnosis Configuration Tool help article.
Configure Billing Mapping

You can also use the Diagnosis Configuration tool to edit which ICD-9 code will be billed for each SNOMED-CT description.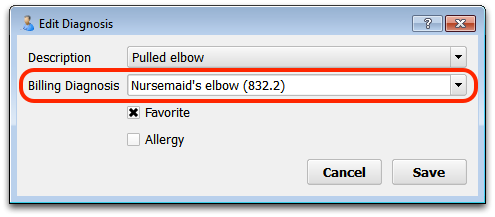 As you browse the Diagnosis Configuration tool, you can click on the "Favorites" button to reduce the list to the most common pediatric diagnoses.
Review and Update Your Clinical Alerts and Patient Lists
Your practice's Clinical Alerts and Patient Lists that are based on diagnoses will refer to both ICD-9 and SNOMED-CT records.

During your 6.19 update, PCC will add matching SNOMED-CT diagnoses to any existing diagnoses-based alerts or lists. It will use your practice's favorites as a guide, but it may miss possible SNOMED-CT diagnoses, especially if you use many unusual diagnoses and have not yet updated your favorites list in the Diagnosis Configuration tool.
After your update, you should review your Clinical Alerts and Patient Lists and update any diagnoses-based criteria.
Review the Diagnosis Component in Your Chart Notes
If your chart note protocols include handy default diagnoses in the Diagnosis component, the PCC EHR 6.19 update will automatically change them from ICD-9 descriptions to comparable SNOMED-CT descriptions.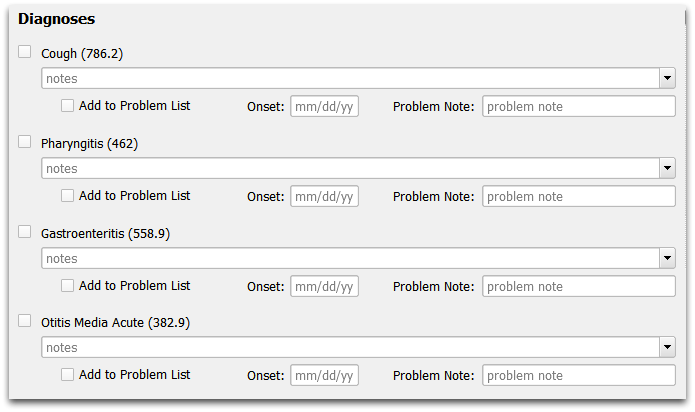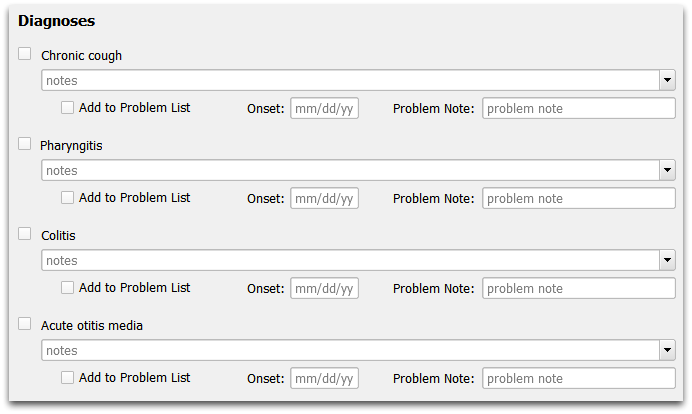 After your update, you should review your chart note protocols and confirm that the new diagnosis descriptions work for your practice.
You can add or edit the default diagnoses in each protocol with the Protocol Configuration tool, found in the Tools menu.
Your Custom Diagnoses: If your practice used non-standard diagnoses that did not comply with ICD-9, there will be no matching SNOMED-CT equivalent. The SNOMED-CT standard supports a list of published alternative descriptions which you can select in the Diagnosis Configuration tool, but you can not create your own diagnosis name.
DrFirst and SNOMED-CT Codes
PCC eRx, PCC EHR's interface with the DrFirst prescriptions tool, supports SNOMED-CT diagnoses for the Problem List. While viewing a patient's prescription screen, both SNOMED-CT and ICD-9 diagnoses can appear.

DrFirst's full SNOMED-CT implementation is planned for first quarter 2014.
Until the first quarter update, DrFirst cannot check prescriptions against SNOMED-CT diagnoses. For example, if a patient has a SNOMED-CT problem list item, DrFirst Rcopia cannot review drug related conflicts with that diagnosis. Instead, you will see an onscreen message informing you that the SNOMED-CT diagnosis was not reviewed.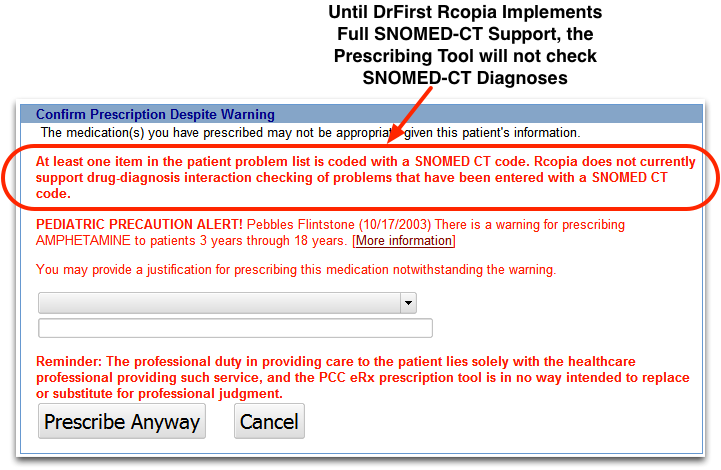 If your office relies on DrFirst's analysis for catching prescription problems, you should inform all physicians and provider agents of this limitation. As a temporary solution, you can add an appropriate ICD-9 diagnosis to the patient's problem list inside the DrFirst interface.