In October of 2013, PCC will release PCC EHR 6.18. This update includes bold new features, such as the ability to receive faxes in EHR, support for intra-office instant messaging, and the first part of our SNOMED-CT adaptation in PCC EHR. Read below to learn more.
Watch a Video: Want to watch a video summary of everything in this release? CLICK HERE.
Contact PCC Support at 1-800-722-1082 for information about these or any features in PCC EHR.
PCC EHR Accepts Faxes
You can now receive faxes directly in PCC EHR. PCC integrates with Sfax, a third-party online service that securely receives and relays faxes from any sender.
When a hospital or vendor sends you a fax, it will appear in your Import Documents folder, where you can attach it to a patient's chart, and optionally attach it directly to a visit chart note or a specific order.
The Sfax service can port an existing local phone number for this purpose, or provide a new toll-free fax number when you sign up.
Contact PCC Sales at 1-800-722-7708 to learn more about receiving faxes in PCC EHR.
Secure Instant Messaging In Your Office
Your practice can use an instant messaging client to communicate among clinicians and staff, using a private office-only chat service.
Instant messaging, like texting, is a popular way to fire off a quick question or send a message to a co-worker. PCC can set up a private, secure instant messaging service that will be internal to your practice only.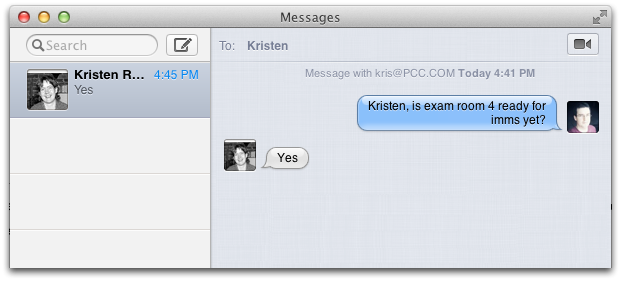 After setup and configuration, you can provide your staff with login information. Every PC, Macintosh, or Linux workstation on your network can use the instant messaging service.
PHI Sent Via Instant Messaging?: Unlike mainstream instant messaging applications, such as Google Chat or AIM, PCC's private network instant messaging is maintained behind PCC's firewall, which means you can send PHI securely. If your office allows external instant messaging using AOL IM or another service, your office's policy should reflect what usage is appropriate.
Availability and Activation: PCC's instant messaging service is available for all practices using Partner and/or PCC EHR, on computers running inside your PCC-maintained network. PCC Support must activate and configure PCC IM for your practice. Contact PCC Support (800-722-1082) and ask for the Technical Support Team.
For complete instructions, read the PCC IM help article.
Configure SNOMED-CT for Diagnoses, Problem Lists, and Billing
SNOMED-CT diagnoses will soon provide physicians with a powerful new language for recording patient diagnoses, allergies, and other problems. ICD-9 will soon be retired, and PCC is building tools to phase ICD-9 out of both charting and billing. For charting, SNOMED-CT diagnoses will allow physicians to create detailed, refined descriptions of a patient's condition. Patient charts will more precisely reflect your observations, and charts will be Meaningful Use Stage 2 (and ARRA) ready.
In PCC EHR 6.18, a new configuration tool will help you get started with the SNOMED-CT transition.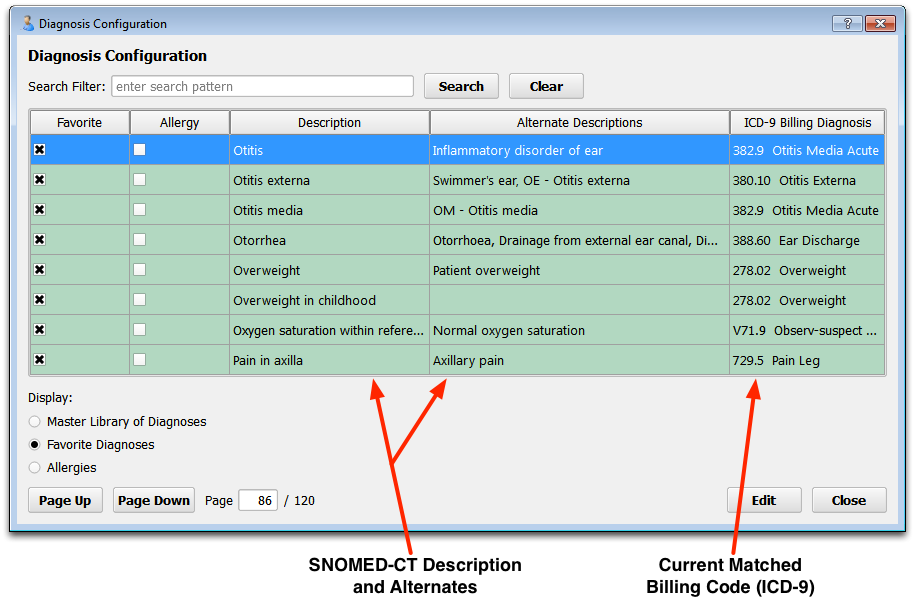 In the Diagnosis Configuration tool, you can review and configure how SNOMED-CT descriptions will match up with other common descriptions and ICD-9 codes for interim billing. You can search for a diagnosis using the Search field, and use the Page Up and Page Down buttons to look through the results.
The first two columns let you designate a diagnosis as a favorite or an allergy. That designation will be used in upcoming PCC EHR features, and PCC has started the process by automatically populating the favorites and allergies lists based on common pediatric needs. You can make changes and add or remove favorites and allergies to meet your practice's needs. Note that the Display buttons at the bottom allow you to quickly review just your favorites, all allergies, or the Master Library of diagnoses.
Double-click on a diagnosis description to change other settings.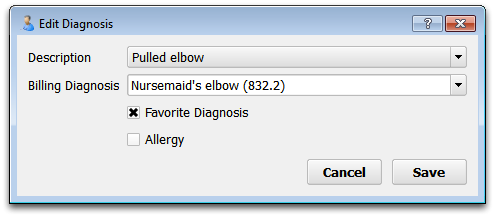 Associate a SNOMED-CT Description with an ICD-9 Billing Code: Until the CMS ICD-10 deadline, the billing world will continue to work on ICD-9. As PCC EHR begins to adopt SNOMED-CT into medical charting, we must still associate an ICD-9 code in order to bill insurance companies. PCC has started that work for you, consulting with physicians and coding experts to match up SNOMED diagnoses with ICD-9 billing codes for common pediatric diagnoses. You can make adjustments here as needed.
Preferred Description: Does your practice typically use a common alternate description for a diagnosis? You can use the pull-down menu to pick your term of choice. These alternative terms are also part of the SNOMED-CT library.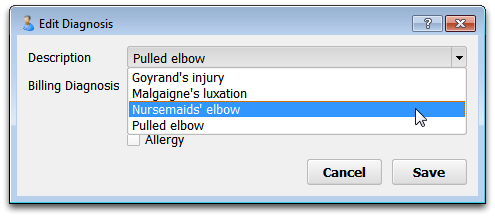 In upcoming PCC EHR releases, charting tools and the patient's Problem List will utilize SNOMED-CT terminology, so your practice should take a look at the Diagnosis Configuration tool now. Contact PCC with any questions or to learn more about SNOMED-CT.
Secure Messaging w/ Patients and Families
Your patient families can now use My Kid's Chart to communicate directly with your practice. Your clinical staff can receive messages on the Messaging queue, send replies, and create follow-up tasks.
When a patient, parent, or other caregiver has a question, they can use the new Messages section in My Kid's Chart to send you a note.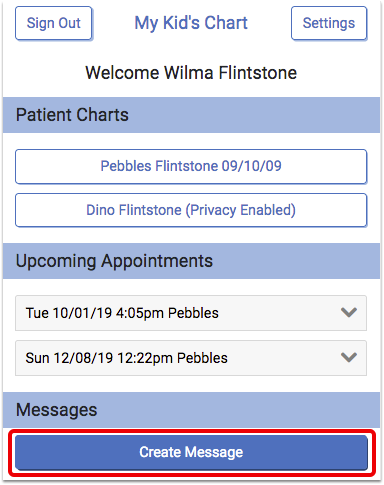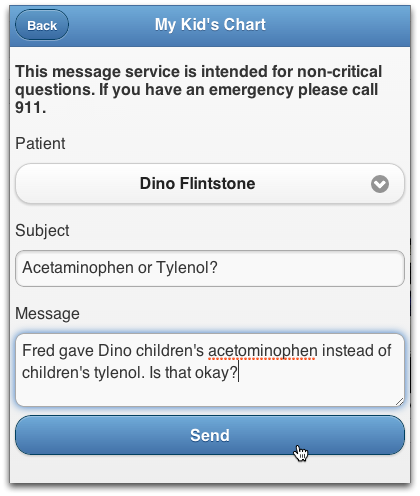 Mom or dad can type a subject and message, and then click Send to deliver the message to PCC EHR.
After the My Kid's Chart user creates the message, it appears on the Messaging queue in PCC EHR.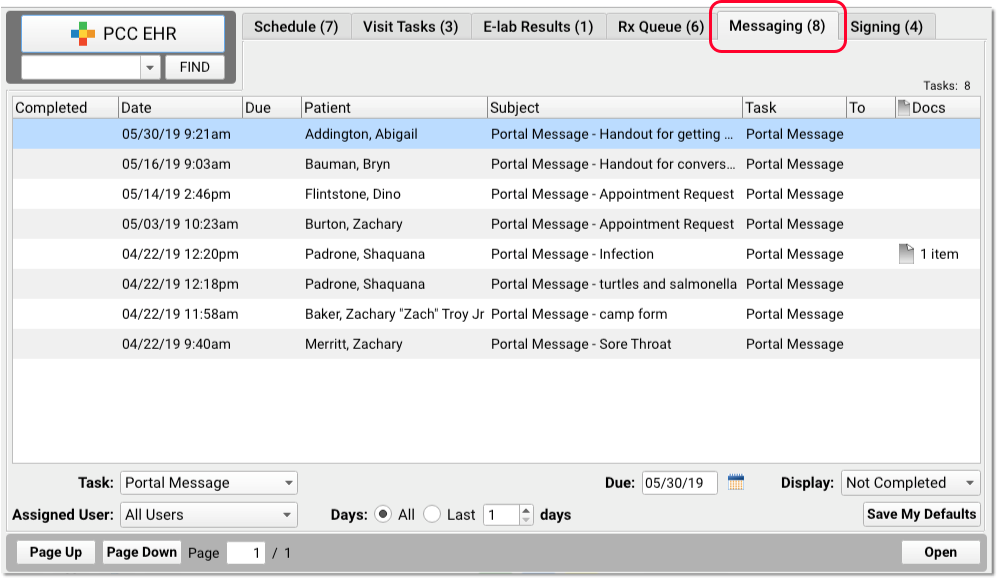 The Messaging queue, formerly called the Phone Tasks queue, displays incoming messages from My Kid's Chart or Pocket Partner, or any Phone Note tasks at your practice. As with other queues in PCC EHR, you can use the filter tools to display exactly those messages that pertain to you.
Double-click on a message to open it.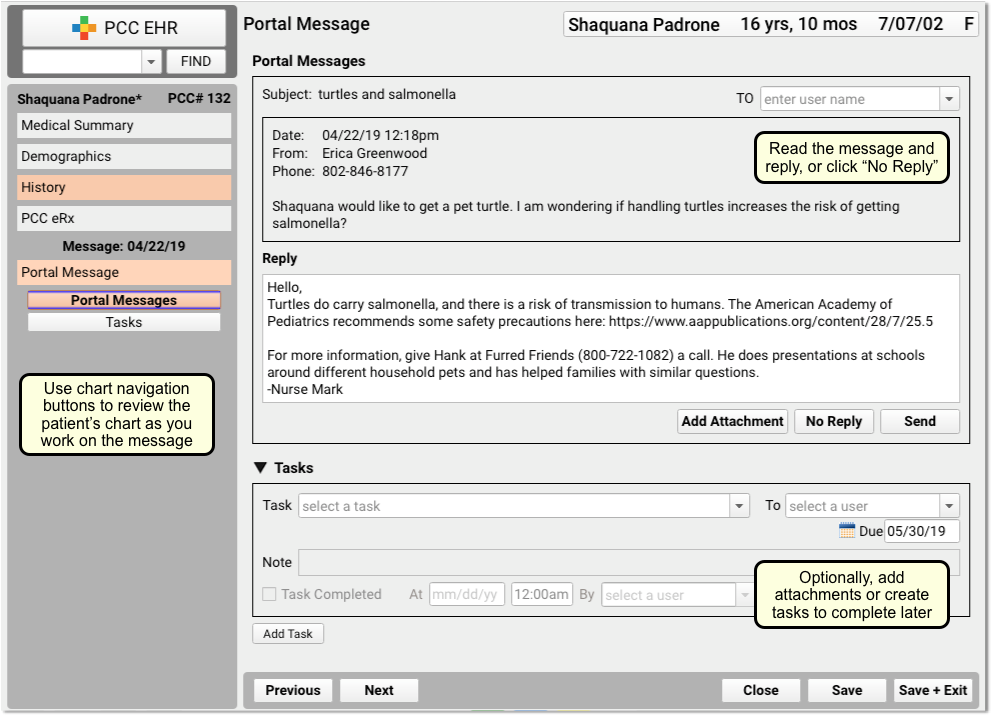 Your practice's staff can review and respond to portal messages much as they would respond to a Phone Note task. Inside the portal message protocol, they can type a response and send it to the family member.
Reply Options: You can begin typing a reply, review the chart, and even leave the chart and return. PCC EHR will prompt you and then save the draft of your reply message. Optionally, you can instead click "No Reply", and call the sender on the phone or take a different action.
If you send a written reply, the My Kid's Chart user will get an e-mail telling them that a message awaits. They can log in to My Kid's Chart to read your reply message.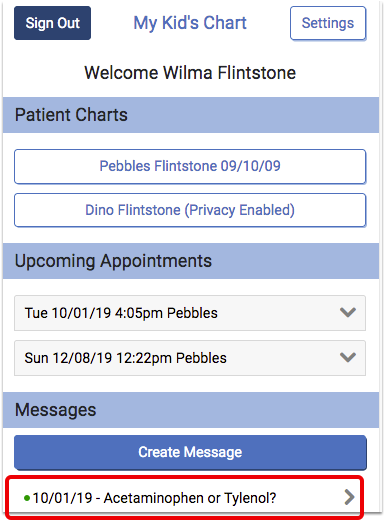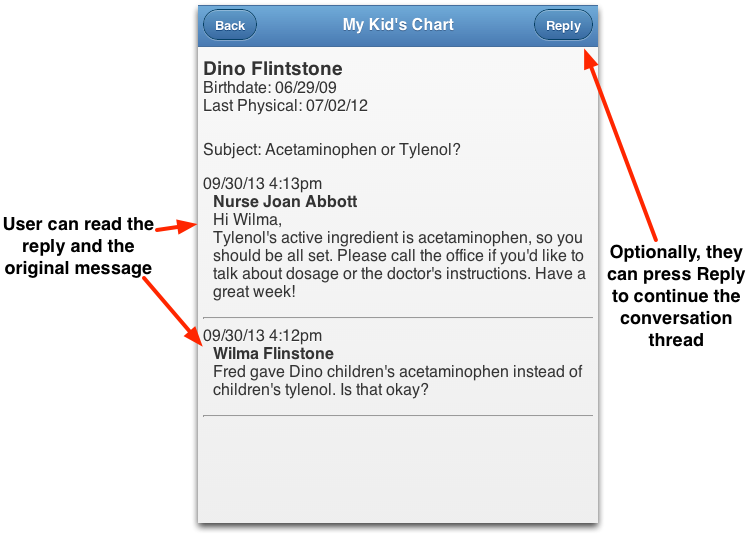 If they reply again, to continue the conversation, the portal message will reappear on the Messaging queue in PCC EHR.
Portal messages from My Kid's Chart are stored in the patient's chart, just like a chart note or phone note. You can review them in the Visit History.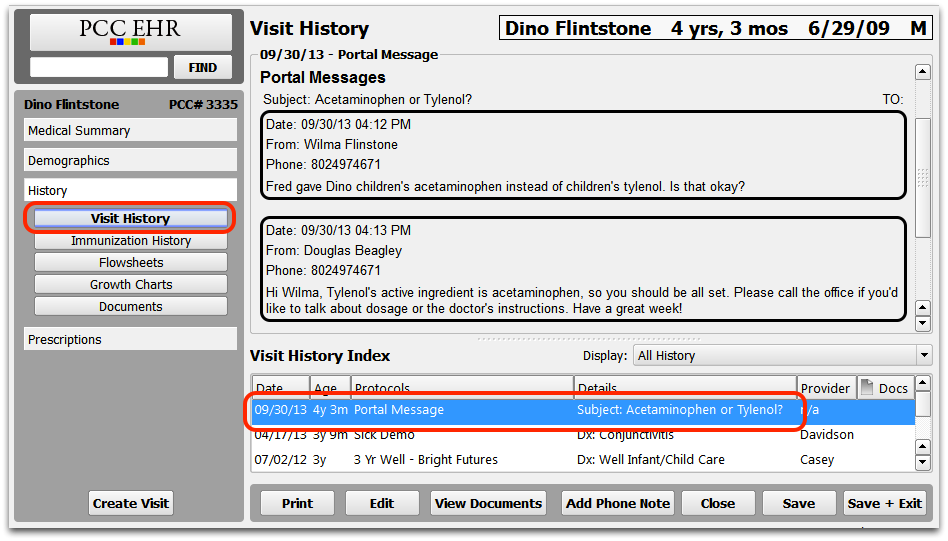 You can use the display filter pull-down to quickly locate portal messages in the Visit History.
Initiate a Message to the Parent or Guardian?: Your office can create a new portal message and send it to any My Kid's Chart user who has access to the patient's records. Just select "New Portal Message" from the Edit menu. The new message will appear in My Kid's Chart, and the user will receive an e-mail telling them a message is waiting.
Attach a Document: You can attach a document to any chart note or phone note, making it easy to find associated materials later. You can also attach documents to portal messages, for your records. Attaching a document to a portal message does not send the document to users. The document is simply stored in the chart and associated with the portal message conversation for your office's needs.
For Migration and Implementation
Customizable Header: You can customize the default header warning message that the users of My Kid's Chart see when they create a message. By default, My Kid's Chart displays a standard disclaimer about emergency needs. Contact PCC Support if you wish to adjust this text to display a different message.
Configurable Protocol: Just like a chart note or phone note, you can customize your Portal Message protocol. Would it be handy to show a patient's upcoming appointments while answering their message? Just add that component to the Portal Message component in the Protocol Configuration tool.
User Roles and User Permissions
In PCC EHR 6.18, you can define user roles (physician, nurse, staff, etc.) and use those roles to set up permissions and create clinical alerts.
Review and Configure Your Office's User Roles
During your PCC EHR update, PCC will automatically create some default roles based on your existing user permissions. You can review those roles in the User Administration Tool.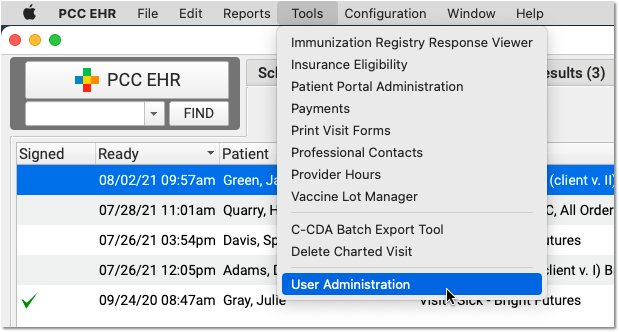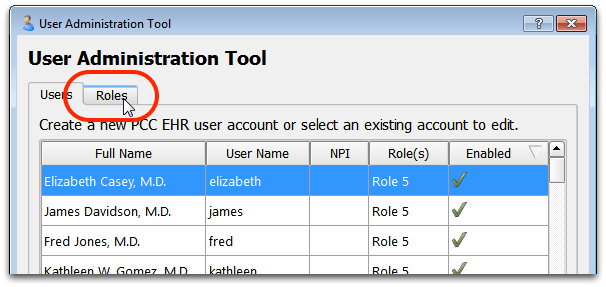 Click the Roles tab to see a list of the user roles at your practice.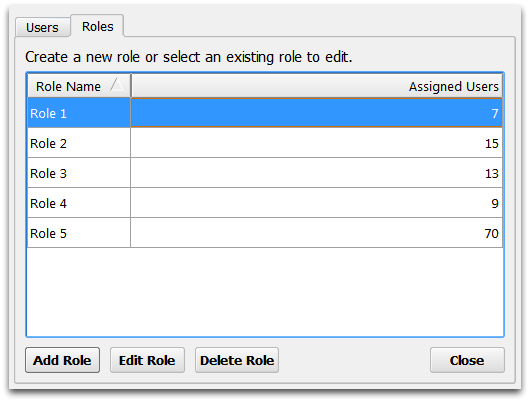 You can see the description of each role and the number of users assigned that role. After your 6.18 update, you will see roles labeled "Role 1", "Role 2", and so forth.
Double-click on a role to review what permissions it includes and change the name.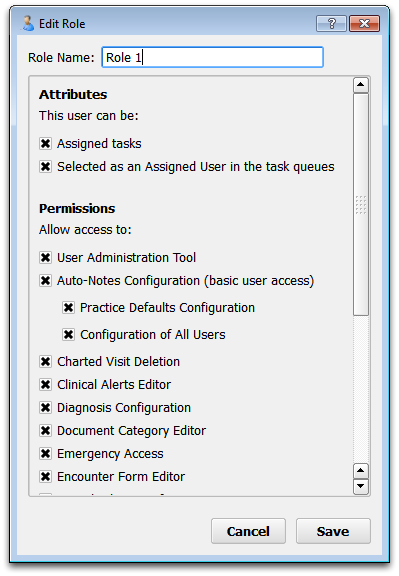 Review the set of permissions granted with the role, and give it an appropriate title.
You can evaluate and design user roles that work with your practice's needs. Keep in mind that users can have more than one role, so you can design around access needs as well as job title. You might have a Office Administration role with permissions for all functions, and a Physician role that grants access to just those features a physician would need, for example.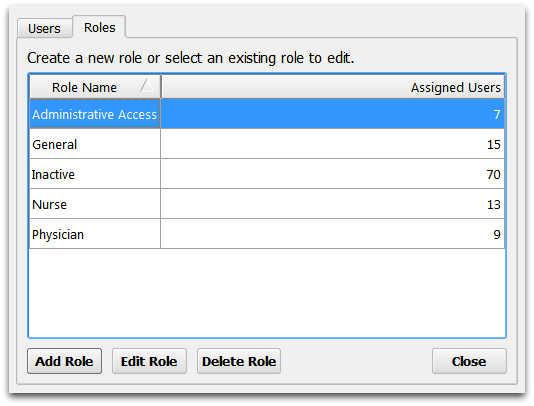 Delete Unneeded Roles: After updating and consolidating the different permissions in each role, you may find you no longer need a role. You can delete any role that has no assigned users.
Review Who Has Each User Role
You can see which users have each Role on the Users tab of the User Administration tool.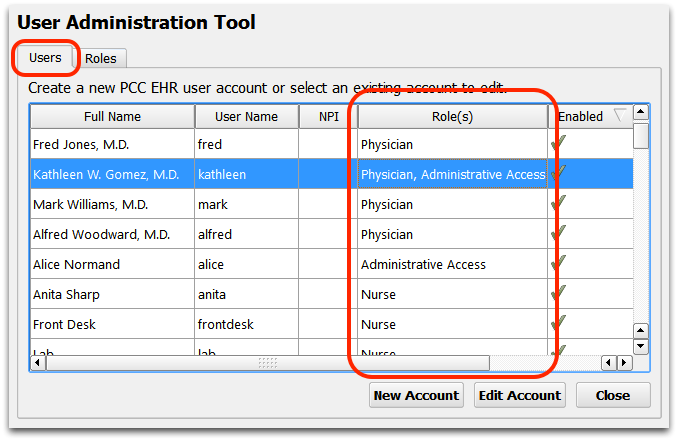 Users can have more than one role. They will have all permissions and attributes designated by each roles.
Disabled Users: Even disabled users, such as those who have left your practice, may have roles assigned. If you wish to delete an unneeded role, open those old user accounts and remove the role.
Assign or Remove User Roles for PCC EHR User Accounts
When you want to assign or remove a role from a user, open the User Administration tool and double-click on the user.


Next, click on the Settings tab and select one or more user roles.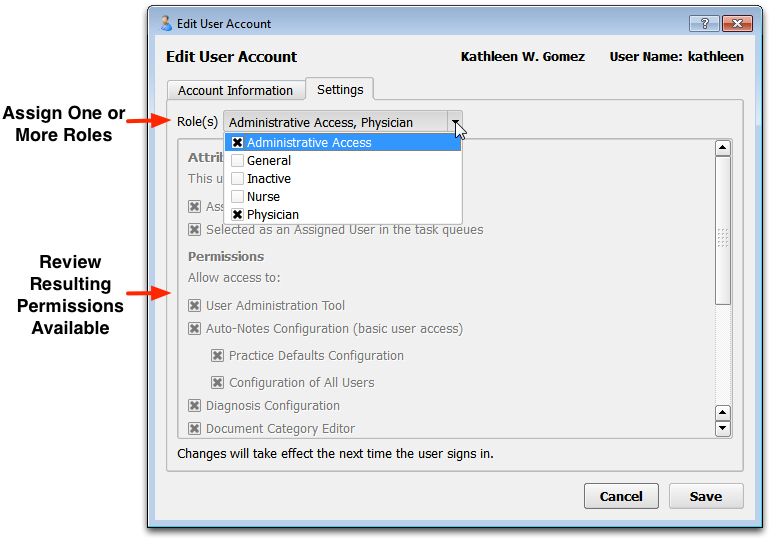 The gray window below the pull-down menu will display the permissions the user will have based on the roles that you select.
User roles make it easy to assign a set of permissions to a new user, or redefine the role of each staff member at your practice. Additionally, user roles make other features in PCC EHR more powerful.
Create Clinical Alerts Based on User Roles
When you open a chart in PCC EHR, do you want to see alerts about certain diagnoses? Or a reminder about key medications they take? When a different staff member opens a chart, should they see the same alerts?
In PCC EHR 6.18, you can create Clinical Alerts based on user roles at your practice, along with other criteria. Once you have defined your practice's user roles (see above), you can edit or create a new clinical alert to appear only for users with specified roles.
First, open the Clinical Alerts Editor, and select an alert to edit (or create a new alert).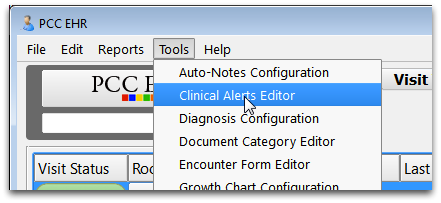 While editing the alert, you can now add a criteria indicating for which types of users the alert should appear.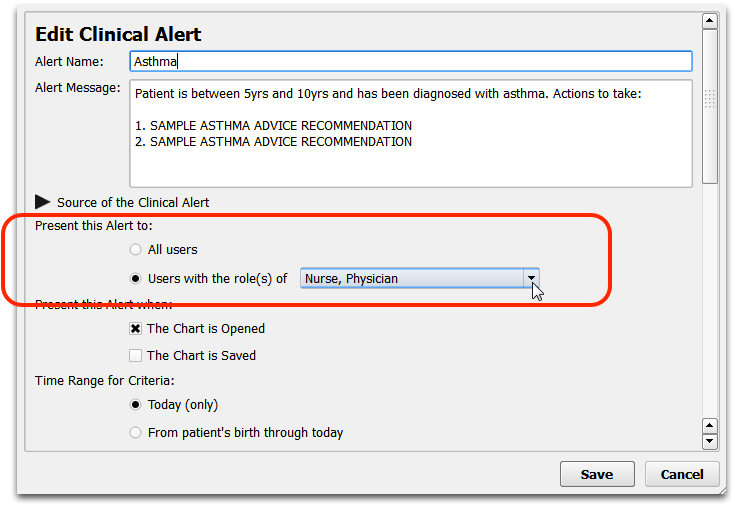 Powerful Clinical Alerts: You can create clinical alerts based on a wide range of patient information. Read the Clinical Alerts article to learn more.
E-labs: More Support for HL7, ARRA 2, and Other Requirements
PCC continues to expand and improve support for e-lab data sent by hospitals and other vendors. These improvements mean that your office can exchange lab results and lab data with more vendors down the road, and your lab result data formats meet standards required for Meaningful Use Stage 2 Attestation (ARRA).
Here are a few of the improvements in PCC EHR 6.18:
Name Support: When vendors send prefix, suffix, secondary or other names in e-lab results, PCC EHR will collect and display that information in accordance with HL7 standards.

Improved Date & Time: PCC EHR now receives date and time from any time zone and converts to local time. In addition, we now support all standards set out in HL7 guidelines, and display the last modified date, time, and seconds wherever appropriate. You will also see time information for Specimen Collection.

Clinically Relevant Date: PCC EHR 6.18 also improves the priority for determining what date in an e-lab appears on reports. To determine the clinically relevant date, PCC EHR now first uses the specimen collection date, then the order date, then the date and time that the order was issued. The clinically relevant date is used in the Health Information Summary report, in the Visit History Index, and on the Lab Flowsheet. To find out how a date was determined, hover your mouse over the date.

Identifying Versioned and Parent/Child Order Results: PCC EHR now uses several different HL7 OBR fields, along with specimen collection information, to verify versioned, parent/child, reflex, and panel order results in accordance with HL7 standards.

Lab Vendor Identification: PCC EHR now reads, stores and displays the vendor's Performing Organization and Medical Director information according to HL7 specifications.

Other Improvements: In addition, PCC EHR 6.18 includes many other data formatting and vendor-specific adjustments to improve e-lab data format support and verify results. We've expanded support for importing and displaying the ordering provider, specimen collection volume, SNOMED-CT vocabulary for e-lab microbiology, complex units of measurement, race identifier codes, and Observation Identifier values.
If your practice does not yet receive lab results electronically, contact PCC to get started!
Patient List Creation Improvements
The 6.18 release includes the following improvements to the Patient List reporting tool in PCC EHR:
List By Communication Preference: You can now include Communication Preference as a criteria for patient lists and clinical alerts. If you want a list of all patients who meet a certain criteria and also prefer to be contacted by e-mail, for example, you can create that list.

Date and Time in More Criteria Options: We've also added date and time options for many criteria, such as vitals. You can create a list (or a clinical alert) to find patients who had a certain vital during a certain time.

View and Output Multiple Extra Columns: When viewing the output of a Patient List, you can now add multiple columns and see more criteria details. For example, if your list is based on diagnoses, you can see when each patient received the matching diagnosis while also adding a column to display the diagnosis that matched.
These improvements make it easier for you to create lists for contact purposes, or to find the precise set of patients that may have a specific need.
Other Feature Improvements and Bugs Squashed in PCC EHR 6.18
In addition to the features described above, PCC EHR 6.18 includes these feature improvements and bugs squashed:
Add Phone Note From Anywhere: You can now add a phone note from the Edit menu. The "Add Phone Note" button is available on many chart screens. However, if you are using a screen that doesn't display the button, you can now create a phone note at any time using the handy menu item.

Create an Order While Importing: When importing a second revision of an e-lab result with an additional test result and no corresponding order in PCC EHR, it was not possible to create the order from the Import E-Lab window. Now you can.

Save Twice for Tasks: In rare situations, saving a completed lab task did not remove it from the Tasks queue immediately. Now it does.

Deleting Old Labs from the Lab Configuration Tool: In some situations, deleting an unneeded lab from the Lab Configuration tool would take a long time, causing the tool to appear to "hang". This no longer occurs.

Chart Note Deletion: When a chart note with a referral was referenced while generating a Health Information Summary report, it was impossible to delete the chart note. This is no longer the case.

Canceled Immunizations: In some circumstances, it was possible to create an immunization order, cancel it with no information, and it would still appear when the chart was reopened. This can no longer occur.