In September of 2013, PCC will release PCC EHR 6.17. This update introduces My Kids Chart, expands e-lab tools for handling unsolicited lab results, and completes many other feature requests from our clients.
Watch a Video: Want to watch a video summary of everything in this release? CLICK HERE.
Contact PCC Support at 1-800-722-1082 for information about these or any features in PCC EHR.
My Kids Chart is Ready for Your Patients!
PCC's new patient portal, My Kids Chart, is now ready for your practice. For the 6.17 release, we completed several "under the hood" improvements and features. This release improves integration with the PCC EHR database system and includes the infrastructure for web hosting.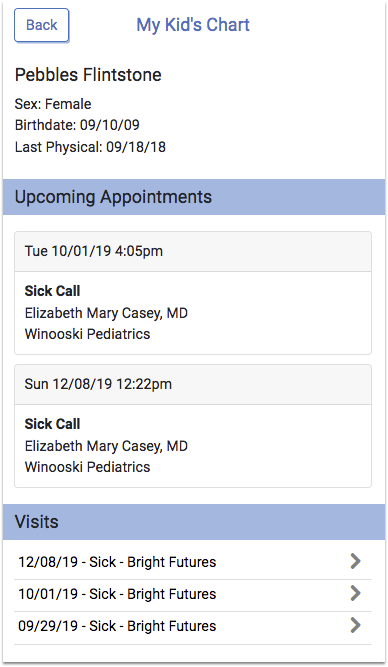 If your office is ready to implement My Kids Chart at your practice, or if you'd like to learn more about how a patient portal can help your patients and families, give PCC a call to get started.
My Kids Chart Helps Your Office Meet Meaningful Use Standards
When your patient families sign up to use PCC's patient portal, My Kid's Chart, you can meet two Meaningful Use requirements:
Provide Patients with Timely Online Access to Their Health Information: If 10% or more of your visiting patients have a My Kid's Chart user with access to their records during the reporting period, you will meet this requirement.
Provide Clinical Summaries to Patients for Each Visit: If 50% or more of your visiting patients have a My Kid's Chart user with access to their records during the reporting period, you will meet this requirement.
You can also meet these requirements using a combination of reports and other online services, but you can meet both of them more easily with PCC's patient portal, MyKidsChart.com. Once you are live with MyKidsChart.com, PCC EHR's Meaningful Use measure report calculates usage for you.
Contact PCC today to get started with MyKidsChart.com, or to learn how a patient portal can benefit your practice and your patients.
Learn More About Meaningful Use, ARRA, and PCMH: You can read our online guide to Meeting Meaningful Use with PCC EHR, or contact PCC Support to talk more about how your office can meet Meaningful Use guidelines, qualify for ARRA funds, or become a Patient Centered Medical Home.
Under the Hood: Getting Ready for SNOMED CT and ICD-10
As of October 1st, 2014, EHRs must integrate with ICD-10 code sets for submitting claims. As part of Meaningful Use Stage 2, EHRs must allow diagnosing and problem lists using the new SNOMED CT coding system.
PCC is working this year to make sure these transitions are smooth and that these new codes work with all of PCC EHR and Partner tools.
Much of the vital work is already complete: Partner's electronic claims are now fully tested and ready for the new code sets. Now we are working to make sure our charting and billing tools integrate well with the new codes.
Import E-lab Results Without an Appointment
You can now import E-lab results into a patient's chart without creating a visit. If a hospital or lab vendor sends unsolicited lab results to your practice, or "copies" results to you from a different care provider, you can place those results into the patient's chart. They will appear on the Signing queue, in the patient's Visit History, as well as on the patient's Health Information Summary report and Labs Flowsheet.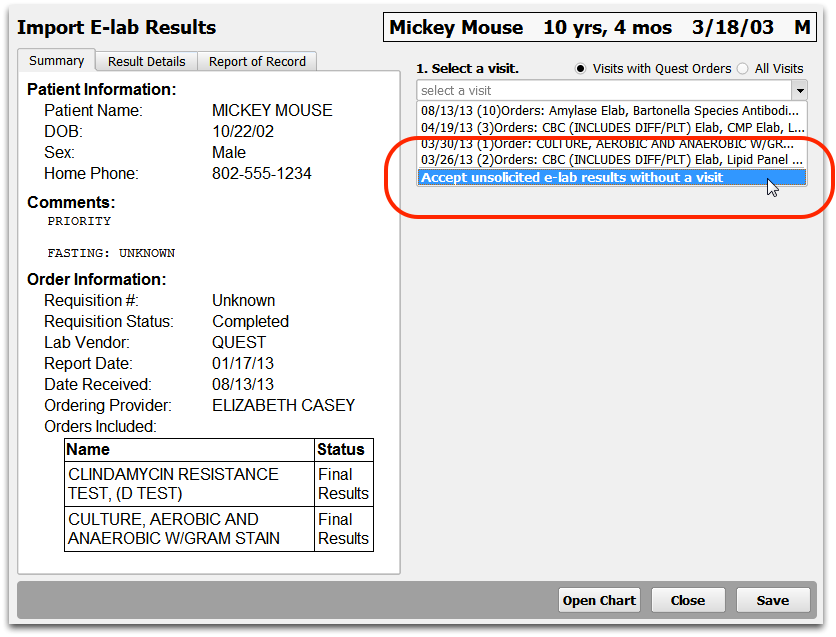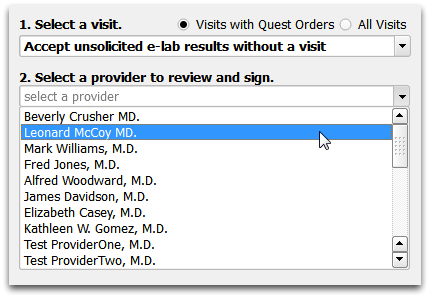 After choosing "Accept unsolicited…", you will be prompted to select a provider. You may also need to select a facility if you have more than one facility from that vendor. Then click "Save".
Using this new feature, you can import unsolicited results directly to the chart without creating a false visit date or creating new orders.
How Will They Appear?: Your physicians will see "Unsolicited" on unsolicited results, so they will know the results were not ordered by the practice. Wherever the results appear, they will use the lab order name provided by the vendor. When you open a result, you can read it just as you would a visit or a phone note.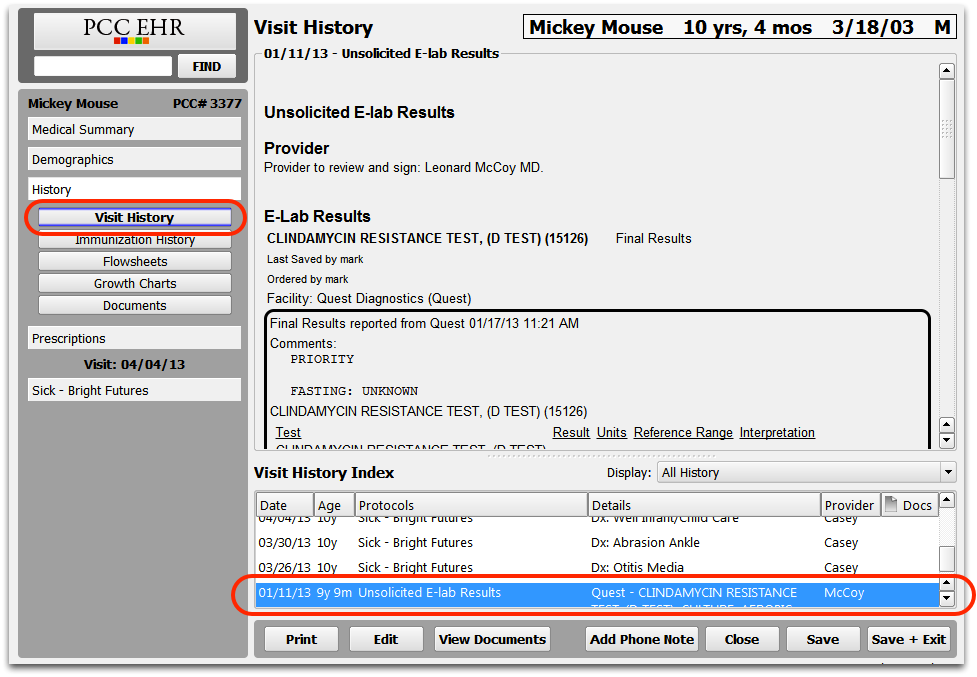 Unsolicited lab results have their own protocol and appear in the Visit History index. The date used for the order will be the specimen collection date, as provided by the lab vendor.
Improved Physician Selection on Chart Note
When you open a chart note, it is now easier to change the servicing Provider. It is also harder to change it accidentally.
The Provider field, also known as the Physician of Record, is the first pull-down menu on chart notes. Now, when you open a chart note and press the down arrow, you will not automatically select a different physician.
Instead, press the Tab key to move between fields on the screen. If you tab to the Provider field and press the up or down arrow keys, you will see a pull-down menu of your physicians.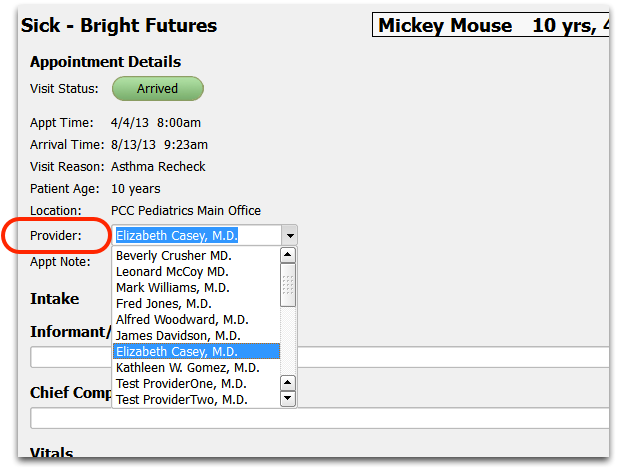 This new field behavior helps prevents accidentally changing the provider, makes it much clearer when you are selecting a physician, and helps you pick the one you need.
Source Attribution for Clinical Alerts
You can now add source information to PCC EHR's Clinical Alerts.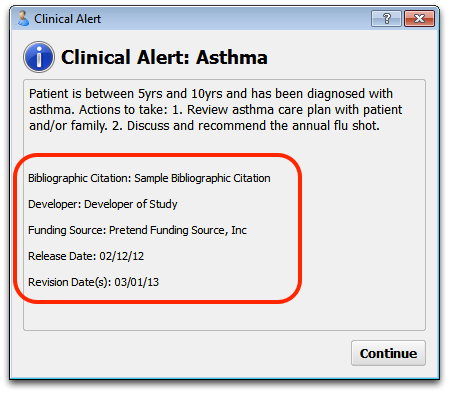 Your practice's clinical alerts may make medical recommendations, and you can now display bibliographic citations along with funding sources and other information whenever the medical recommendation appears.
Configuration: The Clinical Alerts Editor now includes a flip-down section where you can add the attribution information.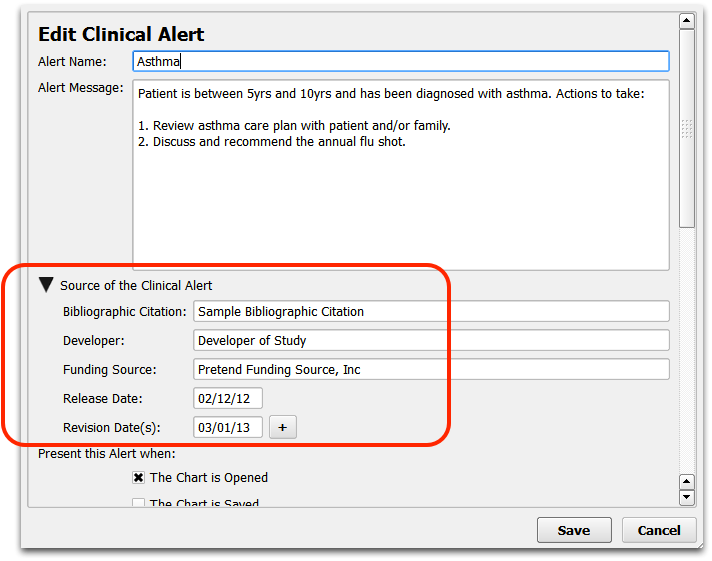 Source Attribution for Clinical Alerts helps your office meet Meaningful Use Stage 2 attestation.
E-labs Can Now Include More Specimen Information and Other Fields
PCC EHR can now receive more details from e-lab vendors and display more information about each lab. In this release, we've added support for:
Specimen Type
Specimen Condition and Disposition
Specimen Rejection Reason
Medical Record Numbers
Relevant Clinical Information
While none of PCC's lab partners sends all the different types of information available in the HL7 e-lab format, PCC EHR is ready to include and record these new fields whenever they are used.
PCC EHR can receive and store SNOMED CT specimen values for any lab vendor that sends them, along with specimen rejection reasons, HL7 specimen condition/disposition information, and the Relevant Clinical Information field. You can view these items on the Report of Record as well as on the Lab Details report.
The Report of Record and Lab Details reports also now display any available Medical Record Number (MRN). These may include the patient's PCC number or an identifying number from a hospital or Quest.
E-labs: Status of all Tests
When you import an e-lab result, the Summary tab now displays the status of all tests in the results file in an easy-to-read two column grid.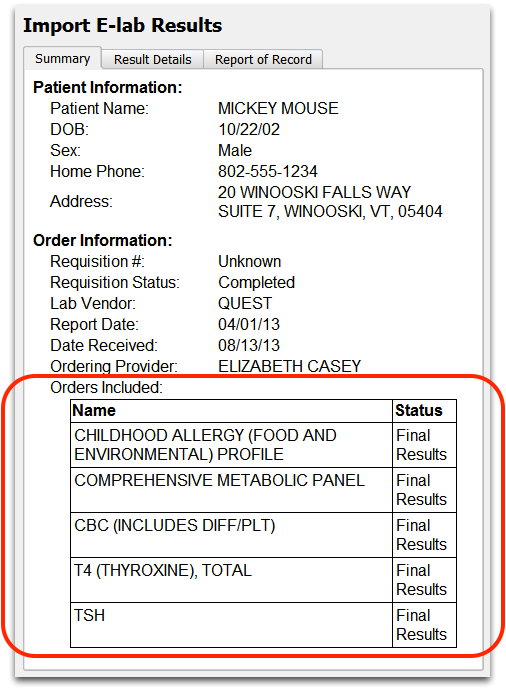 At a glance, you can see the name and status of each enclosed test. (The grid does not include reflexive, or "child" tests.)
If your practice does not yet receive lab results electronically, contact PCC Support to get started.
Lab Result Interpretation Improvements
PCC EHR 6.17 includes several improvements to the Interpretation menu, used to comment on lab test results.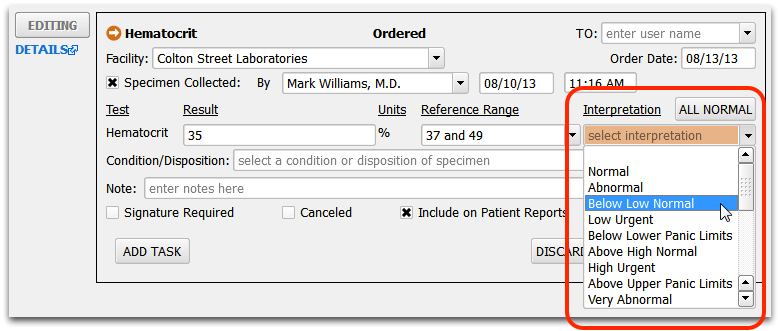 Descriptions are clearer and match new HL7 standards.
The order of several items has improved, making it quicker to find what you need.
"Sensitive" is now "Susceptible".
Abbreviations are no longer needed.
Low Urgent and High Urgent are now part of the Interpretation list, as required by Meaningful Use Stage 2.
Other Improvements in PCC EHR 6.17
In addition to the features described above, PCC EHR 6.17 includes these simpler feature improvements:
Language List for Meaningful Use: PCC EHR now utilizes the ISO 639-2 alpha 3 language code set. You will probably not notice a difference, but this tweak is one of the under-the-hood changes that maintains Meaningful Use Stage 2 Attestation..

Updated Specimen Condition/Disposition: The list of available specimen conditions now includes the full list of HL7 options, in accordance with Meaningful Use Stage 2 requirements.

Custodial Address on Lab Details: The patient's custodian account information now appears on the Lab Order Details report. This requested improvement meets a Massachusetts requirement.

Faster Orders: In PCC EHR 6.17, we've reduced program overhead to make PCC EHR more responsive when you create or save orders. Large offices with a lot of orders will notice a quicker result when they click "Order".
Bugs Squashed in PCC EHR 6.17
In addition to new and improved features, PCC EHR 6.17 includes bug fixes. Some of the more interesting bugs squashed are listed below.
Un-arrived Visits During Import Documents: In some situations, future appointments were available on the Import Documents screen. They no longer are.

Sticky Search Results on Import Documents: In some situations, the results of a previous search remained on the screen after a document was saved. This no longer occurs.

Same-Day Data Points: In some situations, data point display preferences for vitals taken on the same day were not saved. Now they are.

Patient Name Change: After changing a patient's name in the Partner imms program, it was possible for PCC EHR to display a blank name record. This no longer occurs.