In July of 2013, PCC will release PCC EHR 6.16. This update introduces our upcoming Patient Portal, along with a series of feature improvements requested by our clients and improvements to our electronic lab interface features.
Watch a Video: Want to watch a video summary of everything in this release? CLICK HERE.
Contact PCC Support at 1-800-722-1082 for information about these or any features in PCC EHR.
Coming Soon: MyKidsChart.com, The Patient Portal
PCC EHR now includes MyKidsChart.com, an online tool that patients and families can use to access medical records, review lab results, and generate an immunization record.
MyKidsChart.com is a patient portal designed especially for mobile phones and tablet devices, but families can also log in on any computer browser on any operating system.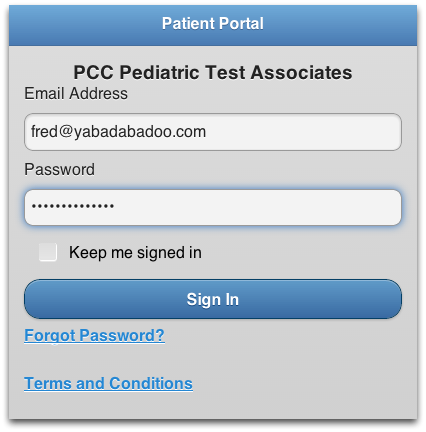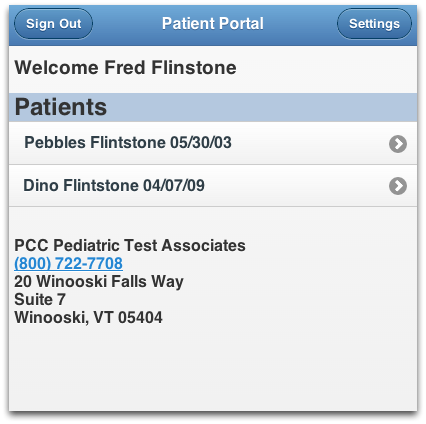 Parents, guardians, and patients can each have their own login accounts. Your practice can grant each user secure access to one or more set of patient records. For example, a mom will be able to log in once and see all of her children's records.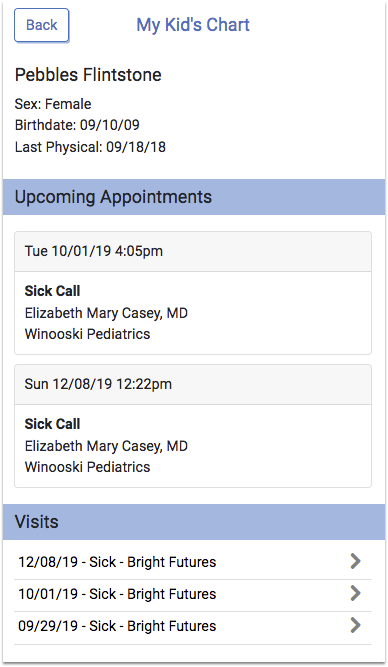 For each patient they have access to, users can scroll down to review a complete health information summary, including the patient's most recent physical date, upcoming appointments, historical visits, and a summary of orders such as labs and medical tests. A problem list, allergy list, and medications list appear below that, and a complete immunization record is also available.
Families can download or print their patient's immunization record directly from MyKidsChart.com.
Users can also review a detailed visit summary for any appointment. Labs and other orders appear with an "Ordered" status and are immediately updated with test results when they become available. (Only orders that have the "Visible on Patient Reports" box checked will appear in the Patient Portal.)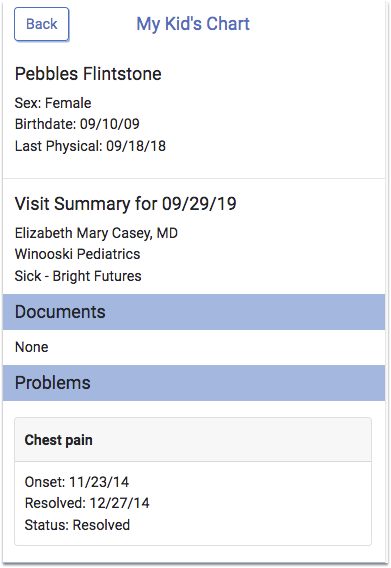 To find out more about MyKidsChart.com, come see a demo at PCC's 2013 Users' Conference. Our new patient portal is currently in testing at one PCC practice and will be ready for general deployment later in 2013.
Patient Visit Summary w/ Place-of-Service Address
The Patient Visit Summary report can now display the appointment location address instead of your practice's main address.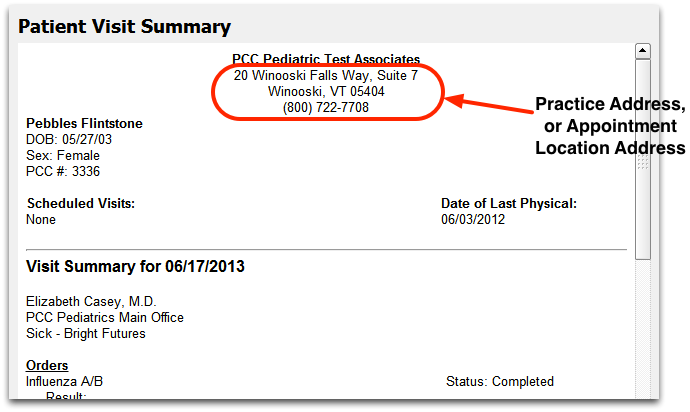 At the top of the report, your office can display either the main address or the visit location address. Use the Practice Preferences tool to set your office's desired address on this report.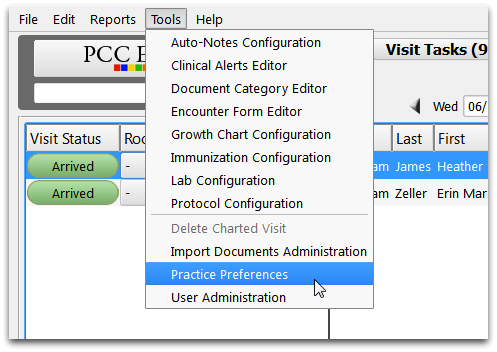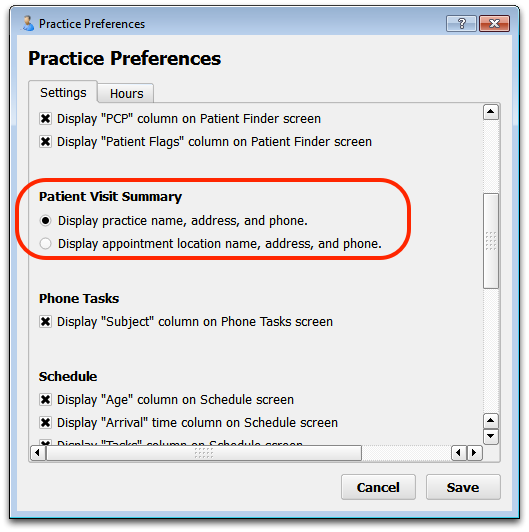 Configure Your Addresses: Your practice's main address is configured in the Practice Information section of the Configuration Editor (ced). You can edit your other location addresses in the Places of Service table in the Table Editor (ted). Before you turn this feature on, you may want to review your Places of Service table and update addresses and phone numbers. Contact PCC Support for help with these Partner configuration tools.
Copy Your Auto-Notes When You Clone a Chart Note Protocol
When you edit your chart note protocols, sometimes you clone an existing protocol to make revisions. Now when you clone an existing protocol, PCC EHR can bring over your physicians' auto-notes from the original protocol.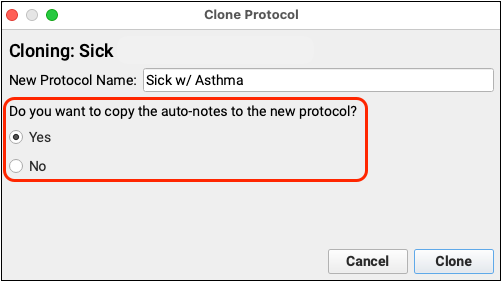 Auto-notes are a powerful tool for charting typical answers quickly and accurately, and now your office's auto-notes are easily transferred when you make protocol changes.
Edit a Protocol, and Then Automatically Update Today's Chart Note
When you edit a protocol, any visit chart note for today, or the future, will automatically update to the newest version of that protocol. Now you can work with your physicians to make on-the-spot changes to their chart note layout, without having to switch protocols or create a new appointment to see the effect.
No Data is Ever Lost: Any charted information already entered on a chart note will appear on the updated chart note. If you remove a component that already contains a patient's medical data, PCC EHR will display that data at the top of the updated chart note.
Yesterday's Chart Notes: Old visit chart notes will not change when you update a protocol. Only chart notes from today or for a future date will change when you edit a protocol.
Smoking Status Improvements
PCC EHR 6.16 includes three updates to the Smoking Status component, an optional component you can add to any chart note.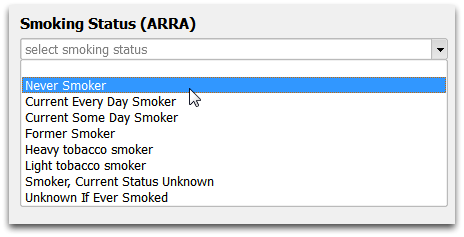 In accordance with ARRA 2 standards, the Smoking Status component now includes the "Heavy tobacco smoker" and "Light tobacco smoker" entries. For a complete definition of these entries, read the Protocol Component Reference article.
Statuses now appear in alphabetical order, with the typical pediatric response of "Never Smoker" at the top for easy selection with your keyboard or mouse.
PCC EHR now stores the official SNOMED-CT codes in the database when you make a selection. All historical data for this component will now also include the SNOMED-CT code in the database. SNOWMED-CT is part of a federal standard and helps make this field's data a little more future-proof. You can read more about it in the National Library of Medicine's SNOMED article.
E-labs: View Result Comments
Electronic lab results now include comments from the lab vendor. The Comments field, part of the HL7 communication standard, will be visible when importing lab results as well as wherever full lab details appear in the patient's record.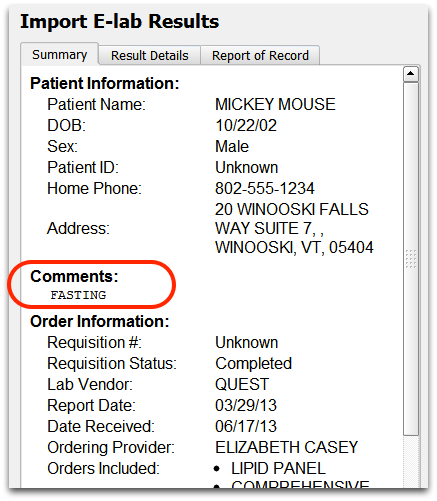 The Comments field appears on the Import Labs window, the Result field while signing the order, on the chart note, while editing labs, and on the lab Details window.
Quest Only at this Time: Quest is the only PCC EHR lab vendor who currently sends these patient level comments. If you are not working with Quest, you won't see comments until other vendors add this capability.
E-labs: Select From Any Visit
If you receive an e-lab result from a vendor, and the patient doesn't have a visit with a matching order, you can now select from any visit.

Read the Import E-labs article for an overview of the process.
E-labs: Create Orders for Unexpected Results
If an e-lab vendor sends you order results that don't match an existing order in the patient chart, PCC EHR helps you create the order while you import the results.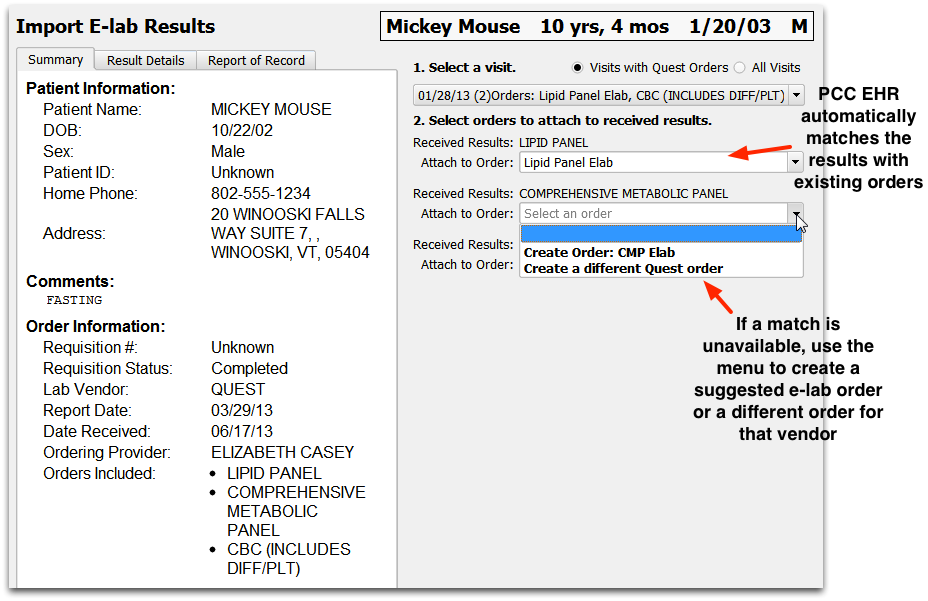 After choosing a visit, you'll see options for existing orders and for creating orders. You can use the drop-down menus to change the suggested placement of results.
If PCC EHR can't find a matching order, you can create a suggested order or "Create a different" order to create any order configured for that vendor.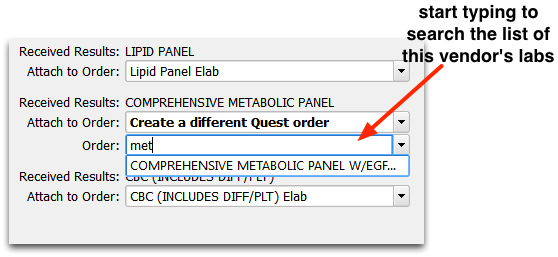 PCC EHR will add new order(s) to the chart note with your default settings for each order, and then add the results from the vendor.
Read the Import E-labs article for an overview of the process.
Other Improvements in PCC EHR 6.16
In addition to the features described above, PCC EHR 6.16 includes these simpler feature improvements:
Practice Preferences Tool: The settings and configuration options in the Practice Preferences tool are now organized alphabetically.

Configure Your Practice Hours: In the coming months, PCC will be working on features that incorporate your practice's business hours. In PCC EHR 6.16, we added a new Hours configuration tab in the Practice Preferences tool.

You can select a scheduling location, and then use the plus sign to create start and stop times for your hours. These settings do not change any current PCC EHR features.
Bugs Squashed in PCC EHR 6.16
In addition to new and improved features, PCC EHR 6.16 includes bug fixes. Some of the more interesting bugs squashed are listed below.
Stale Login Windows: In some circumstances, the PCC EHR login screen would remain on the screen even after a user was logged out. Now PCC EHR cleans up old logins, saving system resources.

Column Header Names in Visit Tasks Queue: In rare circumstances, the column names for the Visit Tasks queue turned into numbers. This no longer occurs.

Wiggly Lines and Percentages: In rare circumstances, percentages between chart notes and growth charts would not match. A related error could cause the percentile lines on growth charts to appear stippled or wiggly. An overhaul of our growth chart calculation engine in PCC EHR 6.16 has resolved these issues.

Assignable Users for Immunizations and Labs: It was possible to assign immunizations and some labs to users without the assignable attribute. This is no longer possible.