In June of 2013, PCC will release PCC EHR 6.15. This update includes special, requested features for working with chart notes, orders and users.
Watch a Video: Want to watch a video summary of everything in this release? CLICK HERE.
Implementation: The new features in PCC EHR 6.15 require configuration and user-specific software training. Read about the features below and then review PCC EHR 6.15 Migration Considerations.
Contact PCC Support at 1-800-722-1082 for information about these or any features in PCC EHR.
Hide Orders from Patient Reports
You can now hide orders from patient reports and other PCC EHR output. For example, if a physician wishes to discuss an issue with a family before lab results appear on a Visit Summary report, or a pregnancy result should never appear on the Health Information Summary, you can now control if those orders appear on reports.
To hide any order, edit the order and click "Include on Patient Reports" to deselect it.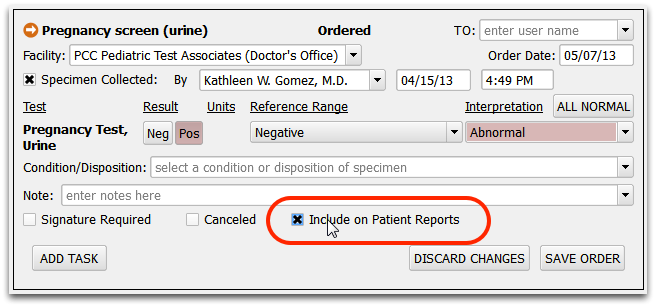 When the checkbox is not selected, the lab order is invisible to the Patient Visit Summary, the Health Information Summary, and the Patient Portal. The order remains visible on the chart note, the Lab Order Details report, the Visit History, the Edit Order window and task and signing queues in PCC EHR.

A lock icon appears next to hidden orders, indicating that the order and any results are hidden from patient reports. Your office can use the "Include on Patient Reports" checkbox and lock icon to make specific orders confidential, to indicate to your staff that an order's results should not be shared without the physician's approval, and to hide the order from the Patient Portal.
Order Defaults: By default, orders are available on patient reports. If you wish to make certain lab orders hidden by default, you can configure that in the Lab Configuration tool.
Can I Retroactively Hide Orders?: : You can open any order, since you first went online with PCC EHR, and change the "Include on Patient Reports" checkbox. If you change the default behavior of a lab order, that will only hide new, future lab orders of that type.
Printing Visit History or Printing Lab Order Details: Hidden orders appear on the chart note and in other locations inside PCC EHR. Therefore, when you print directly from the Visit History, or print the lab order details report, even hidden orders will still appear. PCC EHR will warn you that you are printing something that includes a hidden order.

Phone Encounter Performance Report
You can use the Phone Encounter Performance report to track phone note response time, report on phone tasks, and gather data for PCMH purposes.
First, select Phone Encounter Performance from the Reports menu.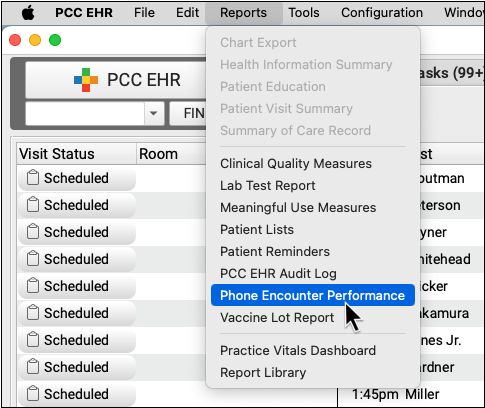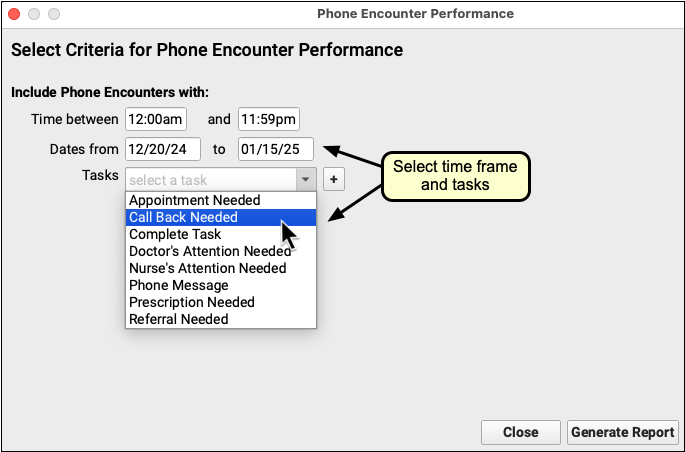 On the Select Criteria window, enter a time and date range and pick one or more phone tasks you wish to research.
What Task Should I Report On?: If you are creating a report for PCMH purposes, select the task that your practice uses to track the first response to the phone note. Your practice may want to create a custom task for this purpose.
Next, click "Generate Report".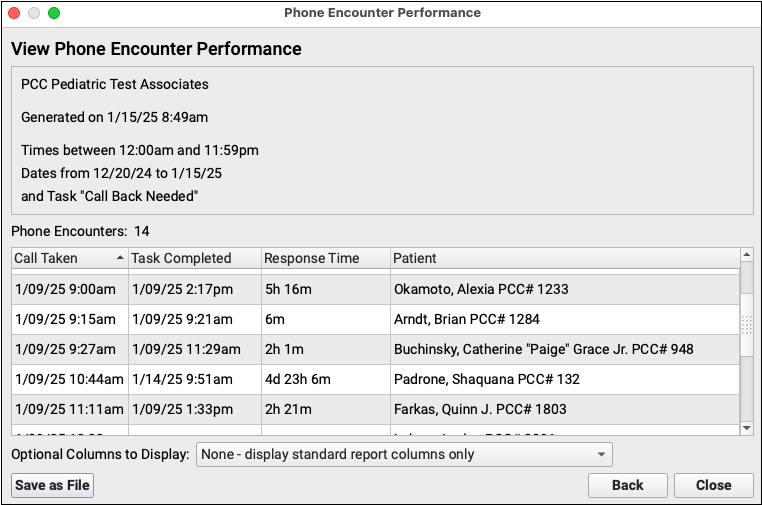 For each phone note with a matching task, PCC EHR displays the date and time when the call was taken and when the first task was completed. Next, you can see the calculated response time and the patient name. If your search didn't return the tasks you expected, you can click "Back" to return to the criteria selection and try again.
Use the drop-down "Optional Columns" menu to add more information and research the phone tasks.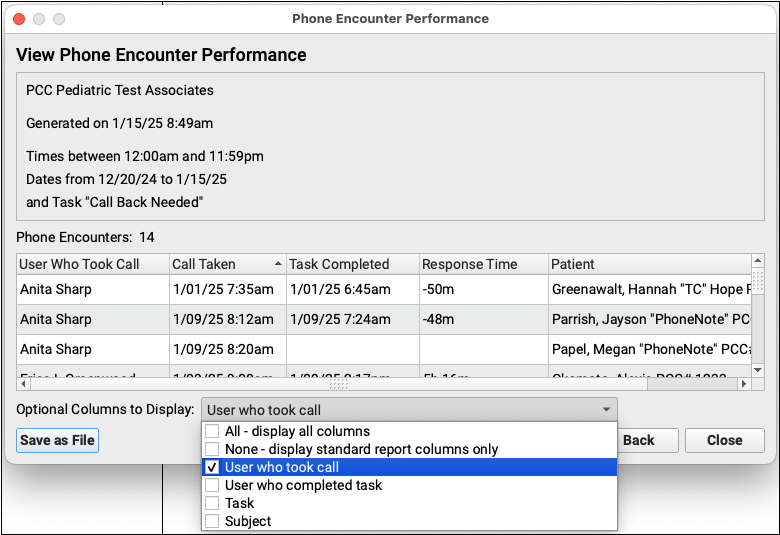 By adding different columns, you can research user behavior and task usage in more detail.
Click "Save as File" to output the report to a .csv file (comma separated values), suitable for importing into a spreadsheet for further research and reporting. The output file will include any optional columns you chose to display.
Double-Click in Visit History to Open a Chart Note, Phone Note, or Document
While reviewing a patient's Visit History, you can double-click in the index to open a chart note or other item. You no longer have to click the "Edit" button.


Hide or Show Users for Tasks
You can now specify which users can be assigned tasks, and which users will appear in the "Assigned User" filters on the Visit Tasks and Phone Tasks queue.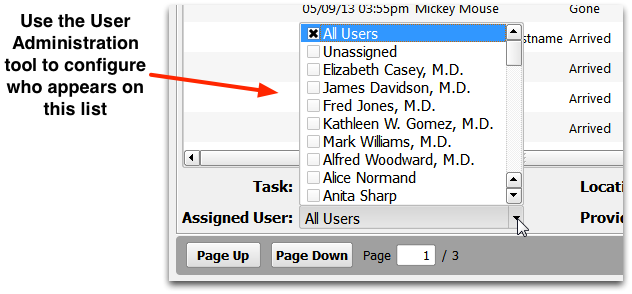 When you need to hide a user who no longer works at your practice, or customize which users appear, run the User Administration tool and select the user.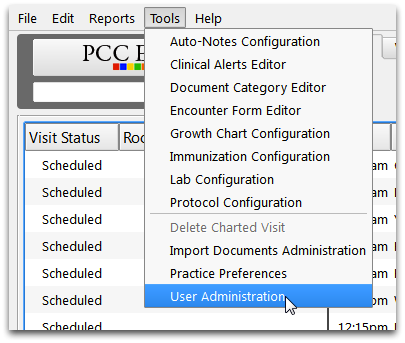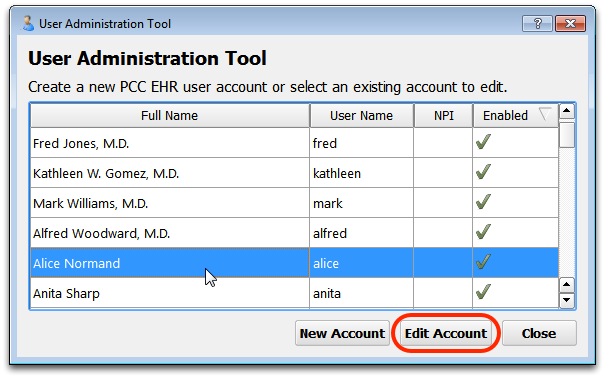 On the Settings tab, you can change the user's assignable status in the Attributes section.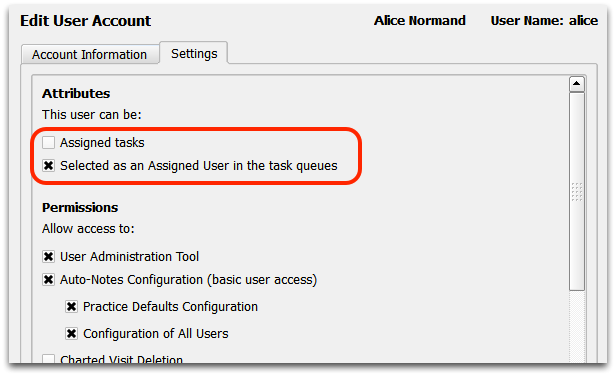 For each user, you can indicate whether they can be assigned tasks, or selected in the Assigned User filter on task queues. For example, you may no longer wish to assign a nurse tasks if the nurse has retired. You may still wish to use the filters to find their assigned tasks.
Automatic for Disabled Users: When you disable a user on the Account Information tab, PCC EHR automatically removes both task assignment attributes. If you wish a disabled user to still be visible as a queue filter, for example, you can re-select the above attributes.
"Last Answer" Automatically Selects the Checkbox
When you click Last Answer to chart a patient's last response to a chart note question, PCC EHR will now automatically select the item's checkbox, saving you a click.


If you would like assistance turning on the Last Answer feature for History, Plan or other chart note components, contact PCC Support.
E-Labs: Reflex Orders
PCC EHR now handles "reflexive", or "parent-child" lab test results, making it easier to see the connections between linked lab tests.
When you order a urine culture, sometimes the lab vendor will automatically perform a sensitivity test. A lipid panel or a blood culture can also lead to reflexive, or add-on orders.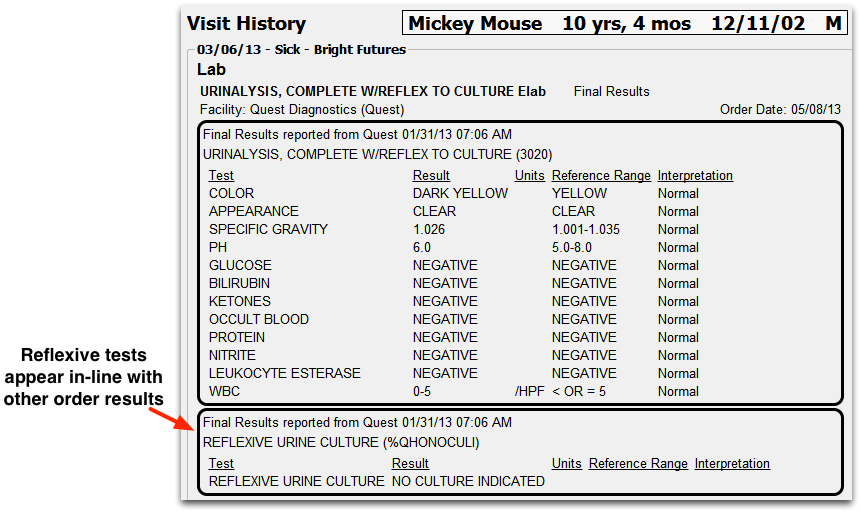 In PCC EHR 6.15, when a lab vendor orders a reflexive test and send the result electronically, PCC EHR displays those test results with the original order.
Review Reflexive Orders While Importing: While importing lab results, you can look at any reflexive tests on the Result Details tab.
E-Labs: Delete E-Lab Result Sent in Error
If your electronic lab vendor sends you a result that does not belong to your practice or must be refused for some other reason, you can now click "Delete" to remove it from your system.

Only users with special permission will see the Delete button. Because the need to delete a result file is rare, PCC recommends leaving this feature disabled until you need it. You can turn on the Delete feature with the User Administration tool.
Delete a Visit from a Patient's Chart
You can delete a visit created in error in PCC EHR. When you delete a visit, all vitals, chart notes, orders, and other items created for the visit are removed from the patient's record.
When Do You Need this Feature?
When a patient does not show for a visit, and nothing is done on the chart note, you can cancel or mark the appointment as missed to remove the chart note.
Under some circumstances, however, you may also need to delete a chart note with notes, so the visit does not show in a patient's chart.
For example, a user may have entered notes for the wrong patient, or a chart note may have been opened and edited ahead of time, before the visit, and then the visit was canceled. Finally, your office may have accidentally schedule a patient twice, creating a duplicate record.
Step One: Cancel/Delete/Miss the Appointment First
To delete a chart note, you must first cancel, delete, or mark the appointment as missed in the SAM Scheduler in Partner.
If the chart note was never arrived or edited, then removing the appointment will remove the chart note.
Delete a Charted Visit
When you also need to delete an edited chart note, run the Delete Charted Visit tool in the Tools menu. Only users with access permissions can open this tool.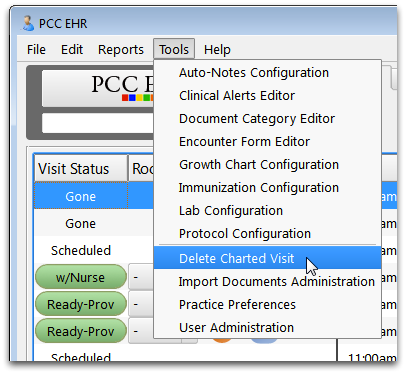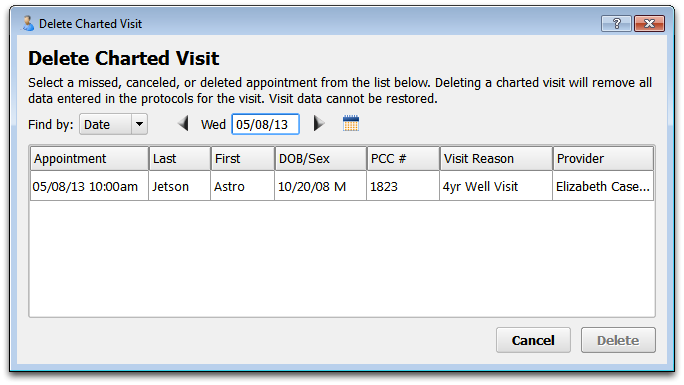 Select the appointment from the appropriate day and click delete.
If you wish to find appointments for a specific patient, click on the "Find by" selection and choose "patient".
Imported Items: If you scanned and attached a document to a chart note, and the chart note is deleted, the document will remain available in the Documents section of the patient's chart. You can return any document to the Import Documents source folder by using the Edit button in the Documents section of the patient's chart. If the visit had any imported e-labs, the e-lab results file will return to the Import E-Labs queue.
Permission Settings: Since deleting a chart note is a significant action, PCC recommends all users keep this feature turned off. Then you can use the User Administration tool to activate the feature when you need it.
Faster Time Entry with AM and PM
You can now type times without an am or pm, and PCC EHR will guess based on the most likely answer.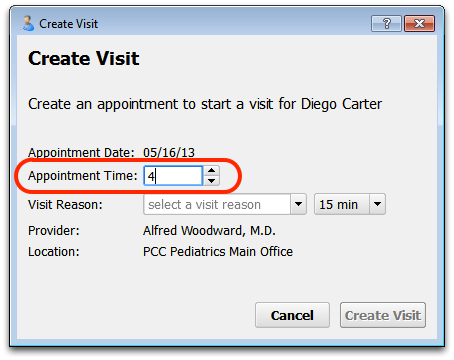 For example, if you type "10", PCC EHR will enter 10:00am. If you type "4", you will see "4:00pm". You can override these assumptions by typing the am or pm yourself. You can also now abbreviate "a" for am and "p" for pm.
PCC EHR Users and the Partner Providers Table
Partner's Providers table, in the Table Editor (ted), contains a list of all clinicians at your practice. The table is used for scheduling, billing, and patient primary care physicians. As part of the 6.15 Partner and PCC EHR release, each Providers table entry now syncs with a PCC EHR user account.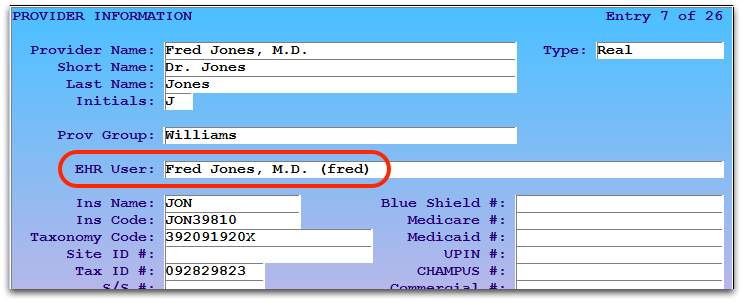 You will only see the EHR User field if your office uses PCC EHR. PCC Support will contact your office over the next few weeks to make sure your entries align correctly.
Later this year, PCC will use the new clinician/account relationship to improve existing PCC EHR and Partner integration and to introduce new features. Stay tuned!
Minor Improvements and Bugs Squashed in PCC EHR 6.15
In addition to new and improved features, PCC EHR 6.15 includes bug fixes. Some of the more interesting bugs squashed are listed below.
Continued Speed Improvements: PCC EHR 6.15 includes improved data indexing and trims database access times.

Old Data Cleanup: In rare situations, vitals and other data remained in PCC EHR even after a chart note was deleted. The PCC EHR 6.15 update removes any of that data from your database.

Long Reference Ranges: When a lab test reference range contained a long string of characters, sometimes the name would extend off the side of the screen. This no longer occurs.

Extra Pages: In rare circumstances, extra blank lines appeared at the end of a Visit Summary report, causing an extra blank page to print. This no longer occurs.

Macintosh Printing of Visit Summary: The Mac OSX version of the Visit Summary report printed with unusually large header fonts. This no longer occurs.

Faster Initial Connection to PCC eRx & Dr First: The first time a user accessed the Rx Tasks or Prescriptions section of a patient's chart, there could be an unusual delay. This access time has been reduced.

Clinical Alerts for Allergies Based on Onset: Clinical alerts for an allergy would not work if the allergy's onset date was before the patient's date of birth. While it is rare that a user would enter an onset date before a patient's birth date, we've switched clinical alerts for allergies so they will instead check for whether or not an allergy is active, a better trigger for allergy alerts.

Visit History Before PCC EHR: In some situations, visits imported to PCC EHR from before an office's go-live date were not visible in the Visit History. They now are.

Meaningful Use "Permissible Prescriptions" Row: DrFirst Rcopia has improved their information regarding which medications are controlled substances. Therefore the "Transmit Permissible Prescriptions Electronically" row in the Meaningful Use Measures report may show improved numbers for some practices.