In April of 2013, PCC will release PCC EHR 6.14. In this update, we introduce new lab follow-up features, new E-lab vendor integration, World Health Organization growth chart data, and many other feature improvements.
Watch a Video: Want to watch a video summary of everything in this release? CLICK HERE.
Implementation: The new features in PCC EHR 6.14 require configuration and user-specific software training. Read about the features below and then review PCC EHR 6.14 Migration Considerations.
Contact PCC Support at 1-800-722-1082 for information about these or any features in PCC EHR.
Create Follow-up Phone Task from Signing Queue
While reviewing and signing labs or other orders on the Signing Queue, clinicians can now click to create a Phone Task for nurse follow-up or other work. For example, a doctor can review lab test results and create a "Call Patient Back" Order Follow-up phone task.
First, all orders with a "Signature Required" appear on the Signing Queue for physician review.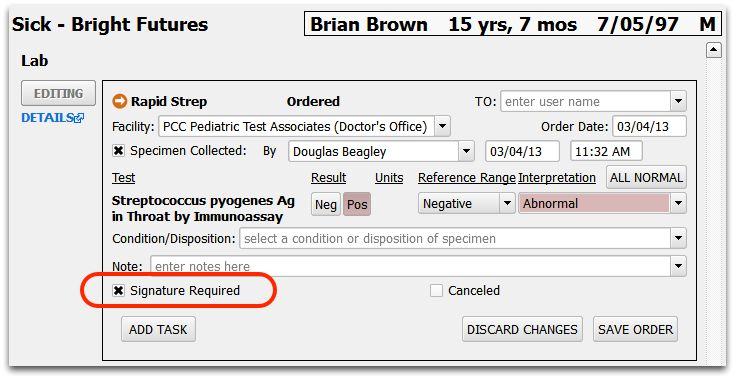 When the physician double-clicks on the orders, they can review the results, enter signing notes, and then create a phone task.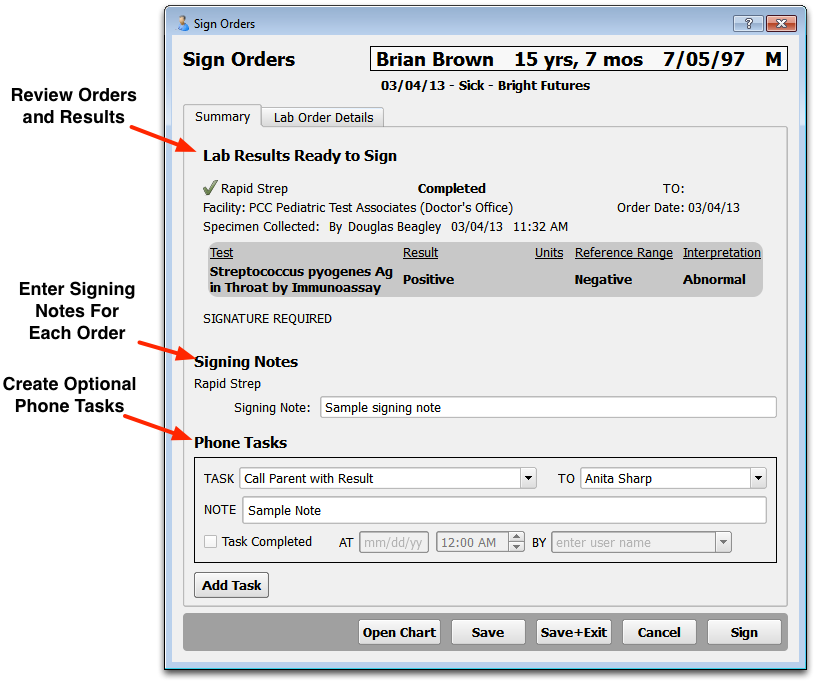 Optional Actions: On the Sign Orders window, a physician can enter a different signing note for each lab order. After reviewing results, adding notes, and optionally adding a Phone Task, they can save and exit without signing the orders, or click Sign.
Next, on the Phone Tasks queue, users can double-click to open up the Order Follow-Up task.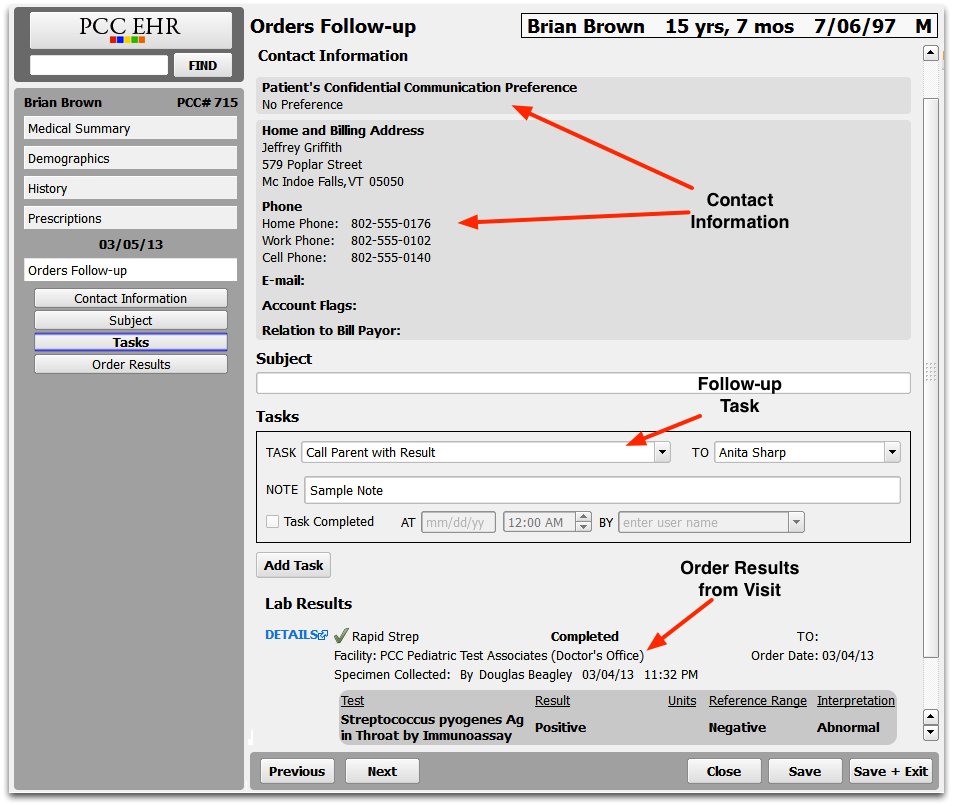 Just like a standard Phone Note, the Orders Follow-up note is a customizable ribbon containing all the information you need to call the patient or family, discuss the results, or perform other actions related to the order.
Orders Follow-up notes also appear in the patient's Visit History, for later review. Orders Follow-up is a new Status filter for the Visit History index, so you can easily find and review all order follow-up tasks.
Review Attached Documents While Signing Orders
While reviewing an order on the Signing queue, you can now see complete document details and click a button to edit tags or view the document.
Any user can attach a document to a specific order while importing it or from the Documents section of a patient's chart. Now a physician can review and work with those attached documents while signing orders for a visit.
Subject Column on Phone Tasks Queue
The Phone Tasks queue now includes a Subject column.

Users can enter the subject of a phone task (or order follow-up task) on the note itself.

If the subject is blank, the default subject for phone note tasks is "Phone Notes" and the default subject for orders follow-up tasks is "Orders Follow-up".
Note: The phone note subject also appears in the patient's Visit History index.
World Health Organization Growth Data
PCC EHR now includes growth chart and percentile values from both the CDC and the World Health Organization.
By default, PCC EHR 6.14 will display percentiles and growth charts based on WHO data for patients under 2 years old and CDC data for patients over 2 years old. Your office can configure your data source for percentiles and configure which growth charts appear using the Practice Preferences and Growth Chart Configuration tool.
WHO Percentiles on the Chart Note
The Vitals section of chart notes displays percentiles according to either WHO or CDC data. Percentiles indicate the data source used for the calculation in parentheses.

WHO or CDC Percentiles in the Vitals Flowsheet
The Vitals flowsheet also displays either WHO or CDC percentile information.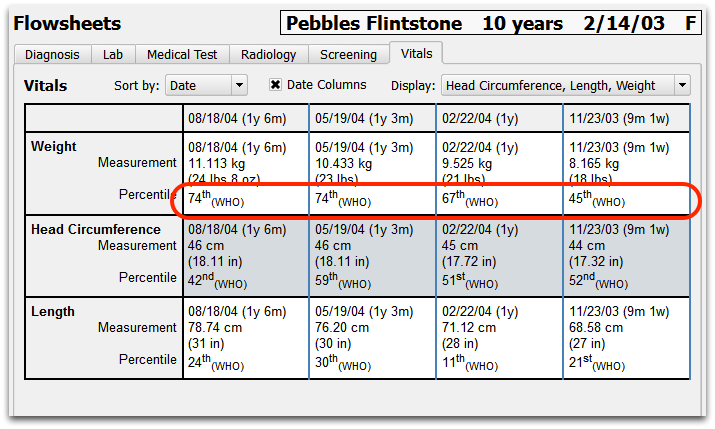 WHO or CDC Percentile Lines on Growth Charts
The Growth Charts section of each patient's chart displays percentile lines from either the WHO or CDC data, and the labels indicate the data source.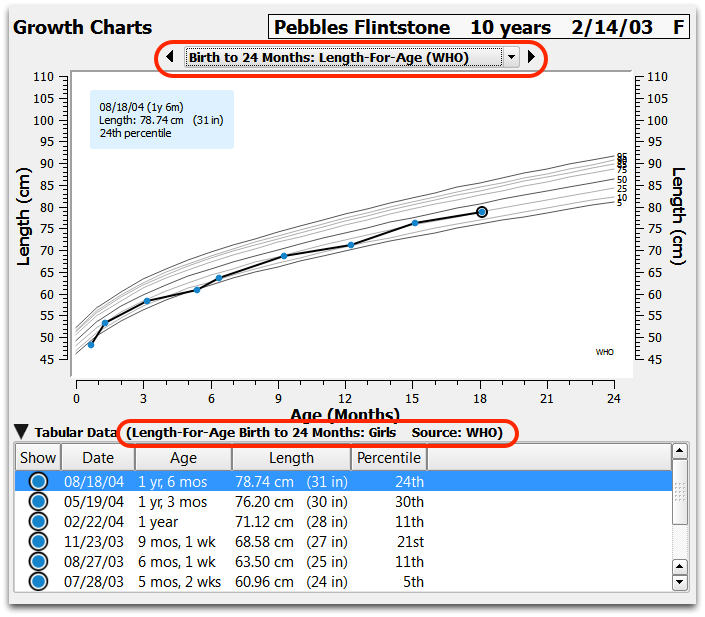 Improved Metric and English Support for Growth Charts
The Growth Charts section of the patient chart now more fully supports alternative units (metric or English).
Growth Chart axes are now based on your practice's input preferences. If you collect weight in kilograms, for example, the Growth Charts section of the patient chart will use those units to display the patient's progress.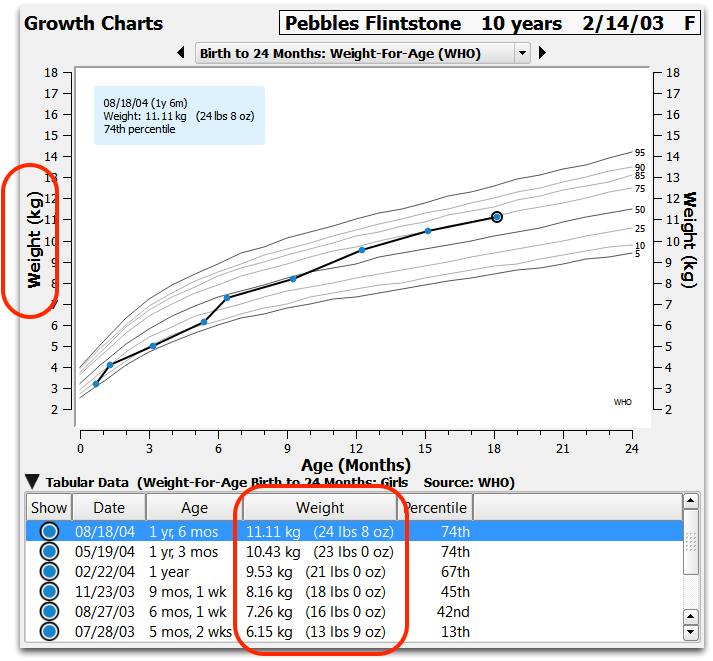 The alternate unit (English or metric) appears in parentheses when you select a point and in the Tabular Data section.
Also, when you add historical growth points, PCC EHR will now refer to your practice's input preferences for units.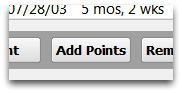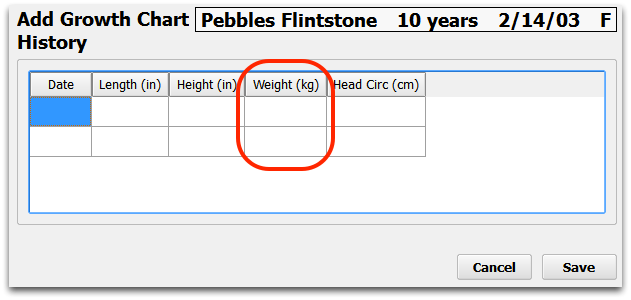 Growth Chart Points for Older Patients
Patient Growth Charts now continue to plot points beyond the age of 20.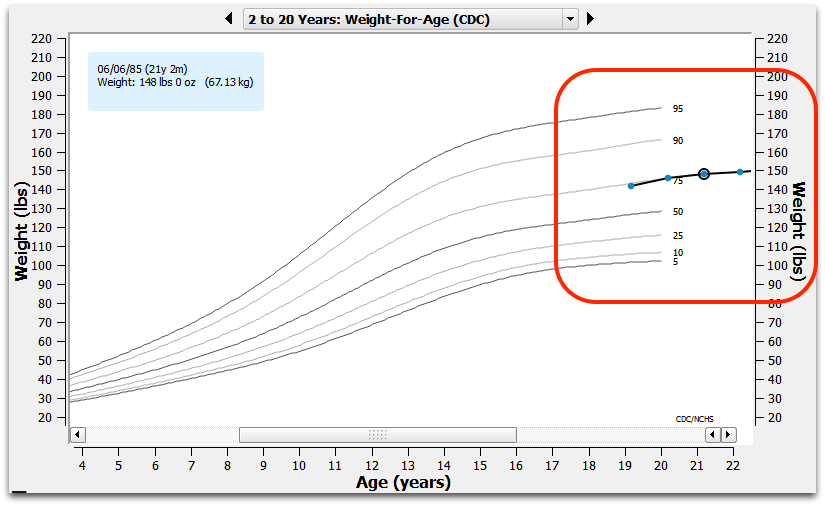 Though charts lines are bound by age percentile data, any additional vitals collected for older patients will also appear on the chart.
Improved Phone Note Contact Layout
The Contact section of the standard Phone Note is now cleaner and has a better layout, making it easier to use.

Field labels and the textual hints inside fields are now clearer, and the date and time fields clearly indicate that they record when a call was taken. The Return Phone fields now appear only as needed.
Time Tracking for Phone Notes and Other Tasks
Tasks in PCC EHR now include time-tracking tools. Both phone note and order tasks can record when a task is completed, and by whom.

These fields remain blank until a user clicks "Task Completed". Then they are automatically filled out with the current information. You can adjust the time and attribution if you are entering information later.
Track Phone Call Response Times: Your office may want to use the new time tracking tools to track phone call response times. All Phone Notes record a date and time when a call is taken, and your office can use a task to indicate and record when a callback is made. PCMH-related reports coming to PCC EHR later in 2013 will allow you to report on your practice's callback rate.
Receive Electronic Lab Results
PCC EHR 6.14 can receive lab results directly from lab vendors, such as Quest and hospitals. A new suite of tools helps clinicians work with e-lab results, file them with the correct patient and order, and create follow-up tasks.
Getting Started: E-labs require a vendor agreement and several configuration steps. To get started, contact PCC Support.
Create an E-lab Order
After your office has a vendor agreement, you can configure the e-lab vendor facility and create E-labs in PCC EHR's Lab Configuration tool.
Then you can create an e-lab order on the visit chart note, like any other order.


The double-arrow icon and the "Waiting for Results" message indicate that PCC EHR expects an electronic HL7 result file for the lab.
After creating the order in PCC EHR, you can submit your lab order requisition to your vendor or hospital.
Receive Results on the E-lab Results Queue
Next, your hospital or lab vendor will send the results file directly to PCC EHR!
Your office can use the new E-lab Results queue to review incoming lab results and match them to patient records.
You can sort the list and use the Provider filter to limit what appears.
Incoming Result Data: The E-lab Results queue displays result data files sent to PCC EHR, in replacement of a mailed or faxed lab result. The Patient, DOB/Sex, Orders, and Provider columns are determined by the vendor, so they may not match up directly with your PCC EHR configuration.
Double-click on a results file to open the Import E-lab Results window.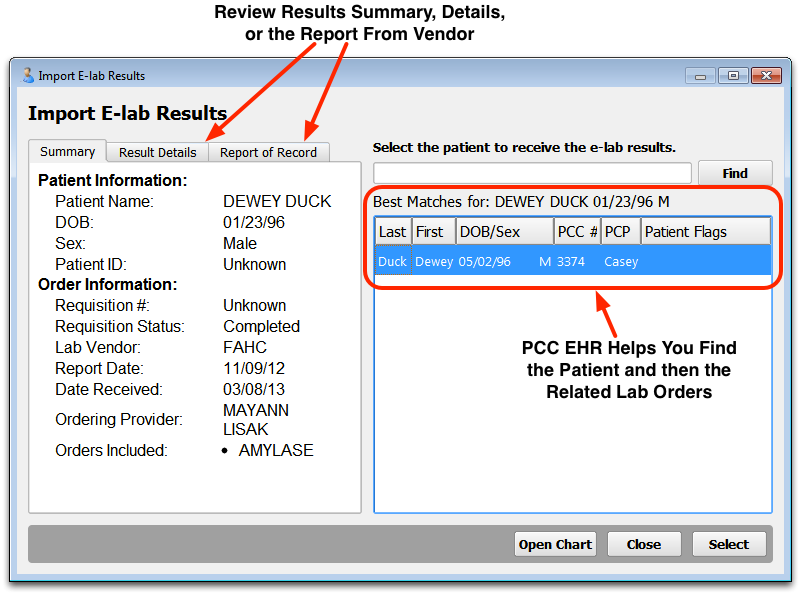 The Import E-lab Results window displays a summary of the results file and automatically searches for an appropriate patient match. After you select the patient, the window will suggest matching visits and lab tests in the patient's chart, and help you save the results to the patient's records.
Review and Change: While PCC EHR can often find and select the correct patient and lab test, you can also use the Import E-lab Results window to review the result details and the report of record from the lab vendor. You can then use the search tools to choose a different patient, appointment, or lab order.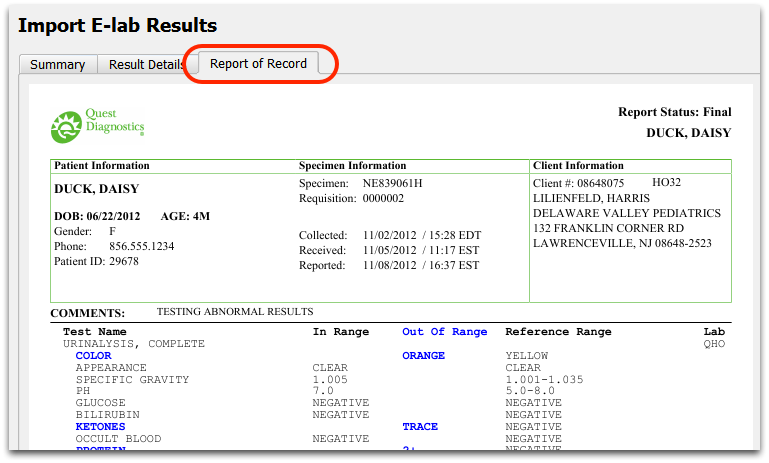 Review Results on Signing Queue and Respond with a Phone Note Task
All e-lab results automatically appear on the Signing queue for clinician review. Your physicians will see the incoming results on their Signing queue, and they can double-click to review them.
The clinician can enter signing notes, and optionally create an E-lab Follow-up phone task for themselves or for a nurse or staff member. Like all Phone Notes, E-lab Follow-Up notes appear on the Phone Tasks queue and in the patient's Visit History.
Later, Review Lab Results in the Patient Chart
As with all orders, you can review historical e-Lab results later in the Visit History section of the chart or in patient reports. You can also review lab results over time in the Flowsheets section of the chart.
Other Improvements in PCC EHR 6.14
In addition to the features described above, PCC EHR 6.14 includes these simpler feature improvements:
Improved Chart Opening Speed for Remote Offices: The 6.14 release includes new data bundling algorithms designed to speed up the act of opening a chart using the native software client from a remote office (not RDP).

Ordinal vs. Percentile: Growth charts and chart notes now display patient percentiles by ordinal number. Instead of 60%, for example, PCC EHR will display 60th percentile. This small change makes the data clearer to interpret.

Better Long Notes Inside Tasks: The Note field inside of Phone Note and Order Follow-Up tasks now grows to meet the needs of what is typed.

Better Order Signing: When you open a visit's orders from the Signing queue, the order, result, and notes now appear as a ribbon, making the window easier to navigate and use.

Faster Saving of Orders: When you click save to save any order, such as Lab test results or other items, it now saves and closes more quickly.

Faster Room Menu: The pull-down menu for setting a patient's room location now responds more quickly.

Faster "Gone" Status Change: If your practice allows Partner to automatically change visits to "Gone" when a user posts the charges, that operation now occurs several seconds faster.
Minor Bugs Squashed in PCC EHR 6.14
In addition to new and improved features, PCC EHR 6.14 includes bug fixes. Some of the more interesting bugs squashed are listed below.
Electronic Encounter Form and Billed Screen Fixes: In some circumstances, manually selected procedure codes and diagnoses charted after checkout were not visible on the final EEF and billing wrap up screens. This no longer occurs.

Answer Memory for Manually Found Diagnoses: If a diagnosis code was not a chart note default, the chart did not always remember the previous notes and offer them for answer memory. Now answer memory remembers all diagnosis code notes.

Retired Physicians in Visit History: In some situations, a retired physician would no longer appear as the provider of record in the Visit History index. Now retired physicians continue to appear where appropriate.

Deleted Phone Notes: It is no longer possible to attach a document to a deleted phone note.