In February of 2013, PCC will release PCC EHR 6.13. This update includes improvements to the billing process along with numerous small improvements and bug fixes.
Watch a Video: Want to watch a video summary of everything in this release? CLICK HERE.
Contact PCC Support at 1-800-722-1082 for information about these or any features in PCC EHR.
New Charted Items Automatically Sent to Checkout
After you review PCC EHR's electronic encounter form and make charges ready for billing, diagnoses and procedures are available in the Partner checkout program. Now in PCC EHR 6.13, if you add any additional items to the chart note (diagnoses or billable procedures), PCC EHR will automatically add them to the charges waiting in checkout.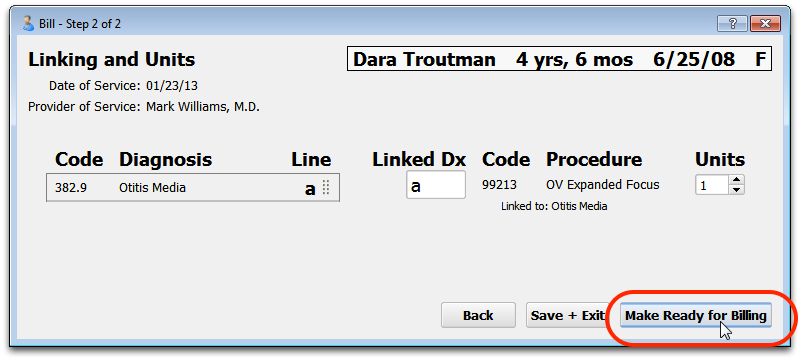 After a user clicks "Make Ready for Billing", the checkout process will also pick up any additional billable items added to the day's chart note. Your physicians do not need to reopen and re-verify the electronic encounter form after adding new items.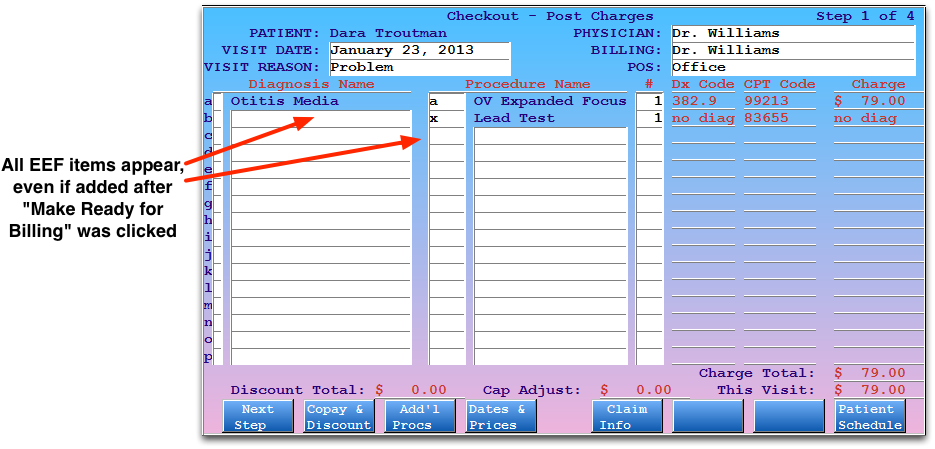 Next, after an appointment has been checked out in Partner, users can still add diagnoses and billable items to the chart. Those items will now be displayed and described in the Billed window.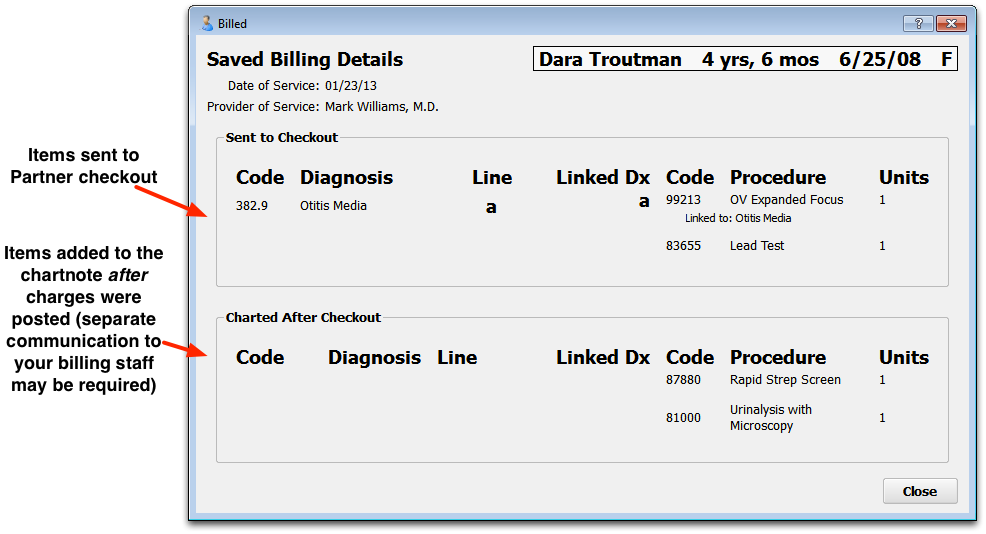 The Billed window displays all billing notes that were sent to Partner in time for checkout up top, and any subsequent diagnoses and billable procedures appear on the bottom.
Configuration of Billable Items: All diagnoses on a chart note are added to the Electronic Encounter Form automatically. Your practice's configuration determines what procedures are billable. For example, you can assign specific procedure codes to labs and other orders in the Lab Configuration tool. Clinicians can select the billable visit codes (such as 99213) directly on the Electronic Encounter Form.
Compare Billed Charges to Chart Notes
Your office can now compare electronic encounter form items in PCC EHR to what was actually posted in the checkout program in Partner. The Daily Check (dailycheck) report can now display a record of everything on the electronic encounter form in PCC EHR underneath posted charges.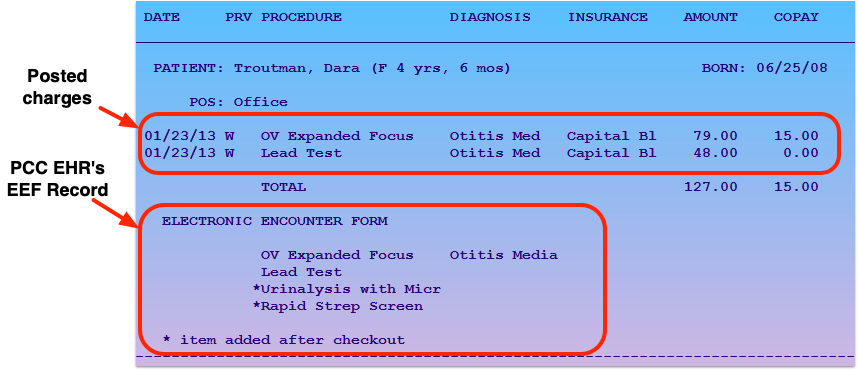 To learn about these and other new options in dailycheck, read the Partner 6.13 release documentation. By using these tools, physicians and office staff can avoid missing charges.
Ordering Provider on Lab Details Report
The Lab Details report now displays the ordering provider, as per CLIA requirements. Click on the Details link, or the order link on the Lab flowsheet, to review the report.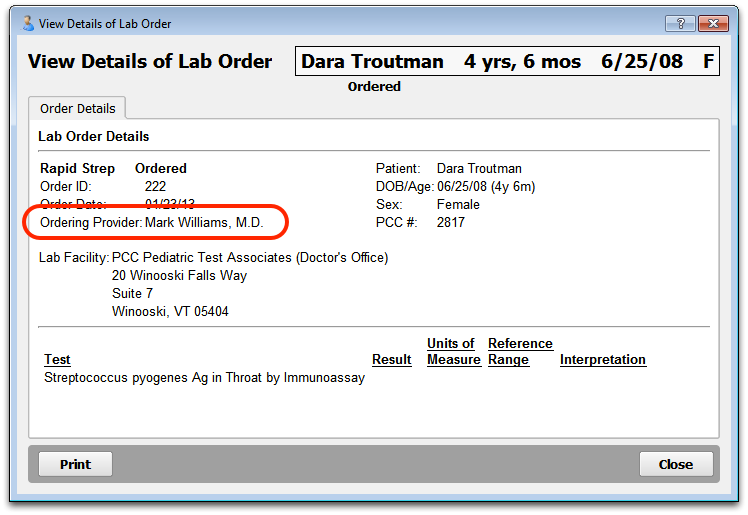 The Ordering Provider is displayed with the order information. If the Details report displays a result from Quest or other third-party vendor, the results may also include an Ordering Provider or "Copy To" as reported by the lab vendor.
Other Improvements in PCC EHR 6.13
In addition to the features described above, PCC EHR 6.13 includes these simpler feature improvements:
Reduced Steps in Windows Installer: There is one fewer "Next" required in the Windows installer for your PCC EHR updates. PCC EHR 6.13 removes the unnecessary "components" step.

Rcopia Digital Signatures on Linux Ubuntu: During the release of PCC EHR 6.12, the Rcopia DrFirst portal added a digital signature tool. Our Linux software installer now includes the java plugin that makes that new feature possible. Formerly, PCC added the java tools separately.
Minor Bugs Squashed in PCC EHR 6.13
In addition to new and improved features, PCC EHR 6.13 includes small bug fixes. Some of the more interesting bugs squashed are listed below.
Right-Click to Copy and Paste: Some users were unable to copy and paste because right-clicking caused text to be deselected. This no longer occurs.

Transparent Window in Auto-Notes: The Macintosh editor for the auto-notes configuration screen was transparent. This no longer occurs.

Long Note Signing: When a chart note had thousands of lines of text, PCC EHR sometimes closed when it was signed. This no longer occurs.

Full Immunization Names: In some cases, long immunizations names were cut off on the order tool on the chart note. Now they always appear fully.

Incomplete Labs Indicator: The anchor button on the chart note turns orange in order to indicate an incomplete order. When ordering labs in appointments with multiple protocols, the anchor button did not always indicate the incomplete lab as expected. Now the Lab anchor button always indicates the incomplete lab on the correct protocol. Additionally, a rare circumstance where the anchor button would stay orange until the chart was closed and reopened has been resolved.

Long Last Answers: If a patient's recorded Last Answer was exceptionally long, it sometimes caused scrolling and display problems. This no longer occurs.

Opening a Different Chart: If the screen was refreshing at the exact second that a user was editing an order, it was possible to open the wrong chart when clicking "Open Chart". This no longer occurs.

Visit History Index (The "Migraine Bug"): An unusual layout error sometimes caused the horizontal scrollbar on the Visit History index to appear and then remove itself over and over, causing the columns to jump around. This bug can no longer occur.

Import Documents Closing: If a user scrolled down a list of images quickly and then signed out quickly, the PCC EHR program could close unexpectedly. This no longer occurs.

Zero Ounces: The Flowsheets section of the chart sometimes displayed zero ounces incorrectly. This no longer occurs.

90 Days: The Meaningful Use report, in some circumstances, incorrectly assumed a 91 day reporting period instead of 90 days. This no longer occurs.

Pocket Partner Notes in Visit History: Phone notes created in Pocket Partner did not always appear correctly in the Visit History. They now do, and PCC is also re-indexing so that any hidden notes will appear in the patient's history correctly.

Location Tasks: In rare situations, when using non-scheduling locations, the tasks associated with an order did not appear on the Visit Tasks queue. This no longer occurs.

Meaningful Use and eLabs: In the upcoming eLab integration in PCC EHR, eLab test results now count towards Meaningful Use calculations.

Long Order Names: Long names for Labs and other orders sometimes made the PCC EHR window too wide. This no longer occurs.