In January of 2013, PCC will release PCC EHR 6.12. This update includes new and improved features that directly answer our most frequent client requests.
Watch a Video: Want to watch a video summary of everything in this release? CLICK HERE.
Contact PCC Support at 1-800-722-1082 for information about these or any features in PCC EHR.
New Columns Help You Find Patients
When searching for a patient chart, you can now see each patient's primary care physician and Status Flags in the search results.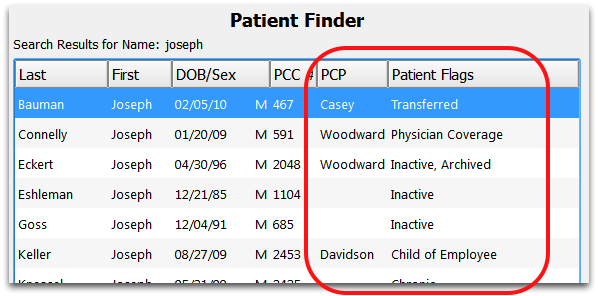 The new, optional columns are especially useful when two or more patients have similar names, or when you only know part of a name for your search.
Optional: If you don't want them displayed, you can turn off the PCP or Patient Flag columns from the search results. Run the Practice Preferences tool, found in the Tools menu.
Using PCP and Status: You can enter a patient's Primary Care Physician and edit Status Flags in the Demographics section of a patient's chart. You can also make changes in Patient Checkin (checkin), the Patient Editor (notjane), and many other Partner programs. Patient Flags are a customizable field that your practice can use to organize patients in different ways.
Change Visit Status While Charting
You can now change the Visit Status for an appointment from inside the chart note.

The Appointment Details component is part of every visit chart note, and it now includes the Visit Status button found on the Schedule screen. Click the button to change the status.
You can jump to the Appointment Details section of the chart note at any time by using the first chart note anchor button.
Better Lab Results Display
Lab results are now easier to read in the chart note, the Visit History, and reports.

The most important detail about a lab is the result, and you can now understand the resul at-a-glance. Each discrete test of a lab is organized into rows with columns for Test name, Result, Units, Reference Range, and Interpretation.
Highlighting and borders make the results distinct from the background in the chart note and other places where results appear.
Interpretation: Lab test interpretations are now included on the Visit Summary and Health Information Summary reports. The Interpretation text provides more information about a lab than the simple numerical result.
Quick Access to Full Lab Details
When you need all of a lab order's details, including full patient and lab facility information, you can now click the "Details" button under the Edit button to open the View Details of Lab Order window.

The link to order details was formerly available by a "View Details" button, which was visible only while editing the order.
You can also view complete lab order details by clicking on the lab order link in the Flowsheets section of the patient's chart.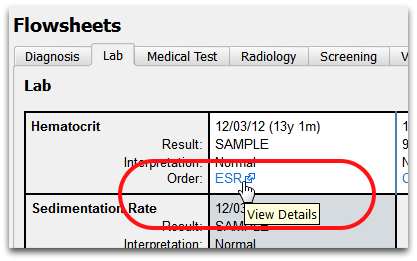 The View Details of Lab Order window contains a full report on all information about the lab order. This report is suitable for CLIA reporting. If PCC EHR receives results from a third-party vendor, the vendor's complete report is also available for your review.
PCC EHR Configuration Tool is Now Inside PCC EHR
The PCC EHR Configuration Tool is now inside the Tools menu in PCC EHR. When you need to update a chart note protocol or configure the Medical Summary or Demographics sections of the chart, click Tools and then select "Protocol Configuration".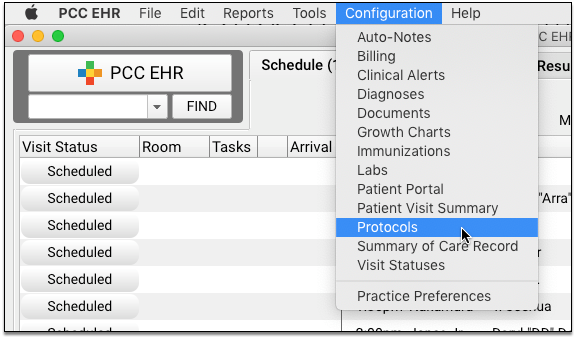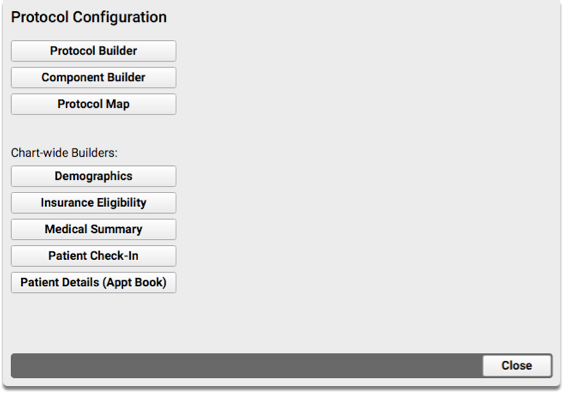 You no longer need to open a separate application to make changes.
Concurrent Use: Only one user can access the Lab Configuration or Protocol Configuration tools. If you attempt to open one of these tools while another user is making changes, a pop-up message will tell you the current user's name.
Electronic Signature Capture for PCC eRx
DrFirst Rcopia has added a new digital signature tool to PCC eRx, and they no longer accept faxed signatures.
This update will not affect your existing physicians who use electronic prescriptions in PCC EHR. Their signatures are already on file with DrFirst Rcopia.
However, when a new clinician joins your practice and first begins using the Prescription tools in PCC EHR, the new digital signature tool will appear. Using the onscreen instructions, the new clinician can create and upload their signature to DrFirst.
Coming Soon: E-Lab Results in PCC EHR
PCC EHR can now receive and display electronic lab results, sent automatically from Quest and other 3rd party lab vendors.
Making Sure We've Got it Right: E-Lab features are now being tested in three client offices around the country. If you would like to be first in line for E-Labs when these features pass our requirements, contact PCC Support and let us know!
Upcoming E-Lab Features We Completed for PCC EHR 6.12:
When you order any lab, you can indicate the lab facility. Your practice can configure certain lab facilities for e-lab receipt and others for standard results. You can also specify which labs are available through each facility, to ensure a valid e-lab facility is selected.
When lab results are sent electronically to PCC EHR, you can use a new Lab Results tab to quickly associate the results with the patient and order.
E-Lab results are visible in the patient's chart, wherever the lab order appears. You can review the results on the chart note or in the Visit History, as well as on the Flowsheets, the Patient Visit Summary report, and the Health Information Summary report.
E-Lab results are automatically queued up for the physician-of-encounter's review on the Signing queue. (All electronic lab results automatically require a physician's review and signature.)
If you need it, you can review the original lab result file, formatted by the vendor, in the View Details of Lab Order window.
Upcoming Appointment Book in PCC EHR
While continuing to rollout great new features and improvements to PCC EHR, PCC is also developing a new built-in appointment book. The Appointment Book is not yet an official feature of PCC EHR. It will be beta-tested in a few single-doctor practices this winter, and we add new features every month.
During the release cycle for PCC EHR 6.12, we improved appointment database relationships between PCC EHR and Partner, so that all of Partner's scheduling reports can display appointment book information. We also designed a new Appointment History component for reviewing a patient's list of appointments inside their chart.
Other Improvements in PCC EHR 6.12
In addition to the major features described above, PCC EHR 6.12 includes these simpler feature improvements:
New Connection and Database Messages: If your computer is unable to connect to PCC EHR, the login window will now tell you whether your computer's network connection or PCC EHR settings is the cause. Your office's system administrator or PCC Support can use that information to help you get back to work quickly.

Pocket Partner Displays Both PCC EHR and Partner Data: PCC's iPhone compatible web application, Pocket Partner, now displays records from both PCC EHR and Partner. For PCC EHR users, the Major Diagnoses, Allergies, and Immunizations lists now come from a patient's chart in PCC EHR. The other diagnoses and procedure fields are now labeled Billed Diagnosis History and Billed Visit History. Read Pocket Partner documentation for more information.

ADD/ADHD Benchmark Reporting: PCC's Practice Vitals Dashboard, a service provided to all PCC clients, now includes benchmark reporting and overdue tracking for patients with ADD and ADHD diagnoses. Read the Partner 6.12 release documentation to learn more.

Minor Lab Display Updates: In coordination with the improvements to labs described above, other minor improvements were made. "Normals" are now called Reference Range, in accordance with industry standards. The Ordered/Pending/Complete status indicator is now visible when you are editing a lab. The appearance of canceled orders has also been improved on some screens.

Other Flowsheet Improvements for Labs: In coordination with the improvements to labs, the date of a Lab order on the Lab Flowsheet will now be based on Lab Specimen Collection Date, if available. The 6.12 release also improves Flowsheet rendering when using the Display filter by creating the result after all filters are selected instead of during selection.
Minor Bugs Squashed in PCC EHR 6.12
In addition to new and improved features, PCC EHR 6.12 includes small bug fixes. Some of the more interesting bugs squashed are listed below.
Upcoming Appointments in Patient Visit Summary: If a patient had more than one upcoming scheduled appointment, the Patient Visit Summary report did not always list them in chronological order. Now it does.

Signing Queue's Task Number: The number of outstanding items on the Signing Queue now decreases when a user signs an item inside a patient's chart.

LTSP Rendering and Scrolling Improved: Some LTSP clients, using Ubuntu Linux, experienced slow scrolling and poor screen rendering after their PCC EHR 6.10 update. Performance has been significantly improved for those users.

LBS and OZ: On the Visit History, the "ounces" abbreviation did not always appear on some chart notes. Now both the lbs and oz labels appear correctly.

Zero Height Error: If a user indicated that a patient was zero inches tall, the chart note could appear blank on the Visit History. This no longer occurs.

Medication Reconciliation Dates: When a user back-posted items on the Medication Reconciliation component, the resulting modification date could affect both measures. The checkboxes now store independent time stamps for ARRA reporting, and you can check them off at different times. This improves the accuracy of reporting, if you answer the questions at different times.