In November of 2012, PCC will release PCC EHR 6.11. This update includes new visit charting functionality for reviewing chart-wide information, new schedule integration features with Partner, and user-requested printing improvements to two PCC EHR reports.
Watch a Video: Want to watch a video summary of everything in this release? CLICK HERE.
Implementation: The new features in PCC EHR 6.11 require configuration and user-specific software training. Read about the features below and then review PCC EHR 6.11 Migration Considerations.
Contact PCC Support at 1-800-722-1082 for information about these or any features in PCC EHR.
Document that You Reviewed the Problem List and Other Chart-Wide Information
While charting a visit, click "Mark as Reviewed" underneath the Problem List, Allergies List, or a chart-wide text component to record that you reviewed the information.

The contents of the component will be saved as part of the encounter, and you can later review it in the Visit History.

PCC EHR also records and displays the user and date and time the information was reviewed.
You can use the new "Mark as Reviewed" feature to chart that you have reviewed key patient information, as well as store a copy of that information in the historical record.
Making Changes: The chart note records exactly the information that is visible when you click "Mark as Reviewed". Any notes or display filters on the screen at that time will also appear in the Visit History. After reviewing the information, you can edit notes or change the display filters and then click "Mark as Reviewed" again to update the record.

Available Components and Options?: The "Mark as Reviewed" features are available for the Problem List, Allergies List, and any chart-wide text component, such as the Social History. You can add these components to any chart note protocol, if they do not already appear.
Improved PCC EHR and Partner Appointment Integration
When you create an appointment in PCC EHR, the full appointment now appears inline in Patient Checkin (checkin), and appears elsewhere as part of the Partner schedule.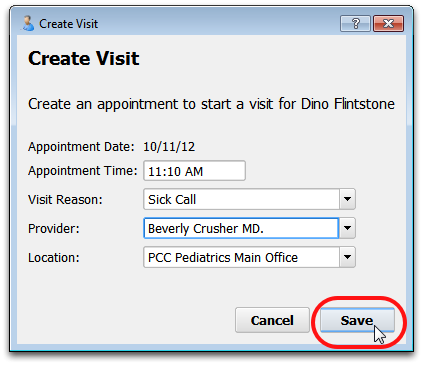 Appointments will also appear in the Scheduler (sam), and inquire. Based on the visit reason, Partner will also generate a paper encounterform or other forms for visits scheduled in PCC EHR. During patient checkout, charges will appear in order, linked to appointment information.
Check Them In: Appointments created in PCC EHR should be checked in like any other appointment. By default, your checkout appointment screen only displays checked in appointments. PCC EHR-created appointments appear with an "EHR" appended to the Partner appointment status.
Delete Appointments in PCC EHR: You can use the inquire program to delete appointments created in PCC EHR. Note that if an appointment is charted, the record will remain in the Visit History even if you delete the appointment from the Schedule. (Deleting a scheduled appointment will not delete any part of a patient's medical record.)
Optional Appointment Checkout Feature
When you checkout a patient in Partner, PCC EHR can now automatically end the visit in PCC EHR and change the Visit Status to "Gone".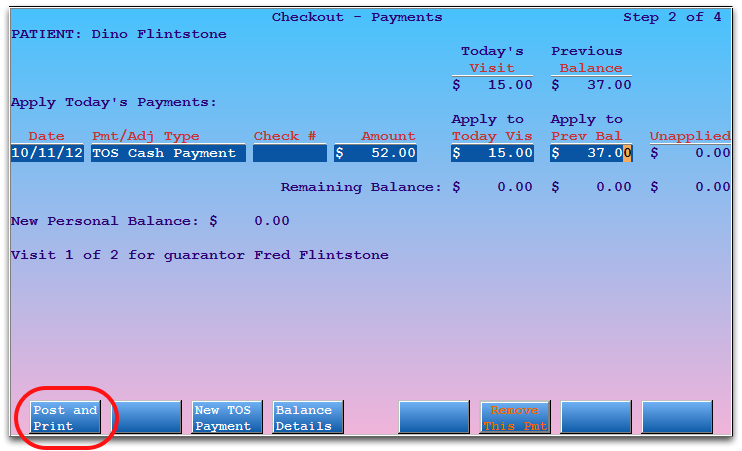 You can turn this feature on or off for your practice in the PCC EHR section of Configuration Editor (ced) in Partner.
After your practice enables the feature, PCC EHR's Schedule screen will update the Visit Status to "Gone" whenever you post an appointment's charges in checkout.
Improved Printing and Tracking Options for Health Information Summary
When you generate a Health Information Summary for a patient, you can now easily print a report without having it affect your Meaningful Use/ARRA-related measurements. Also, the options for printing or generating a PDF are simpler.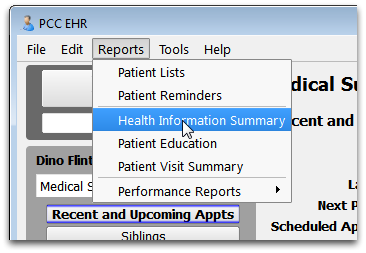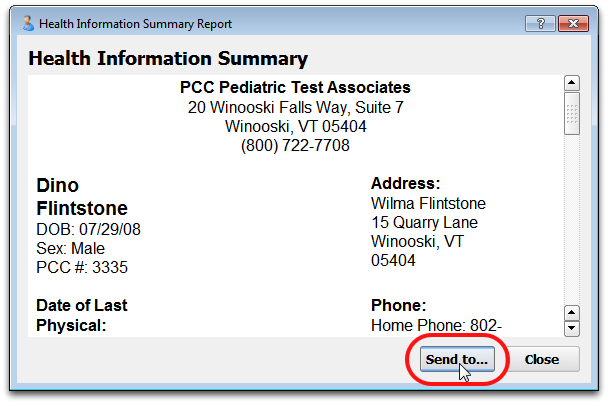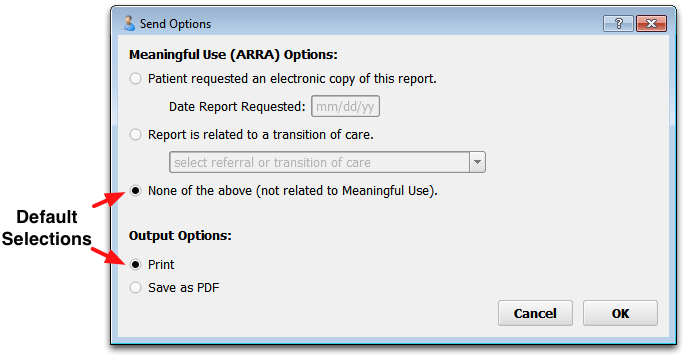 By default, PCC EHR will choose the "None of the above" and "Print" options. When you select "Patient requested an electronic copy", PCC EHR will enter today's date and select "Save as PDF" automatically.
Better Display and Printing of Visit History
The Visit History now uses smaller fonts, condensed spacing, and improved indentation to fit more information on the screen.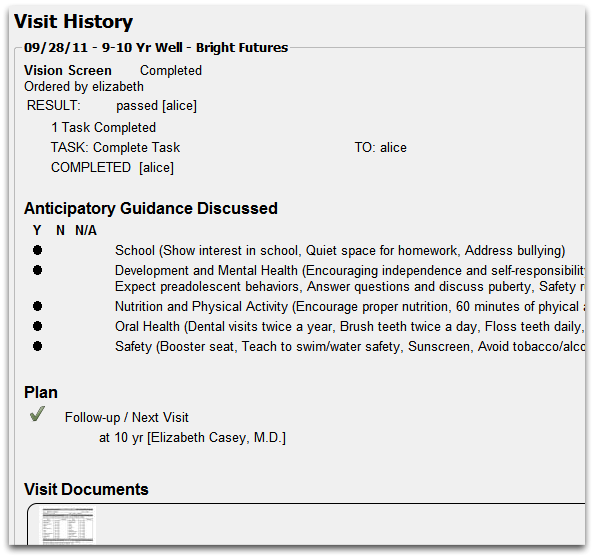 When printed, the improved presentation helps chart note records take up fewer pages than before.
Other Improvements in PCC EHR 6.11
In addition to the major features described above, PCC EHR 6.11 includes these simpler feature improvements:
Enter Historical, Retired Immunizations: You can now select historical, retired immunizations when entering old immunization history for a patient.

Save a Note for a Non-Diagnosis: You can now type notes in a diagnosis on the chart note, whether or not you select that diagnosis for that visit. Your notes will be saved and viewable in the patient's Visit History.

Flag Sync Without Editing: If your office uses a special Partner configuration tool to automatically set flags for some patients and accounts, you no longer need to edit the patient or account to sync those flags with your EHR. Partner will now automatically update PCC EHR or other EHR vendors.
Minor Bugs Squashed in PCC EHR 6.11
In addition to new and improved features, PCC EHR 6.11 includes small bug fixes. Some of the more interesting bugs squashed are listed below.
Migration of Orders: After the PCC EHR 6.9 update, some completed orders from before the update still triggered the orange ball indicator in the Tasks column on the Schedule screen. This no longer occurs.

Unarrived Visits: Under certain conditions, future appointments could appear in the Visit History, even if no data had been entered. This no longer occurs.

Deleted Problems: Meaningful Use report calculations for a patient's Problem List no longer include deleted problems.

Lab Order Results and Notes: In the Visit History, clinician notes for lab orders will now appear under a "Notes" heading and not a "Results" heading.

Import Documents: In rare cases, the import documents screen could freeze in place. This no longer occurs.

Refused and Reordered Imms: If an immunization was marked as refused, then edited, reordered, and administered, it sometimes did not appear automatically on the Electronic Encounter Form. Now it will.