In September of 2012, PCC will release PCC EHR 6.10. This update includes several improvements to the Demographics section of a patient's chart, better filters and Visit Task queue column options, and under-the-hood changes that will support upcoming PCC EHR features, like the appointment book and lab vendor integration.
Watch a Video: Want to watch a video summary of everything in this release? CLICK HERE.
Implementation: The new features in PCC EHR 6.10 require configuration and user-specific software training. Read about the features below and then review PCC EHR 6.10 Migration Considerations.
Contact PCC Support at 1-800-722-1082 for information about these or any features in PCC EHR.
Provider and Assignee Column Options on the Visit Tasks Queue
The Visit Tasks queue can now show an optional Provider column. Your practice can configure whether to show the Provider or the "To" columns, or both.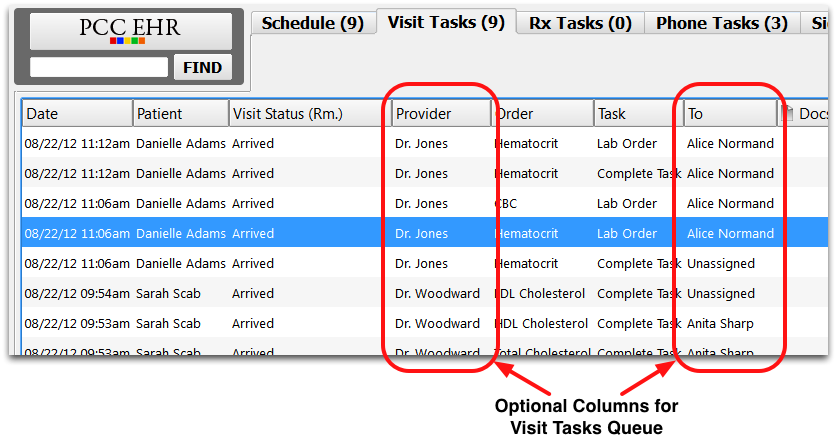 Some offices assign lab tests and other tasks directly to specific nurses. Other offices work on tasks based on the physician of the encounter. By adding or removing the "To" and "Provider" columns in PCC EHR, you can tailor the Visit Tasks queue to meet either workflow, or both. Additionally, each user can modify Task and Provider filters at the bottom of the queue in order to see exactly the tasks that pertain to them.
Improved Queue Filters, All Queues
PCC EHR 6.10 improves the queue filters on the Schedule, Visit Tasks, Phone Tasks, and Signing queues. The new filters provide more room on the screen, add some new filtering options, and make the user experience consistent across the queues.

Click on any pull-down menu and select one or more options to adjust your queue filters. Optionally, click "Save My Defaults" to save your user defaults. The Save My Defaults button is now on the right-hand side of the screen for all queues.
Instead of a list of push-button Display options, the multi-select filters on all the queues make it easier for each user to customize their PCC EHR experience. For example, you can now set your filters for "All Providers", a single physician, or a specific set of two or more physicians. Then you can save that setting so PCC EHR will show you the right tasks for you whenever you log in.
View More Than One Task Type, View Tasks By Provider: With the new filter options on the Visit Tasks queue, you can set your queue to display tasks of one or more task type, and from one or more provider of encounter.
Demographics Improvements
The patient's Demographics chart section has been updated and overhauled, resulting in a more versatile chart section that is easier to read and use.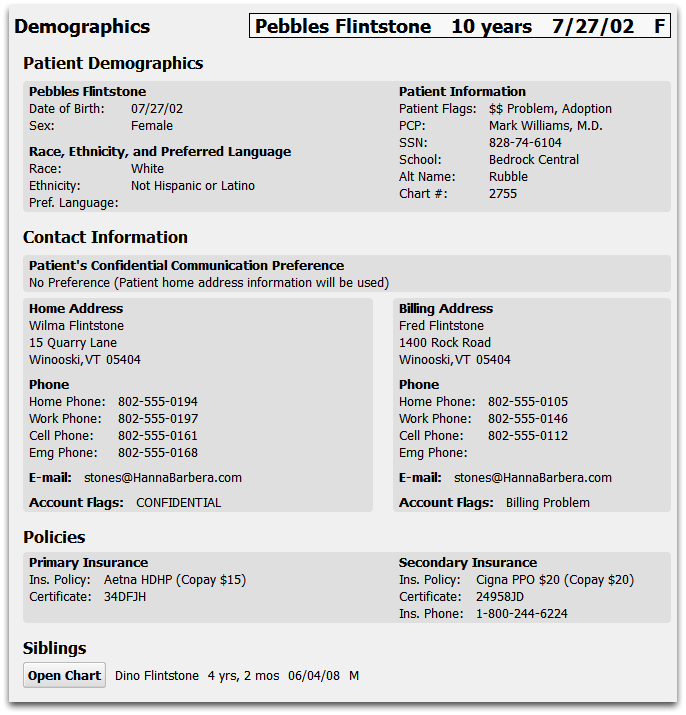 Navigation
You can now reach the Demographics section of the patient's chart with a single click. It is no longer a subsection of the History chart section.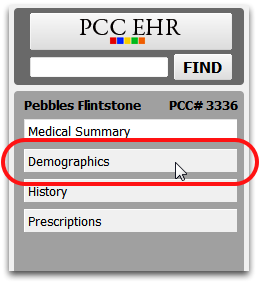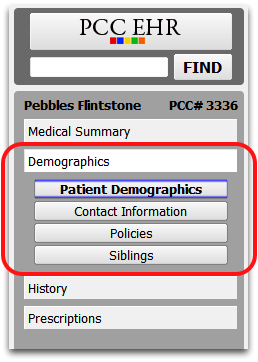 The new Demographics chart section includes anchor navigation buttons for jumping to a specific component, just like the Medical Summary and chart notes.
Layout Improvements and Edit Mode
Information in Demographics is now arranged for easier access and quicker review. Items are now arranged in two columns, with patient information and other sub-sections placed into components. Each section has been redesigned to fit on the screen better and is easier to read and fill out.

Click "Edit" to make changes to any Demographics section.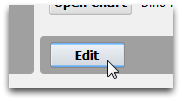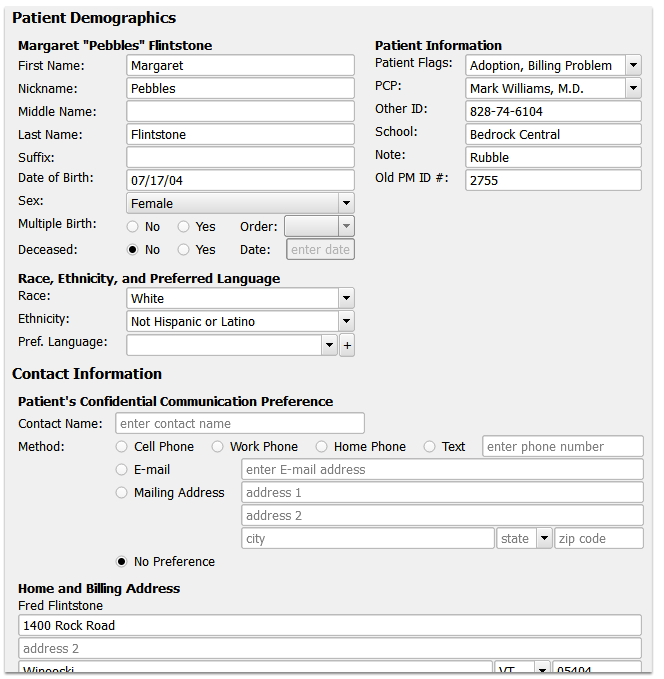 More Demographic Information
You can now view and edit more patient and account information in PCC EHR. For example, you can edit account flags, address information, and account e-mail addresses.
The new editable fields use PCC EHR's great data-entry features. For example, the handy multi-select boxes make it easy to select multiple patient and account status flags.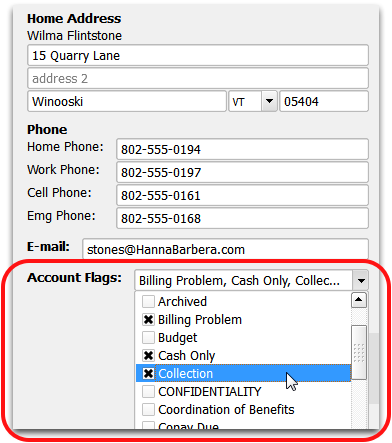 Customizable
You can add, remove, and rearrange components on the Demographics section of the patient chart.
For example, if you want the patient's list of siblings to appear at the top of the screen, you can use the PCC EHR Configuration Tool to move it. You can also create and add custom note sections or add Medical Summary components to make the Demographics screen work best for your office's needs.
Add Demographics Components to Chart Notes, Phone Notes, and the Medical Summary
Components from the Demographics section of the chart can now appear on the Medical Summary, on chart notes, phone notes, or any navigation ribbon in PCC EHR.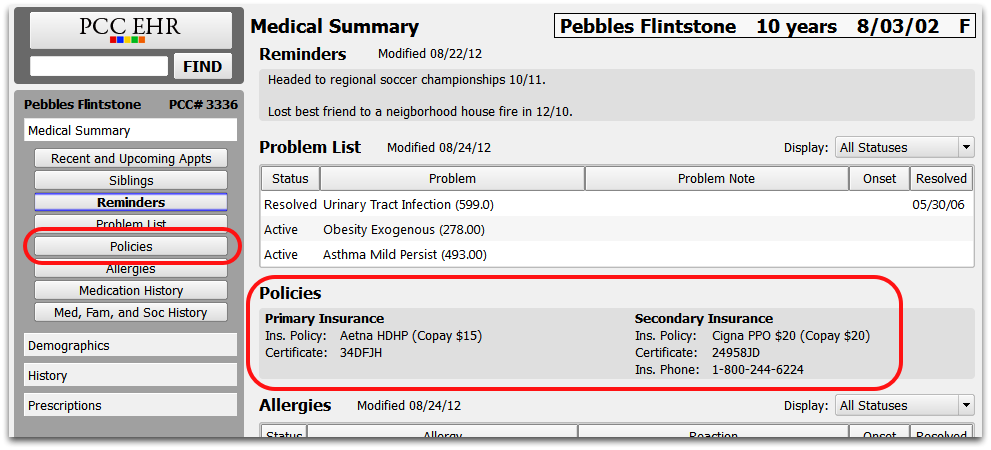 For example, if your practice wants to see insurance policy information on the Medical Summary screen, or to review contact information while charting, you can use the PCC EHR Configuration tool to add those Demographics components to those ribbons.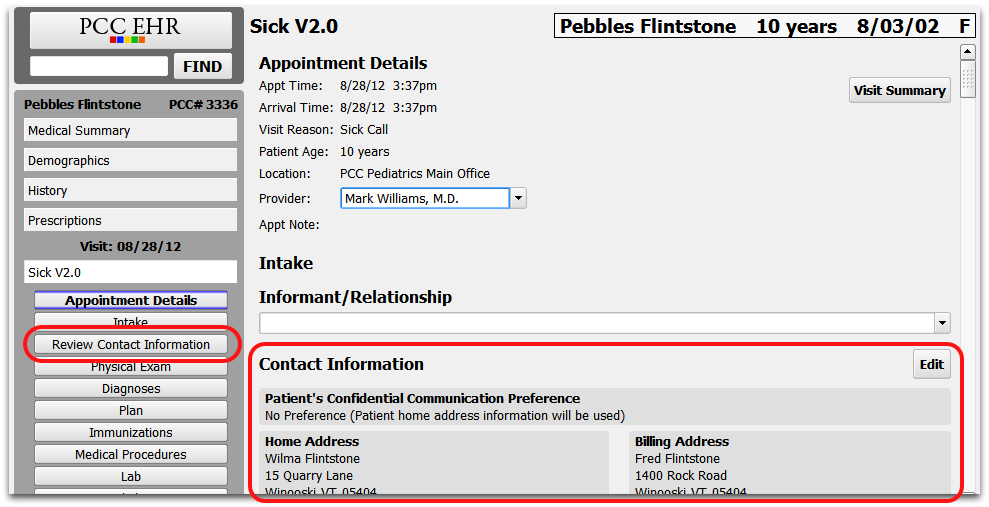 Upcoming Appointment Book in PCC EHR
At the 2012 Users Conference, PCC announced the new Appointment Book, a scheduling system built in to PCC EHR.
The Appointment Book is not yet an official feature of PCC EHR. The Appointment Book will be beta-tested in a few single-doctor practices this fall, and we add new features every month.
In PCC EHR 6.10, we added the ability to schedule blocks and a feature for opening the patient's chart while scheduling.
Upcoming Electronic Lab and Lab Vendor Integration
PCC is working with lab vendors to bring electronic lab integration to PCC EHR. So far in 2012, we've developed an interface for importing lab result data.
PCC EHR 6.10 includes under-the-hood and infrastructure tools for associating lab results with lab tests and configuring labs to meet the requirements of Quest, PathGroup, and LabCorp.
You may notice a few visible changes when you visit the Lab Configuration Tool. You can now see the default lab facility for each lab order on the main Lab orders tab, and you can now enter a phone number and fax number for each lab facility. You do not need to make any changes to your lab configuration at this time.
Stay tuned as we continue to develop eLab vendor integration for PCC EHR. PCC practices will beta test PathGroup integration later this year.
Other Improvements in PCC EHR 6.10
In addition to the major features described above, PCC EHR 6.10 includes these simpler feature improvements:
Better Buttons in Macintosh PCC EHR: Because of our update to the latest interface tools, buttons in the Macintosh version of PCC EHR are now easier to click and use the full button space more effectively.

Flags in Priority Order: Patient and Account flags on the Demographics section of the chart now appear in your practice's priority order. You can set flag priority order in the Partner Table Editor (ted).

Performance Improvements: PCC EHR 6.10 reduces the time it takes to display the diagnosis component on chart notes and view the Visit History screen. These changes make certain PCC EHR actions faster.

HL7 and Immunization Registries: PCC EHR can now submit HL7-formatted immunization records, and we have completed interface work for the New Mexico and Delaware immunization registries.
Minor Bugs Squashed in PCC EHR 6.10
In addition to new and improved features, PCC EHR 6.10 includes small bug fixes. Some of the more interesting bugs squashed are listed below.
"&" On Anchor Buttons: The ampersand (&) appeared as an underline character when used on anchor navigation buttons. Now the ampersand appears correctly.

Deleted Growth Chart Points: In rare situations, deleted data points on a growth chart would still appear. This no longer occurs.

Medication Reconciliation: Marking the Medication Reconciliation checkbox in the ARRA chart note component will now register in the patient's Visit History, even if it is the only item selected in the ARRA component.

Rx Tasks Queue: When switching between training databases and active databases, the Rx Tasks Queue was sometimes unavailable. This no longer occurs.