PCC EHR 6.10 Migration Considerations
PCC EHR 6.10 introduces many new features and configuration options. Use the guide below to learn about the "migration considerations," or changes in PCC EHR 6.10 that need extra planning or configuration. Read the PCC EHR 6.10 Release Documentation for complete details on all feature updates.
Contact PCC Support at 1-800-722-1082 for information about these or any features in PCC EHR.
Configure Columns on the Visit Tasks Queue
Use the Practice Preferences option in the Tools menu to set whether the Provider, To, or both columns appear on your office's Visit Tasks queue.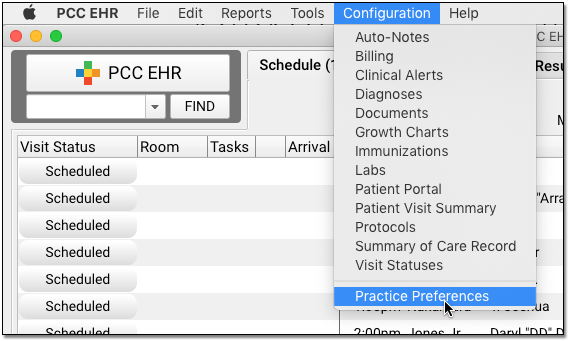 For example, if your office never assigns orders to specific nurses, you may decide to remove the "To" column.
Available as Filters: Even if a column is hidden, the item is still available as a filter at the bottom of the screen. For example, your practice could hide the Provider column, and users could still use the filter to limit the queue to display particular physicians.
Review Filters on All Queues and Set Defaults
Each of your PCC users should review the new queue filter options at the bottom of the Schedule, Visit Tasks, Phone Tasks, and Signing queues. There are new options available on the Visit Tasks queue, and some filters now allow users to combine multiple options.

After setting their preferences, users can click "Save My Defaults" to save their user defaults.
Workflow Changes When Users Review or Update Demographics
Improvements to the Demographics section of the patient chart may result in workflow changes at your practice.
First, all users should review the new Demographics navigation buttons, and try using the new "Edit" and "Save" buttons.
Some items on the Demographics screen were moved or redesigned in order to use the screen better and be easier to read. Your users may need a little extra time to adjust to the new layout.
Finally, PCC EHR users can now edit many more fields directly in the Demographics section of a patient's chart. When your staff needs to revise an address or account status flags, for example, they can now do so in PCC EHR or Partner. This improved accessibility may result in changes to how and when your office tracks and updates information.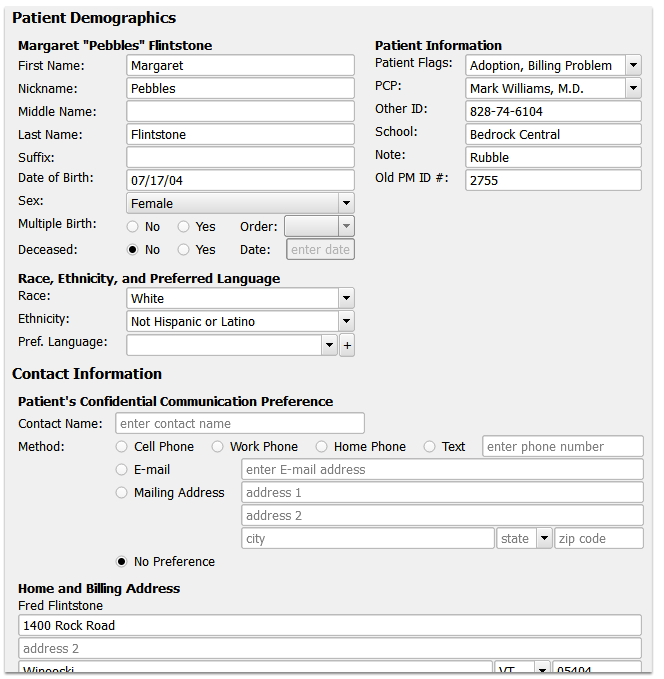 Customize the Demographics Section
Use the PCC EHR Configuration Tool to add, remove, and rearrange components on the Demographics section of the patient chart.
To access the Demographics screen editor, run the PCC EHR Configuration Tool and click "Demographics Builder".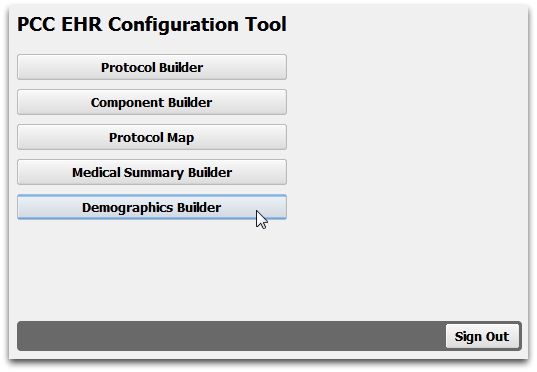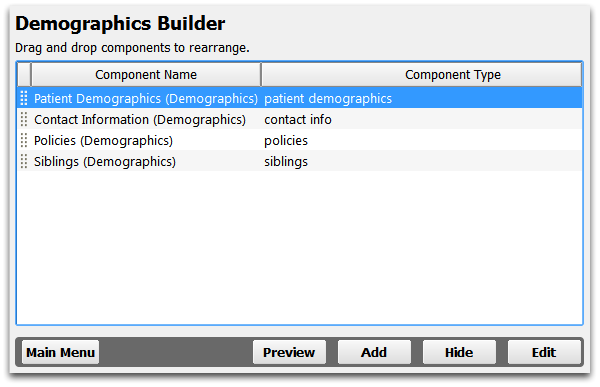 Add Demographics Components to Other Ribbons
Your practice may decide to add Demographics components, such as the policies component or the patient's contact information, to other screens in PCC EHR. You can use the PCC EHR Configuration tool to add Demographics components to the Medical Summary, the Phone Notes protocol, or chart note protocols.